AutoGuide gets the automotive news sleuth award of the week for some digging its done into Porsche's VIN decoder guide submitted to the National Highway Traffic Safety Administration (NHTSA). The guide, covering upcoming 2019 models, appears to reveal plans for a 718 Cayman T. Given we already know the driver oriented spec of the 911 Carrera T, imagining a 718 Cayman T isn't especially difficult.
As some background, VIN decoder guides are submitted as a matter of practice to NHTSA so that it can make sense of each manufacturer's vehicle identification numbers. These guides are also publicly accessible, so paying attention to upcoming model VIN codes can reveal plans for new models planned to enter the market over the next 12 months.
Within the Porsche lexicon, we know that the "T" designation stands for Touring. The specification was used most notably in the earliest years of the Porsche 911, and it resurfaced just last year again on the 911. Within the current 911 product offering, the 911 Carrera T stands out both for its driver oriented equipment and also its affordability. Not surprisingly, it's become a favorite amongst driving purists shopping for new 911 models.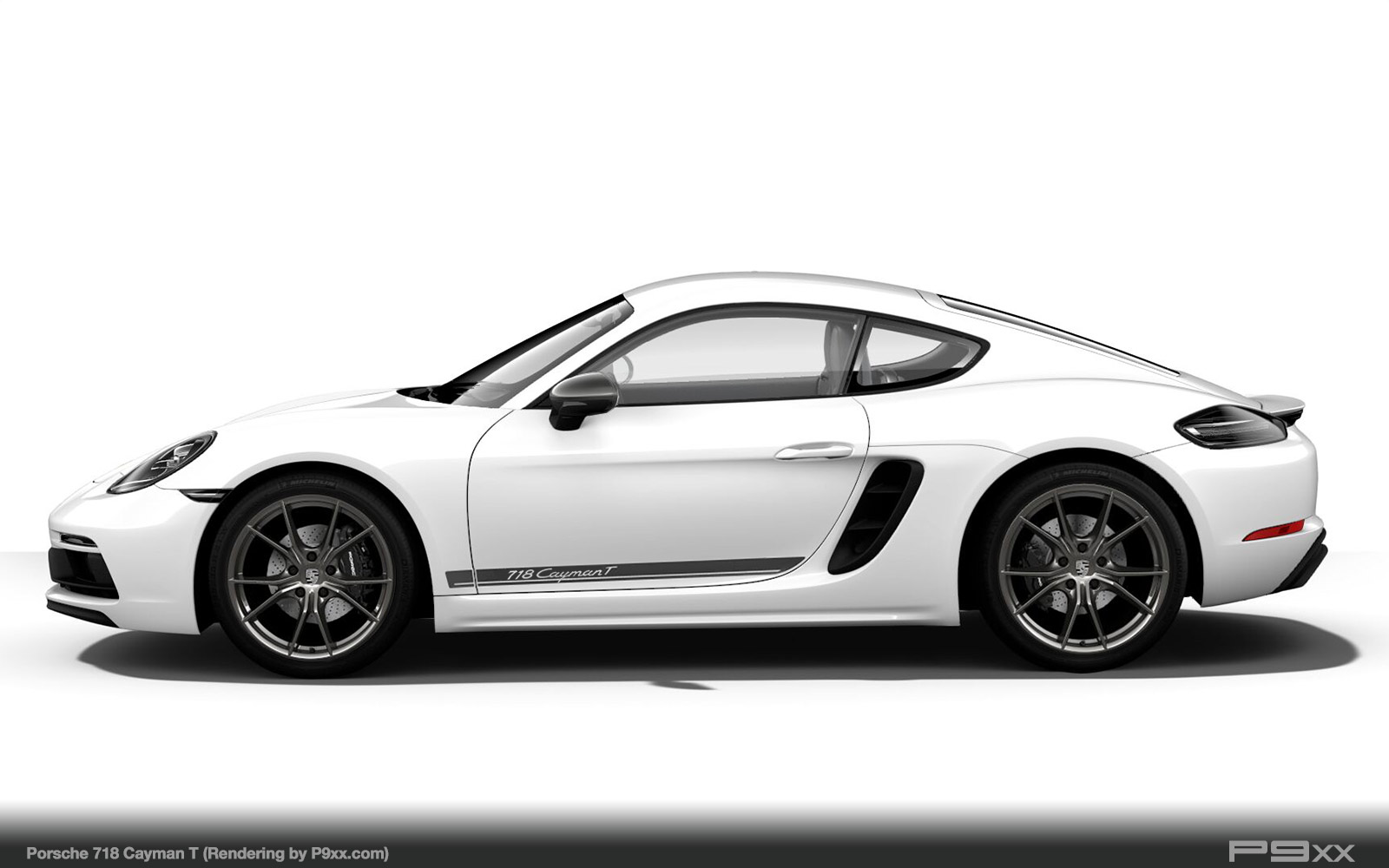 Another Porsche model popular amongst driving enthusiasts is the Cayman. Now dubbed the 718 Cayman, Porsche's mid-engine two-seater coupe is both the most affordable and the lightest of the mainstream Porsche sportscar offerings. Its mid-engine configuration also makes it the best balanced, which isn't lost on driving enthusiasts. One doesn't need to be a rocket scientist (or even automotive engineer) to do the math and see the value of adding a Cayman T variant to the 718 lineup.
The renderings you see here are exclusive to P9xx.com and created by our staff. Effectively, the renderings pair the known Cayman S and GTS model cues with already seen 911 Carrera T details including stripes, badging, wheel and rearview mirror finish, etc. So no, they're not real shots, but they may prove to be very close to the real thing when the 718 Cayman T is finally revealed.
If or when the 718 Cayman T arrives, we expect it will slot in between the 718 Cayman and 718 Cayman S in pricing. AutoGuide reports the guide also reveals that the Cayman T will make use of the same 2.0-liter turbocharged flat four boxer engine in the 718 Cayman range, but with a power output that is listed as "TBD". Weight is also revealed at a gross vehicle weight (GVWR) of 3,649 lbs., so some 66-lbs. lighter than the standard Cayman's 3,715 lbs.