Santa Monica, CA – Gooding & Company, the official auction house of the Pebble Beach Concours d'Elegance®, is thrilled to present one of the most exciting lineup of Porsche Spyders to ever come to auction. This unrivaled presentation has something for each collecting taste from 1950s competition Porsches, to a one-off Bertone-bodied 911 Spyder, to the first Porsche RS Spyder ever available at public auction. The auction house welcomes you to witness this unique opportunity on August 24 and 25, 2018 at the 15th annual Pebble Beach Auctions presented by Gooding & Company.
"It is truly exciting to have these significant Porsche Spyders, that are not only rare competition or one-off coachbuilt examples, but also represent the lineage of the Porsche Spyder," notes David Gooding, President and Founder of Gooding & Company.
2007 Porsche RS Spyder (Estimate Available Upon Request)
The RS Spyder is one of most successful prototype racing cars in Porsche history with consecutive IMSA LMP Championships, an overall win at Sebring, and class wins at Le Mans. The car presented here, chassis 9R6.706, is the last of six RS Spyders built for the 2007 racing season. This RS Spyder was originally sold to CET Solaroli Motorsports of Jacksonville, Florida and has been meticulously maintained with limited track time at historic events, such as the 2015 Rennsport Reunion and the 2016 Monterey Motorsports Reunion. Offered from an important private collection and presented in bare carbon bodywork, this car is a ticket to a variety of important events, including the upcoming Rennsport Reunion. Very rarely do these cars trade hands and never before has one been offered at public auction. The presentation of 9R6.706 represents a singular opportunity to acquire what is arguably the most original and well-preserved example of a historically significant, state-of-the-art Porsche prototype racing car.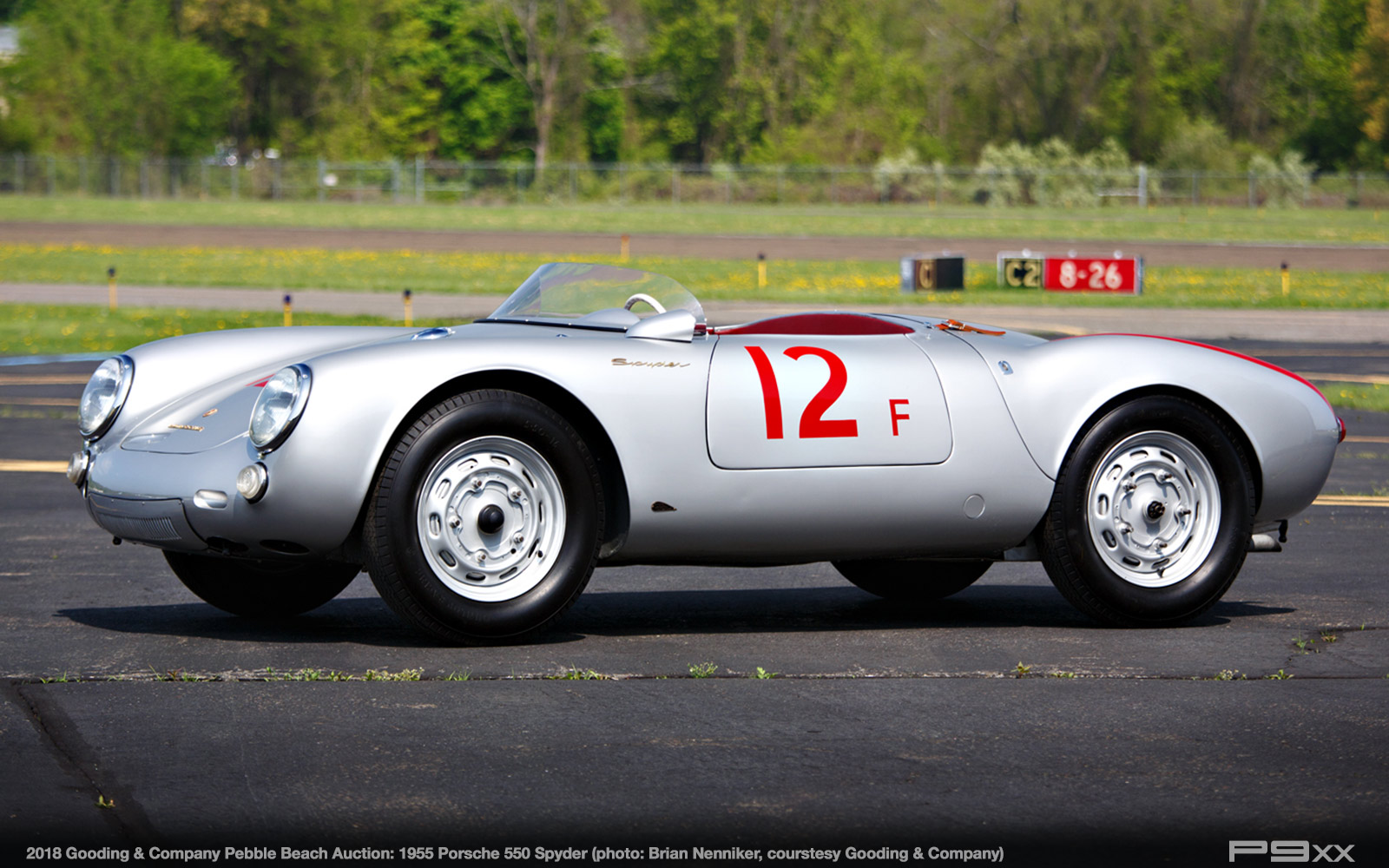 1955 Porsche 550 Spyder (Estimate: $4,000,000 – $5,000,000)
The Porsche 550 Spyder presented here, chassis 550-0053, was originally owned by accomplished California-based privateer racer Eldon Beagle. This was his first Porsche Spyder – he would later go on to own and race another 550 Spyder, as well as a 550A and an RS61 Spyder. Mr. Beagle raced the car in nearly 20 races between 1955 and 1956, including the 1956 Pebble Beach road races. The current owner purchased the car nearly 20 years ago and it has remained largely hidden from public view. We are thrilled to offer this exceptional 4-cam Spyder, which ticks all the right boxes for the collector seeking a significant competition Porsche, and has not been offered for public sale in nearly two decades.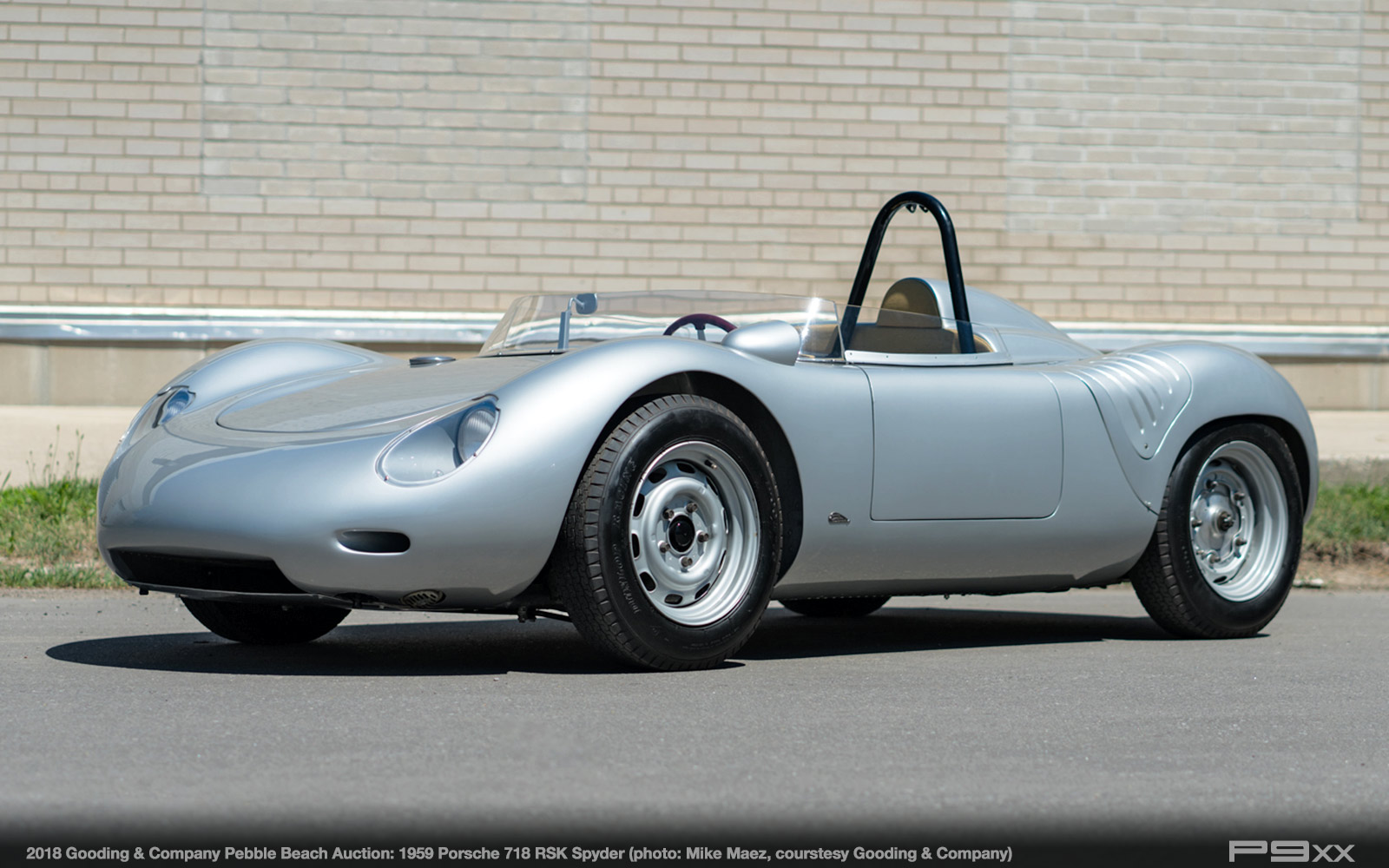 1959 Porsche 718 RSK Spyder (Estimate: $3,600,000 – $4,100,000)
Porsche built just 34 718 RSK Spyders. The car on offer, chassis 718-024, presents as a stunning example of a four-cam Spyder and is held in high regard among knowledgeable marque specialists. Driven by acclaimed American racing driver Ed Hugus at the 1959 24 Hours of Le Mans, this RSK went on to compile an enviable competition record, racing in SCCA events and even at the Pikes Peak Hill Climb during the early 1960s. Its impressive vintage racing pedigree, long-term ownership, and eligibility for leading historic events around the world make this a particularly attractive Porsche competition car.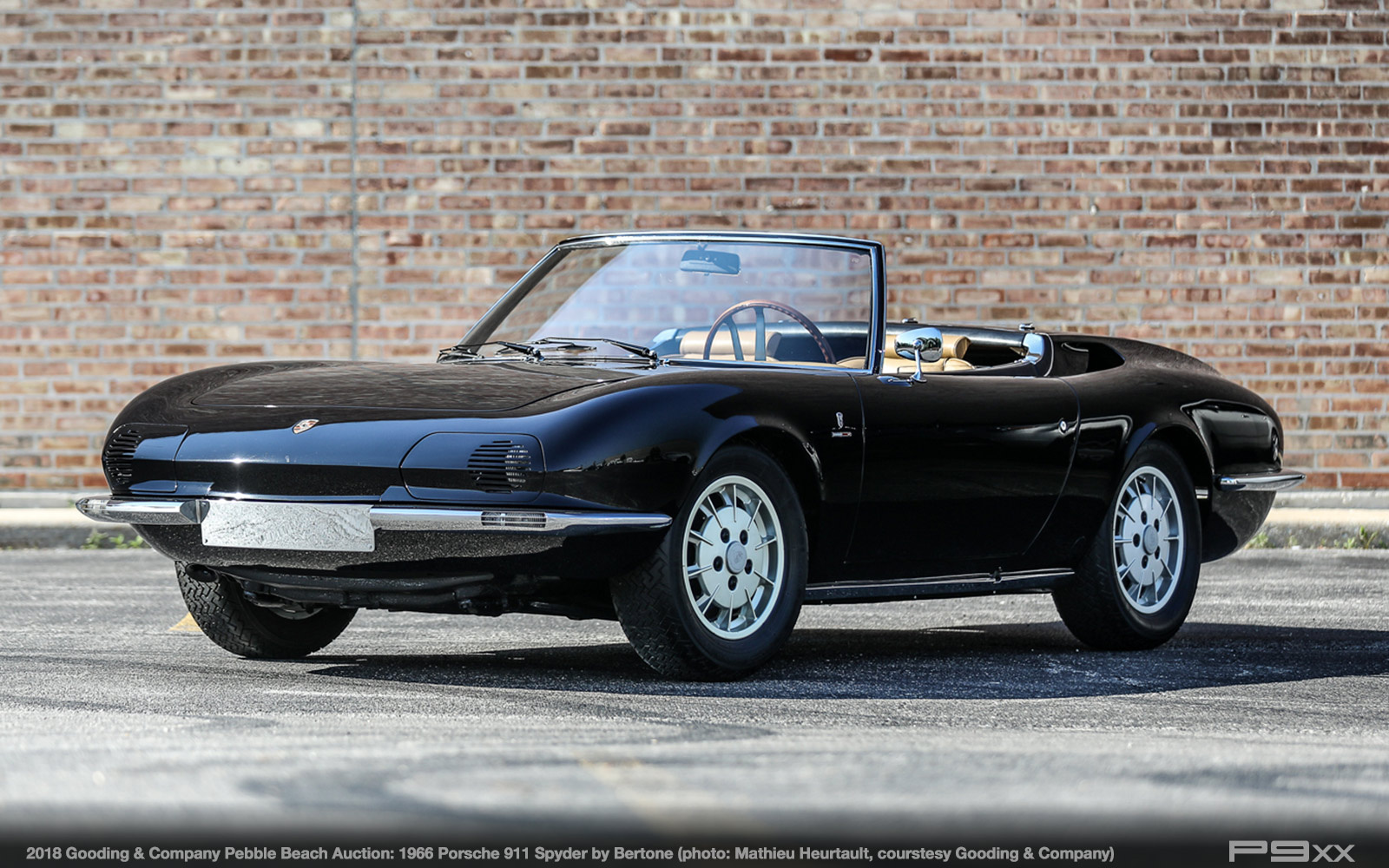 1966 Porsche 911 Spyder (Estimate: $700,000 – $1,000,000)
Customers and dealers were clamoring for an open-air version of the 911 in mid-1960s and California-based dealer John von Neumann enlisted famed Italian designer Nuccio Bertone to deliver a prototype. The car Bertone produced was displayed at the 1966 Geneva Auto Show to a warm reception, but Porsche decided to produce the 911 Targa instead. This 911 Spyder is the only collaboration between Bertone and Porsche, and the sole example ever built. Boasting impressive provenance and offered for the first time in almost 25 years, the sale of this most exclusive Porsche may well be a once-in-a-lifetime opportunity and is certainly one not to be missed.
The Pebble Beach Auctions
Dates: Friday, August 24 at 5:00 PM PDT and Saturday, August 25 at 11:00 AM PDT
Location: Equestrian Center, Corner of Stevenson Drive and Portola Road, Pebble Beach, CA
Public preview: Wednesday, August 22 through Saturday, August 25
Auction catalogues: $100, includes admission for two to the viewing and the auctions
General admission: $40, includes admission for one to the viewing and the auctions
Live auction broadcast: www.goodingco.com
Facebook: www.facebook.com/GoodingandCompany
Twitter: @goodingandco #GoodingPebble
Instagram: @goodingandcompany #GoodingPebble
YouTube: www.youtube.com/user/GoodingandCompany
Phone: 310.899.1960
Bidder Registration
$200 includes a catalogue, admission for two to the viewing and auction with two reserved seats, subject to availability. Gooding & Company is pleased to offer online bidding on select lots. Please visit bid.goodingco.com for more details and download the Gooding & Company app on Android and iOS.
About Gooding & Company
Gooding & Company's auctions, now in their second decade, produce market-leading prices and deliver to a worldwide reach of clients and enthusiasts. Throughout 2018, spectators and patrons from over 60 nations witnessed this year's auctions live in high-definition video broadcast via our live webcast. Gooding & Company has garnered over $85 million in total sales and achieved a combined sell-through rate of nearly 90% from the company's 2018 Scottsdale and Amelia Island auctions. In addition, the auction house has sold the most valuable collector car across all worldwide automotive auctions in 2018 with the sale of 1965 Ferrari 275 GTB Speciale, achieving a world-record price of $8,085,000 at the Scottsdale Auctions.