Alright most serious collectors and 964-philes, today's find of the day may just be the unicorn of 964 unicorns… and with a price to go along with it. What you see here is a 1993 911 3.8 RSR in so-called 'Le Mans Package'. It's one of 15 known to be built, so effectively twice as rare as a 964 Carrera RS 3.8 for those who are counting.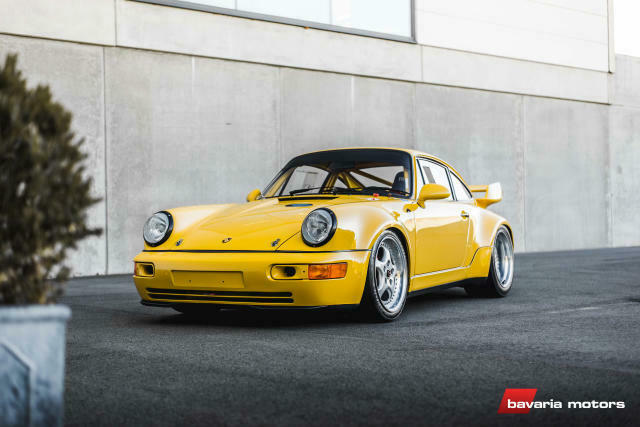 Here's what we know. We found the car for sale on the European car listing site Mobile.de. One of the things we love about that site is the very nature of it. On one hand, it's like Cars.com or AutoTrader here in the USA… so basically your go-to in order to find Porsche models for sale. In between Cayenne's and Caymans though, you also find rare and proper racecars listed from time to time. Case in point is this 964 RSR.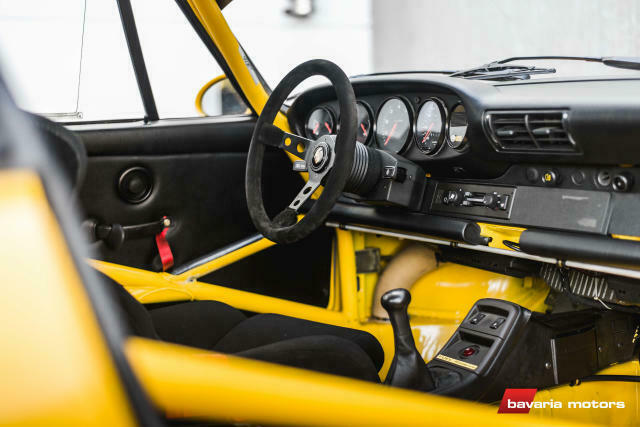 Painted Speed Yellow, this 1993 964 has covered just 4,0000 km. That's about 2400 miles for those keeping count. And, while it's not like you'd be driving it on the road, it's worth mentioning that anything older than 25 years old is MUCH easier to import into the United States. That's worth noting for our American readers.
The listing also includes the following details from the Belgian dealer Bavaria Motors who has it for sale .
VIN : WP0ZZZ96ZPS496086
Engine number : M64/04-RSR 3.8 N°62P85628
Gearbox: G50/10 N°2004379
Matching numbers car
One of only 51 built (this is n°26)
Well documented (original purchase correspondence, build sheet,…)
Original windows, exhaust and center hub covers included
This car is equipped with the Le Mans specification: 120L Fuel Tank, hydraulic lifters and 365 PS configuration. Only 15/51 are equipped with this specification.
Colourcode X4 -Speed Yellow (L12G)
Options list :
M003 : race security equipment
M005 : race version Carrera RSR 3.8
M220 : self locking differential 40/40
M388 : drivers race seat left
M406 : RS-CUP wheels in 3 parts 18″
M433: Atiwe leather steering wheel
M481 : 5 speed gearbox
M491 : wide body
M499 : COO Germany version LHD
M564 : no airbag
M656 : no power steering
M546 : 120 litres race tank
Owner history
– *, Sioux Falls, South Dakota, USA (08.12.1993)
– *, Tokyo, Japan (1999)
– *, Tokyo, Japan (1999)
– *, Oxfordshire, Great Britain (2007)
– not named, Belgium(since 2008)
For more pictures and information, please visit our website www.bavariamotors.be