BLENHEIM, Ontario – RM Sotheby's has announced the latest highlights for its upcoming Porsche 70th Anniversary auction, set for 27 October at the Porsche Experience Center Atlanta (PEC). From the early years of Porsche represented by the Super Speedster announced last month, RM Sotheby's shifts its focus to the 1980s and the marque's iconic Group B supercar—the 959.
Though homologation rules prevented what began as a new and improved twin-turbo, all-wheel drive 911 concept from competing in its intended Group B class, Porsche continued development of the new model and renamed it the 959, with the ultimate goal of building the fastest, most technologically advanced Porsche road car ever. RM Sotheby's is thrilled to offer two iterations of the lauded 959 in its sale, led by a 1985 Porsche 959 Paris-Dakar rally car.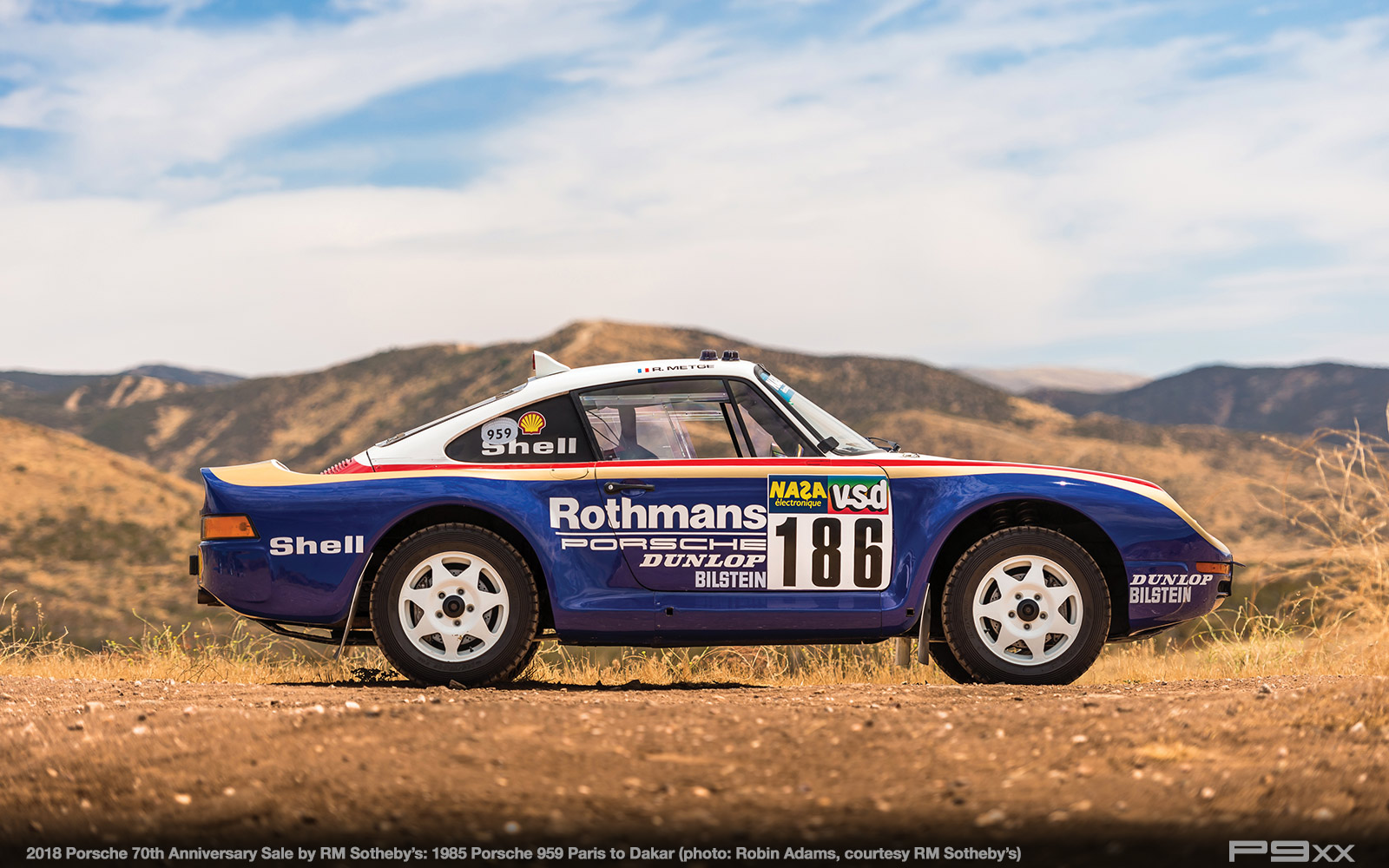 One of just three examples built for the 1985 Paris-Dakar Rally—thanks to the encouragement of six-time Le Mans winner Jacky Ickx who finished the Paris-Dakar race in sixth place in a Porsche Type 953 911 in 1984—the model would serve as a 959-development prototype, representing Porsche in the most grueling rally of all. These three cars were equipped with the naturally aspirated 3.2-liter Carrera engine, however were fitted with the suspension, modified four-wheel drive system, and body panels developed for the new 959.
Chassis no. 010015, the example set for RM Sotheby's auction stage at the PEC Atlanta, was driven in the 1985 Paris-Dakar as #186 by René Metge (winner of the Paris-Dakar in 1981, 1984 in a Porsche Type 953 911, and 1986 in a Porsche 959) and Dominique Lemoyne. Of the 552 entries in the rally, just 146 completed the 14,000km race. Unfortunately, 010015 retired due to oil line failure, while the other two 959s were involved in accidents. Though the car on offer did not finish the race, it certainly served as a testbed for the three 959s entered by Porsche in the 1986 Paris-Dakar, which dominated the event, finishing 1st, 2nd, and 6th overall, proving the incredible potential of the model.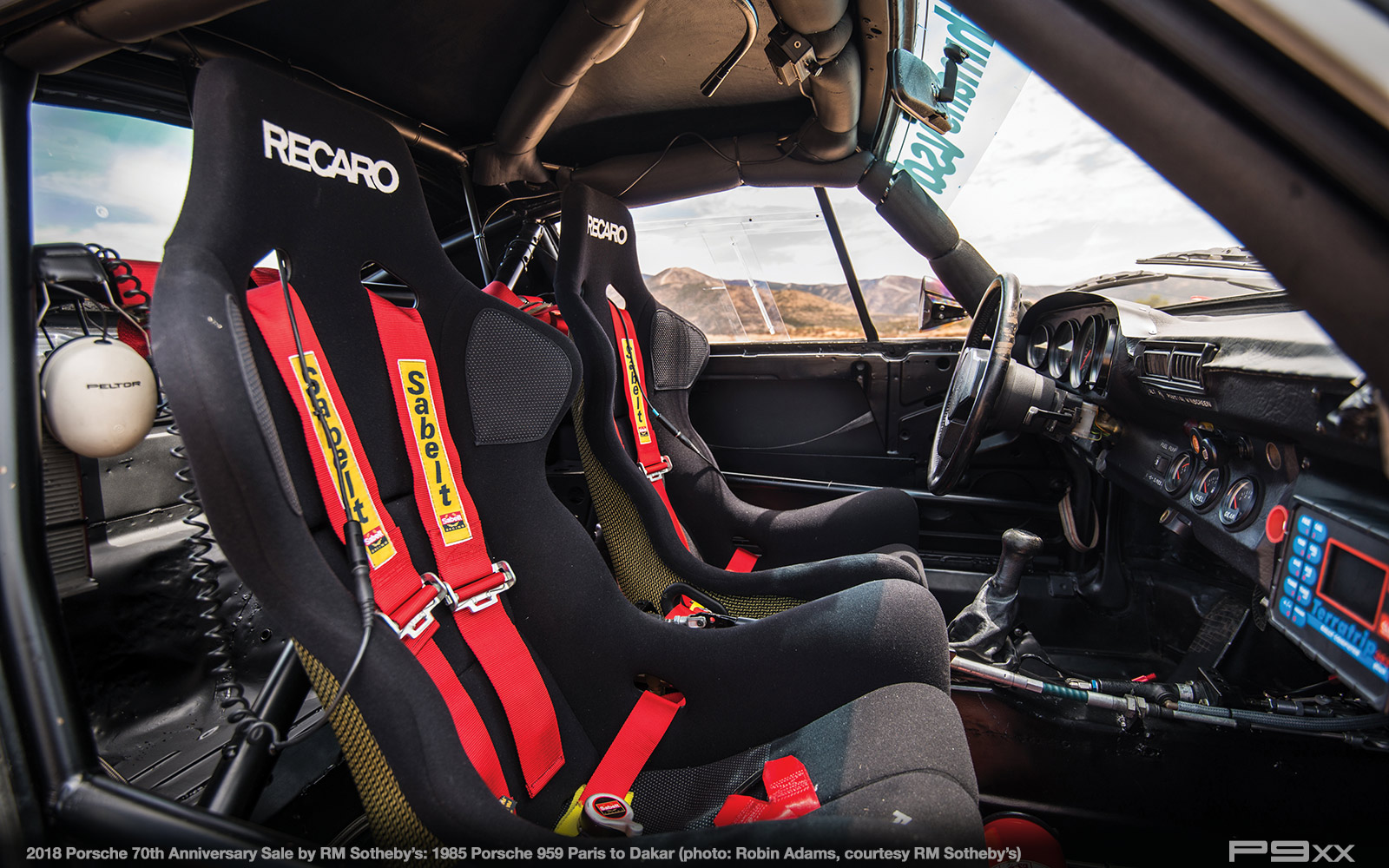 "It is fantastic to be able to offer one of the very few 959 Paris-Dakar rally cars at auction, especially at our Porsche 70th Anniversary sale," says Alexander Weaver, Car Specialist, RM Sotheby's. "Just six of these impressive machines were ever built, with five examples surviving and perhaps a mere two or three, including this car, in private hands. The Paris-Dakar presents in as-raced, highly original condition, and is being commissioned to complete running order prior to the sale in October.
There has been a considerable surge in the popularity of safari-style, rally-spec 911 builds, and the 959 Paris-Dakar is essentially what sparked all of these on/off-road Porsche models. For any die-hard Porsche collector and off-roader, this is an unheard-of opportunity."
Following its retirement from racing, the 959 has been shown and used regularly at vintage events across the U.S. and Europe, including appearances at the Goodwood Festival of Speed in 2004-2006 under former owner Jacky Ickx, at the Royal Automobile Club in London, and at The Quail: A Motorsports Gathering, where it won Best in Class in 2008. Offered from long-term ownership in a private collection of important sports and vintage race cars, this 959 Paris-Dakar played an integral role in the development of the original Porsche supercar, and is one of the most iconic rally cars of the 1980s. The first example to ever be offered for public auction, the 959 is estimated by RM Sotheby's to bring $3,000,000 to $3,400,000 this fall.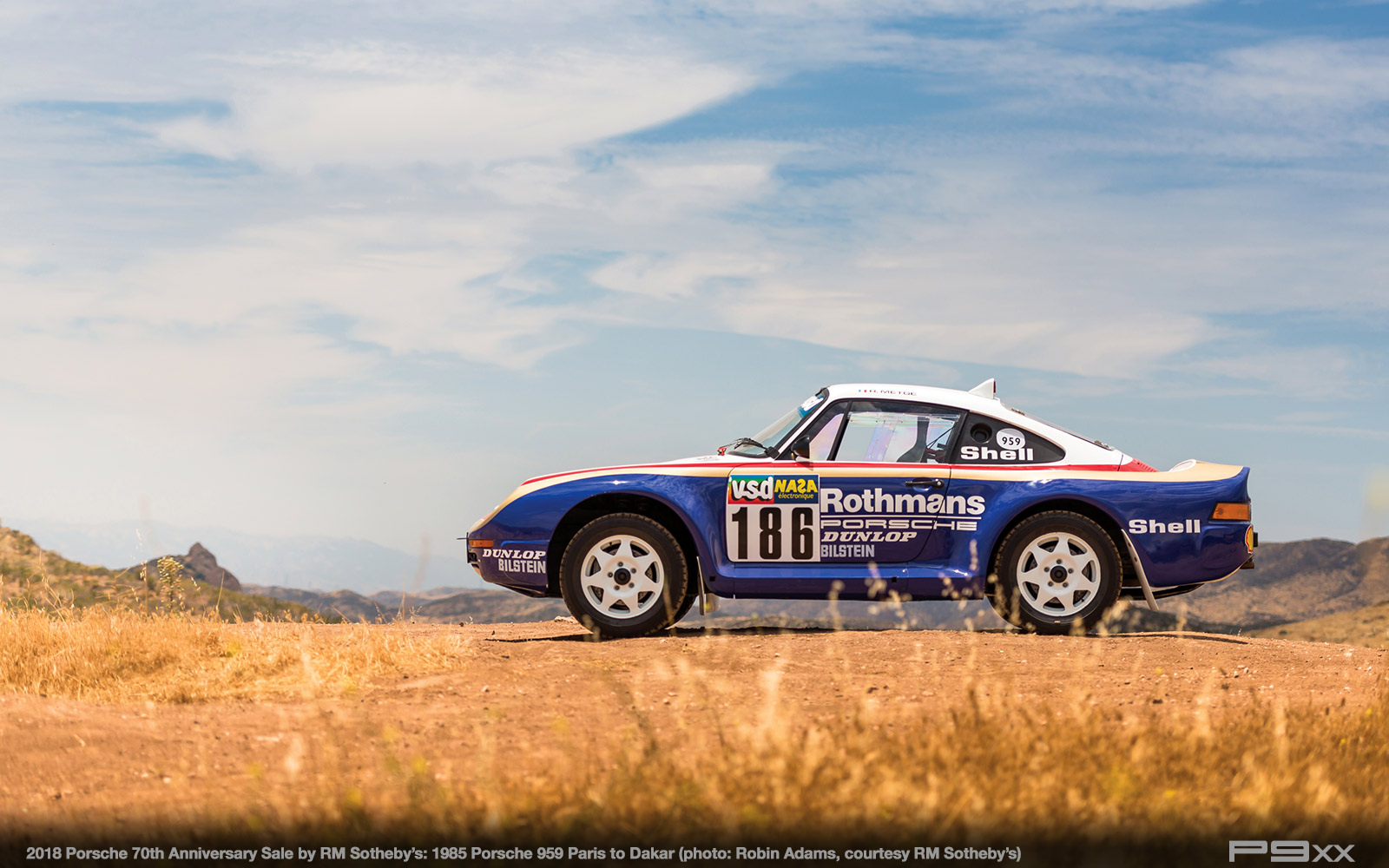 In addition to the Paris-Dakar, RM Sotheby's will also present a 959 Prototype from the same year at its Porsche 70th Anniversary sale. Known as prototype no. F7 of 12 'F' series prototypes, the car on offer was finished in Ruby Red with 'Triple Silver' interior and trimmed to Komfort specification without the adjustable ride height featured in the later cars. Believed to be one of just three or four prototypes to survive and perhaps the only example in running order, F7 was used for electrical systems and hot weather testing in period, making it as far as San Francisco and Australia.
Additional features and marked differences unique to the Prototypes include the earliest rear wing type, very rare prototype wheels in hollow magnesium and finished in pearlescent white, and LHD prototype headlights which are entirely different to the production versions. Offered from its long-term owner of more than 15 years, RM Sotheby's estimates the Prototype carries a pre-sale value of $1,300,000 – $1,600,000.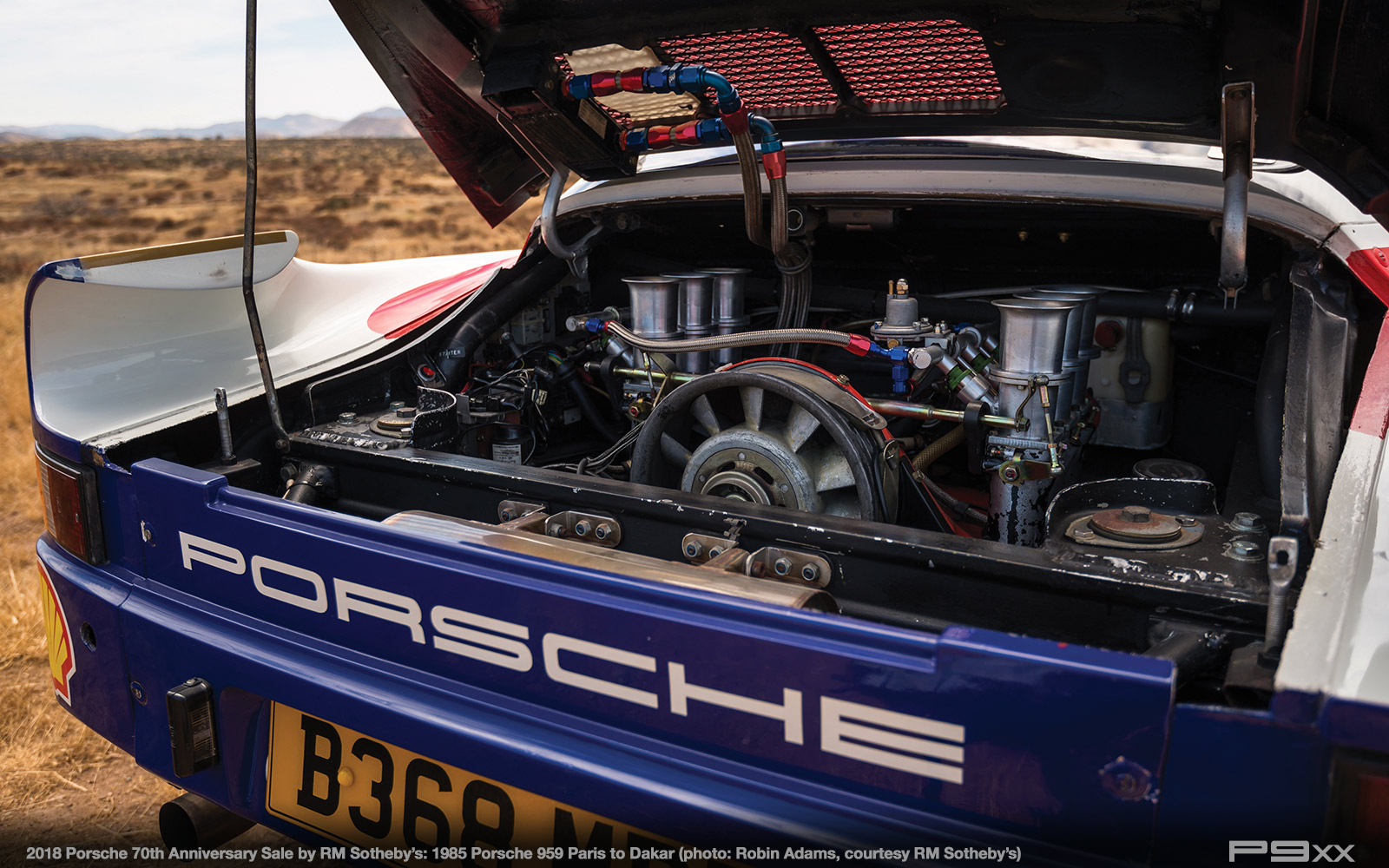 The RM Sotheby's Porsche 70th Anniversary Auction is an exclusive, single-marque auction to be held at the home of Porsche Cars North America (PCNA) in Atlanta. Set for the weekend of 27 October, the sale shortly follows official U.S. 70th anniversary celebrations taking place in 2018 and will feature approximately 70 of the world's most important and most sought-after, privately-owned collectible Porsche models, spanning the marque's illustrious 70-year history as a sports car manufacturer. The entire PEC Atlanta will be open for RM Sotheby's registered bidders to view auction cars, 26 and 27 October, all made easily accessible thanks to the facility's location adjacent to the runways of Atlanta's Hartsfield-Jackson International Airport.
For further event information and an updated list of entries for the sale, please visit rmsothebys.com. To speak with an RM Sotheby's car specialist about entering an exceptional Porsche in the auction, please call +1 519 352 4575. To schedule driving experiences at PEC Atlanta or to book Restaurant 356, please call 888-204-7474.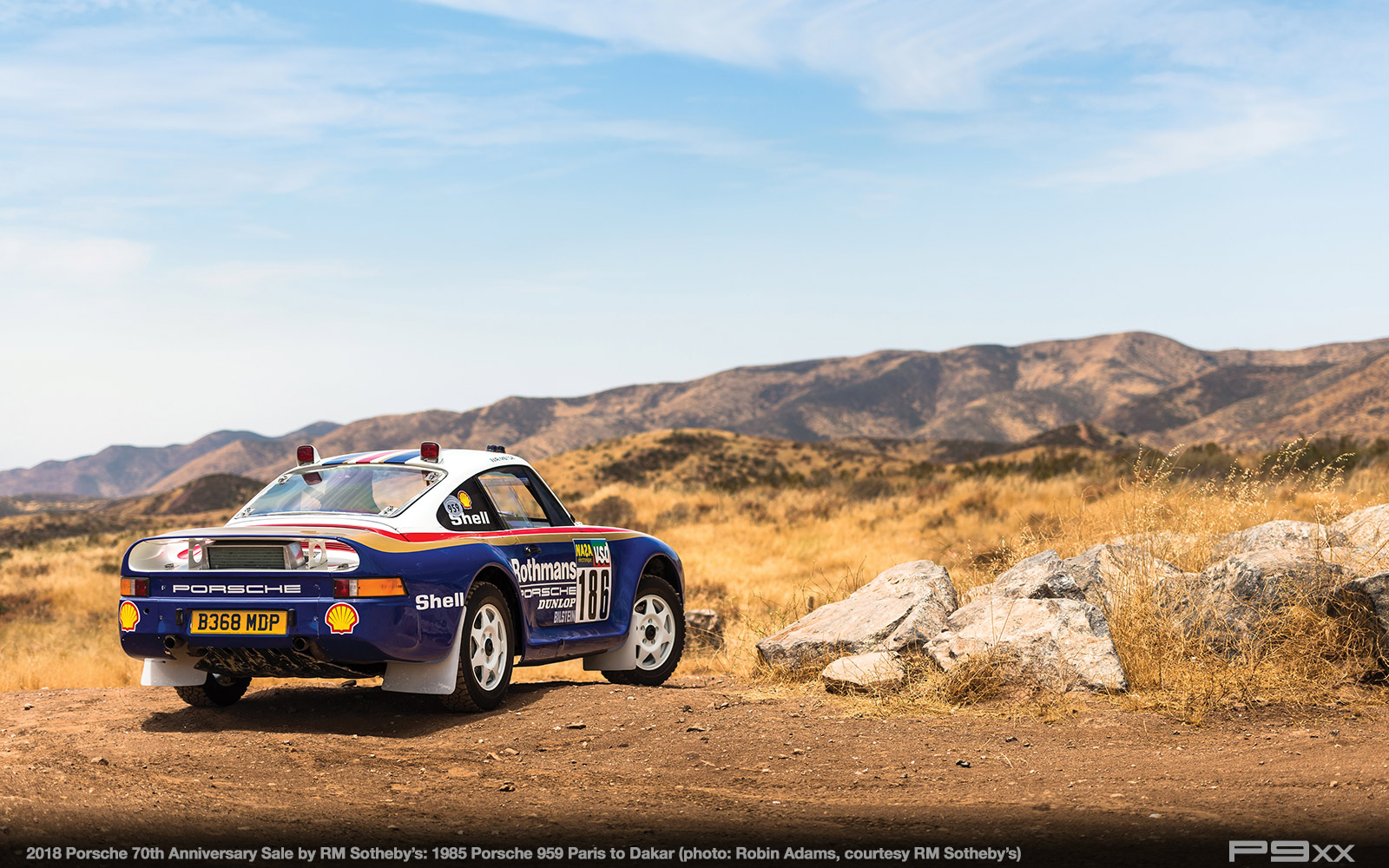 FOR MORE NEWS FROM RM SOTHEBY'S AND THE PEC ATLANTA: #RMPORSCHE #PECATL #SPORTSCARTOGETHER
Visit: rmsothebys.com
Follow: www.twitter.com/rmsothebys | www.instagram.com/rmsothebys
Join: www.facebook.com/rmsothebys
Watch: www.youtube.com/rmauctionsinc
About RM Sotheby's
RM Sotheby's is the world's largest auction house for investment-quality automobiles. With more than 35 years' experience in the collector car industry, RM's vertically integrated range of services, from private treaty sales and auctions (including both RM Sotheby's and RM Auctions events) to estate planning and financial services, coupled with an expert team of car specialists and an international footprint, provide an unsurpassed level of service to the global collector car market. In February 2015, RM formed a strategic partnership with Sotheby's, uniting the two companies for the full calendar of future automobile auctions. For further information, visit rmsothebys.com.