There is no doubt that concours week on Amelia Island, FL has quickly become a can't-miss venture for Porsche enthusiasts. Last year's first-ever Amelia-based Werk Reunion by the Porsche Club of America set a snowball rolling, and this year gets even more intriguing thanks to various auction houses getting in on the Porsche trend. Case in point is RM Auctions, who plans to headline their 2018 Amelia Island Auction with a large collection of some incredibly exclusive Porsche 964s.
Aptly named "The 964 Collection", this mix of eleven cars (plus a 930 for good measure) stems from just one collector. It took him a decade to assemble this mix of some of the finest and most rare 964 specimens around.
Porschephiles know that the 964 is one of the most sought-after generations of the venerable 911. While they are just the second-to-last of the air-cooled cars, the cars represent the last of the hand built Porsches. Even still, tech such as coilover suspension, power steering, ABS and more make them also the most developed of the hand built cars. As a result, these cars are also a favorite for builders such as Singer Vehicle Design and RWB enthusiasts, driving demand for even the most common examples ever higher.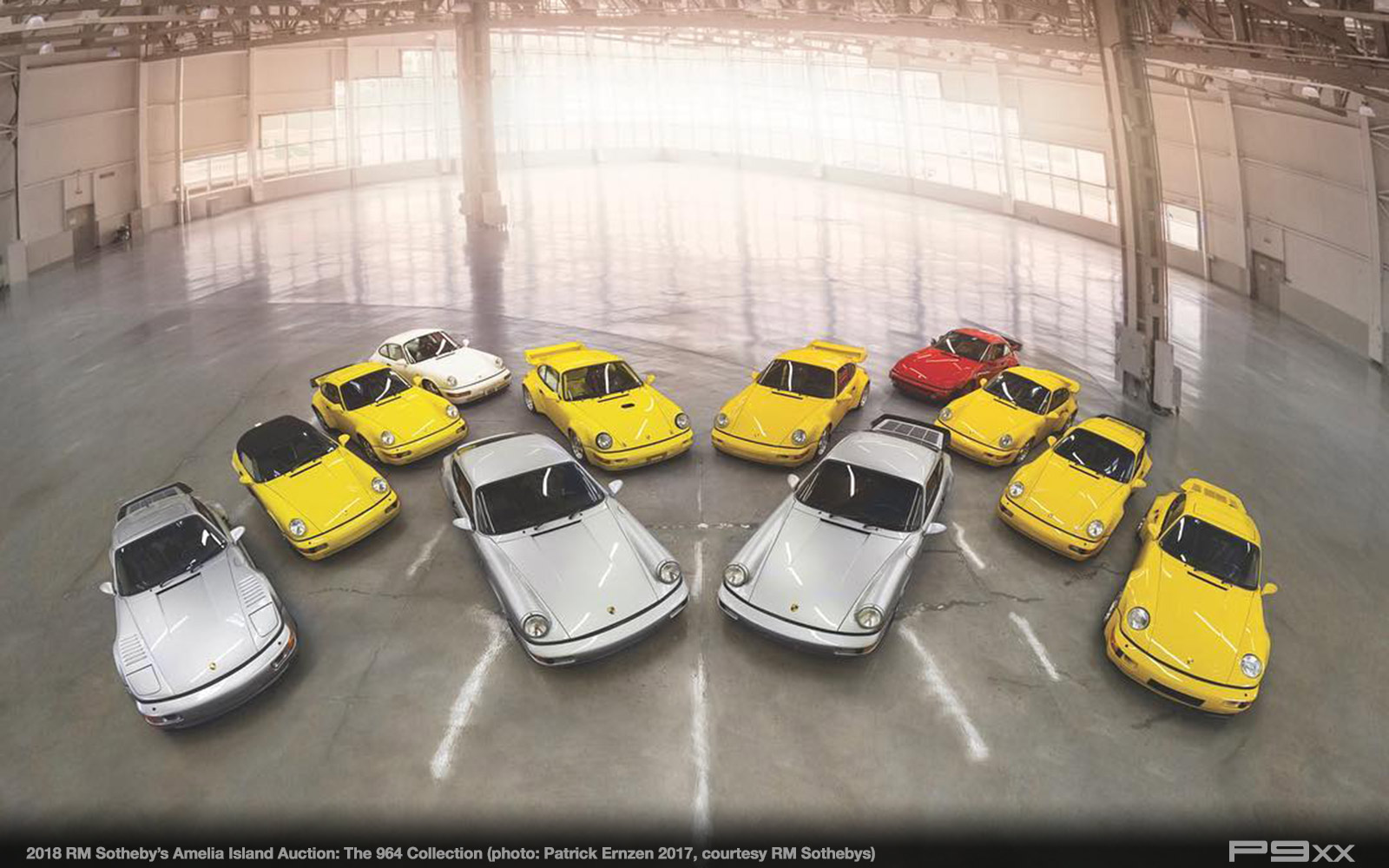 Of course, the cars offered by RM Sotheby's in this collection are far from common. The collector behind the mix focused on specials. This includes a Carrera RS America, a Speedster, a Japanese market Carrera RS, a Carrera Cup, a Carrera RS 3.8, a Carrera RSR 3.8, a Turbo 3.3, a Turbo S Leichtbau, a Turbo S X83 Flachbau and a Turbo S X85 Flachbau.
Perhaps the most newsworthy of the group is what is effectively an as-delivered and 1993 Carrera RSR in paint-to-sample Ferrari yellow. Just 45 of these were built, and this one has only logged 765 km and has never been raced. Also incredibly rare is one of the 55 1993 Carrera RS 3.8s built, in "mint condition" and 7.000 km logged.
The Turbos amongst this collection are equally rare and significant. Beyond more "pedestrian" 3.3 and 3.6-liter versions, there's also one of the 86 produced 911 Turbo S Leichtbau examples, a Turbo S X83 (flat nose / flachbau) with earlier pop-up headlights configuration and a Turbo S X85 (flat nose / flachbau) with later 968 style pop-up single round headlights.
"The 964 Collection is without a doubt the most complete and best collection of limited-production Porsche 964s to ever come to public auction," says Alexander Weaver, Car Specialist, RM Sotheby's. "The owner was well ahead of his time in assembling this group, which represents some of the rarest models in the entire Porsche lineage. We've had the privilege of bringing several exceptional collections of Porsche 911s to market over the last two years, and look forward to securing more strong results in Amelia Island, a proven venue for fresh-to-market rarities."
The sale itself will include 100 "blue chip" automobiles (including several more Porsches) and will be held on March 8, 2018 at the Ritz Carlton Amelia Island. Complete information can be found on RMSothebys.com HERE.
Visit: www.rmsothebys.com
Follow: www.instagram.com/rmsothebys / www.twitter.com/rmsothebys
Join: www.facebook.com/rmsothebys
Watch: www.youtube.com/rmauctionsinc
The 964 Collection in Detail
1991 Porsche 911 Carrera Cup
Estimate: $250,000-$325,000
Chassis Number: WP0ZZZ96ZMS409063
Engine Number: 62M20063
Paint Color: Grand Prix White
1991 Porsche 911 Turbo 3.3
Estimate: $200,000-$250,000
Chassis Number: WP0AA2960MS480653
Color: Paint to Sample/98
1992 Porsche 911 Carrera RS
Estimate: $200,000-$250,000
Chassis Number: WP0ZZZ96ZNS491054
Engine Number: 62N81669
Color: Polar Silver Metallic / A8
1993 Porsche 911 Carrera RS 3.8
Estimate: $1,250,000-$1,500,000
Chassis Number: WP0ZZZ96ZPS497111
Engine Number: 62P85663
1993 Porsche 911 Carrera RS America
Estimate: $200,000-$250,000
Chassis Number: WP0AB2961PS418034
Engine Number: 62N06059
Color: Polar Silver Metallic / A8
1993 Porsche 911 Carrera RSR 3.8
Estimate: $1,200,000-$1,400,000
Chassis Number: WP0ZZZ96ZPS496080
Engine Number: 62P85585
Color: Ferrari Yellow / 10L
1993 Porsche 911 Carrera Turbo S Leicthbau
Estimate: $1,000,000-$1,200,000
Chassis Number: WP0ZZZ96ZPS479014
Color: Speed Yellow / 12G
1994 Porsche 911 Speedster
Estimate: $200,000-$250,000
Chassis Number: WP0CB2960RS465325
Color: Ferrari Yellow / 10L
1994 Porsche 911 Turbo 3.6
Estimate: $200,000-$250,000
Chassis Number: WP0AC2962RS480395
Color: Speed Yellow / 12G 9 2
1994 Porsche 911 Turbo S X83 Flachbau
Estimate: $500,000-$650,000
Chassis Number: WP0ZZZ96ZRS470291
Color: Polar Silver Metallic / A8
1994 Porsche 911 Turbo S X85 Flachbau
Estimate: $600,000-$800,000
Chassis Number: WP0AC2969RS480426
Color: Speed Yellow / 12G 9 2