Much like the original race that made legends out of pioneers, the Mille Miglia classic rally is a monumental event that tests both man and machine. Over four days from May 16 to 19, cars from over 73 different marques raced through seven regions and 200 town, making their way across the Italian countryside from Brescia to Rome as they did from the start.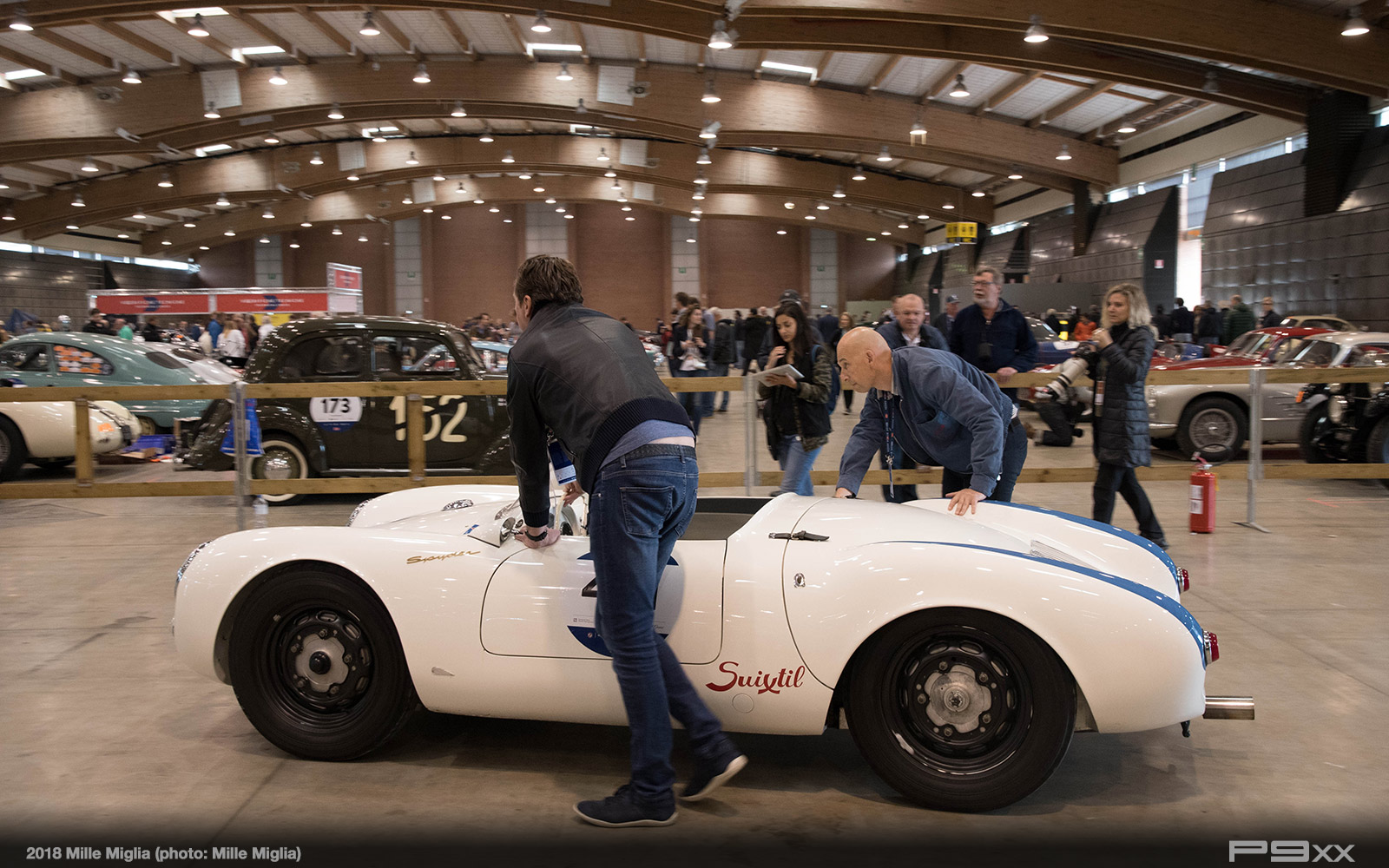 Known as the Freciia Rossa (Red Arrow) this iconic vintage race began in Brescia. Now in its own 36th running, it is a re-enactment of the original that ran from 1927 to 1957. A mass of 450 vintage cars took part in the event with 101 cars like a Porsche 550 Spyder from the House Museum (MM 1956) that were actual veterans of the original Mille Miglia races. These entries ranged from private cars to those fielded by manufacturers such as Porsche themselves. Automobiles qualifying for entry ranged from the 1920s to the 1950s, period correct with the original running of the race itself.
Amongst the race teams were no less than 725 crews from 55 countries and 5 continents. 98 teams hailed from Germany and 58 came from the United States. Not surprisingly, the Mille Miglia attracts drivers as legendary as the cars themselves. These include: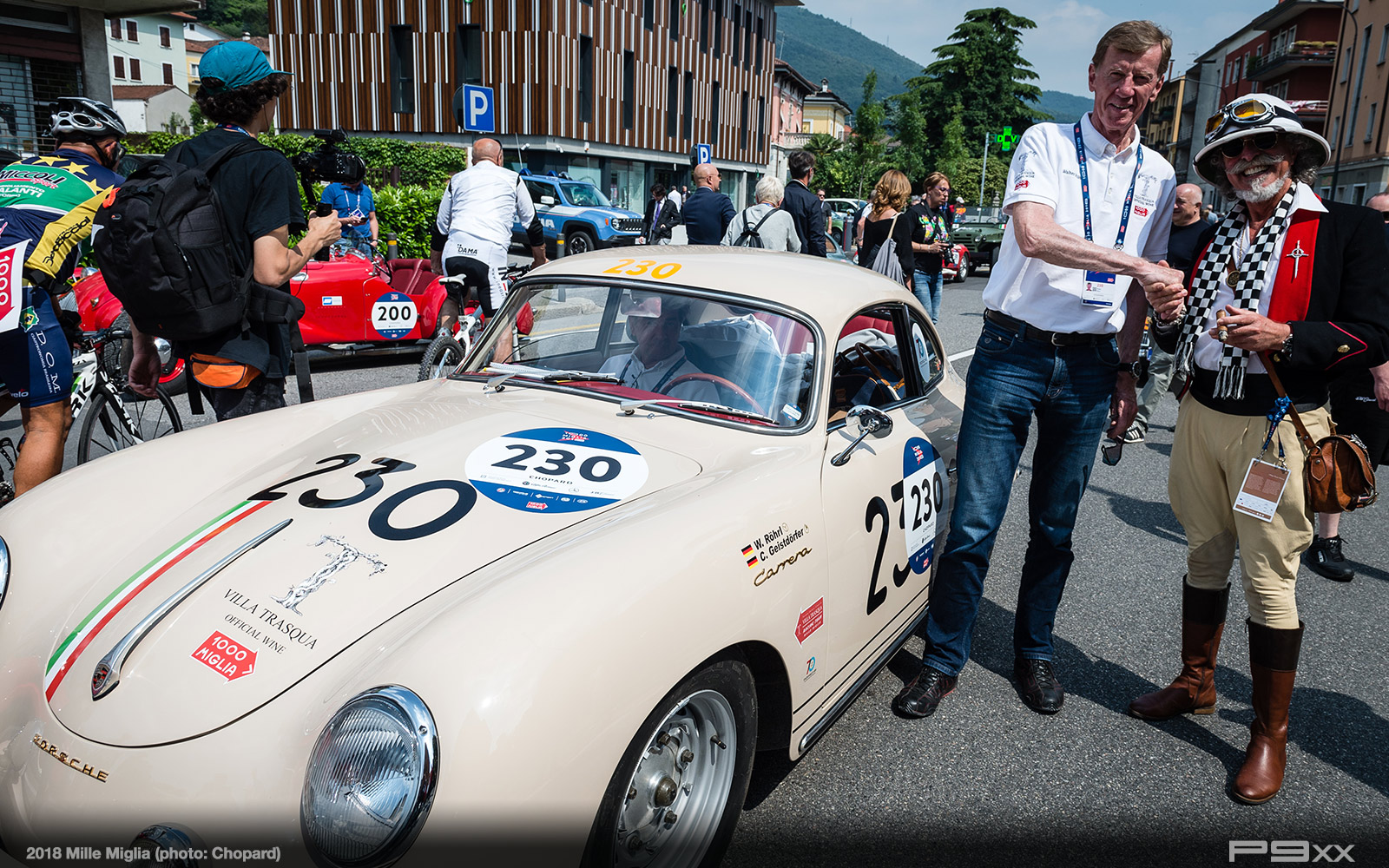 Walter Röhrl may very well be one of the greatest rally drivers of all time. Paired here with his longtime co-driver Christian Geistdörfer, the two fielded a 1956 Porsche 356 A 1600 GS Carrera that originally ran in the 1956 and 1957 Mille. This year, the car was run by Team Villa Trasqua.
Gijs van Lennep is one of the most famous Dutch drivers ever, with two victories at Le Mans (1971 and 1976) and once at the Targa Florio (1973). At the Mille, van Lennep drove a 1953 Porsche 356 1500 Super.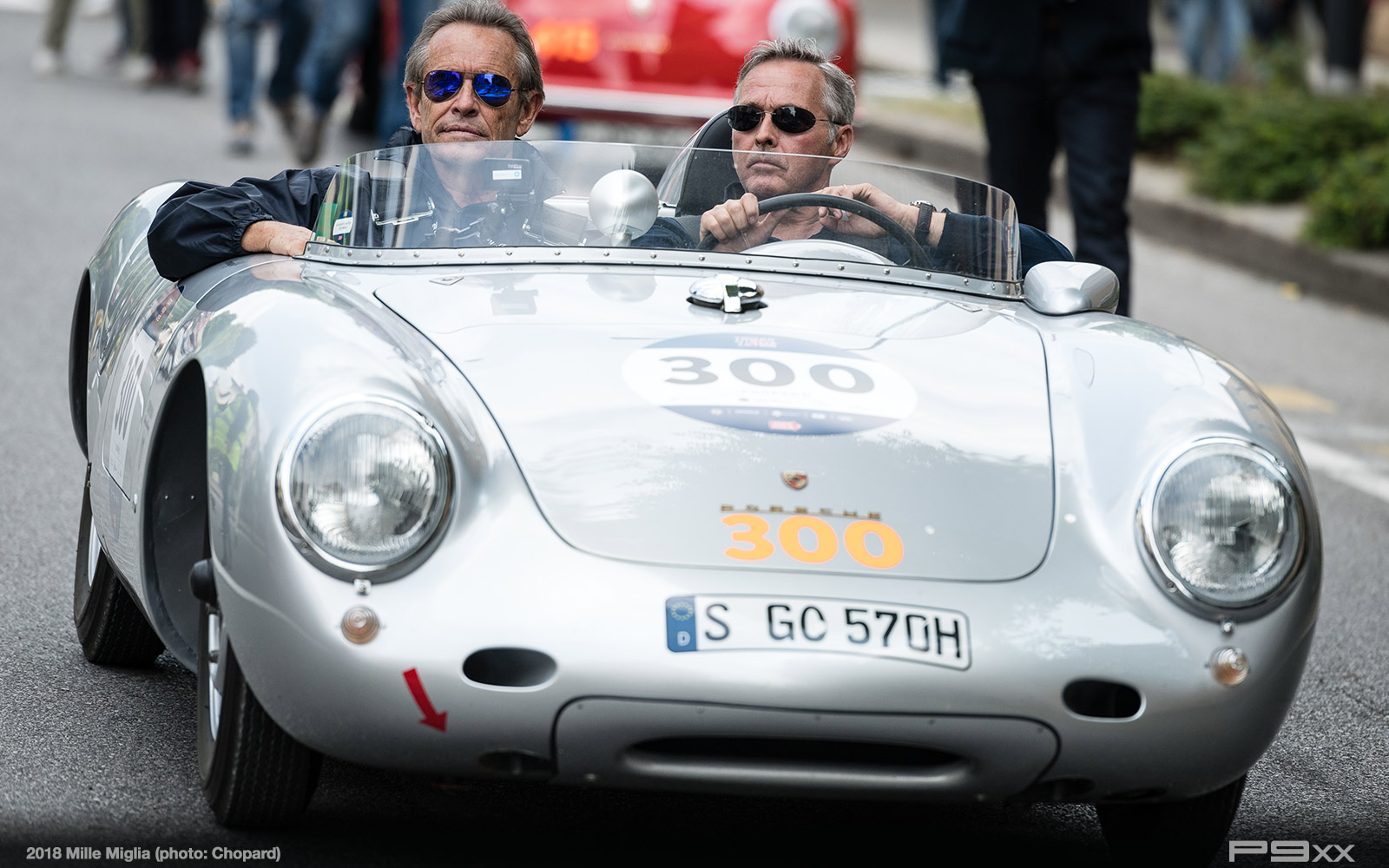 Karl Frederich Schaufele is co-president of watch manufacturer Chopard, a race sponsor for 30 years and also a partner to the Porsche LMP Team. For the Mille, Schaufele paired with co-driver and major legend Jacky Ickx in a Team Chopard 1956 Porsche 550 Spyder 1500 RS on loan from the Porsche Museum. The Chopard executive commented, "Porsche car and especially the 550 Spyder RS is a very reliable car as well as very fun to drive. I really enjoy driving it ! Especially with my friend Jacky Ickx. We did our first Mille Miglia race together in 1989."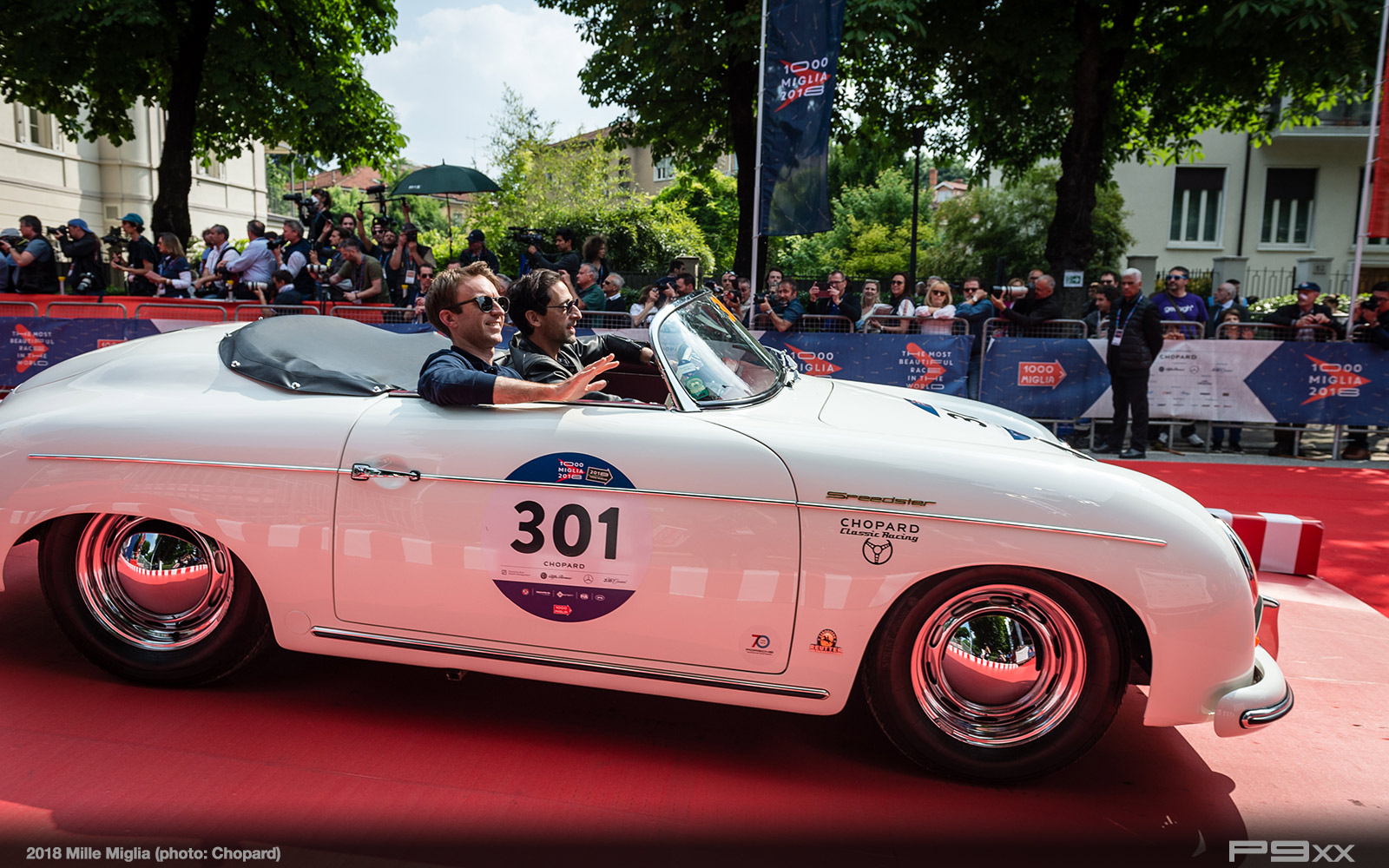 Timo Bernhard is a longtime Porsche factory driver and now team owner fresh from the 24-hours of Nürburgring. Bernhard took the start with actor Adrien Brody, best known for his acting in movies like the Pianist, both here as partners for Team Chopard. This was Adrien Brody's sophomore excursion at Mille having also participated in 2014, this time aboard a Porsche 356 1500 that raced in the 1955 Mille Miglia.
Patrizio Bertelli is better known as the CEO of the Prada Group, but at the Mille is aboard a 1957 Porsche 550 Spyder A 1500 RS.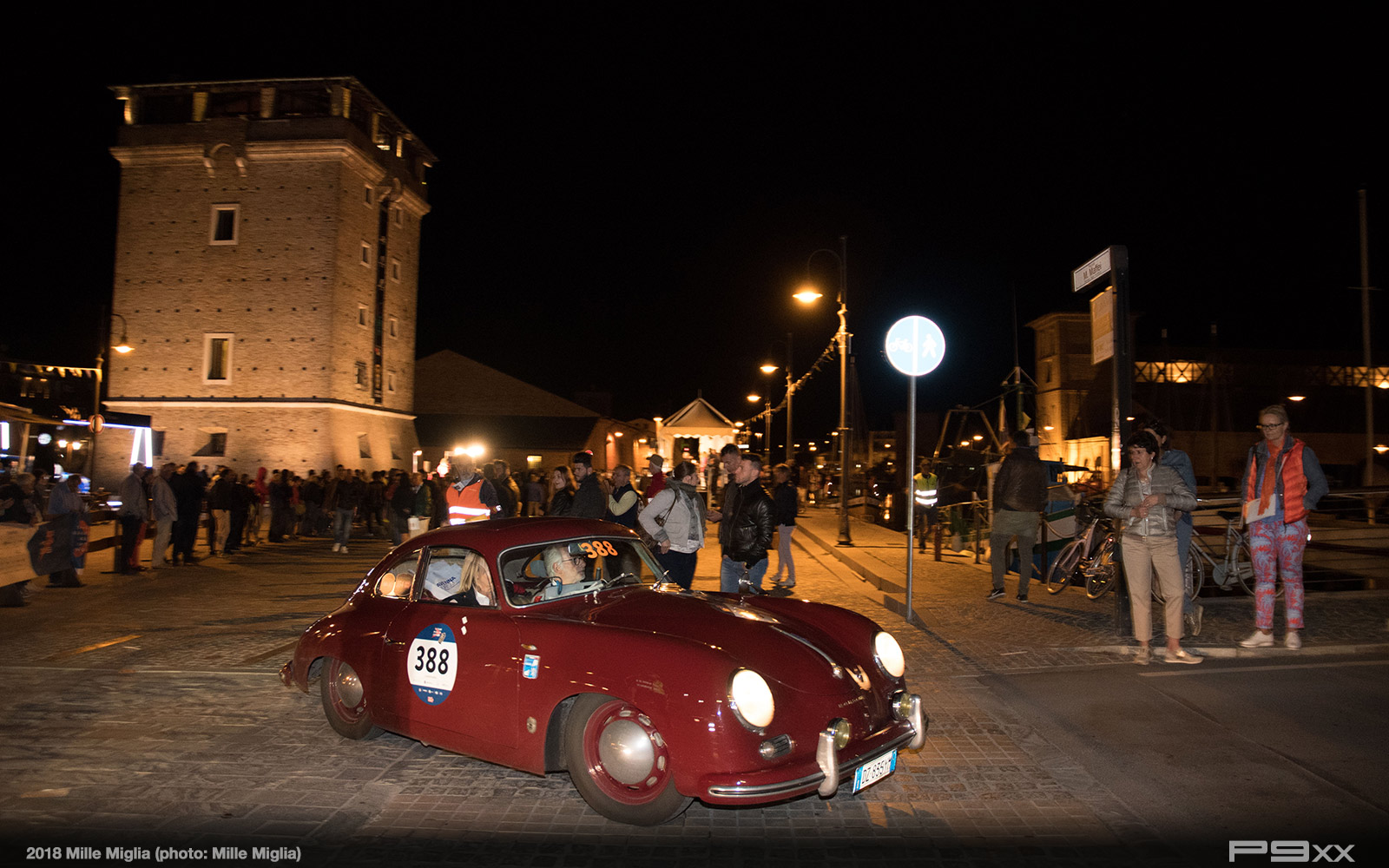 Each day of the race marked a stage – Brescia to Cervia-Milano Marittima, Cervia-Milano Marittima to Rome, Rome to Parma and finally Parma to Brescia. The route covers 1,740 kilometers of Italian roads.