There's no doubt that The Elegance is an up and coming premium concours in America's north east. Held at the historic Hotel Hershey each June, it doesn't boast the week-long event-filled week of a Monterey or Amelia Island, but its emphasis on attracting mainly vehicles from the Mid Atlantic and also pairing the event with a historic hillclimb does make it an always unique experience.
As with other events such as this, notable Amelia Island and Pebble Beach, The Elegance isn't a Porsche exclusive event. Cars on the field can and do range amongst the most obscure, and yet any field filled with the world's greatest automobiles is sure to host a few Porsches. These are the cars that we've chosen to focus upon.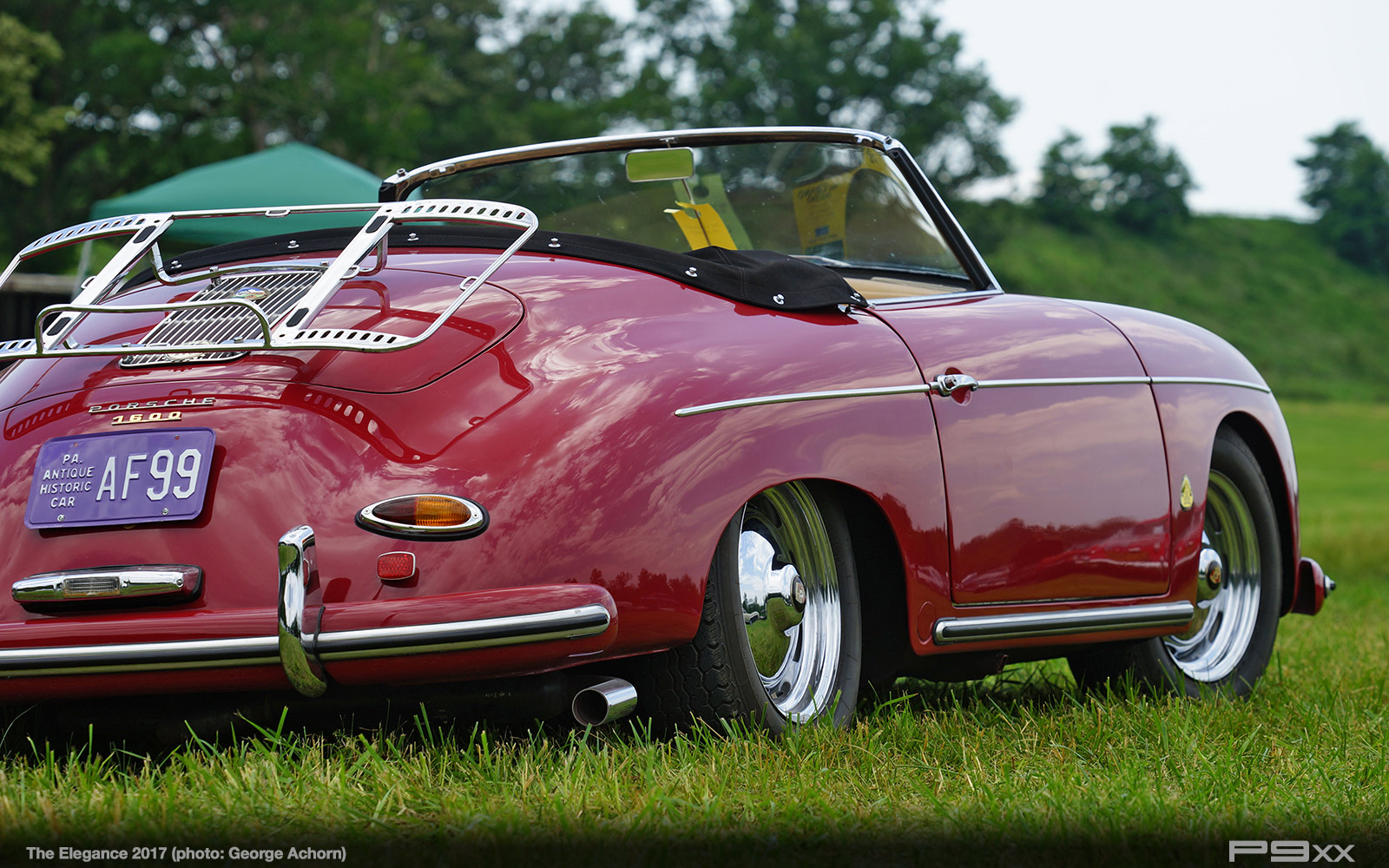 In backwards order chronologically, let's start with those that parked on the grass in the Hotel Hershey gardens and took part in the actual concours. These were amongst the most exotic and rare, and are a fantastic place to begin.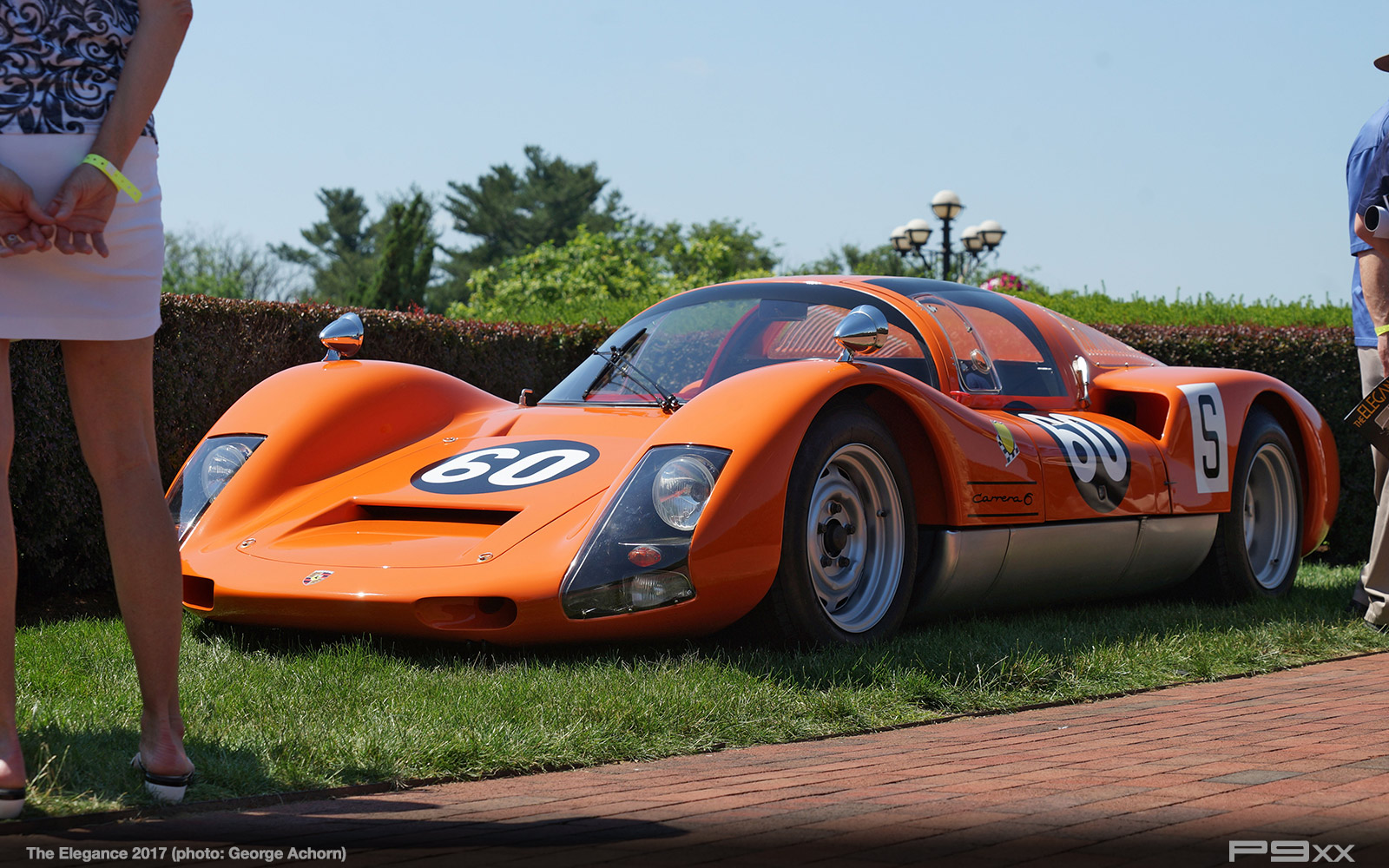 1966 Porsche 906 Carrera 6 Racing Prototype
Successor to the Porsche 904, the 906 Carrera 6 marks the introduction of an incredible gullwing era for Porsche Motorsport. This orange example, chassis #134, was one of two originally purchased by Dutch Volkswagen distributor Ben Pan. Painted in the Dutch national racing color of orange, the two cars were raced as Team Holland.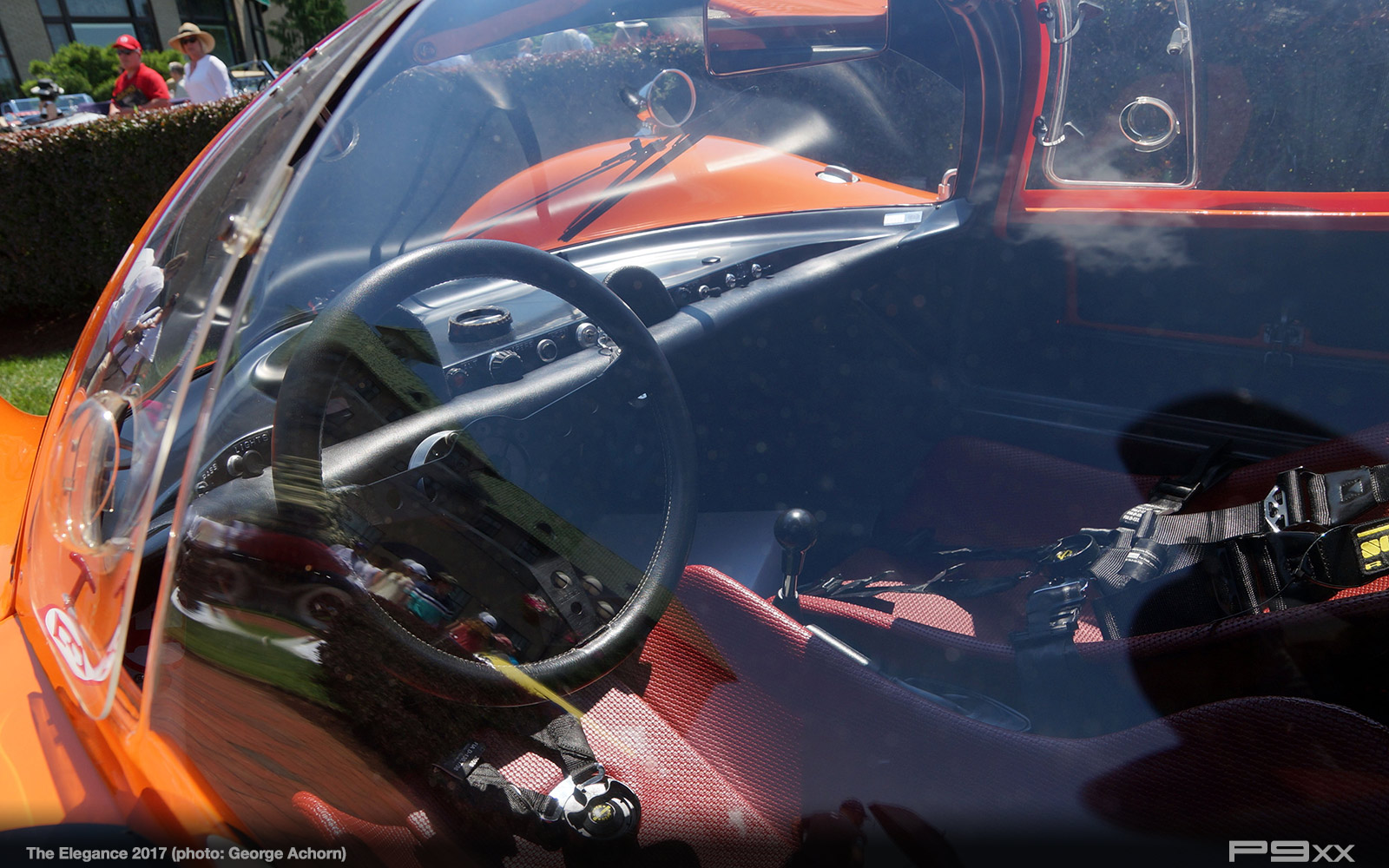 Of the pair, this car was campaigned in 16 events in 1966 and driven by Gifs van Lennep. Victories included the Grand Prix de Paris and first in class at the Nurburgring 1000km. Over the next few years, it logged more victories including 3rd in class in the 1970 24 Hours of Daytona and first again at Watkins Glen. It all-out dominated the Sundown Grand Prix at Mosport where it led every lap from the pole of that six hour race, finishing 12 laps ahead of the 2nd place car.
The car is fitted with a 2.0-liter 230 hp SOHC flat six engine. It was one of just 65 906 Carrera 6 specimens produced by the factory, and today is owned by Paul Queally of Chatham, New Jersey.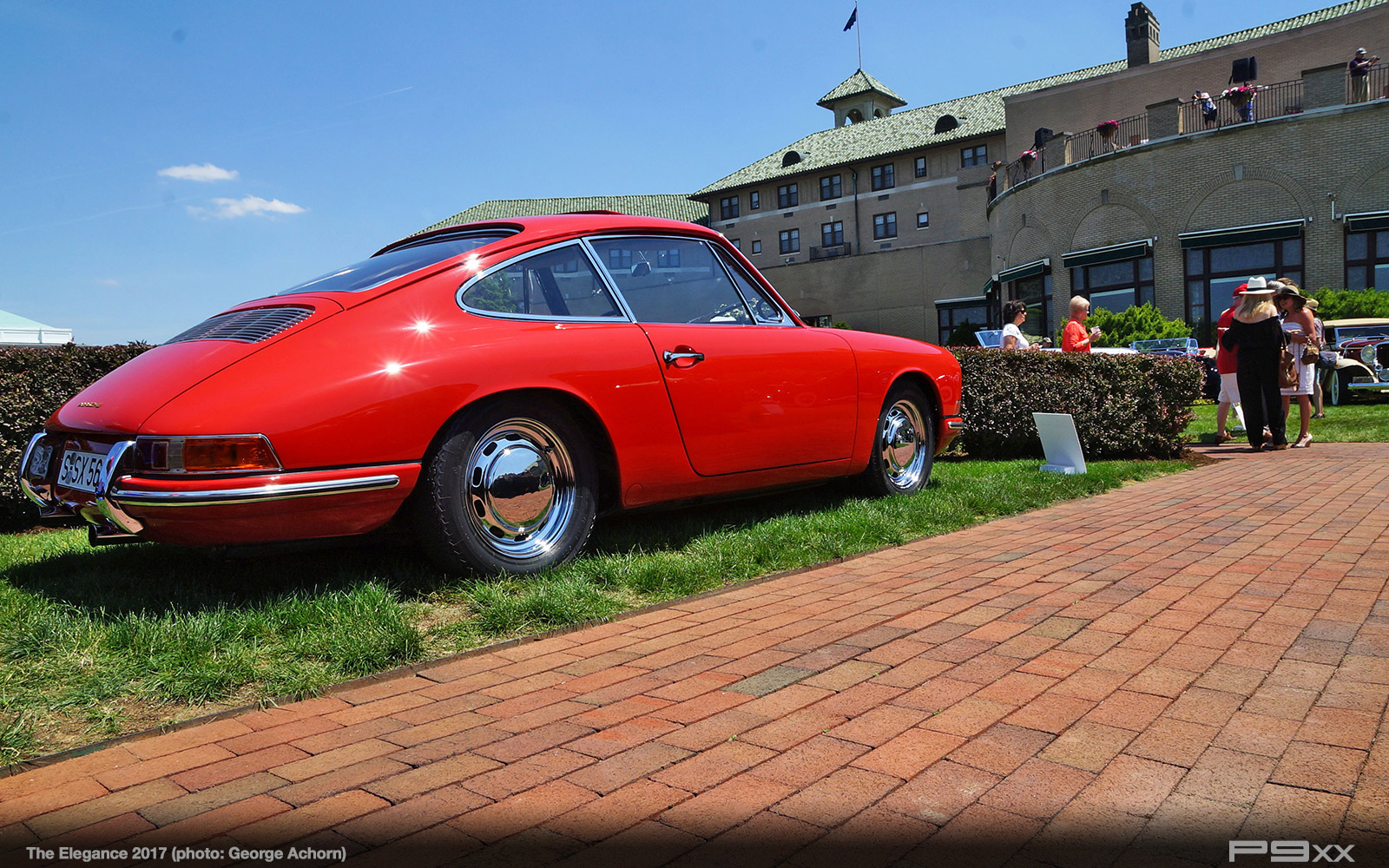 1963 Porsche 901 Coupe Prototype
When it comes to 911 lore, you don't get much more original than this 1963 Porsche 901 prototype owned by Don and Diane Meluzio of York, Pennsylvania. The Signal Red coupe is said to be the lone survivor of ten hand built test vehicles produced prior to the start of series production.
Nicknamed "Barbarossa" (Italian for red beard) by the factory, the car boasts several unique features you might expect from such a preproduction rarity, things like a forward sliding sunroof that never saw production. Other details further reveal its work-in-progress status, whether it be seat mounting hole experimentation to aluminum plates covering holes where test-fit components were removed.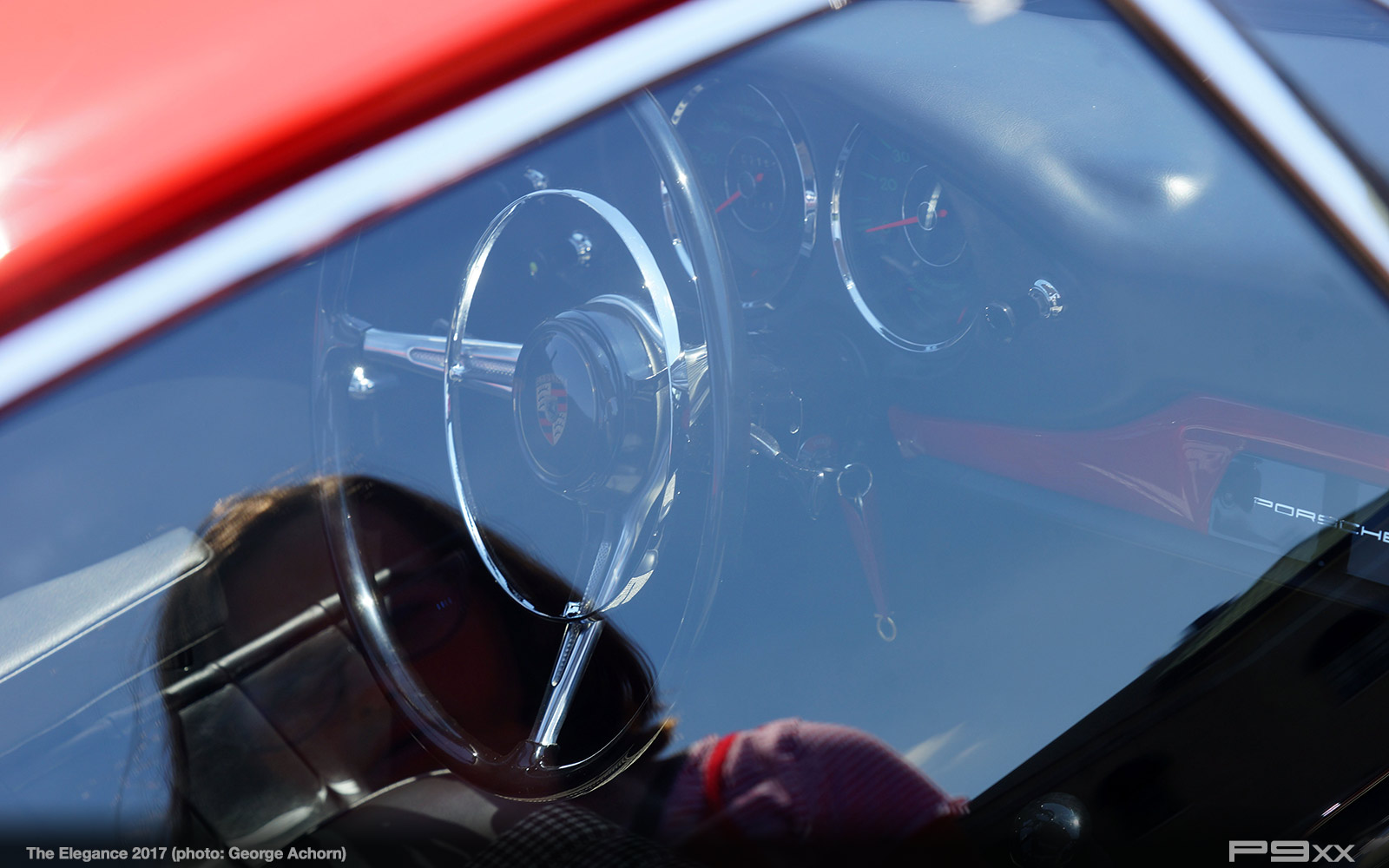 The back story on this car suggests Porsche actually denied the car's existence until a retired German factory worker remembered it and was able to verify its authenticity.
The 901 was Porsche's intended successor to its popular 356 offerings. The model first debuted publicly at the 1963 Frankfurt IAA motor show. Series production followed later that year, though a name change from 901 to 911 was implemented just one month into production when Peugeot lodged a trademark infringement complaint against Porsche whereby the French manufacturer laid claim to naming that included a zero between two numbers.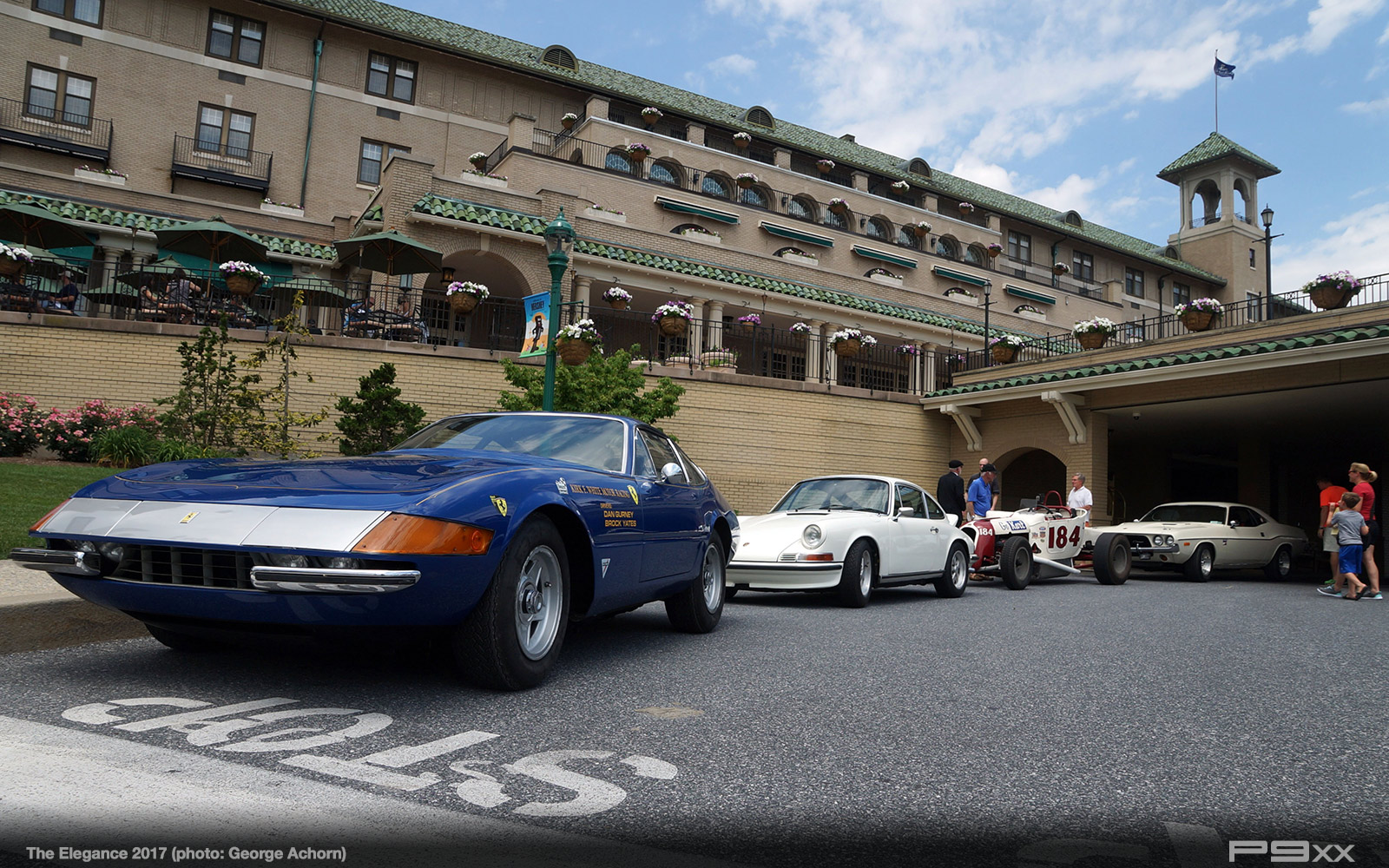 1971 Porsche 911 from the 1975 Cannonball Run
Part of the overall attraction this year was a special emphasis on the history of the Cannonball Run. Brock Yates' widow Pam Yates was a special guest, and a series of early competitors in the coast-to-coast race were on display. Among them was this 1973 Porsche 911.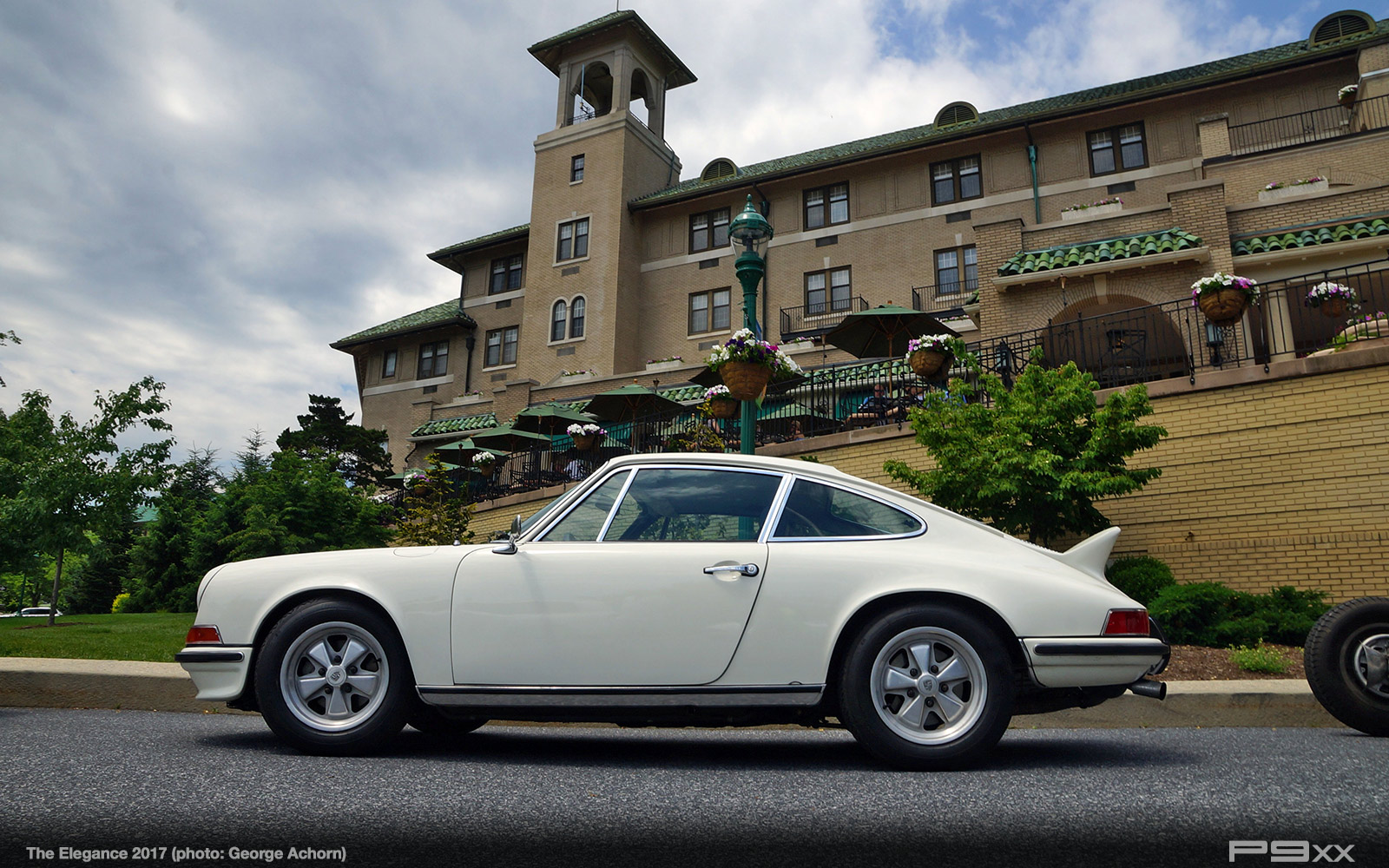 The 911 was one of three Porsches to be entered into the 1975 Cannonball Run. This one was driven by Bill Warner (The Elegance 2017's Grand Marshal) and ex SCCA pro racer Tom Nehl. The car benefitted from a few modifications, including a fuel cell, Cibie lights, a radar detector, CB radio and custom Florida license plate "SHAZAM" that harkened their CB handle of "Captain Marvel". The pair finished the 1975 race 14th overall with an elapsed time of 41 hours 32 minutes and an average speed of 69.9 mph.
Bill Warner still owns the car.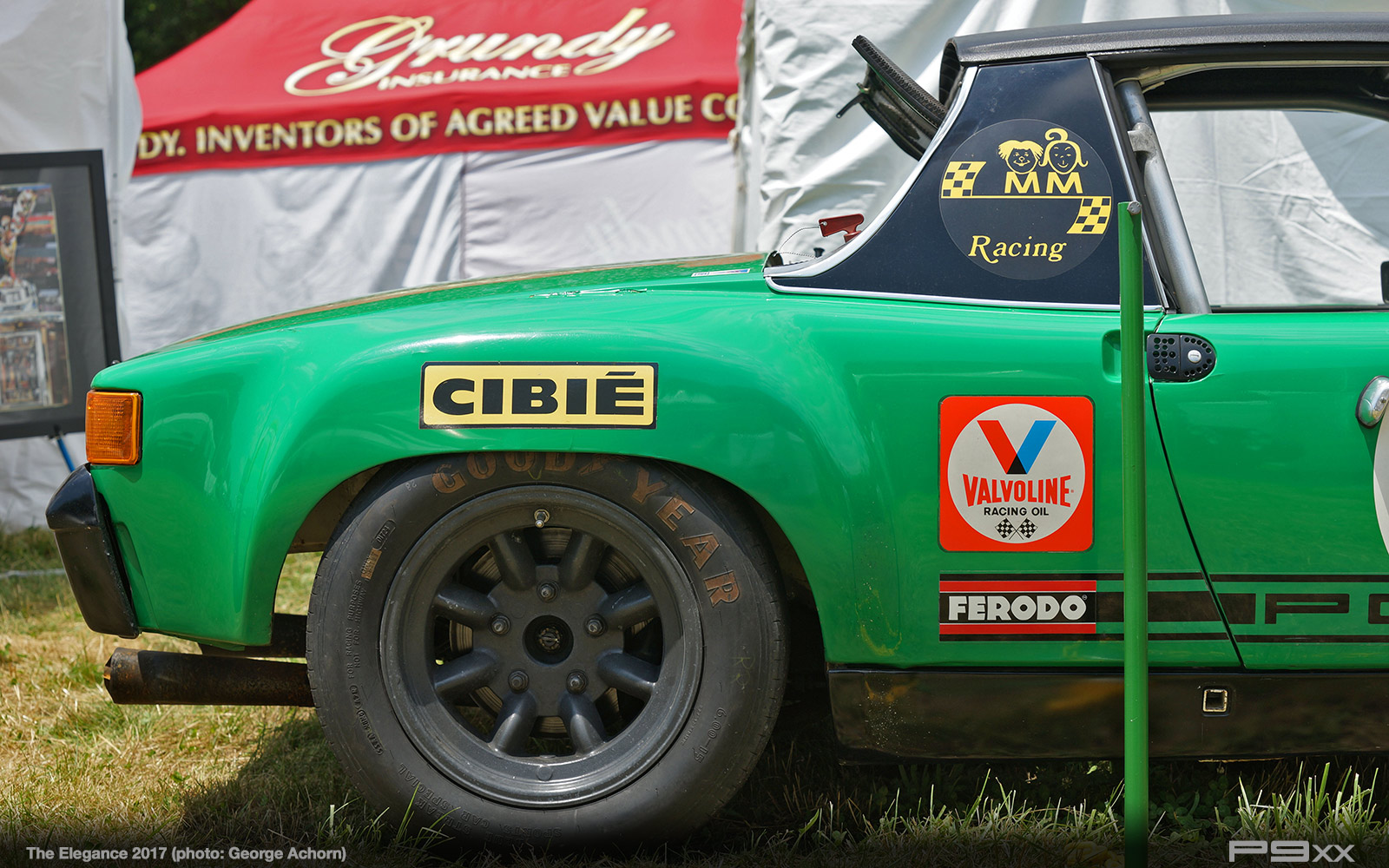 The Ascent, plus Cars & Coffee
One key element of The Elegance is the aforementioned hillclimb. Hershey once played home to a hillclimb decades ago, and this recreates the idea utilizing a winding road that snakes up the back side of the hill on which the hotel is located. That event stages out of a field below the hotel, one that plays home to a light show during Hershey's busy holiday tourist season.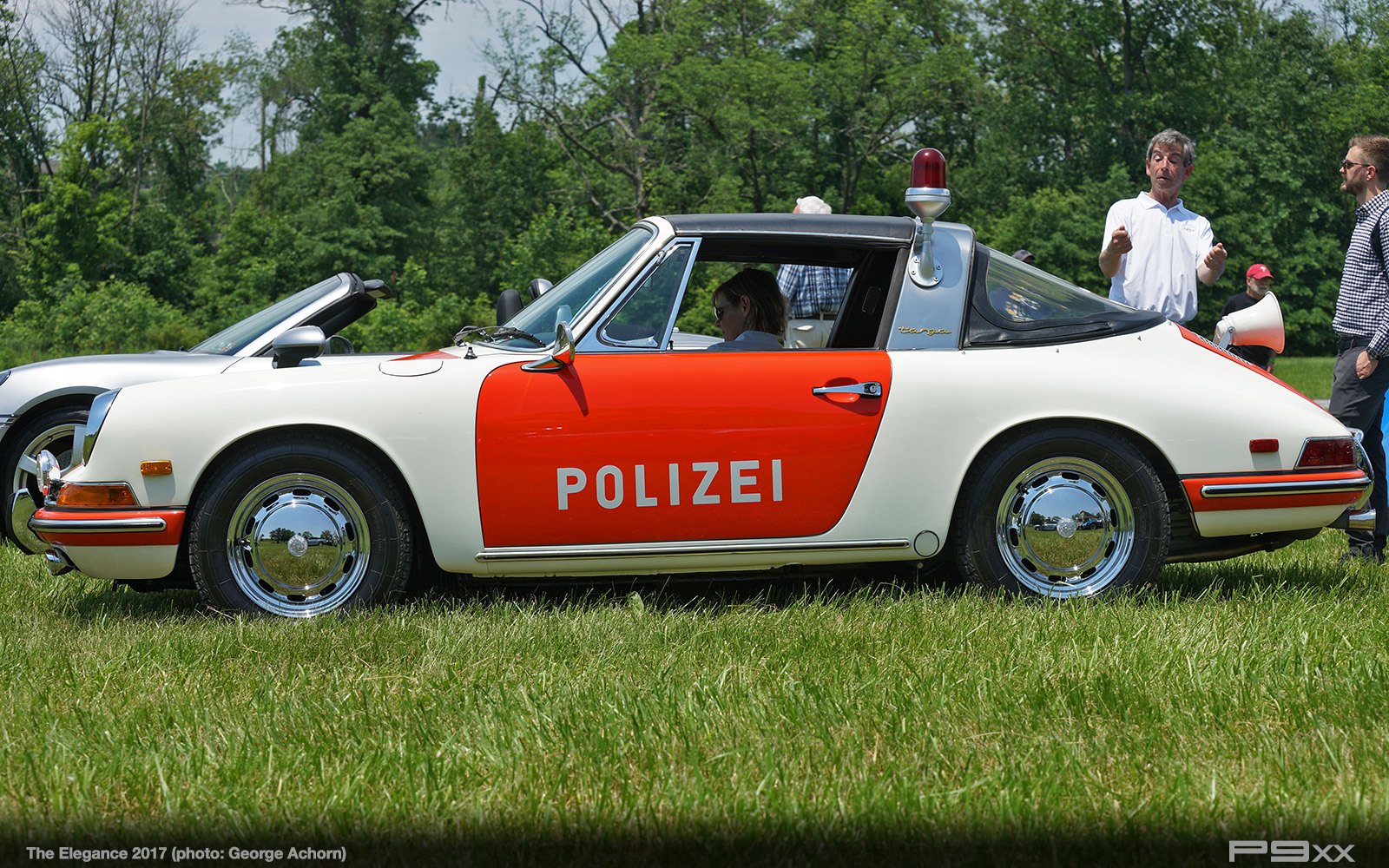 As an effort to entice classic car owners and spectators, a Cars & Coffee style event is advertised as part of this portion. Driving out to the location in order to ogle old cars of all sorts taking to the hill is certainly an enjoyable experience and, here again, you can always expect a few notable Porsches.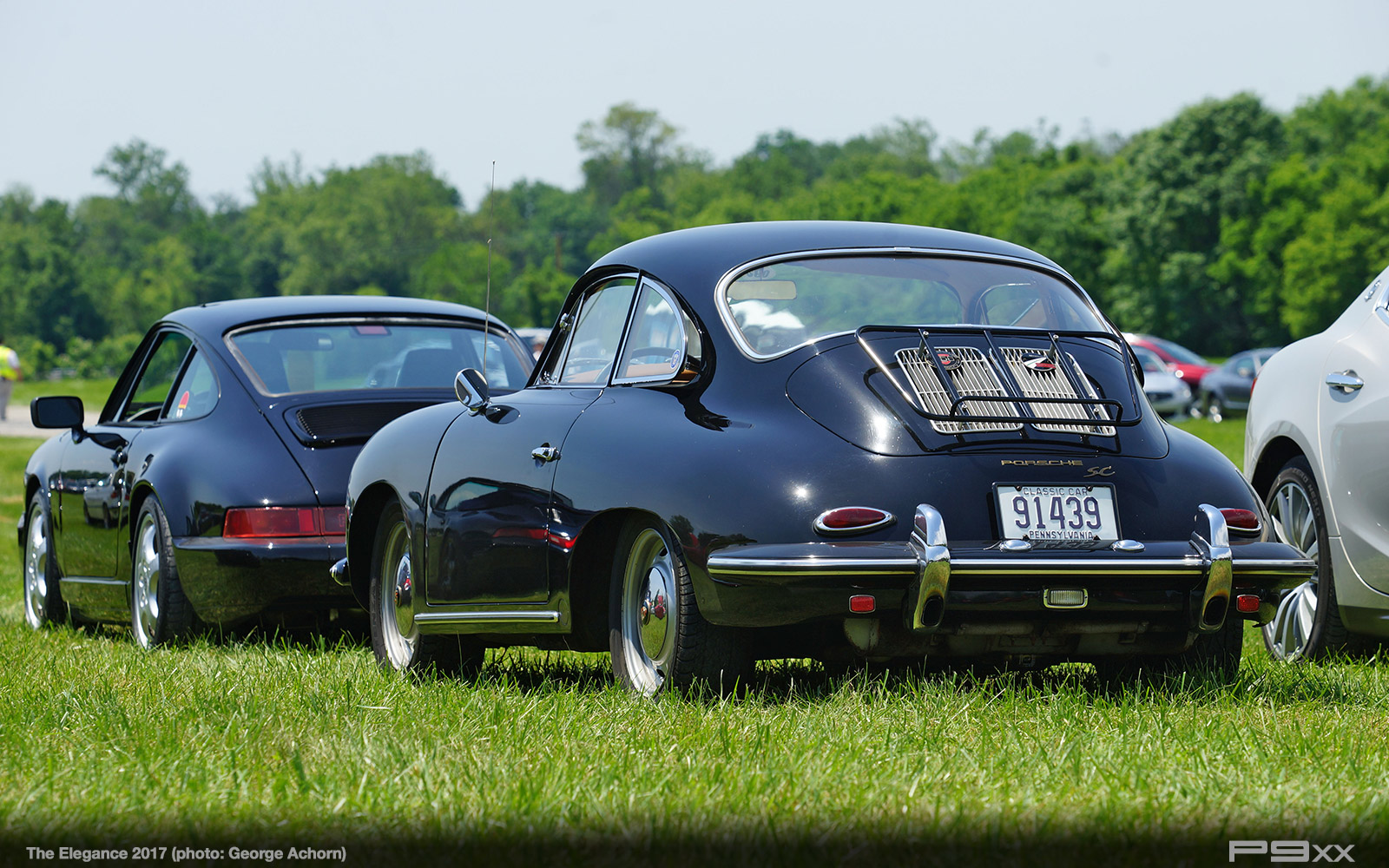 Though we didn't see them complete, it appears as if a 914-6 and a 356 were in the paddock while we were there and likely part of the multi-day event's competition. Also displayed in the parking area were a range of cars Porsche automobiles. Some of our favorites included a pristine 356 Convertible D, an early 911 German police "polizei" car, and a range of air-cooled 911s including our own Project 964.
See more photos from The Elegance 2017 in our Photo Gallery HERE.