While most of the events during the vaunted Monterey Historic Car Week are about showing off the most incredible of classic cars, the so-called Monterey Historics put on by Rolex at the iconic Laguna Seca race track are more focused on their use. Running at pace around such a memorable course are exactly how it should be for many enthusiasts, and so this event should not be missed.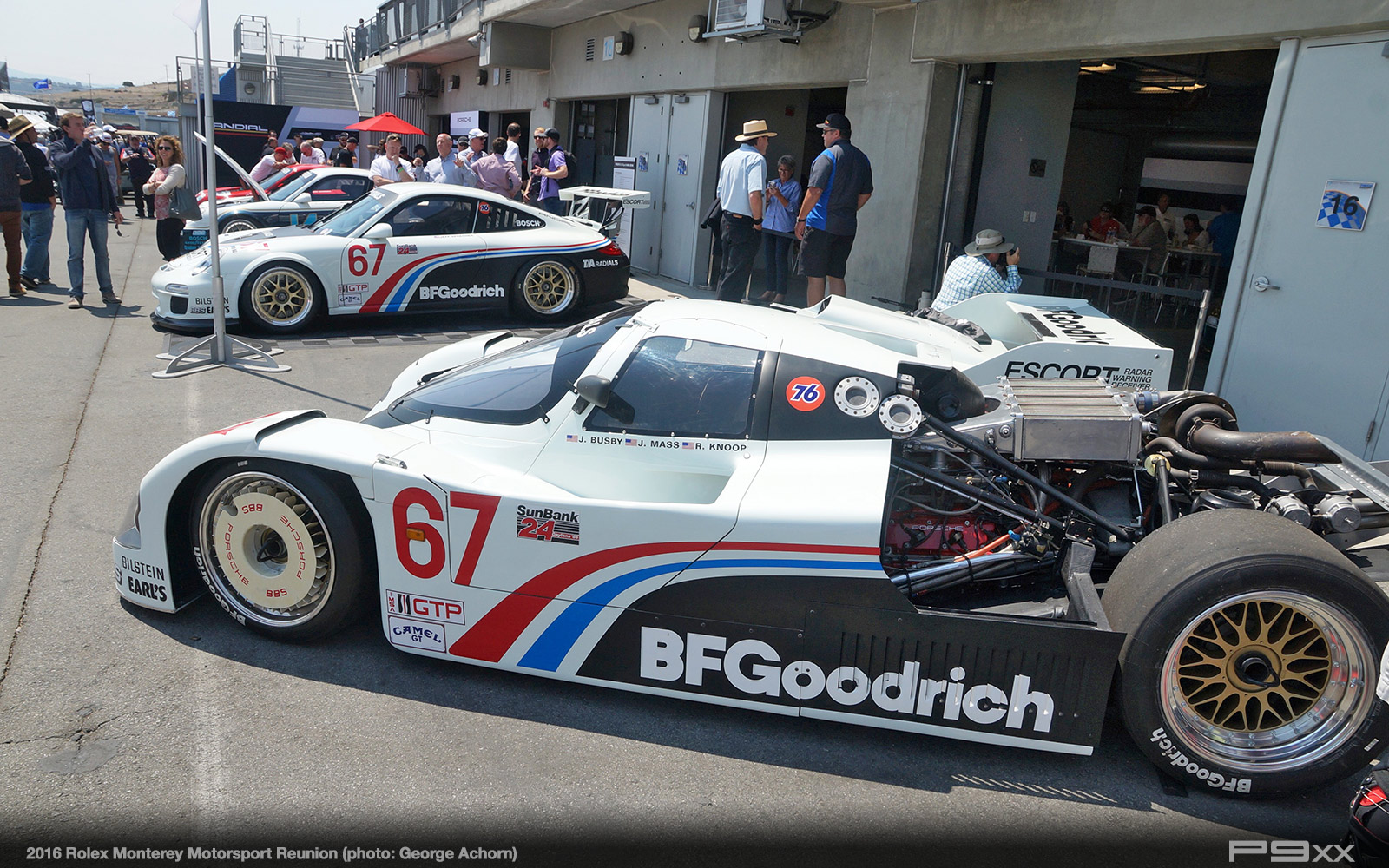 Fortunately for those lamenting the crazy schedule of the week, the Rolex Monterey Motorsports Reunion is a several day affair. If your Friday is packed with other things and you plan on hitting Pebble Beach on Sunday as we did, you can still opt for Saturday at the track. Or, if you're a legitimate track rat, soak up several days here… either spectating or entering your vintage racer.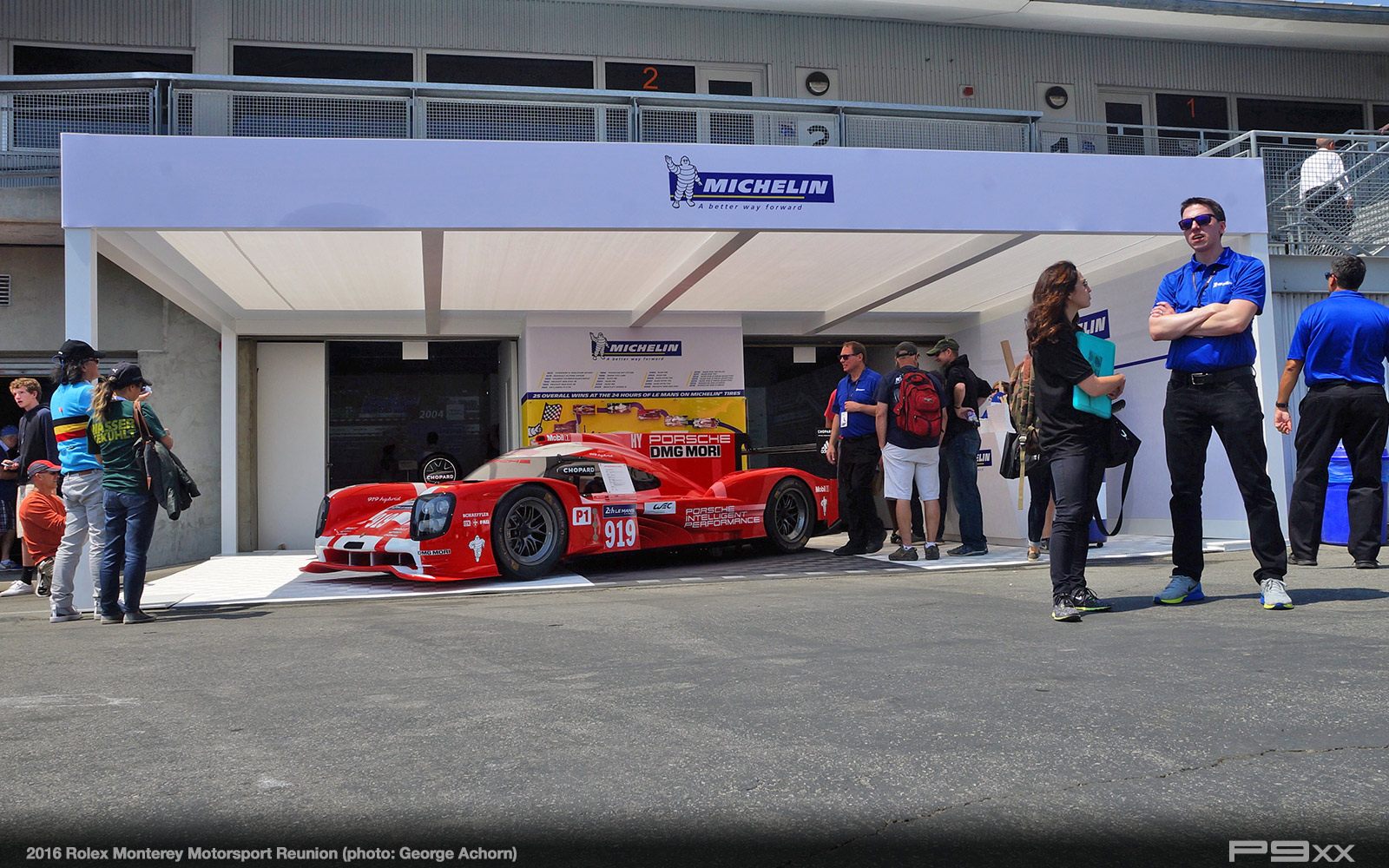 2016 marked an anniversary for BMW and as such, the brand from Munich was featured marque. Even still, the garages under the main grand stand have become home base for many car brands such as Porsche or OE suppliers such as Michelin who also showed off a considerable Porsche-leaning production complete with 919 hybrid display car.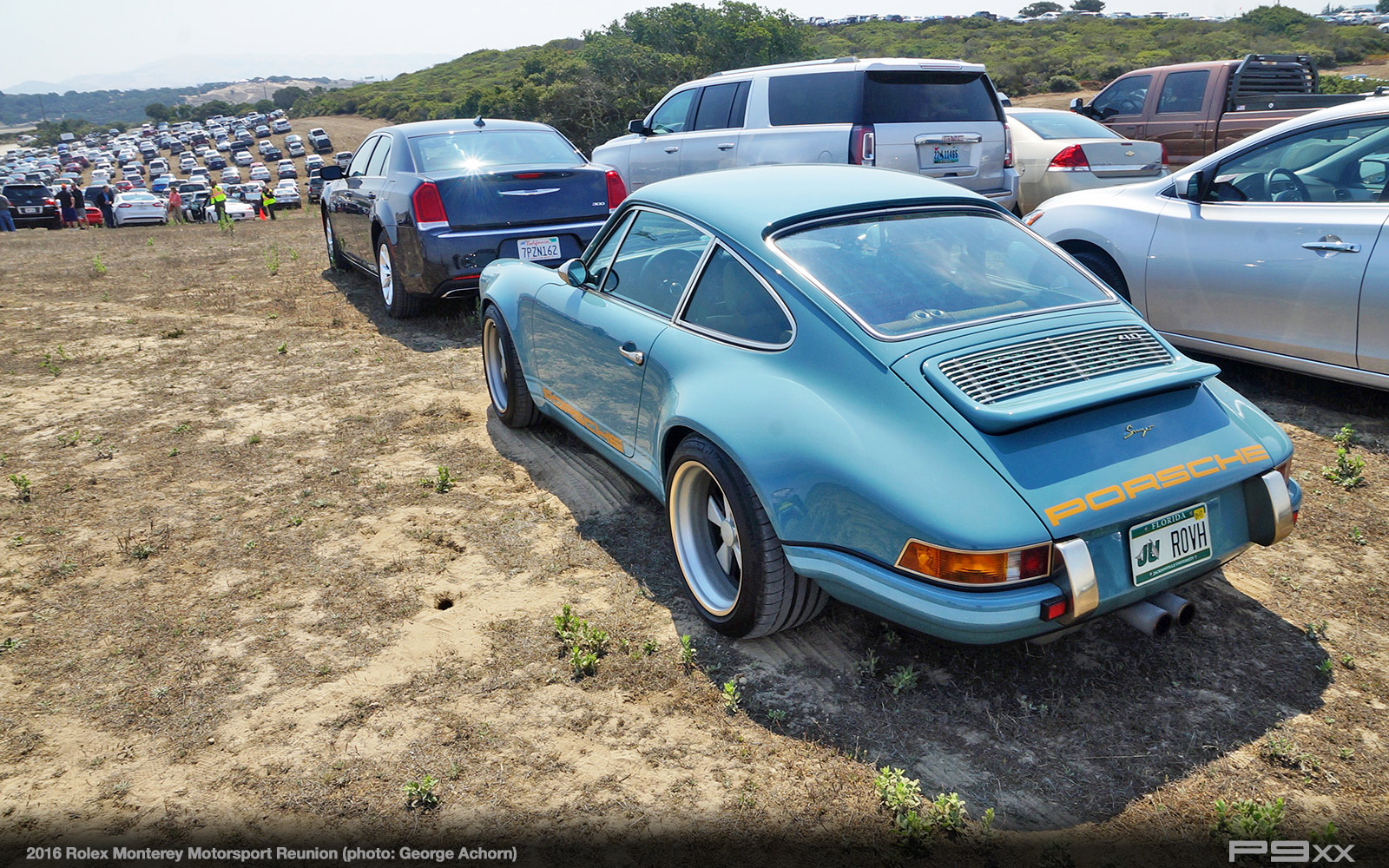 Walk the grounds and the paddock at Laguna Seca during these days and it all becomes a bit surreal. We arrived Saturday morning and parked in spectator parking just down from Singer's Florida car casually parked in the dirt just like the rest of us.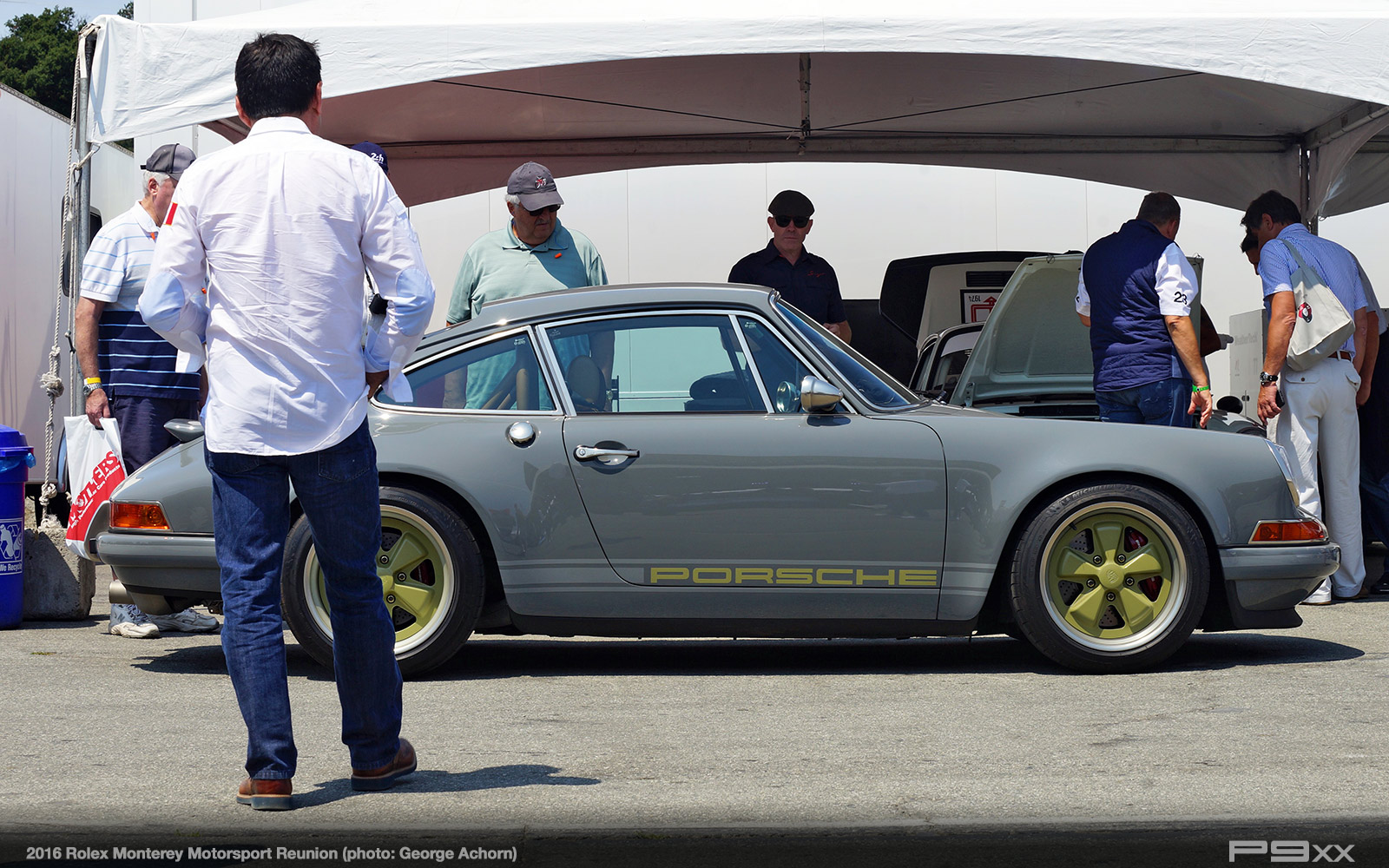 Singer's Chicago Car was also in the paddock, not far from Porsche with their own display, or another including several Can-Am 917s, like a 917/10 or a Sunoco Penske 917/30 display chassis. Canepa had no less than a tuned 959, a Gulf 917, a 908 and 962. 935s were downright common, and worn and driven 550 Spyders were there in numbers. Race-prepped air-cooled 911s (RSRs or otherwise) were simply too many to count, as were 356s and their derivatives.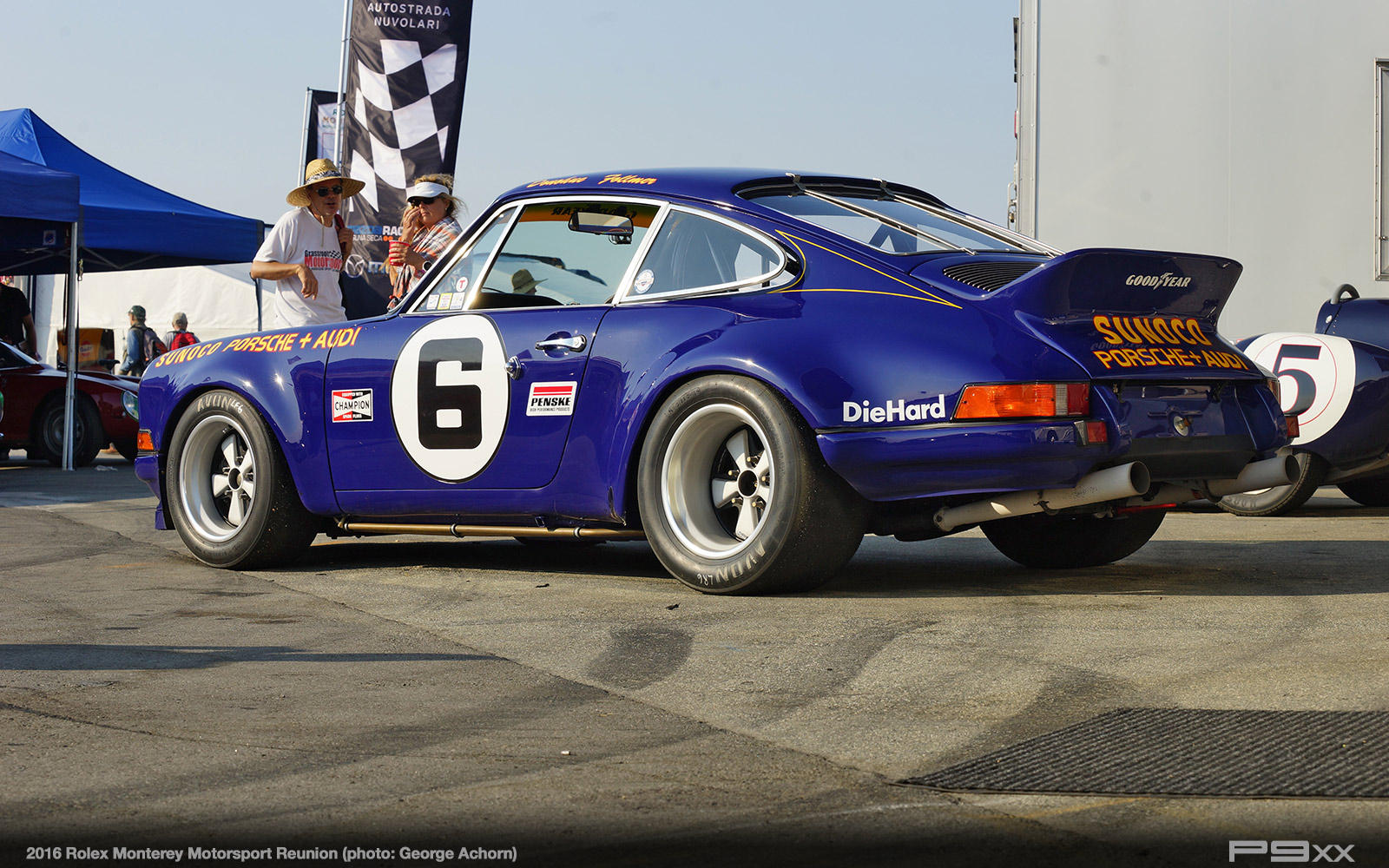 We spent most of the day wandering the paddock and taking in the most incredible and rare Porsches in their natural setting. If you'd rather watch them mix it up on the track, consider the classes and their time zones and make the hike up to the iconic cork screw. Bring a long lens for your camera, a beverage and a folding chair and you can spend hours.
If you're looking to pick up some swag, head on over to the vendor area located at driver's right on turn 4. You'll find plenty to choose from here, including a huge spread from the often Porsche focused Hunziker collection.
Having rolled in early for the full day on Saturday, the end of the day came with plenty of weariness. Nevertheless, we stuck it out as long as possible. Late in the day, as the vendors begin to close the coverings on their tents and the last classes of cars leave the track, the sun dips low making for excellent photography. Most of the crowds will have left as we experienced, making it that much easier to get a closer look at the cars or shoot some photography without someone walking into your shot.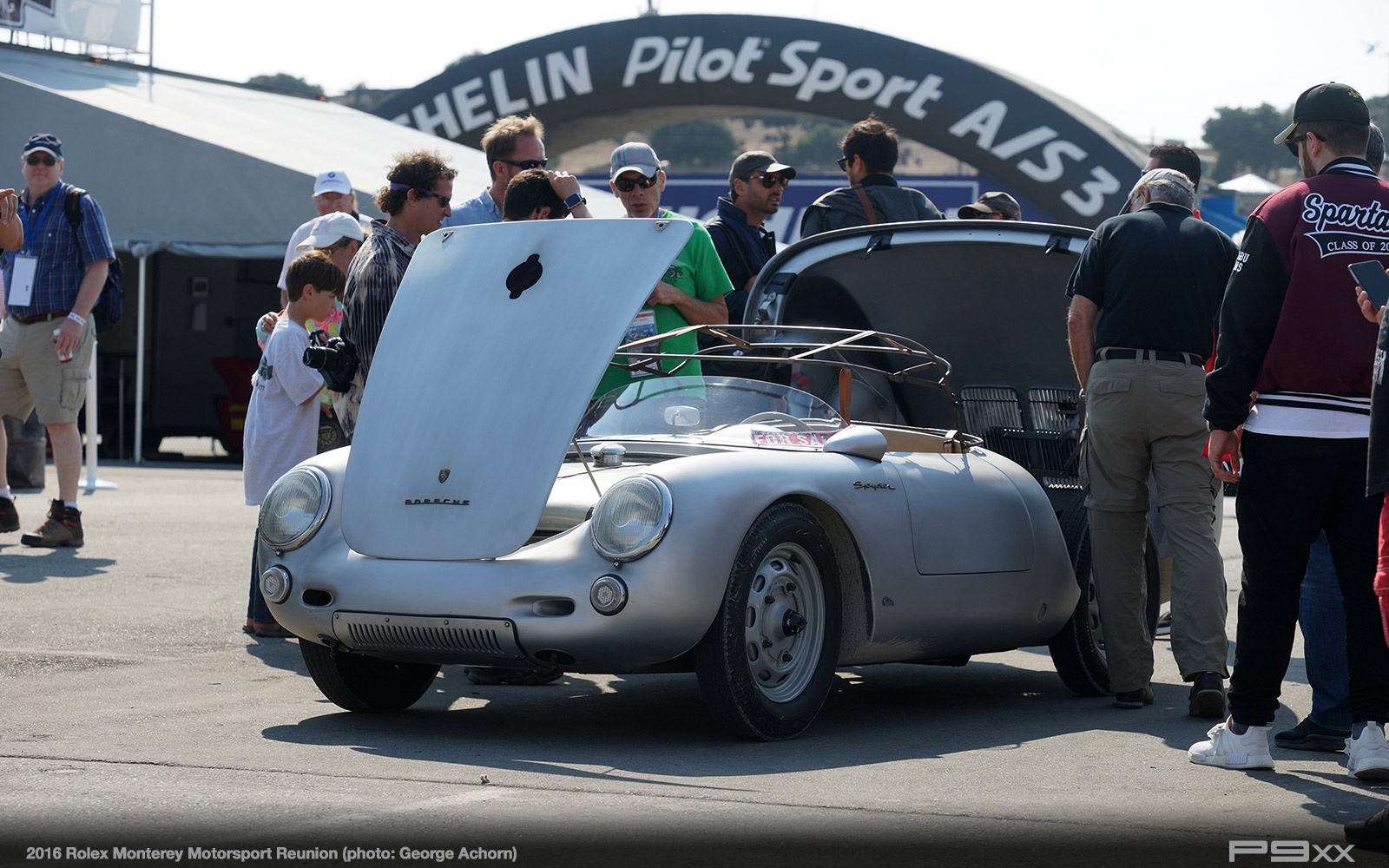 The Rolex Monterey Motorsports Reunion is one of the oldest and most core events on the schedule during Monterey Car Week. There's reason for that. The three day draw of the most incredible Laguna Seca track combined with a landslide of the most incredible cars there to be driven fast makes it a legend… and a legend not to be missed.