Unlike most Monterey events, The Quail is very exclusive to enter. Tickets are both limited and quite expensive, but once inside the tightly controlled gates attendees are greeted with a most endearing form of automotive gluttony. Imagine the Great Gatsby planning a car show and you wouldn't be far off reality so long as Jay Gatsby lived in 2016.
Wander the grounds and you'll find yourself strolling past familiar faces such as Jay Leno, Dario Franchitti or Sammy Hagar. Each area of the show includes tents of the most wonderful food, at no charge to attendees given it was included in the price of entry. Manufacturer and company displays dot the landscape, from artists and bespoke car restorers such as Singer to car brands like Porsche, BMW, Mercedes-Benz, Bugatti, Lamborghini, McLaren, Audi and more.
Stuttgart's presence on the lawn at The Quail was a stage that included Zuffenhausen's latest and greatest. A new 911 R sat on stage, directly across from an original 911R and a new 991.2 Turbo S Cabriolet. Whether a latest and greatest super car buyer or a P car traditionalist, no one would have been let down by this.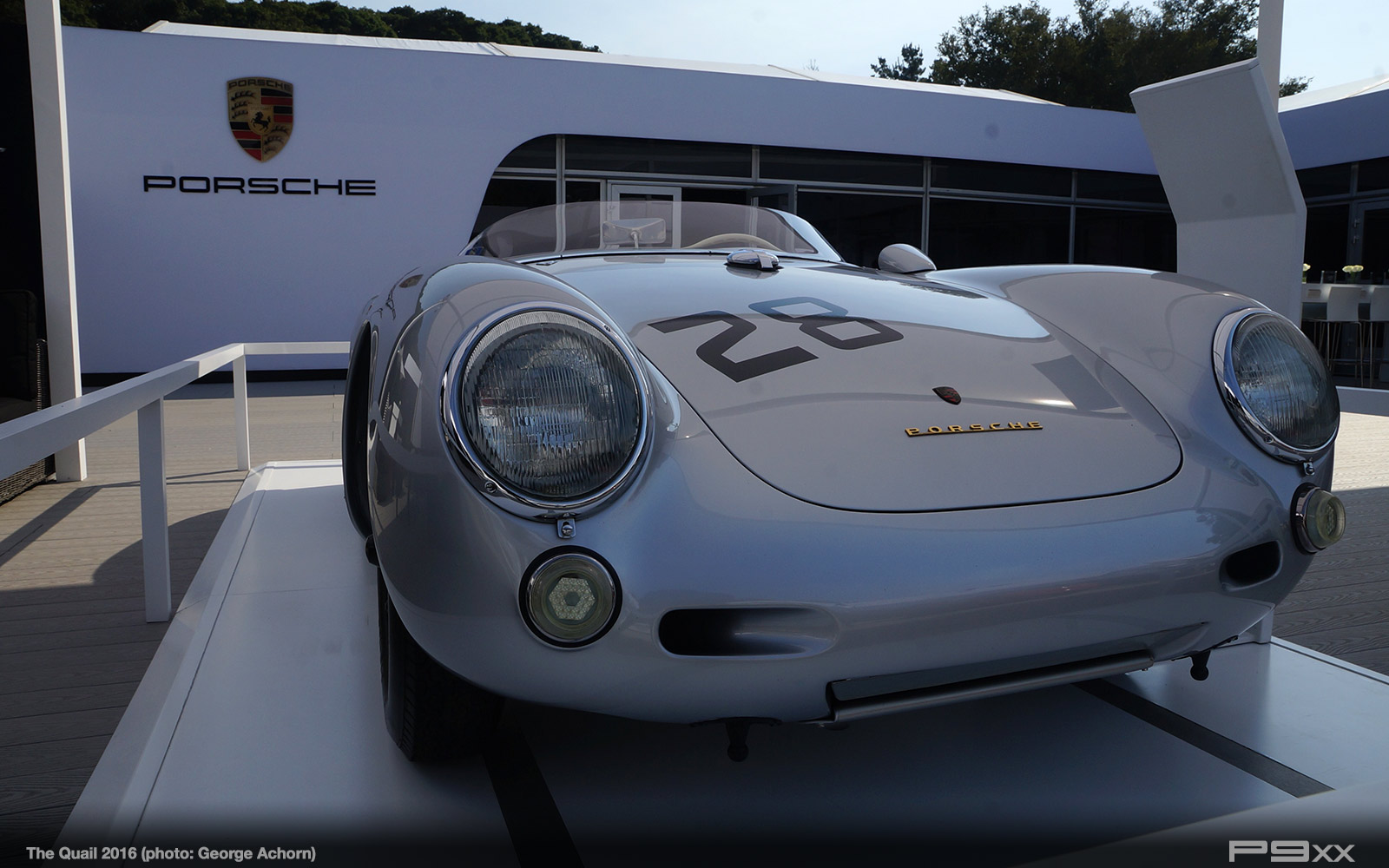 That stage on the lawn wasn't the only display by Porsche… not by a long shot. The brand also managed an on-location Porsche Zentrum all week. Here they displayed a very rare 1955 Porsche Spyder 1500 RS (chassis 550-73) that had been delivered new to Long Island Porsche dealer Paul Sagan. The car was campaigned by Sagan and won any number of races, though it was the car's final race win at the 1957 Watkins Glen Grand Prix with Denise McCluggage at the wheel that remains most notable. The car is now part of the Ingram Collection.
Not surprisingly, the Porsche Zentrum wasn't just there to display this 550 Spyder. The large area just off the main show field was also there as a reception for Porsche owners and would-be owners, allowing an up-close-and-personal view of the latest 718 Cayman, 718 Boxster and 991.2 models. Open quite early in the week, the Zentrum hosted test drives throughout the busy week-long schedule.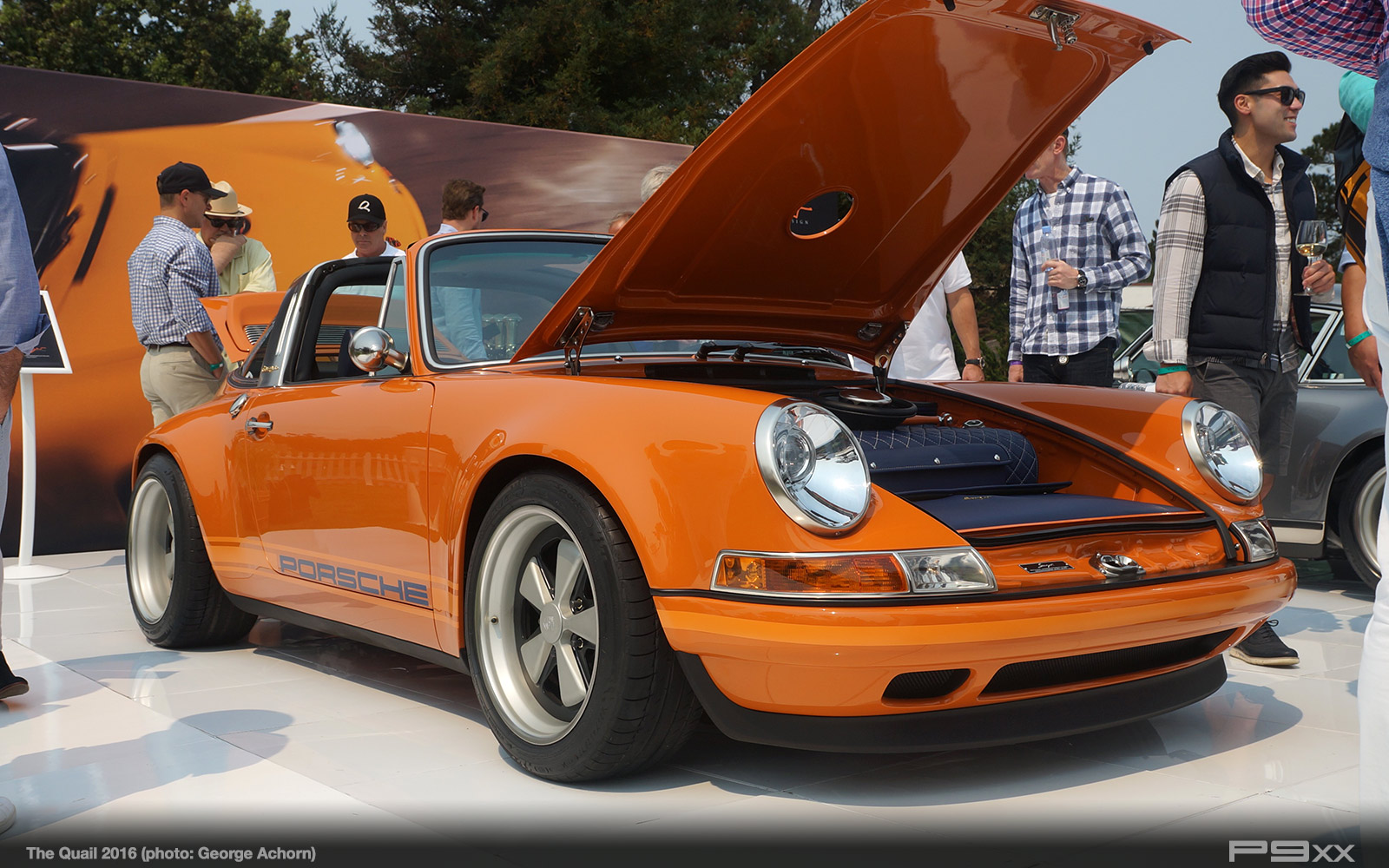 Like Porsche, 911 re-imagineer Singer also featured a display of two cars. For those with a hankering to feel some jealousy today, it's worth noting that both these cars were built for the same customer in Minnesota.
The first car, and most attention grabbing, must certainly be this orange 911 Targa. Dubbed 'The Luxemburg Car' after the township in Minnesota where it'll call home, this car makes use of a bold application of blue and orange that might whisper Gulf Racing but by no means screams it.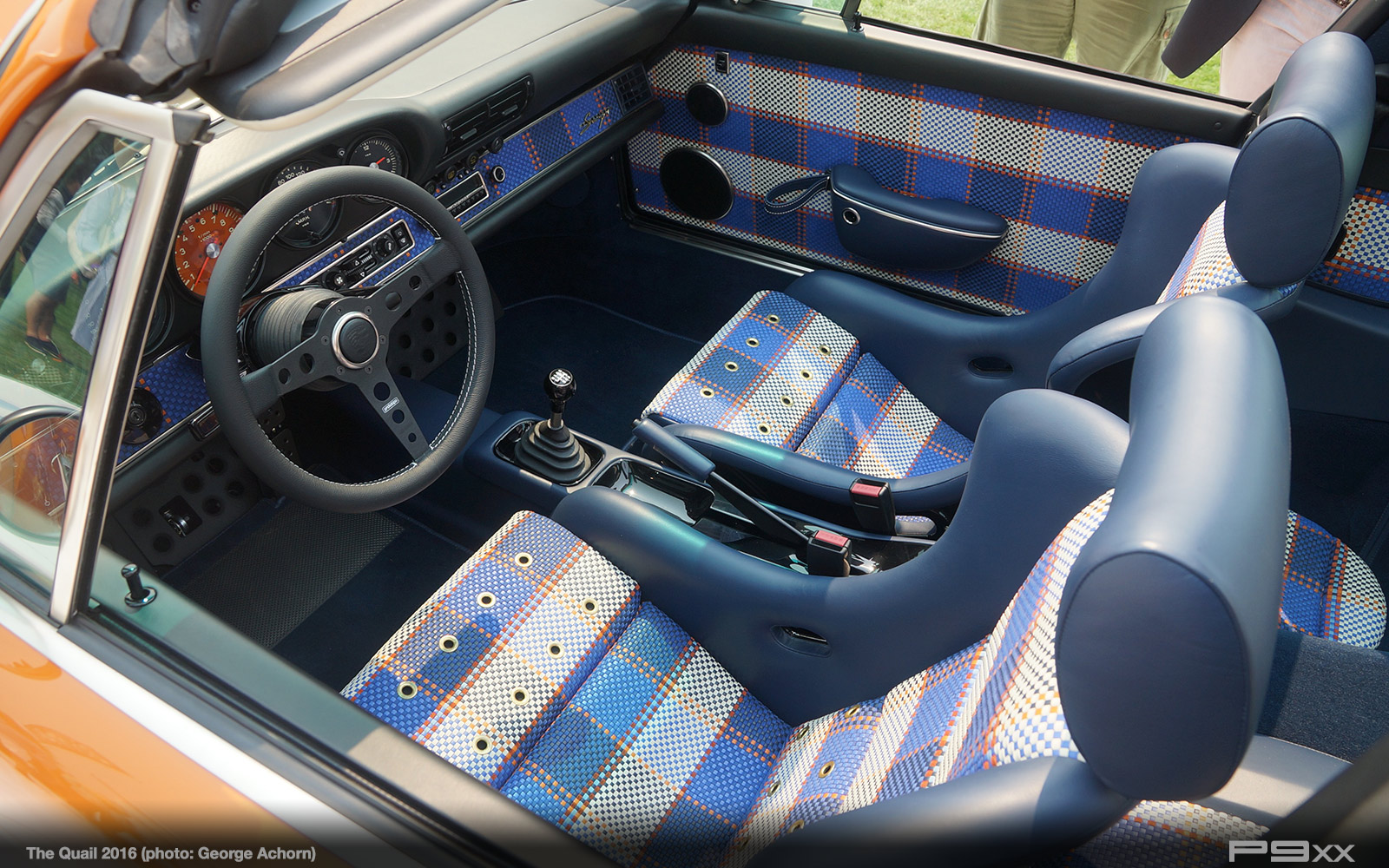 What it does scream is stylish, with interesting 'Tyler Tartan', a woven leather seating surface that integrates no less than seven colors including two oranges, four shades of blue and one cream. Combined with a navy blue interior and Deep Orange exterior paint, this is one bold and handsome build.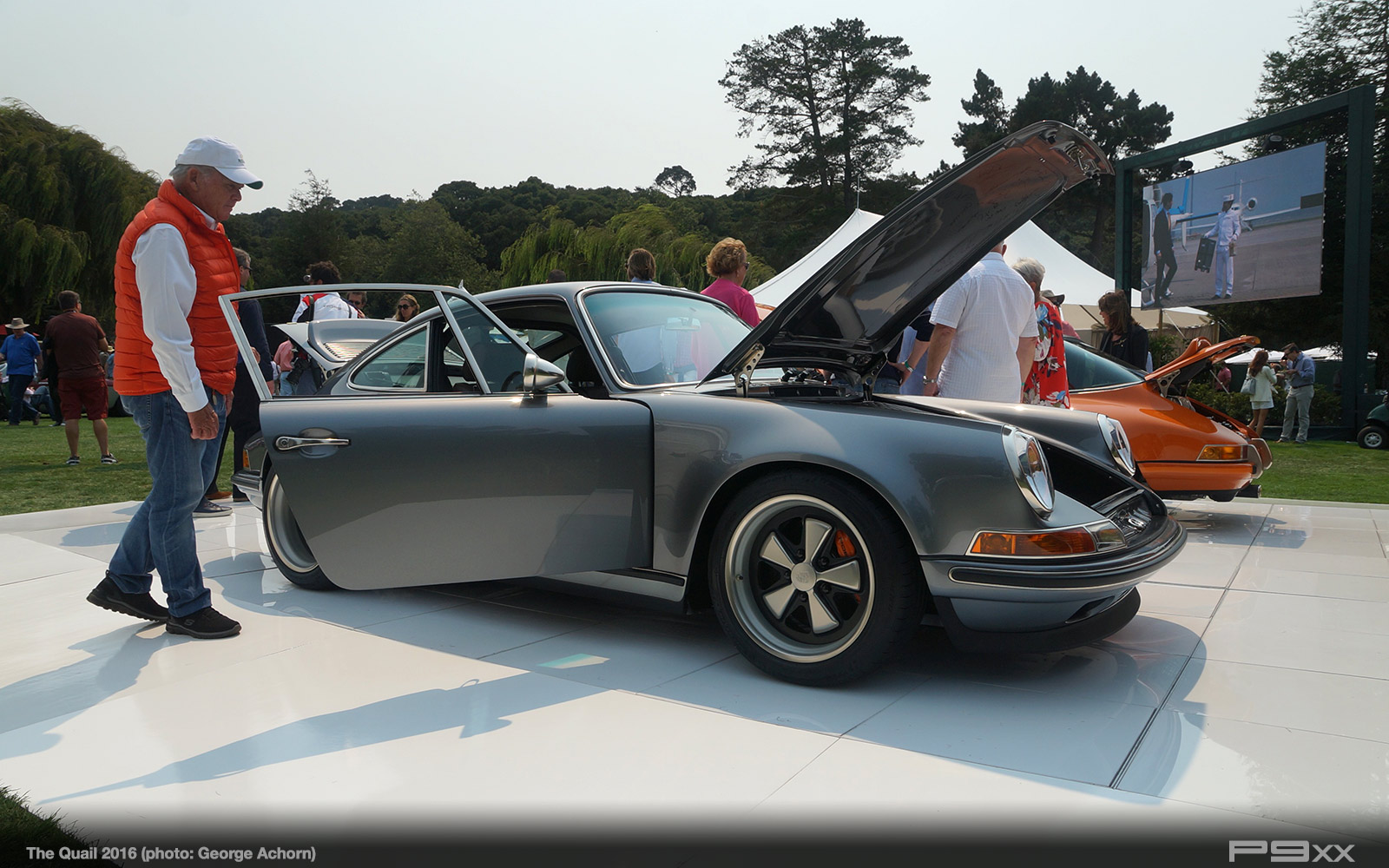 Next up is 'The Minnesota Car', this owner's other more subtle take on the most luxurious of air-cooled 911s. GunMetal Grey is the name of the exterior paint, with none of the typical Porsche script logos or stripes. Its clean and quiet exterior seems to be a nod to Steve McQueen's slate grey 911 in the opening scene of Le Mans, at least to our eye.
Inside, Minnesota gets deep Tobacco Brown leather, including full leather door panels and sport seats utilizing matching suede and brass grommets. Interesingly, the customer also specced a Gulf Blue tachometer over the usual orange… perhaps another nod to Le Mans?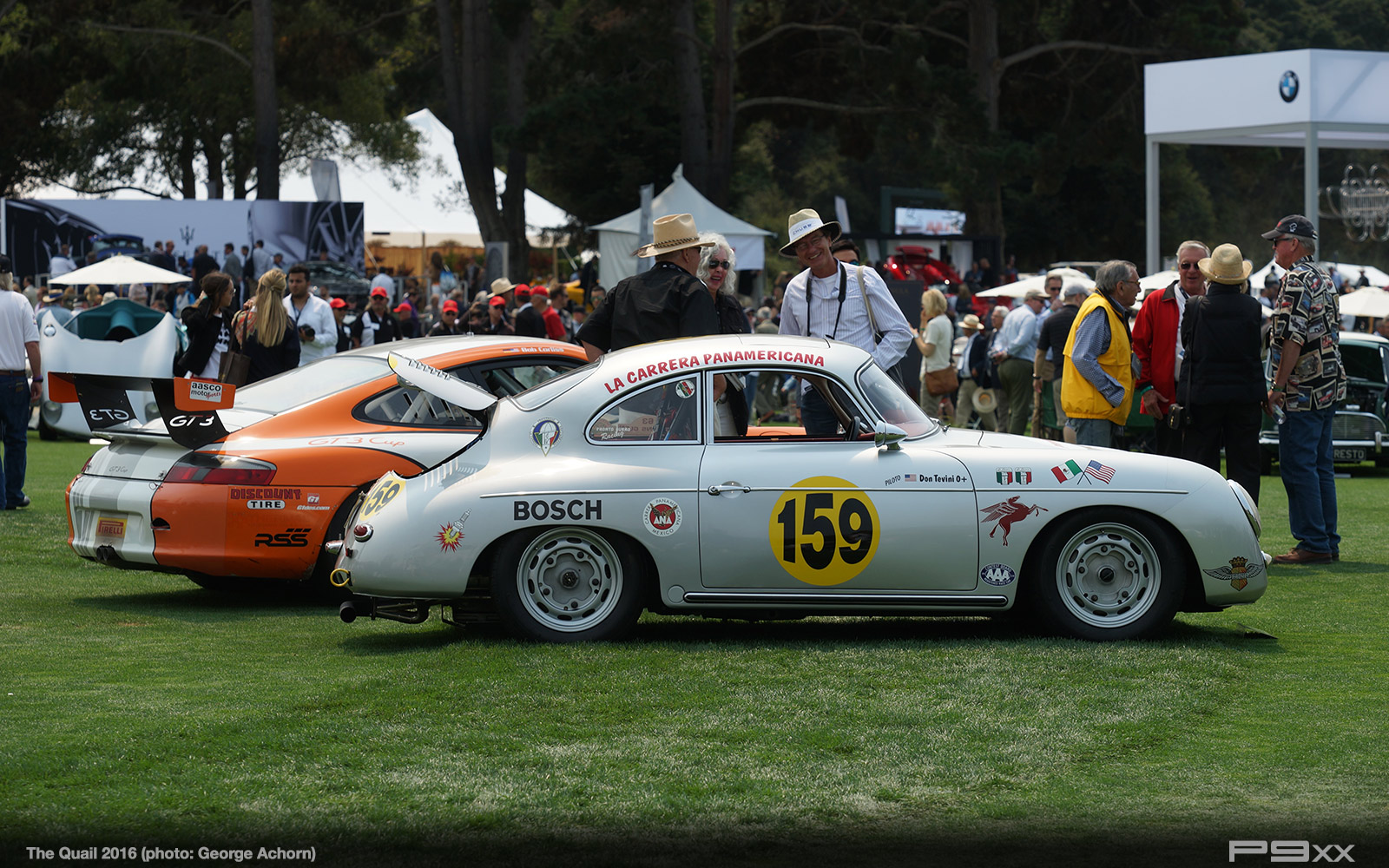 Another interesting facet of The Quail are the privately owned cars. These tended to range, from racing 356 and a blue 550 Spyder, to rarities such as a green 911 2.7 RS and pristine 1994 Porsche 964 Carrera RSR 3.8.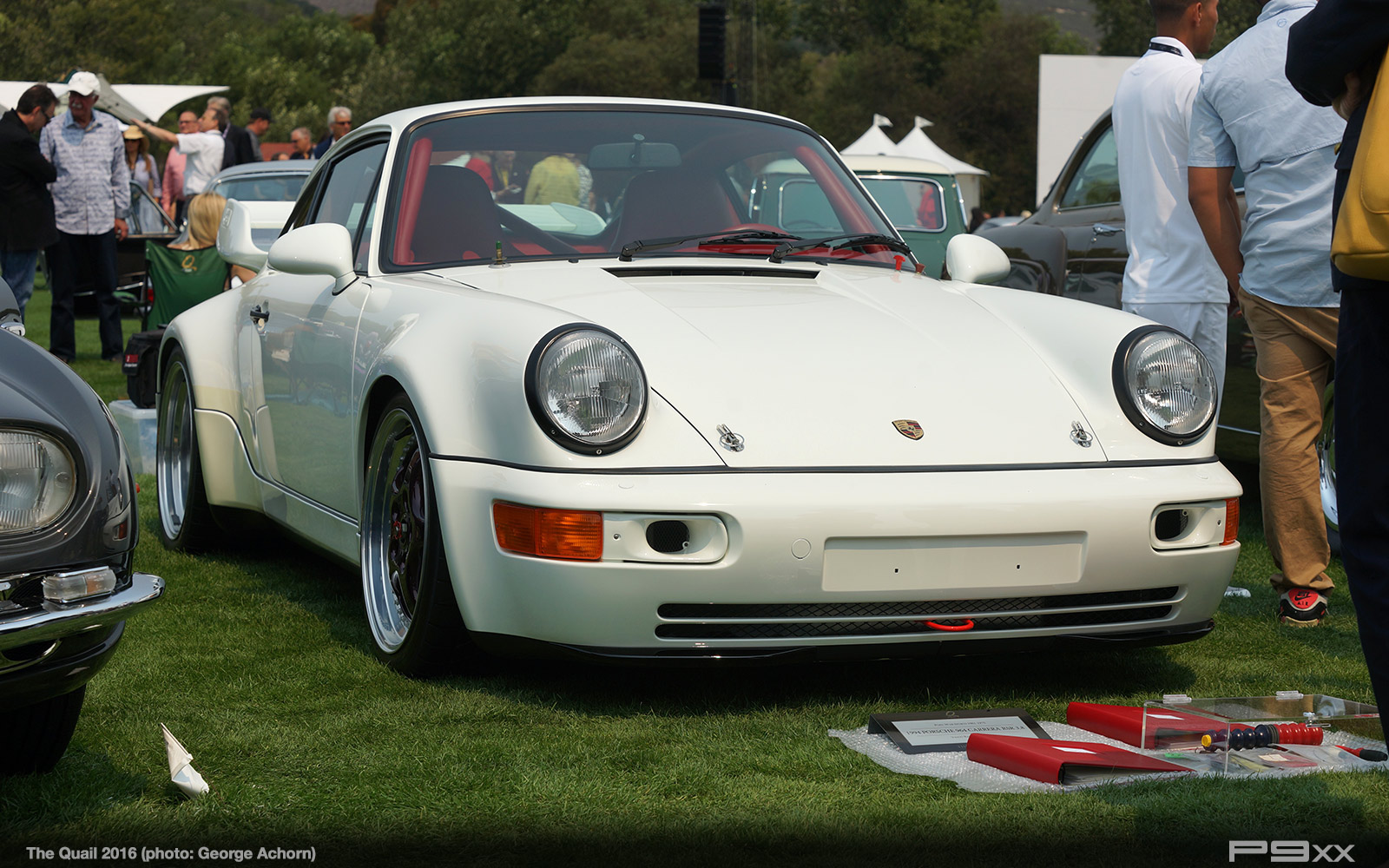 Frankly, The Quail is the sort of event where you could very comfortably spend all day. Between the stunning array of automobiles, the celebrity attendees and the incredible food, it would have been easy to do. Even still, this is Monterey after all, so it should be known that there are any number of other incredible events going on at the exact same time. For instance, the PCA Werk Reunion was going on just down the road.
See more than 180 photos from The Quail in our photo gallery below.
Photo Gallery