When it comes to the Monterey Car Week about to go down next week, there's no shortage of auctions where incredible cars of every variety are offered up to the highest bidder. Obviously, there are a ridiculous selection of P-cars amongst these ranks, and one of our favorites is this 1964 904 Carrera GTS that'll go across Gooding & Company's block.
This 904 Carrera GTS is chassis number 904-042. It makes the final evolution of the breed, fitted with Porsche's four-cam flat four. It was sold new at Riviera Motors in Portland back in '64, and over the years it's seen its share of racing, primarily west coast SCCA and USRRC events.
The car is expected to sell for somewhere between $1,500,000 and $1,800,000.
Full details on the car as provided by Gooding & Company are as follows: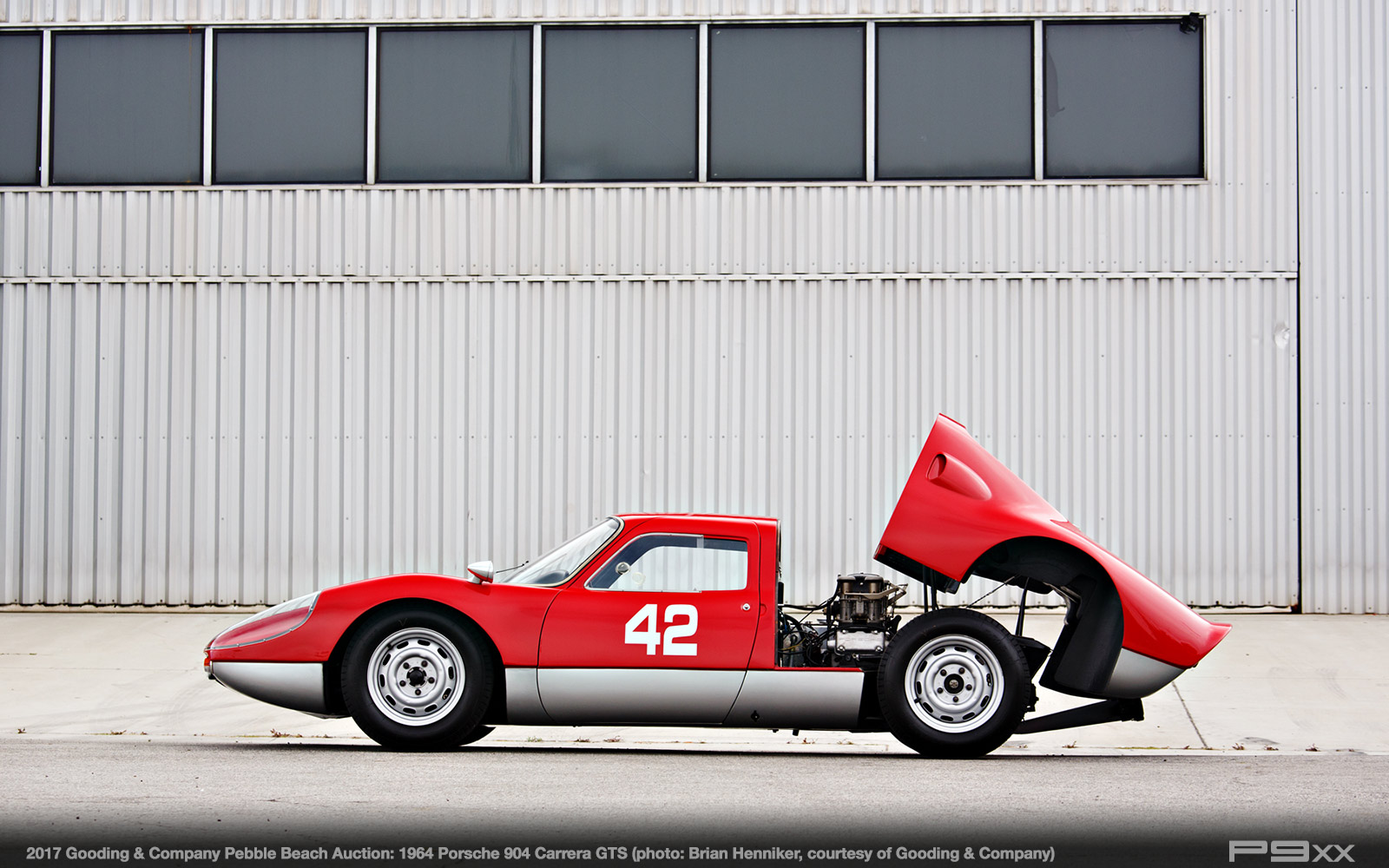 1964 Porsche 904 Carrera GTS
[source: Gooding & Company]
PROVENANCE
Riviera Motors, Portland, Oregon (acquired new in 1964)
Wade Carter, Seattle, Washington (acquired from the above in 1965)
Bruce Munch, Glendale, California (acquired from the above in 1967)
Richard Radt, Kalamazoo, Michigan (acquired from the above circa 1969)
Maitland Combs, Birmingham, Michigan (acquired from the above in 1973)
David Cohen, South Africa (acquired from the above circa 1980)
Jeffrey Keiner, Orlando, Florida (acquired from the above circa 1983)
Current Owner (acquired from the above in 1997)
RACE HISTORY
USRRC-GT Kent, May 1964, Eyerly, No. 64 (5th Overall, 1st in Class)
USRRC Kent, May 1964, Eyerly, No. 64 (7th Overall, 3rd in Class)
Westwood Player's Pacific, May 1964, Wright, No. 356 (3rd Overall, 2nd in Class)
Portland International Raceway GT Race, June 1964, Wright, No. 356 (1st Place)
Portland International Raceway Rose Cup, June 1964, Wright, No. 356 (3rd Place)
SCCA Regional Oregon Production, June 1964, Eyerly, No. 64 (1st Place)
SCCA Regional Oregon Production, July 1964, Eyerly, No. 64 (1st Place)
SCCA Regional Oregon Modified, July 1964, Eyerly, No. 64 (2nd Place)
SCCA Divisional Kent, August 1964, Eyerly, No. 46 (2nd Place)
Spokane Labor Day Grand Prix, September 1964, Wright, No. 356 (1st Place)
SCCA Regional Oregon Production, October 1964, Eyerly, No. 46 (3rd Place)
Loyalty Day Races at Portland International Raceway, May 1965 (2nd Place)
Westwood Player's Pacific, May 1965, Eyerly (1st Place)
SCCA Regional Oregon, May 1965, Eyerly (4th Place)
Rose Cup Portland, June 1965, Eyerly (DNF)
SCCA Regional Oregon, July 1965, Carter (2nd Overall, 1st in Class)
SCCA National Kent, July 1965, Carter (2nd Overall, 1st in Class)
USRRC Kent, August 1965, Carter (16th Overall, 3rd in Class)
SCCA National Oregon, August 1965, Carter (2nd Place)
Westwood Texaco Pro Invitational, September 1965, Carter (5th in Class)
Westwood Fall Trophy Races Modified, October 1965, Carter (1st Place)
Westwood Fall Trophy Races Production, October 1965, Carter (1st Place)
SCCA Regional Kent, October 1965, Carter (2nd Place)
SCCA National Kent Production, June 1966, Carter, No. 22 (1st Place)
Westwood Production, July 1966, Carter (1st Place)
Westwood Modified, July 1966, Carter (2nd Place)
USRRC Kent, July 1966, Carter (11th Place)
ICSCC Kent Improved Production, April 1967, Carter (1st Place)
ICSCC Kent Modified, April 1967, Carter (2nd Overall, 1st in Class)
EXHIBITED
Multiple US Vintage Races, 1983 through 1997
Palos Verdes Concours d'Elegance, May 2001
Porsche Race Car Classic, Carmel Valley, California, October 2011
LITERATURE
Rolf Sprenger and Steve Heinrichs, Carrera, pp. 360, 831–832
Jürgen Barth, Patrick Albinet, and Bernhard Weigel, Porsche 904: Die
Komplette Dokumentation – Entwicklung, Evolution, Fahrzeughistorie, discussed p. 188
Jerry Pantis, The Porsche 904, 906 & 910 in the Americas, pictured and discussed on pp. 40, 89–90, 242–244
Philippe Olczyk and Mike Morris, Porsche 904: The Truth and The Rumors, pp. 145, 184, 290–91
Sports Car International, April 1992
Autoweek, February 10, 1986, subject of "Escape Roads" section
VW & Porsche, December 1987, pictured in article "The Porsche 904 Legacy"
THIS CAR
The year 1964 was an important one for Porsche. The debut of the 911 road car and the groundbreaking 904 Carrera GTS ushered in an era of sophisticated design and engineering. The introduction of these two models, both designed by F.A. "Butzi" Porsche, represents a remarkable moment in the company's history, with many future successes rooted in these cutting-edge cars.
The 904 was the first Porsche model to use fiberglass construction for its bodywork, created after much consultation with aircraft manufacturers who had pioneered the use of the material. The fiberglass bodywork bonded to a boxed steel chassis created a very lightweight package; the 904 weighed just 650 kilograms, or 1,433 lbs. The 904's unique design also produced stellar aerodynamic qualities, which allowed it to achieve top speeds that weren't possible with Porsche's earlier sports racing cars. Despite the model's many technical and material advances, the 904 was the last Porsche developed as a true dual-purpose car – equally capable on road and track.
The 904 also marks the final application of the Ernst Führmann-designed four-cam, four-cylinder engine. Used to great effect for a decade, this complex and potent design was still capable of winning races in the right chassis. The production 904 featured the most advanced version of this famous engine, the Type 587/3, which utilized a plain-bearing crankshaft and produced nearly 200 bhp.
Following its official debut in November 1963, the 904 was actively campaigned by the Porsche factory racing team and privateers throughout the mid-1960s. Results were spectacular, with the model capturing over 300 class wins and 145 overall victories at international venues.
The 904 presented here, chassis 042, was completed in March 1964 and finished in the classic color scheme of Silver Metallic with blue velour upholstery. One of 24 Porsche 904s exported to the US that year, this car was originally sold to Knute Qvale's Riviera Motors in Portland, Oregon, the Volkswagen-Porsche distributor for the region.
Upon arrival in the US, the new 904 was prepared for racing under the direction of Robert Rosetta and Gunther Knapp, executives at Qvale's dealership. To drive the new 904, they enlisted local sports car aces Gary Wright and Mike Eyerly. Throughout the 1964 racing season, Eyerly and Wright shared 904-042, with both drivers capturing several wins and podium finishes at Kent, Westwood, and Portland International Raceway.
After its successful debut season, 904-042 was readied for 1965 with a racing update kit purchased from Porsche. This package included a new 587/3 engine (numbered 99156) with three-dot cam lobes, megaphone exhausts, and a Le Mans-spec high-speed engine sump bypass system. Additionally, Porsche supplied a new tail section and a set of gusset plates to strengthen the chassis.
Mike Eyerly continued to race 904-042 through July 1965, when it was sold to fellow Pacific Northwest racer Wade Carter. Carter, who worked for the Eyerly family's Porsche dealership while in college, had since opened his own Volkswagen dealership in Seattle and started to compete in local sports car events. With 904-042, Carter placed 5th in the SCCA's Pacific Coast Championship in 1965 and won both the Oregon and Northwest SCCA Production Championships in 1966. He even continued to race the car into 1967, winning two races at Kent.
In April 1967, Wade Carter offered 904-042 for sale in Competition Press, asking $6,000 or a trade toward a new 906. The Porsche's next owner, Bruce Munch of Glendale, California, used the 904 for some time as a road car and then sold it in the late 1960s to Richard Radt of Kalamazoo, Michigan. In 1973, Maitland Combs of Birmingham, Michigan, acquired the Porsche and, like Mr. Munch before him, put the 904 to use as a road car, even commuting to work with it on occasion. Around 1980, Mr. Combs sold 904-042 to noted South African collector David Cohen, who purchased this car to replace another 904 that had been damaged in a fire. During Mr. Cohen's ownership, 904-042 remained in the US and was stored at a restoration shop in the Southeast.
Around 1983, Jeffrey Keiner of Orlando, Florida, acquired 904-042. An active vintage racer, Mr. Keiner was also a serious collector whose impressive stable included a 550 Spyder, a 906, and a 910. After undertaking a complete restoration, including refinishing the car in its current red over silver livery, Mr. Keiner entered the 904 in numerous vintage races and concours events throughout the US.
In a letter in the car's history file, Mr. Keiner describes the outstanding presentation of the 904 and the many accolades it received during his ownership:
"In its current form, 904-042 is absolutely authentic. It has been extensively shown in vintage and historic concours and is very well-known on the vintage race circuit. The car is not only race-prepared but has been maintained in excellent condition and has been the winner of many shows and awards including the Montique Thomas Tieneer's Award for Technical Excellence, the Peter Gregg Memorial Trophy, First in Class at the Meadow Brook Concours d'Elegance, First in Class at the Chicago Historic Races Concours three consecutive years, winner of the Chesrown Concours Award at the Mid-Ohio Historic Races, and has been First in Class in many vintage and historic race events as well."
The current owner acquired 904-042 in 1997 following an extensive search for an ideal example of the model. Over the past two decades, the Porsche has been registered in California and enjoyed as an exhilarating road car, with exhaust SuperTrapps fitted to tame the noise of the exotic four-cam engine. The owner reports that the 904 has been a true pleasure to own and drive, always attracting a favorable response, whether on the open highway or the concours lawn.
While in the consignor's care, 904-042 has been maintained by the most respected West Coast Porsche specialists including Bill Perrone, Urs Gretener, and Jim Ansite. During the past two years, the car has been serviced and mechanically sorted, with particular attention paid to the chassis and suspension setup. All invoices detailing the recent work performed will be available for review and accompany the sale. In addition to these important documents, 904-042 is offered with an original jack, driver's manual, spare windshield, and Porsche Certificate of Authenticity, along with various articles, period photographs, and correspondence.
Today, 904-042 presents as a stunning example of a period-correct Porsche competition car and is highly regarded among knowledgeable marque specialists. Driven by Mike Eyerly, Gary Wright, and Wade Carter, this 904 went on to compile an enviable record while racing in the Pacific Northwest.
A rarity among 904s, this car possesses a continuous provenance, a proper 587/3 engine, and a singular identity, with its history well documented in several important books on the marque and model. These important qualities, along with its outstanding professional preparation and eligibility for leading historic events, contribute to this 904's reputation as one of the finest surviving examples of Porsche's final four-cylinder, four-cam racing car.