No reserve. These words tend to suggest a car that could go cheaply at auction should no one bid. Anyone familiar with the market will perk up at the thought, though anyone familiar with the market for P cars will also know the painful reality when considering a car like the Porsche 959.
It's not like the Porsche market isn't hot enough right now. Even more "mundane" or "common" offerings have long been on the rise. Consider then a homologation special such as the Porsche 959, much less a more aggressive 959 Sport and… well… good luck with that no reserve status.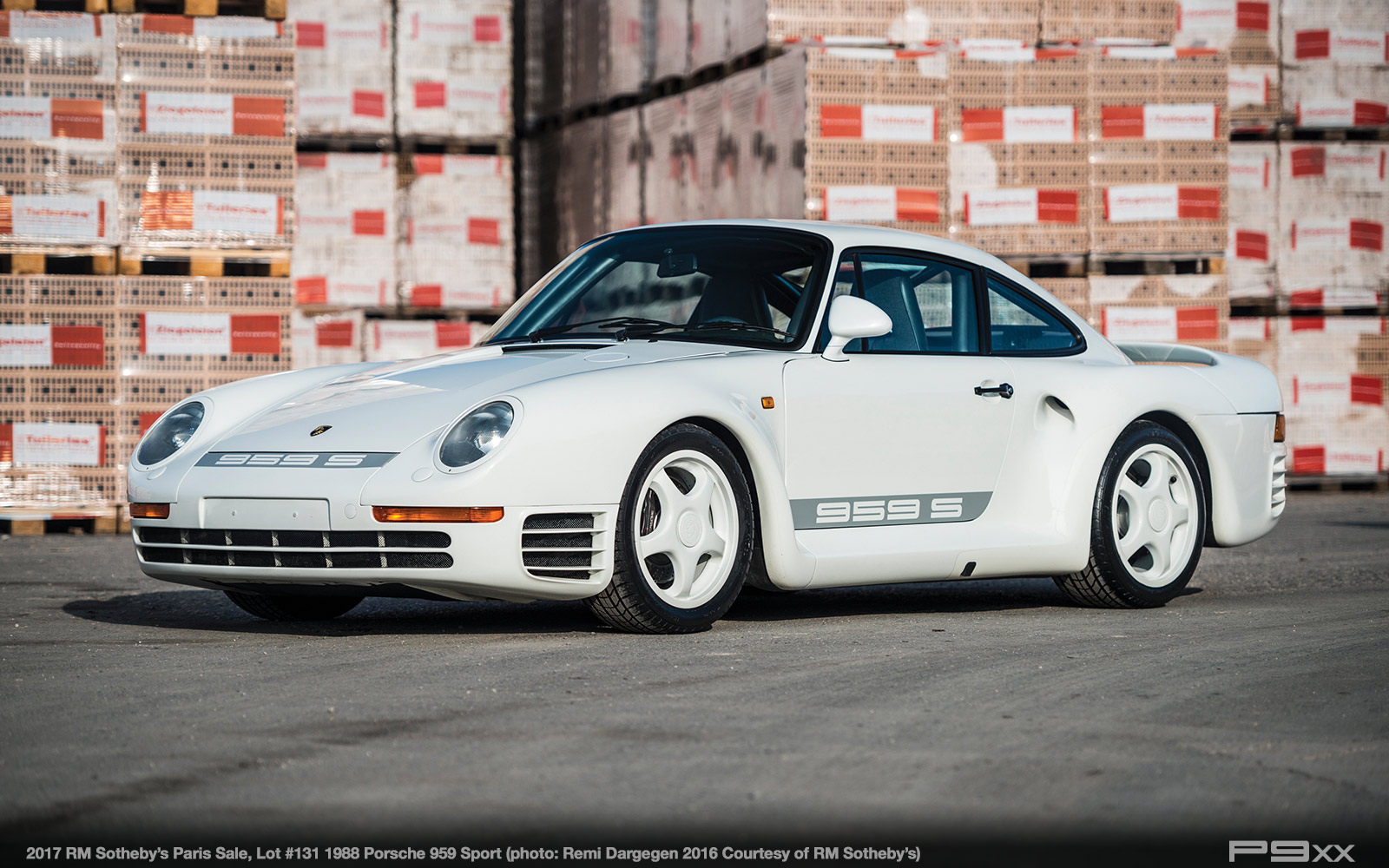 This particular 959 comes up for sale on February 8 at RM Sotheby's Paris Sale. Part of Retromobile week in the city of lights in early February, this car's sale is sure to be a spectacle whether you're privileged enough to be in the market for such a beast or not.
The 959 fixated may already be able to tell you that just 284 cars were produced by Porsche in order to qualify the car for Gruppe B rallying. That, in and of itself, would already make this a rare car. Worth noting though, only 29 of those 284 were built to Sport spec like this example.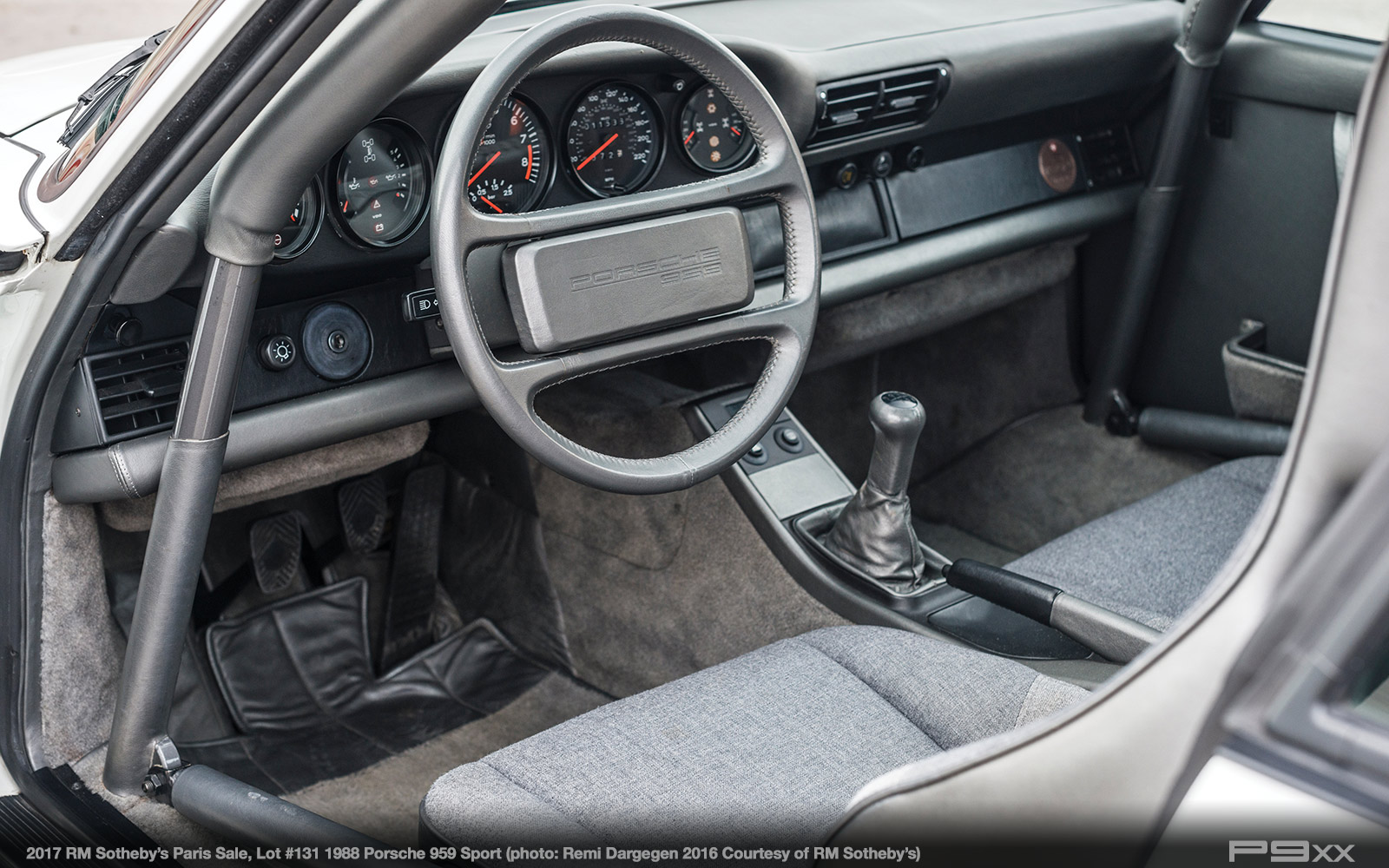 For the uninitiated, the Sport differed from the more luxurious 959 Komfort in several key areas. For starters, it got a full leather-wrapped roll cage, four point racing harnesses and lighter cloth upholstery (as opposed to leather). It was also fitted with a more conventional coilover suspension, and dropped creature comforts such as air conditioning and stereo. These changes netted a weight savings of some 220-lbs over the 959 Komfort.
The white 959 Sport you see here is the 11th Sport designation car to be built. It was sold new to Vasek Polak Jr., son of the noted American Porsche dealer Vasek Polak. The car was driven around Europe for a time, then interestingly exported to the United States long before these cars had been cleared for importation. In fact, it is said to be the first 959 to be exported to the USA.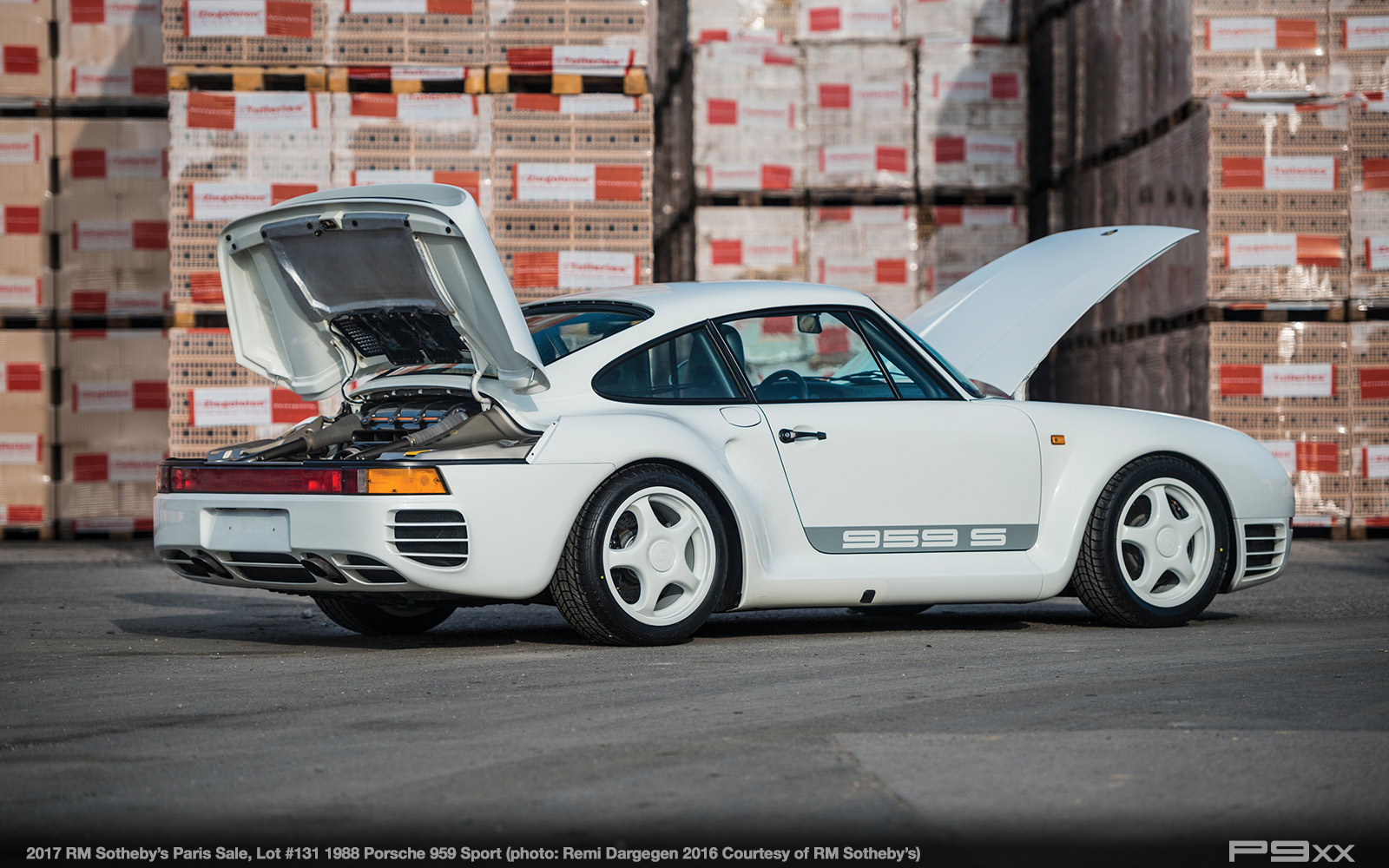 Just how the car made it into America isn't divulged by RM Sotheby's, but Polak later sold the car, and it more recently found its way to Switzerland. That current collector owner has placed the car into the aforementioned RM Sotheby's Paris auction, where it will be sold on February 8th.
More information on the RM Sotheby's 2017 Paris Sale can be found HERE. More photos plus a full description of the car provided by the auction house can be found below.
515 bhp, 2,848 cc DOHC horizontally opposed six-cylinder engine with twin KKK turbochargers and Bosch-Motronic Electronic Fuel Injection, six-speed manual transaxle, four-wheel independent suspension with double wishbones and coil-over shocks, and front and rear ventilated disc brakes. Wheelbase: 2,270 mm
Offered from an exceptional Swiss Porsche collection
One of just 29 built
Purchased new by Vasek Polak Jr.
Just three owners from new
Highly original; still retains its original paint
Rocketing Porsche into the 21st century, the 959 showed the world just what was possible in terms of technology and performance from an automobile and what the public could expect from the automobile industry in the years to come. Adjustable suspension, an intelligent four-wheel-drive system, tyre pressure sensors, and super-lightweight hollow-spoke magnesium wheels made it nothing short of a game changer. Even with a price tag of $300,000, it is said that Porsche lost money on every single one as a result of the extraordinary costs of construction, research, and development.
While the silhouette and interior might have resembled that of a 911 produced at the time, there was no doubt that this was an entirely different animal. With 450 brake horsepower on tap, the 959 could leap from 0–60 mph in less than four seconds, do the standing quarter-mile in just over 12, and reach a maximum speed approaching 200 mph.
Just 284 production 959s were built. The more luxurious 959 Komfort model made up the vast majority of production, with only 29 959s built to Sport specifications. Of course, the difference between the models is instantly discernable from their nomenclature. The 959 Sport boasted a full, leather-wrapped road cage with four-point racing harnesses and cloth upholstery, instead of the leather upholstery seen in the 959 Komfort. Mechanically, it boasted a more conventional coil-over suspension and was stripped of the 959 Komfort's air conditioning and stereo. This helped the 959 S come in at approximately 220 pounds lighter than the 959 Komfort.
The 11th 959 S built, the car presented here has a fascinating story, and it can be argued that it is the finest example of its breed. It was purchased new by noted California Porsche dealer and racer Vasek Polak's son, Vasek Polak Jr. Polak picked the car up personally from Stuttgart and drove the car around Europe before returning to America.
Of course, Porsche aficionados will know that 959s were never delivered new to the United States, as they were not compliant with United States Department of Transportation importation laws or emissions standards. However, Polak and one of his friends managed to find a way to import the car to the United States.
Parting with the car some years later, Polak sold his 959 S to a noted collector who later sold the car in 2008 to its current custodian, a Porsche collector based in Switzerland. Since then, the 959 S has been the crown jewel of his collection. The car recently spent six months at the Porsche Museum in Stuttgart, where it was on display in a special exhibit of Porsche super cars, celebrating the launch of the 918 Spyder. Furthermore, the car has never been modified from its original format and even still retains its original paint.
The pinnacle of Porsche performance and technology in the 1980s, the 959 S is nothing short of an automotive legend. With only 29 Sport models built, they remain by far and away the most desirable 959s and command a substantial premium over the 'regular' Komfort models. Chassis number 011 boasts a fascinating ownership history, having been delivered to one of the most influential figures in the Porsche world and its status as the first 959 to be registered in the United States.
Presented in exceptionally original condition, this 959 S is a true collector-grade example, worthy of the best Porsche collections in the world.