If it's August it's Monterey, when countless concours, car gatherings and auto auctions vie for attention from an eager army of auto enthusiasts who descend upon the Peninsula in a pilgrimage to petrol. If you're planning on attending and anything like us, the week effectively comes down to prioritizing which events are most relevant to you. Amongst them is RM Sotheby's incredible auction, not to mention multiple days of auction previews.
As one of the most exclusive auctions of the week, and amongst some very impressive auction house competitors, it's worth focusing on the highlights of what is set to go on sale. Fortunately for us, RM Sotheby's makes it easy by providing ample information and photography of each car they intend to sell.
For obvious reasons, we're choosing to focus on the Porsches slated for sale. Should you wish to learn the entire offering, visit RM Sotheby's own website with auction catalogue HERE.
Also see a full gallery of photography of each Porsche set to be auctioned as part of the RM Sotheby's Monterey auction HERE.
DETAILS
Sale dates:
Friday, 18 August

Saturday, 19 August

Auction begins at 6:00 pm (will run approx. 4-5 hours)

Auction begins at 6:00 pm (will run approx. 4-5 hours)

Preview dates:
Wednesday, 16 August

Thursday, 17 August

Friday, 18 August

Friday, 18 August

Saturday, 19 August

Saturday, 19 August

10:00 am – 8:00 pm

10:00 am – 8:00 pm

10:00 am – 4:00 pm

4:00 pm – 6:00 pm

10:00 am – 4:00 pm

4:00 pm – 6:00 pm

Location:
Portola Hotel & Spa, 2 Portola Plaza, Monterey, CA 93940
Admission:
Admission is open to the general public during preview hours. Admission to the auctions on Friday, 18 August, and Saturday, 19 August, is for registered bidders, consignors, and qualified media only.

ADMISSION – $40

BIDDER REGISTRATION – $300
Includes an official auction catalogue and admission for one bidder and one guest to the auction.

*The previews on Friday and Saturday evening from 4:00 p.m. – 6:00 p.m. are for registered bidders and guests only.

*All times are shown in the time zone in which the auction is conducted.
PORSCHE HIGHLIGHTS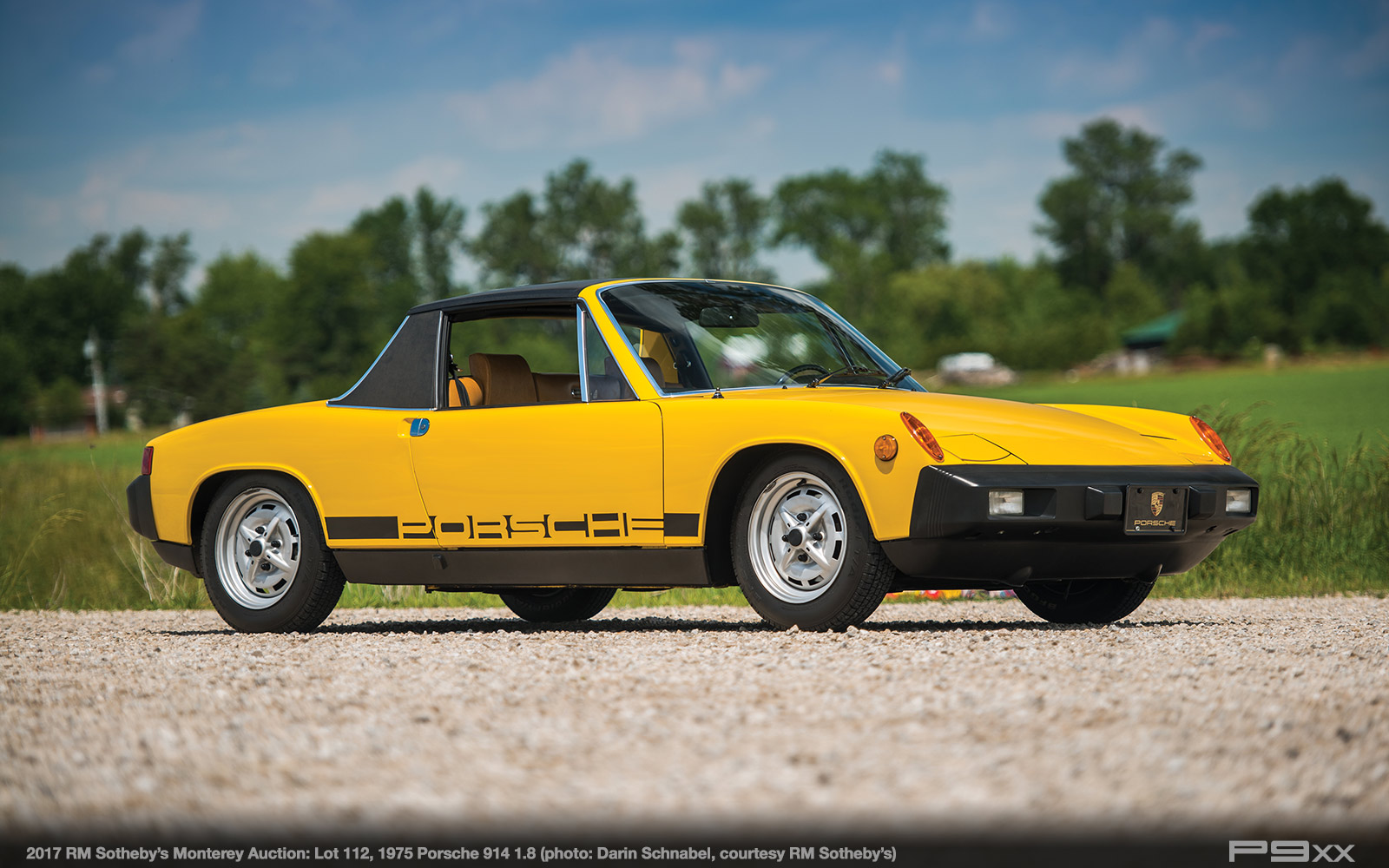 Lot 112 – 1975 Porsche 914 1.8
The 914 1.8 offered here is almost certainly the finest example in existence. It was imported to the United States through San Francisco and sold new by Felton Porsche-Audi of Mill Valley, California, to William V. Shaw of Los Altos. Finished in Summer Yellow with Buckskin leatherette interior, it was optioned with tinted windshield and a center armrest console, at a combined cost of $95 extra, as noted on the original window sticker, which is still present along with much of the original delivery paperwork. Service records from its early years record the installation of air conditioning by Anderson-Behel Porsche/Audi of Santa Clara in August of 1976, as well as the installation of running lights by Sunnyvale Porsche-Audi in 1978, at which time the car had recorded just 1,360 miles.
Today the 914 remains in remarkable original condition, having spent much of its life, until recently, with its original owner. At the time of cataloguing, it had recorded only 3,192 miles, which is noted on its previous California title as actual mileage from new, and is consistent with the limited mileage noted in its service documentation. The paintwork is immaculate, as is the interior, with hardly a flaw noticeable. Even the engine bay shows virtually no wear!
In addition to the aforementioned paperwork, the Porsche is accompanied by both sets of original keys, air conditioning instructions and decal, a Blaupunkt radio warranty card, maintenance and warranty instructions for the emissions system, and the original owner's manual in folio. The air conditioning system has since been removed by a previous owner, though the original components are also included. A finer, more original 914 as this would be next to impossible to find.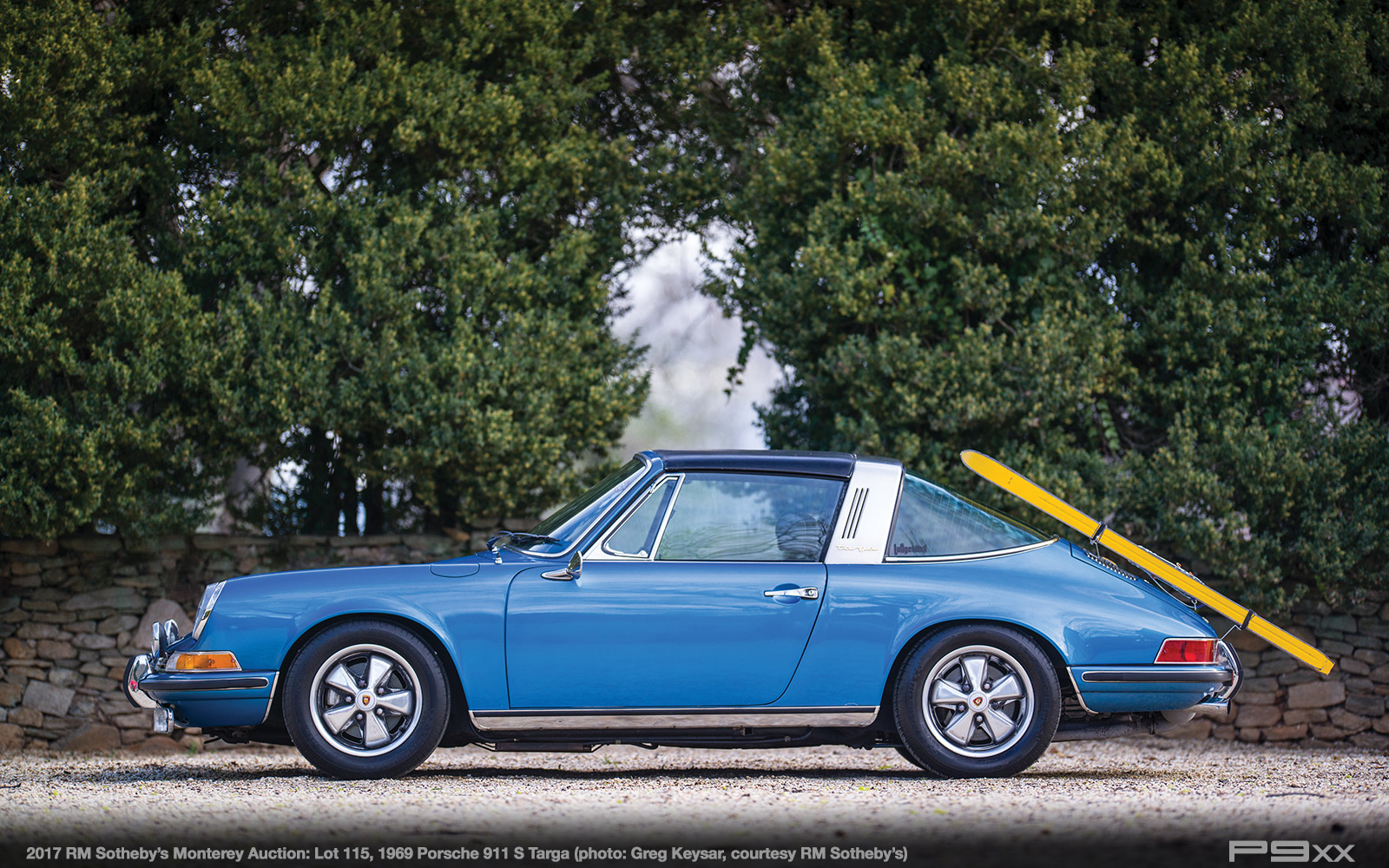 Lot 115 – 1969 Porsche 911 S Targa
It can become quite hot during the summer in Texas, hence the decision by R.W. Robinson of Austin to specify air conditioning when he placed his order for a new 1969 Porsche 911 S Targa though Intercontinental Motors in San Antonio. He also requested the rarely seen special-order color, Metallic Blue (6853) – a $152 extra – with a black leatherette interior. According to this car's original window sticker and invoice (included with the car's file), Mr. Robinson also ticked the boxes for a Becker Europa radio and antenna/speaker package, tinted glass all around with a single-stage heated rear window, and a set of Michelin tires. Another interesting item was the inclusion of "self-leveling front suspension," a feature ordered on many 911 Es, but rarely found on other models.
Completed on 2 April 1969, the car was shipped to the United States, and was delivered to Randy Robinson exactly two months later on 2 June. It would remain with him for the next 45 years. According to the dealer invoice, the Becker radio was changed on arrival to a Blaupunkt AM/FM prior to delivery, which remains with the car today. The car was also fitted with a set of bumper guards and color-coordinated Coco mats. In the early 1970s, the Robinson had Forest Lane Porsche-Audi in Dallas, Texas, replace the original Boge hydropneumatic front suspension with Koni struts (as the original system was notoriously unreliable). The rear shock absorbers were also replaced with Konis. At a later date, stainless rocker trim and a pair of Hella below-the-bumper driving lights were installed, along with painted center caps for the Fuchs alloy wheels.

The consignor, just the third registered owner, notes that the car was repainted in the mid-1980s by the original owner, and has been carefully maintained from new, including a complete rebuild of its original engine by the previous owner in 2013.
It is unusual to find such an elegant all-matching-numbers Targa that is so fully documented; it is supplied with its correct owner's manual and maintenance booklet in their original maroon vinyl slipcover, and a comprehensive file containing the CoA, original window sticker, and a meticulously detailed maintenance history from new. Also included are the correct spare wheel, jack, tool kit, and even a period-correct Mohn ski-rack and set of skis mounted to the rear . . . should the new owner ever find snow in Texas.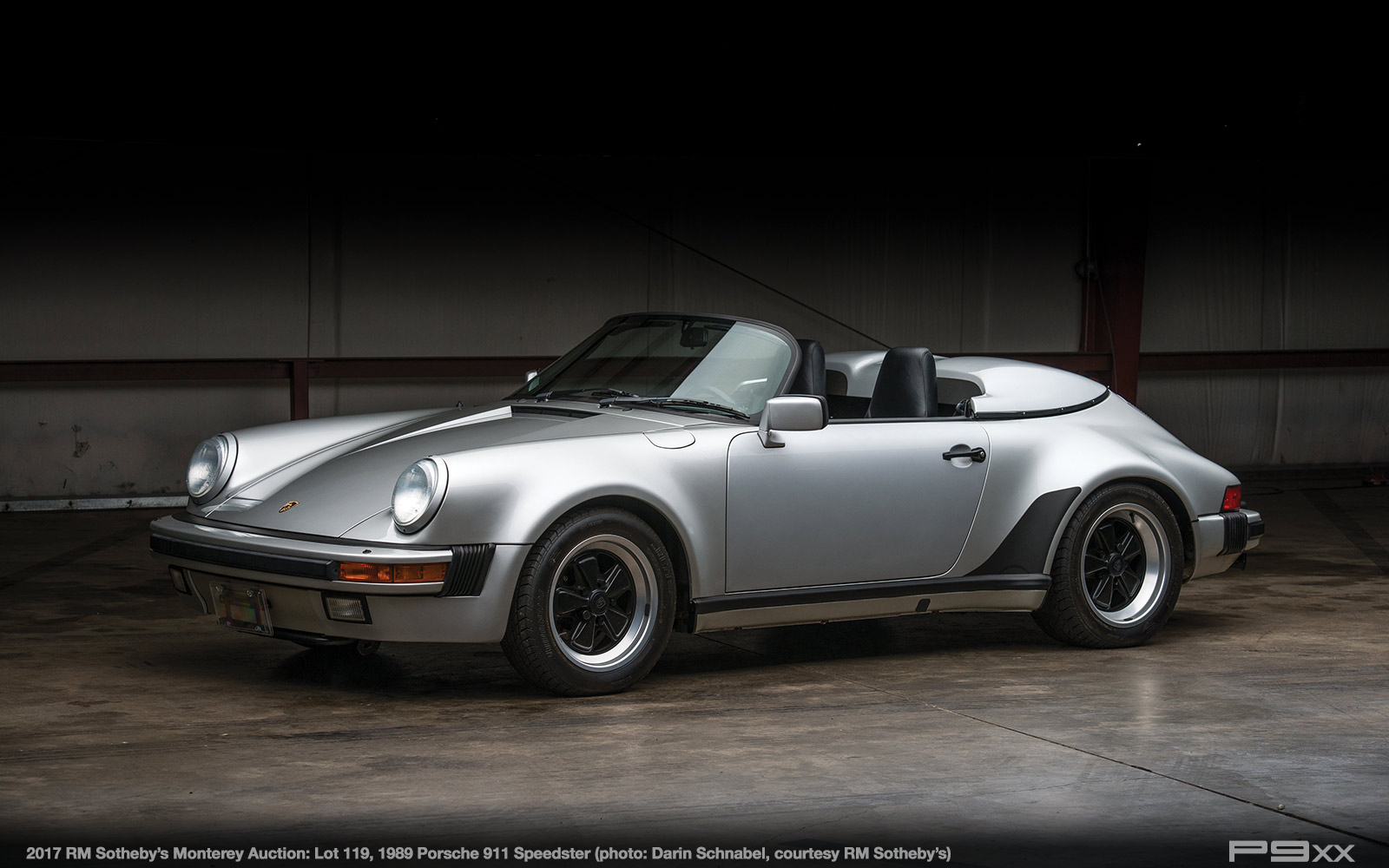 Lot 119 – 1989 Porsche 911 Speedster
The 911 Speedster offered here was delivered new in Silver with a black interior, and optioned with locking 40 percent rear differential, a short-throw shifter for the G50 transmission, intensified windshield washer, headlamp washer, sport seats with electrical height adjustment, and factory air conditioning. An original Canadian-market example, its warranty booklet was signed 5 May 1989, and notes routine maintenance by Auto Strasse of Montreal in 1993, 1995, and 1998, the last at 7,595 kilometers, all for Roger LeBlanc of Montreal. The last service work is noted for the succeeding owner by G Tek of York, Ontario, at 7,712 kilometers in 2000.
Accompanied by a set of manuals and its warranty book, as well as a correct original tool kit, jack, and its original rear-mounted space-saver spare, this is an excellent low-mileage, extremely original 911 Speedster, for the finest Porsche collection.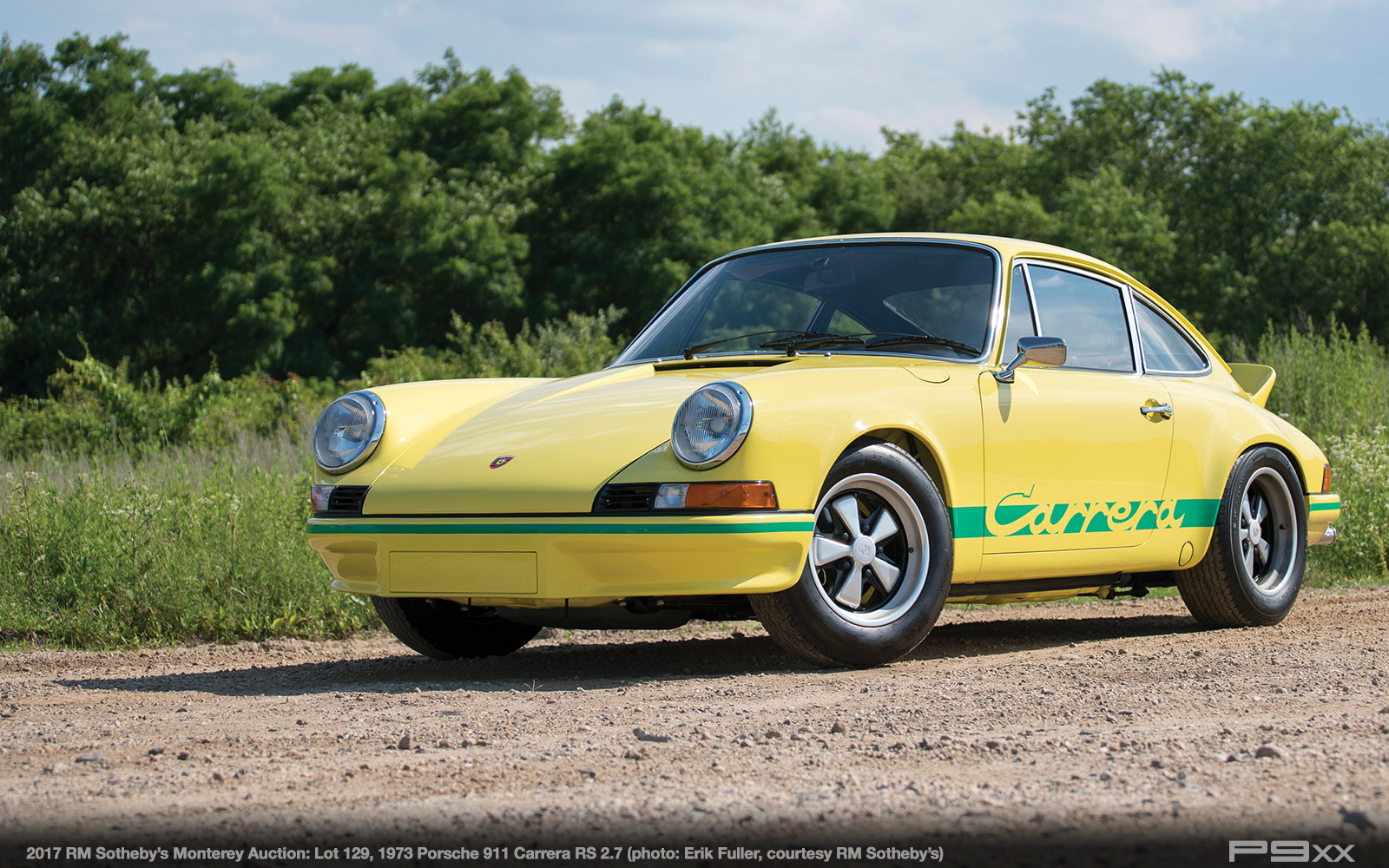 Lot 129 – 1973 Porsche 911 Carrera RS 2.7 Lightweight
A true M471 Lightweight-specification Carrera RS, this Swiss-delivery example was imported through AMAG in Schinznach-Bad. Chassis number 0354 was originally finished in Light Yellow with a lightweight interior in black, as it is currently liveried. Only 200 Lightweight examples were constructed, marketed to club-level racers looking for something a good bit more competition oriented than what the M472 Touring model offered. These examples tipped the scales at roughly 100 kilograms less than its less radical sibling.
There was no sound insulation to shelter the driver from road and drivetrain noise, and thinner glass was sourced from the Belgian company Glaverbel to shed weight even further. Even the standard door handles were swapped for pull-cord door-releases. Aside from its M471 Lightweight specification, the first run of Carrera RS' was built using thinner gauge steel for their bodywork, differentiated from the cars that would follow, 0.8 mm thick compared to 0.88 mm for the later cars, making them amongst the most desirable derivatives of the Carrera RS family.
Chassis number 0354 was delivered new to Peter Zbinden of Basel, a successful privateer racing driver in Switzerland who would become the Swiss National Champion in 1974, behind the wheel of another Carrera RS. Its second owner, Erhard Maritz, acquired this car in 1974 from Mr. Zbinden, with 7,000 kilometers on the odometer. Maritz used the car to compete in a variety of events throughout his ownership with the Porsche Club in Zurich, including sprint races and hill climbs, where he proved to be quite successful. The car was also believed to be raced at Hockenheim, Monza, and Dyon. During this time, the fragile magnesium engine casing developed a crack and as a result, was replaced with another 911/83 unit supplied by Porsche in 1976 and installed by René Voigt in Winznau.
Maritz's racing exploits continued until 1982 when the car was returned to AMAG, the dealership that had delivered the car new. It remained with them in storage until 1988 and acquired by Paul Alexander and then subsequently acquired by Hew Dundas of Scotland in June of 1989. Dundas used the car on occasion for historic racing, during which time it was maintained by Steve Carr at Autofarm.
The Carrera RS travelled to America in 1993, where it was purchased by Douglas Brown of Tuxedo Park, New York. In documentation on file, Mr. Brown recalled that when he received the car, "it was clear that it had been well treated throughout the ownership history. There was no corrosion; the car had all the proper lightweight panels, Glaverbel glass, correct window trim, front alloy suspension cross member, [and] correct reinforced rear trailing arms."
What followed would be a no-expense-spared restoration by well-known and respected RS restorer Nate Cantwell to bring the car back to as-new condition. This took more than 2,500 hours over the course of two years and is thoroughly documented in the car's history file. At this time, the engine was entrusted to Jack Reffening of the 901 shop, who chose to replace the engine case with a new-old-stock unstamped case, again due to their inherent fragility. This casing was installed and stamped with 0354's original engine number, 6630350. Furthermore, the first-in-period, Porsche-supplied replacement casing will be available for inspection in Monterey and included in the sale. Following the completion of the restoration, the car was shown at a variety of concours events and received the 1999 National PCA Restoration Award at the Mt. Tremblant Porsche Parade.
More recently, correct green Carrera RS graphics were fitted to the car, adding to its standout appearance. Not only is the aforementioned file accompanied with correspondence and restoration receipts, but a number of photographs from before, during, and after the restoration are included, along with period photographs from the car's racing career in Switzerland. Following the car's restoration, it has seen minimal use and has been stored in a climate-controlled garage. Even some 20 years after the completion of its restoration, chassis number 0354 still presents exceptionally well and makes no excuses.
The ethos and history of chassis number 0354 remained very true to Porsche's original philosophy and intent for the Carrera RS model. Sold new to a successful privateer racer and raced with distinction by its second owner, it has remained remarkably original throughout its life and proved to be the ideal basis for a restoration. Needless to say, a well-kept Carrera RS should be a mainstay for any significant Porsche collection, and a first-series Lightweight with period-racing history remains amongst the most sought-after examples to own and enjoy.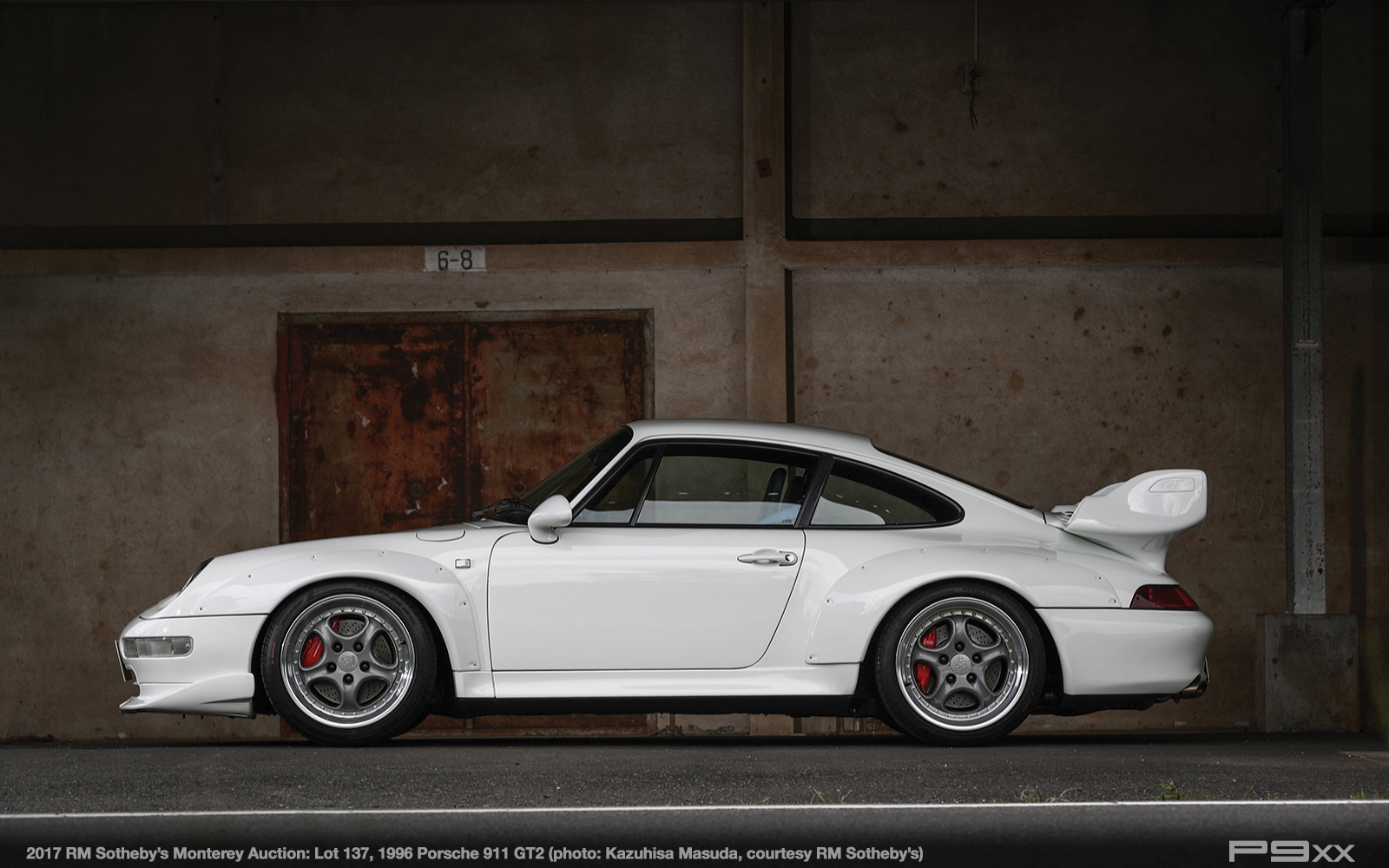 Lot 137 – 1995 Porsche 911 GT2
This very attractive GT2 is finished in white over a black leather interior and features subtle blue accents, including the seat belts, door pulls, and "GT" script across the rear seat back. Originally specified for Germany, it was optioned with a stronger battery, tinted windscreen, front airbags, air conditioning, power windows, and interestingly, without a radio. A radio has subsequently been installed, as has an attractive Clubsport steering wheel.
This limited homologation special was acquired in Japan by its current owner 13 years ago. It has since been meticulously maintained during this time, including a number of service receipts, and currently shows just 11,470 original kilometers. Notably, the car retains its original owner's manuals and requisite pouch, as well as the original tool roll, jack, air compressor, and space-saver spare tire mounted in the front trunk.
The GT2 immediately proved itself to be extremely competitive on the race track. One early example enjoyed high podium finishes at the Sebring 12 Hours in both 1995 and 1996, as well as at Watkins Glen and Daytona. In the hands of expert drivers, the GT2 was indeed a very sharp and reliable scalpel. The street versions were also brilliant performers, but many owners specified various comfort options, and as a result, the GT2 was the most expensive model within the 911 lineup that year.
ADDENDUM
Please note that an import duty of 2.5% of the purchase price is payable on this lot if the buyer is a resident of the United States.
Please also note that due to California emissions, this vehicle must be sold to a dealer or out-of-state resident.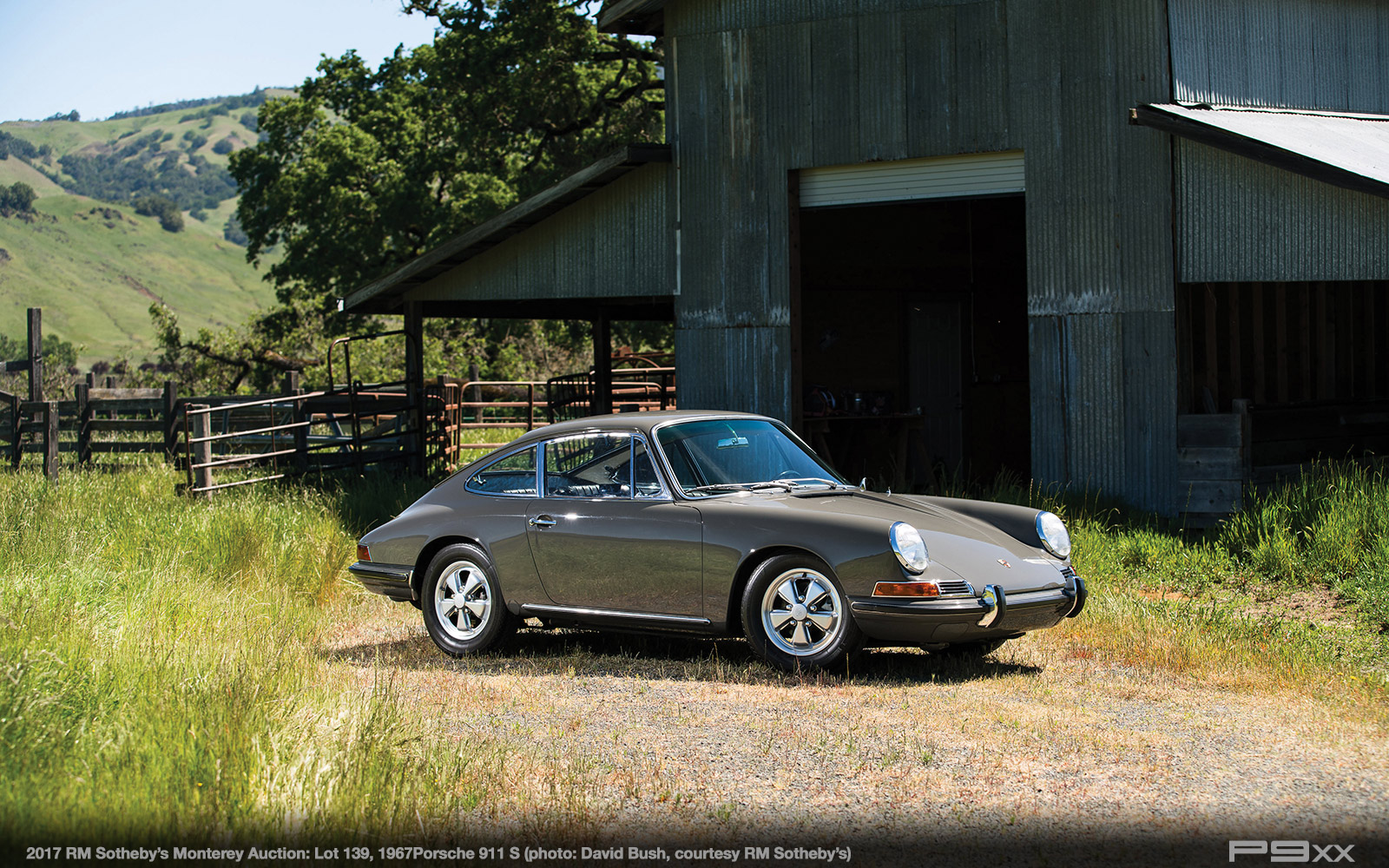 Lot 139 – 1967 Porsche 911 S Coupe
Completed on 13 June 1967, this 911 S was factory-equipped with the optional Webasto heater, an outside rear-view mirror, a Blaupunkt Frankfurt radio with the speaker/antenna package, and fitted with Dunlop tires. Finished in Slate Gray over black, the Porsche was then delivered to Joan Ruggiero of Hollywood, California, on 18 August. The desirable short-wheelbase coupe passed through several West Coast owners, during which time it was converted to a race car, entering vintage and Porsche Club of America Club events. The interior and trim were removed, and a full roll-cage and safety fuel cell installed. Dale Thero of Denver, Colorado, bought the car in 1995, painted it Viper Green, and would race it in this form for more than 18 years, competing with Rocky Mountain Vintage Racing, PCA Club Racing, and autocrosses.
In 2012, described as being very straight, the 911 was purchased by its current owner, who commissioned a complete restoration back to its original form by a local Porsche specialist. The rollbar was carefully removed, the fuel cell replaced with a correct gas tank, and a full new interior from Autos International was installed. Since many hard-to-find parts had been removed during its conversion, a 1967 912 donor car was acquired to obtain some of the trim, radio, and other critical detail components. All the instruments were rebuilt by North Hollywood Speedometer.
Offered in its highly desirable original factory color combination of Slate Gray over Black leatherette, this nicely restored first-year 911 S is supplied with new period-correct tires, Blaupunkt radio, correct Weber 40IDS3C triple-throat carburetors, and extensive records and documentation. A Certificate of Authenticity and a copy of the original Kardex are also included on file. It is ready for club-level concours as well as entertaining driving enjoyment.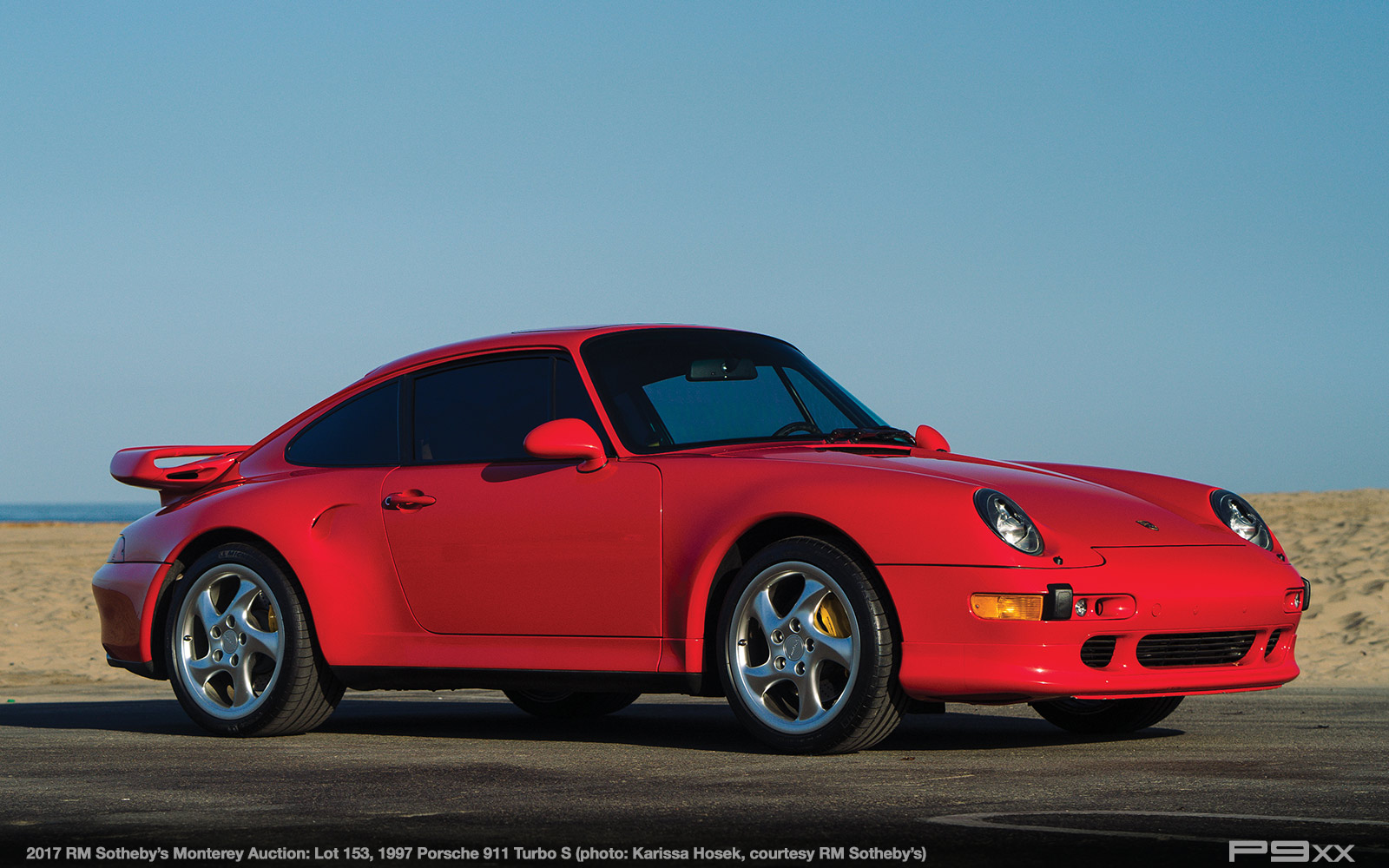 Lot 153 – 1997 Porsche 911 Turbo S
Like all Turbo Ss, at the heart of chassis number 375758 is a flat six-cylinder engine fitted with a pair of K-24 turbochargers that output 430 horsepower in U.S. specification. Power is driven to the ground through a six-speed manual transaxle and all-wheel-drive system that was developed for the earlier Type 964 Carrera 4. The Bosch Motronic engine-management system is upgraded to produce more power and an additional oil cooler was added to handle the increased heat load. Large, 12.68-inch power-assisted ventilated and cross-drilled multi-piston disc brakes with yellow calipers deliver impressive stopping power from any speed.
Unlike some other special edition models, Porsche did not sacrifice creature comforts and usability for track performance with the Turbo S, and chassis 375758 is no different. Inside is a luxurious full black leather interior with generous amounts of carbon fiber trim on the lower portion of the dashboard, around the gauges, along the doorsills, and on the center console, door panels, and door pulls. The included window sticker notes the optional addition of black floor mats, carbon leather steering wheel, racing style seats, and a digital sound package with a six-disc CD changer. Rounding out the optional extras is an infra-red security system.
The CARFAX report notes this Porsche has had five owners, having originally been delivered to Bert Smith International in St. Petersburg, Florida. Moving to an owner in the Chicago area in 2001, the Turbo S completed its 6,000-mile service in 2004. Another large maintenance was performed with the third owner in Ohio in 2007, before the car passed to Colorado. Most recently, the Turbo S has resided in California with an avid Porsche collector and has been maintained and inspected as one would expect of such an impressive Porsche.
The Turbo S delivered stunning performance in a package as luxurious and exclusive as Porsche's discerning customers had come to expect. It really was the ultimate supercar that could comfortably be driven as a daily commuter. Collectors today value the Turbo S for its rarity, performance, timeless styling, and as the last iteration of the air-cooled Turbo.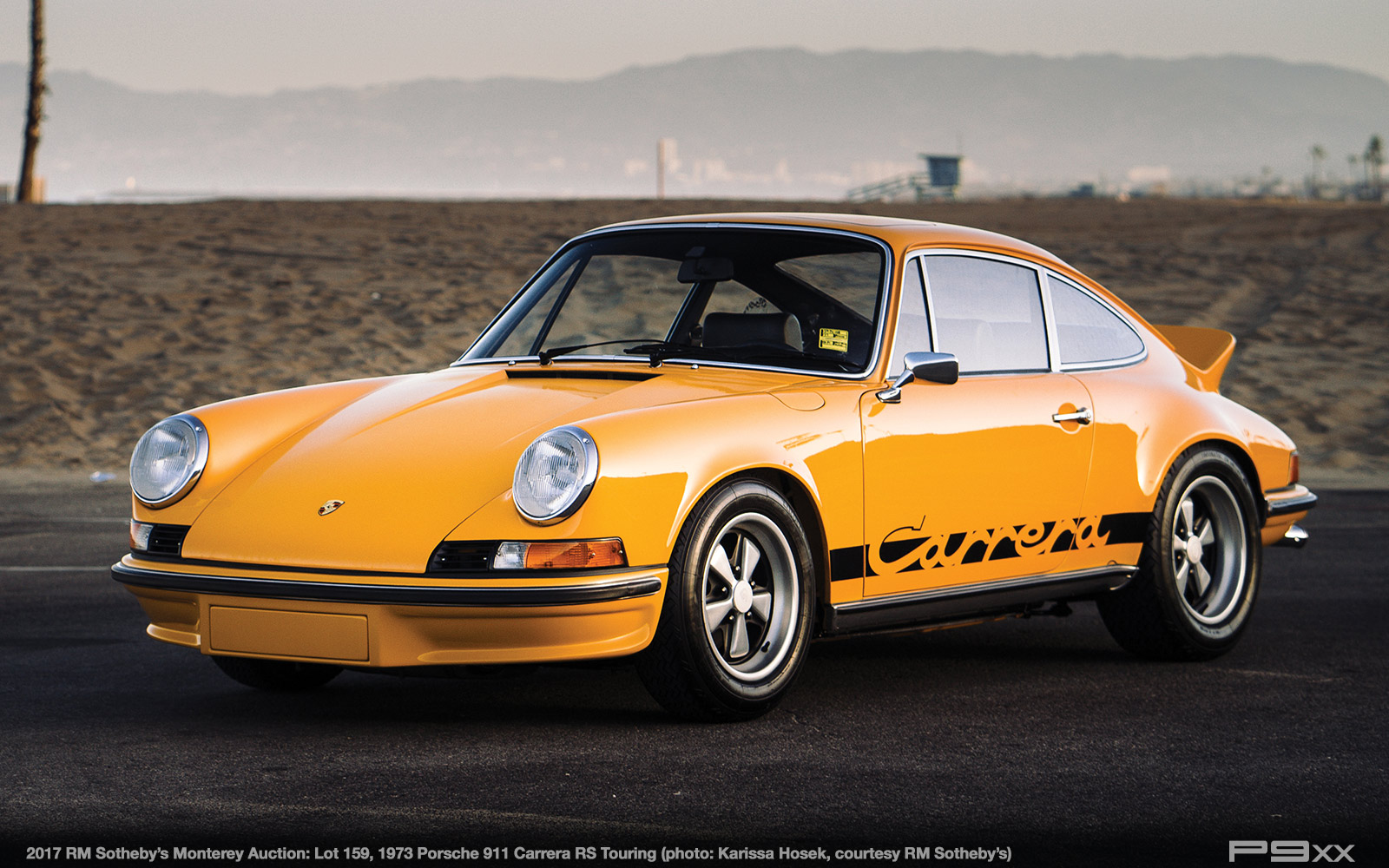 Lot 159 – 1973 Porsche 911 Carrera RS 2.7 Touring
Offered here is a beautiful late first-series Touring version, finished in Signal Yellow (5252) with black interior and black "Carrera" script. It was one of just 87 produced in this hue. The car also left the factory with an optional electric sunroof (M650), electric windows (M651), and an electric antenna/speaker package (M440).
The first owner, Paul Wiehage of Lubeck, Germany, took delivery on 2 February 1973, retaining custody for just over four years. During that period, Mr. Wiehage scrupulously maintained his Carrera at Porsche Edgar Kittner Sportwagenzentrum in Lubeck, per the car's service record booklet. It appears that this car was then acquired by that dealership and sold in turn to a Mr. Frand Demleitner of Stockelsdorf on 9 February 1977.
This beautiful RS changed hands again on 24 September 1986, purchased by a Mr. Uwe Buchs of Iserlohn, Germany, who kept the car until 2003. On 3 March 2011, Peter Gohringer of Karlsruhe became this Carrera's fourth owner. Just over a year later, a Mr. Masood Azadpourer of Munich purchased this car. Now showing a total of 99,866 kilometers, this RS 2.7 was imported in partially restored condition about four years ago; the work was completed to a high standard by California Porsche Restorations in Fallbrook, California, after which the car was acquired by the consignor. Most recently the RS was subject to a comprehensive engine and transmission-out service by European Collectibles of Costa Mesa, California, in May this year. Work also includes a new set of correct tires as well as additional freshening of all ancillary components.
This very collectable RS Touring is offered with tools, books, service records, and a Certificate of Authenticity from Porsche. It is a special example of one of the great Porsches of modern times.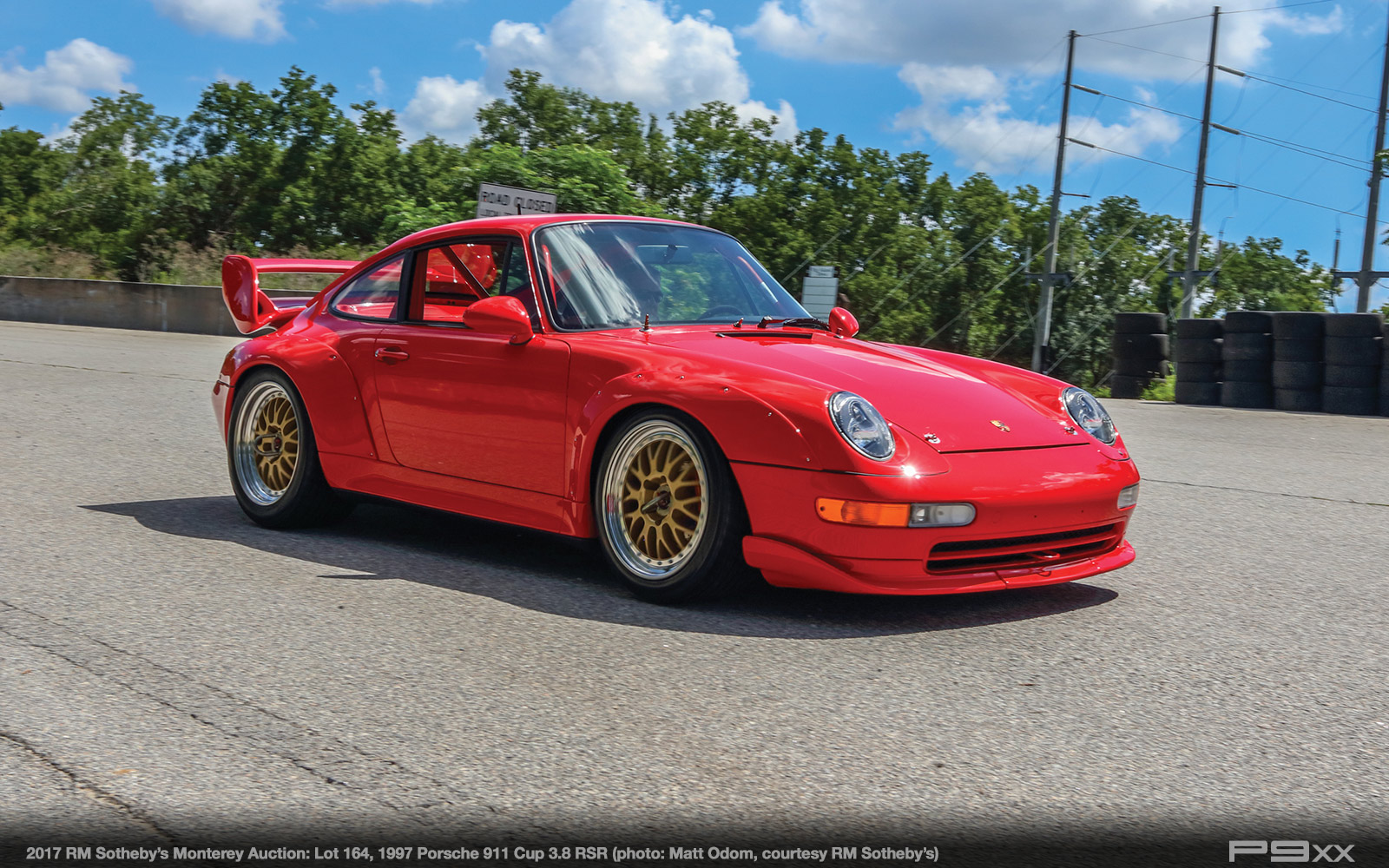 Lot 164 – 1997 Porsche 911 Cup 3.8 RSR
Offered here is a very rare Guards Red 911 Cup 3.8 RSR, equipped with the original numbers-matching M64/75 engine. Designed for endurance racing with a power output of 349 bhp, this highly tuned engine features a resonance intake system, six intake plenums with separate throttle valves, a different camshaft profile, and no catalytic converters. Like most RSRs, the Porsche is also equipped with the type M50/34 close-ratio six-speed manual transaxle.
This outstanding RSR was originally delivered to Michael Doolin of Sandy, Utah, in July 1997. Of the 45 examples built to 3.8 RSR specification, most were raced extensively. However, chassis 398063 was never raced professionally, instead competing in Porsche Club races and National Auto Sport Association races. With just 8,000 miles from new and never subject to an accident, the RSR retains its original engine and six-speed transmission. Interestingly, the original hood, doors, and rear wing had been removed prior to competition to preserve their integrity.
After being purchased by the current owner in mid-2016, the vehicle was sent immediately to Kelly-Moss Road and Race for a thorough engine-out inspection. Kelly-Moss replaced the original front Turnwald spoiler, rear wing, rear decklid, front decklid, and both doors—which had been removed at the time of delivery—were reinstalled. The front and rear fenders and bumpers were repainted to remove previously painted-on graphics. The spartan, race-ready interior remains all-original. Most RSRs were delivered in Snow White; the original Guards Red appeared on just a handful of cars, making this rare vehicle even rarer.
Offered with the car is extensive correspondence between the original owner and the factory, technical manuals, records, and data setup. Additionally, all records from the reconditioning by Kelly-Moss accompany the vehicle.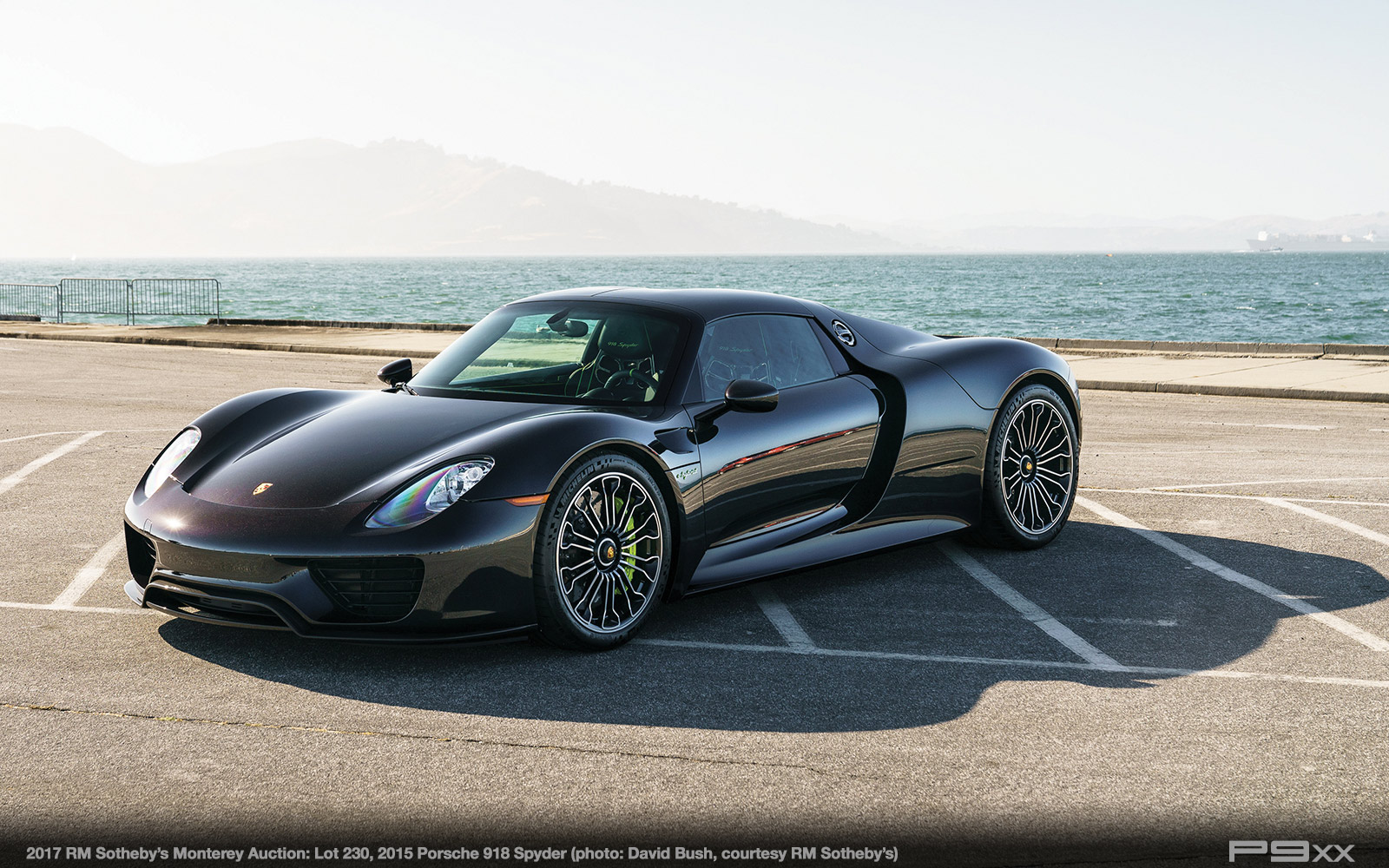 Lot 230 – 2015 Porsche 918 Spyder
Ordered from Porsche of Walnut Creek, California, on 23 March 2011, this incredibly sophisticated high-performance Porsche is the 89th to leave the factory and one of the first 918 Spyders sold in the United States. It is believed to be the first delivered in California. Finished in stunning Basalt Black Metallic paint (Z4) with an Onyx Black interior, highlighted by Acid Green piping (53) and Acid Green seat belt accent stripes (XGX), it was also ordered with Porsche's optional electro-pneumatic front-end lift system (474). The car was delivered on 13 August 2013 to its first and only owner, a resident of the Bay Area, then was displayed at the 2014 Pebble Beach Concours d'Elegance.
This wonderful 918 has been properly maintained since delivery almost three years ago and was last serviced by Porsche of Walnut Creek in April of 2017. It is supplied with all its original tools, accessories, and documentation.
With fewer than 300 examples having been sold in the United States, this 918 Spyder presents a rare opportunity for the astute collector to acquire a brilliant example of Porsche's 21st century engineering expertise – an automobile offering the utmost combination of performance, comfort, and style.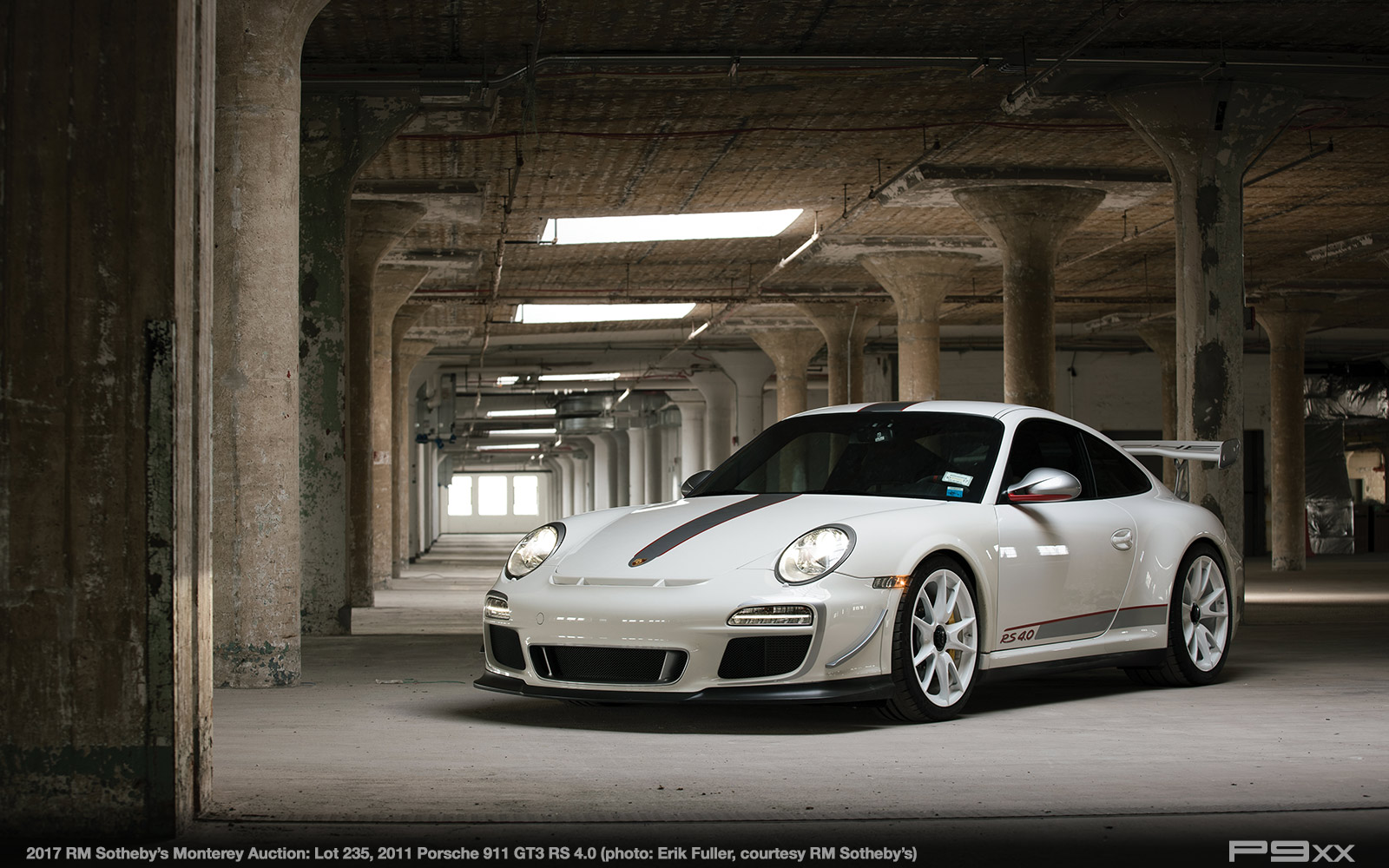 Lot 235 – 2011 Porsche 911 GT3 RS 4.0
This beautiful example is finished in Carrera White with a black and red leather interior, accentuated by numerous additional carbon-fiber interior trim pieces and distinctive 4.0 trim. It is fitted with six airbags, automatic climate control, a security system, and a high-end entertainment system. Exclusive options include sun visors trimmed in Alcantara, carbon rear center console, and an aluminum driver's footrest. The car was also optioned with the Front Axle Lifting System to help prevent scraping the front spoiler on steep driveways.
Capable of astounding over-the-road performance, this GT3 RS 4.0 also features Porsche's optional track-proven PCCB carbon-ceramic brakes with power assist, applied through six-piston alloy calipers in front and four-piston calipers in the rear. The 19-inch-diameter multi-spoked light-alloy wheels are 9 inches wide up front, and a full foot wide in back. They have been powder-coated white to match the body; this is the only cosmetic change from new.
The Porsche was originally delivered to McKenna Porsche in Norwalk, California, in December 2011. The current, and first private owner acquired the car in 2013 with only 116 miles and had the RS 4.0 titled in New York in October of that year. Today, the odometer shows just 4,543 miles. Although this car was originally built without Porsche's comprehensive navigation system, an OEM unit was installed by Manhattan Motorcars in New York City, which also recently performed a four-year service that included all filters, fluids, and spark plugs at a cost of $4,400. Properly maintained and garaged since new, the Porsche has never been tracked or abused. It is supplied with a its original radio, car cover, trickle charger, additional rubber floor mats, as well as a Certificate of Authenticity, original factory documentation (including its original window sticker), and service records from Manhattan Motorcars.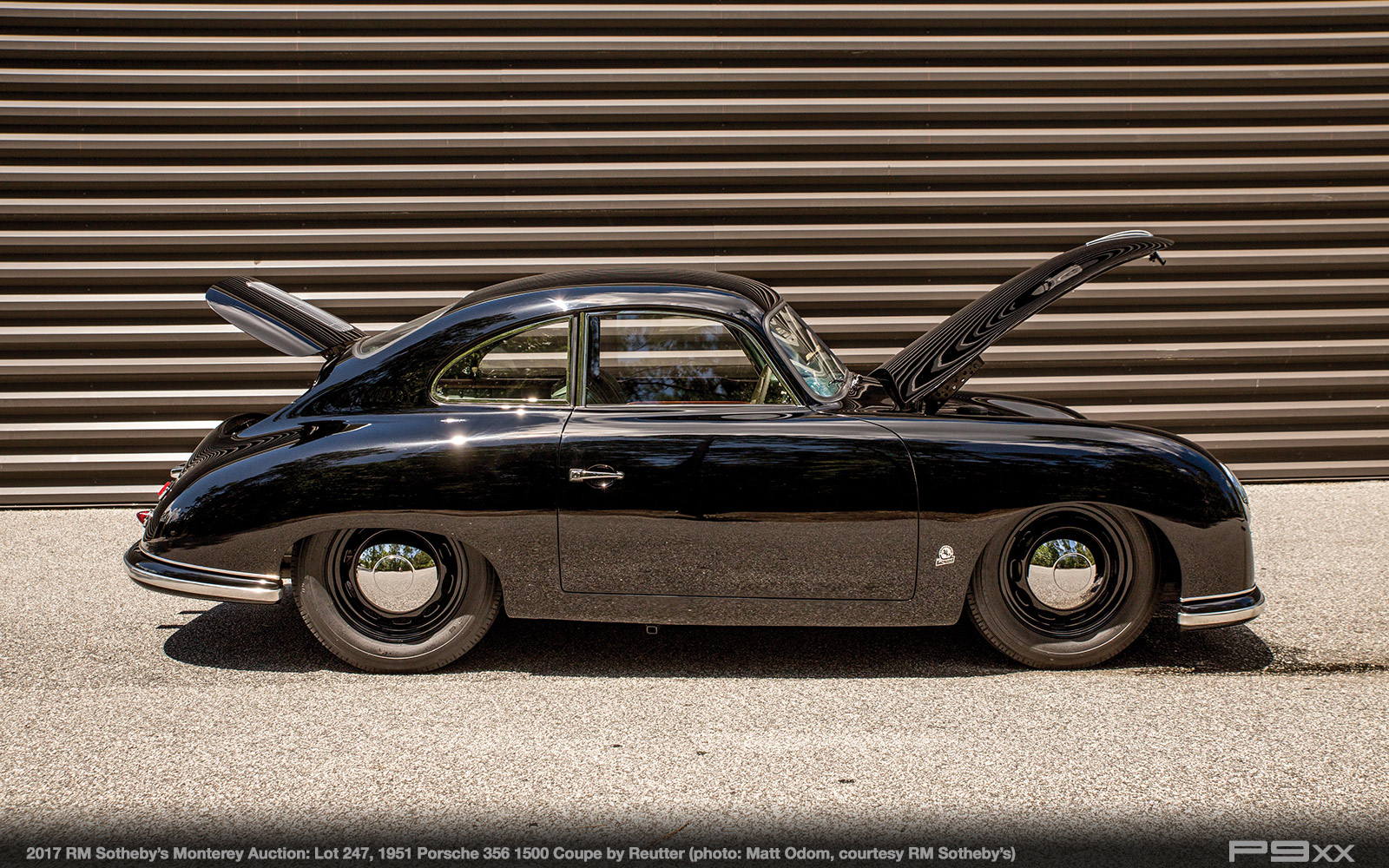 Lot 247 – 1951 Porsche 356 1500 Coupe by Reutter
This handsome little coupe, chassis number 11111, was completed 20 December 1951, finished in black and with engine number 30069, which it still retains. Delivered by Raffay in Hamburg, it was regularly serviced by the dealership through 1952. The following year, the car found itself in San Francisco, registered to the late Millard Smith. It is believed that he sold the car circa 1958. Little is known until the mid-1970s, when the Porsche was discovered in an asparagus field. Offered for sale in Porsche Panorama, the car was described as being mostly complete at the time. After several intervening owners, it was sent to Karosserie Ltd. in Virginia in 2006 to begin what would become a comprehensive four-year, documented concours restoration.
After bodywork was completed, the 11111 was repainted its original Black. Autobahn Interiors created elegant new seat covers and trim in Gray-green leather (true to the original color), along with complimentary square-weave German carpeting. The original Ivory plastic steering wheel, instruments, and other controls were properly restored and a new headliner was made. A period-correct Telefunken radio was installed. The original engine, only the ninth 1500 Type 527 production engine made by Porsche, was completely overhauled and a new camshaft and twin-pipe exhaust system sourced. A series-correct transmission was sourced and rebuilt. The steering and brakes were refurbished and a new wiring harness installed.
Today, this wonderful little 356 coupe, which is believed to have just over 50,000 original miles, is offered in stunning condition. In recent years, it has been judged Best in Class and received a Zuffenhausen Award at the 2015 Porsche Parade, and scored class wins at Hilton Head and Winterpark in 2015, and Amelia Island in 2016. It is supplied with a Porsche Certificate of Authenticity, along with a copy of the factory Kardex, correct spare, and tools.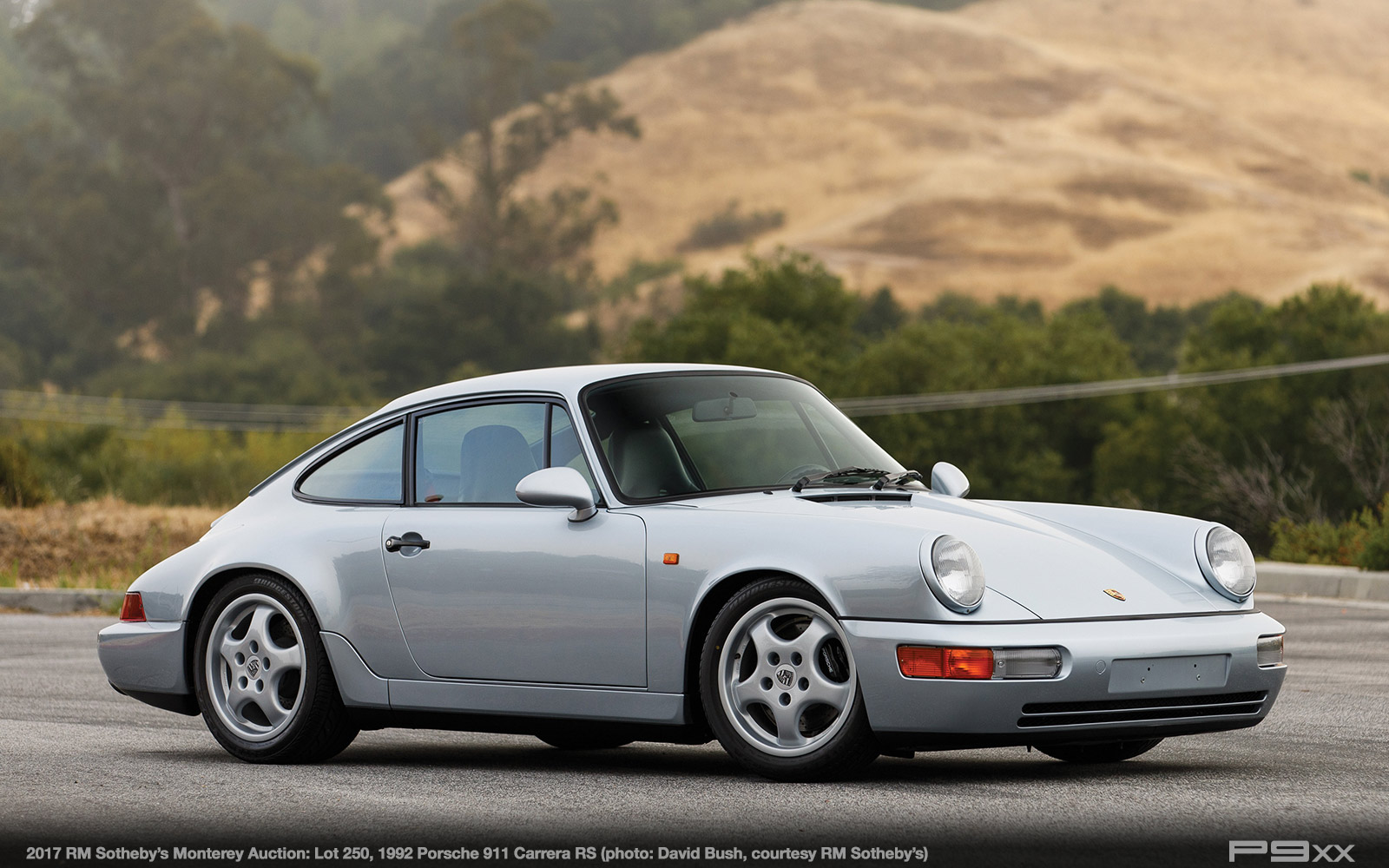 Lot 250 – 1992 Porsche 911 Carrera RS
In 1992 Porsche began producing a stripped out, lightweight version of the Carrera 2 based on the 911 "Carrera Cup." As it was not sold in the U.S. due to the extremely aggressive tuning, very few original European-specification cars made it into the States.
Chassis number 490667 is one of those rare cars, recently imported this year to North America. Like all Type 964 RSs, this car is equipped with the M64/03 engine – a revised version of the standard 3.6-liter flat-six, which produces 260 bhp. The lightweight Carrera RS was created by stripping out the interior of needless creature comforts; owners had to option back in power windows, rear seats, stereos, and air conditioning, if desired. With a seam-welded chassis, a hood made of aluminium, and magnesium wheels, even more weight was decreased. In total, the Carrera RS is approximately 345 pounds lighter than the Carrera 2 model upon which is it based.
As it was prepared for the Japanese market, the Certificate of Authenticity for chassis 490667 notes that it was originally fitted with specific equipment for Japan. Also ordered with limited-slip differential from new, additional features included five-speed transmission, bucket seats, 17-inch Cup wheels, and Yokohama tires. Finished in the original colors of Polar Silver Metallic over Black/Grey Leatherette with leather seats, this Carrera RS remains in excellent condition inside and out. Recently the undercarriage, paint, interior, and even suspension has been meticulously detailed by Canepa Design to ensure that this stunning Carrera RS is absolutely spotless throughout.
Offered is a chance to own one of the rare original Carrera RSs not originally available in the North American market – one of the most sought-after modern normally aspirated 911s.
ADDENDUM
Please note that due to California emissions, this vehicle must be sold to a dealer or out-of-state resident.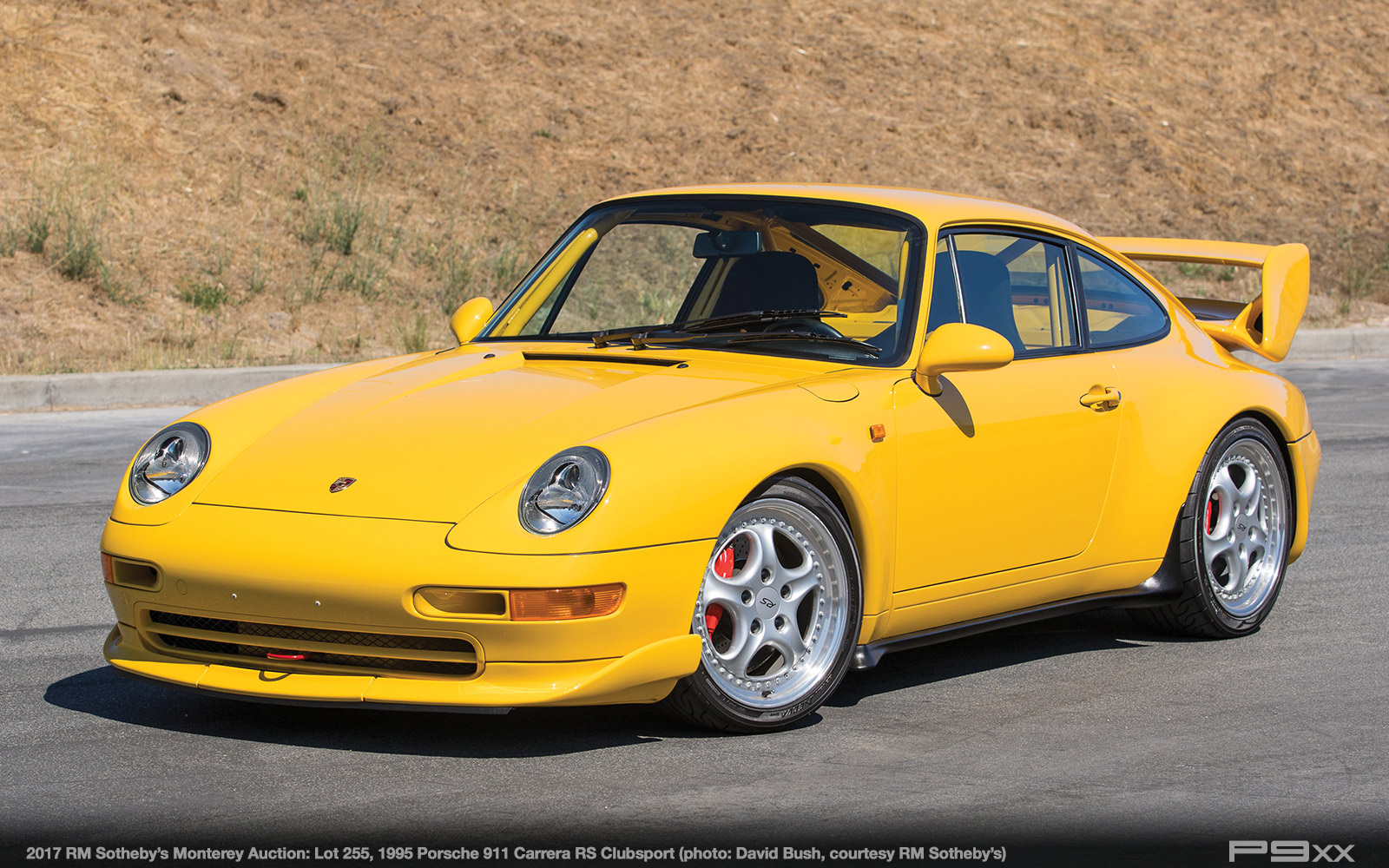 Lot 255 – 1995 Porsche 911 Carrera RS Clubsport
Porsche built 1,104 examples of the Carrera RS, but along with those were 213 (190 left-hand drive and 23 right-hand drive) track-oriented versions called the Clubsport. The Clubsport was based on the Carrera Cup competition car and specifically conceived as a homologation special for the BPR GT3 and GT4 categories.
The standard 3.6-liter engine of the Carrera RS was bumped up to 3,746-cc by an increase in its bore to 102 millimeters, but it still retained the RS's standard 76.4-millimeter stroke. This engine was fitted with Porsche's innovative Varioram intake system and the Bosch Motronic engine-management system, and produced a very healthy 300 bhp at 6,500 rpm and 262 foot-pounds of torque at 5,400 rpm. Power is delivered through a single-mass flywheel to Type G50/31 six-speed manual transmission.
Porsche also focused on making the Clubsport as light as possible. The RS had already been placed on a severe diet through the use of aluminum alloy front hood lid and doors, lightweight interior door cards, thinner glass, and hard-backed Recaro sports seats with six-point racing belts. The headliner was deleted, along with the 993's electric seats, windows and mirrors, central locking system, intermittent wipers, radio and speakers, rear defroster, and airbags. Added were a full welded-in Matter roll cage, front strut brace, ball-joint front damper mounts, adjustable front and rear anti-roll bars, a battery cut-off switch, and a fire extinguisher. The RS Clubsport was fitted with 18-inch diameter, three-piece center-lock "Speedline for Porsche" aluminum wheels with magnesium centers. A special front air splitter and large rear wing made the Clubsport unique.
This stunning example was delivered on 29 November 1995 in Speed Yellow (X4) with black cloth (AJ) seats and to German-market specifications. Notably, it was optioned with air conditioning. This Clubsport's first known residence was in Japan, as noted by numerous service stickers in the engine bay and invoices from the noted Prestige Motorsport in Tokyo. It was later imported to Canada, where it was serviced in 2013 by JB Motorsports in Vancouver. It was subsequently sold to the current owner, who had the car serviced by Riegel Tuning in Alberta in 2014.
Showing 31,417 kilometers (19,521 miles), this RS Clubsport is barely broken in, and is supplied with its original owner's manuals and service booklets in their leather pouch, the original tool roll, jack, and collapsible spare in the front compartment, and service invoices. It was imported under Show & Display, and is fully street-legal and titled in the U.S.
This Carrera RS Clubsport promises its new owner many thrilling miles ahead.
ADDENDUM
Please note that due to California emissions, this vehicle must be sold to a dealer or out-of-state resident.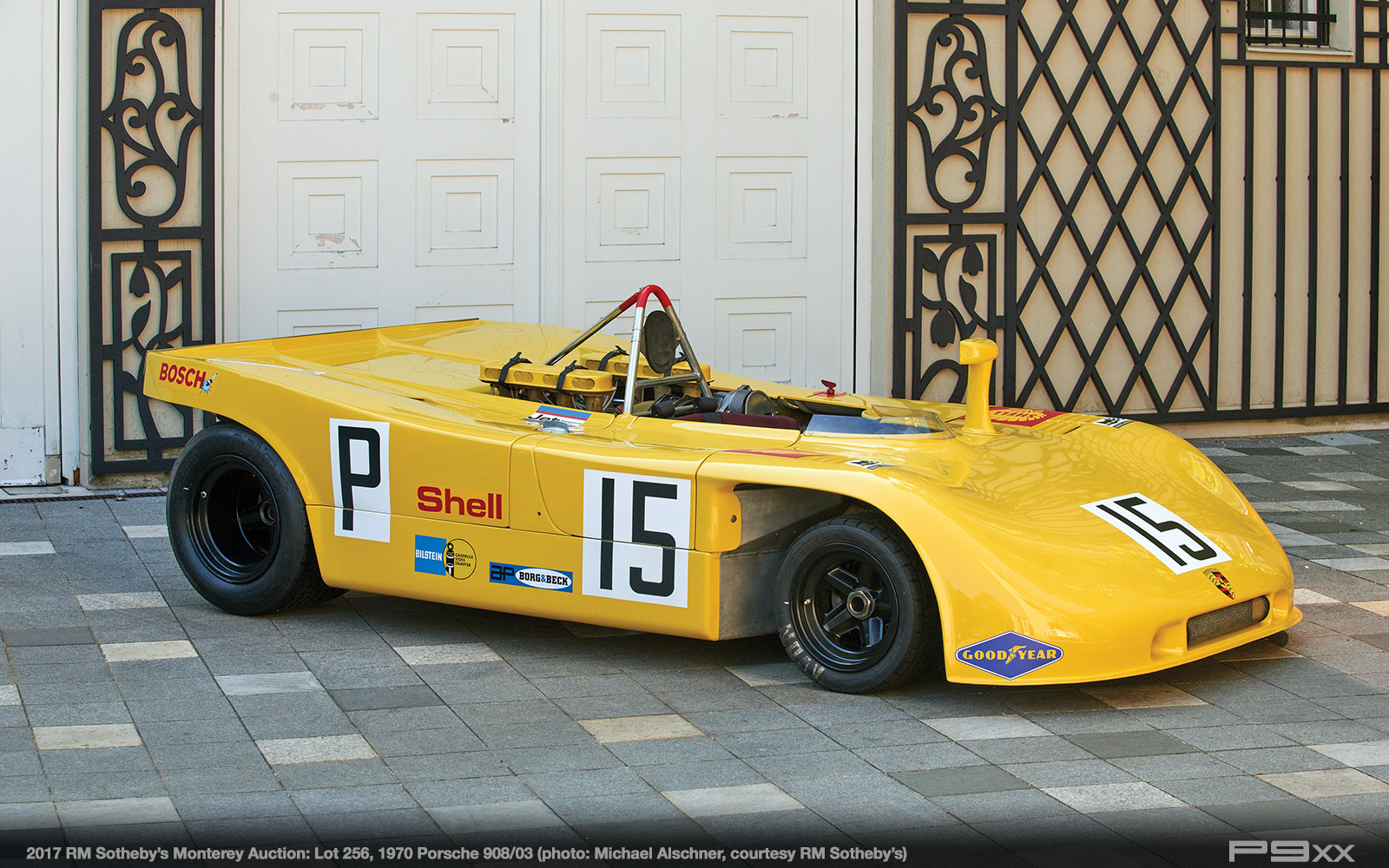 Lot 256 – 1970 Porsche 908/03
Built by Porsche in January 1970 specifically for use by the factory, chassis number 003 was used at their facilities in Weissach for final testing of the 908/03 prior to the 1970 racing season. Porsche primarily developed the 908/03 with two particular races in mind: the Targa Florio and the Nürburgring 1000 KM (due to their peculiar twisty natures). Stunning victories at the Nürburgring 1000 KM (1st and 2nd overall) as well as the Targa Florio (also 1st and 2nd overall) left no doubt about the superior handling abilities of the 908/03.
While it was not raced by Porsche in that year's Targa Florio, chassis 003 was used by Porsche in the pre-test of the event in order to prepare and determine how to properly set up the 908/03 for that specific race, as well as the upcoming Nürburgring. According to period documentation supplied in a report from Porsche historian and former racing driver Jürgen Barth, chassis 003 ran a total of 14 laps on the 72-kilometer long road course in pre-tests with noted drivers including Brian Redman and Jo Siffert. This exhaustive report, approximately 100 pages of documentation, features factory test and race reports, technical correspondence, engineering notes and modifications, as well as a comprehensive history.
For the 908/03 as a model, the Targa Florio proved to be a massive success. The teams of Jo Siffert/Brian Redman and Leo Kinnunen/Pedro Rodríguez finished 1st and 2nd, respectively, with another 908/03 finishing 5th. Without a doubt, Porsche's success at this event was indebted to the work that Porsche did at the pre-test, as detailed in the Barth report.
The first and only formal competitive outing for this 908/03 was at the Nürburgring 1000 KM several weeks later. Chassis 003 was campaigned by de-facto factory team Porsche Salzburg and driven by Hans Herrmann and Richard Attwood. During qualifying, Herrmann's fastest lap was a 7:57.10, placing him 4th in qualifying. Dicing primarily with the SEFAC and Filipinetti Ferrari 512Ss, although those were in another class altogether with twelve-cylinder engines rather than eight. Porsche's "less is more" approach once again proved to be quite fruitful in the overall standings. Porsche took the top two positions, with chassis 003 coming in shortly behind Vic Elford and Kurt Ahrens Jr., campaigning chassis 008 also under the Porsche Salzburg banner.
This race would mark the end of the 908/03's factory competitive effort, as Porsche would continue to campaign its big brother, the 917, for the remainder of the 1970 season. That 1970 season proved to be a huge success for Porsche, clinching that year's Manufacturers Championship, a title that Porsche could not have won without the 908/03's exceptional finishes at both the Targa Florio and Nürburgring 1000 KM. Herrmann and Attwood's success at the Nürburgring was not the last time this pair of drivers would find themselves co-piloting for Porsche that year. They would go on to win the 24 Hours of Le Mans in a 917, also under the Porsche Salzburg banner.
Afterwards, chassis 003 was retained by the factory for further testing, specifically to test a solid rear suspension. The car had gained rear fins in an effort to add to its aerodynamic stability. At this time, the car was involved in an accident, although no details regarding the reason or extent of the damage are known.
Towards the end of 1973, Porsche sold chassis 003 to Hans Dieter Blatzheim, after which it was acquired by Porsche factory driver Siggi Brunn. Brunn purchased a number of other 908/03 components from other racing teams around the same time as well. Over the course of the next few years, Brunn rebuilt the car using a variety of Mehako aluminum tubes for the chassis, sourced directly from Porsche, utilizing approximately 30–40 percent of the car's original chassis tubing. This work is believed to have been performed by former Porsche mechanics who built these cars in the 1970s. Furthermore, the chassis received further reinforcing to avoid cracks, a common problem that has occurred in many other 908s due to the fragile nature of the original magnesium chassis and the stress placed on it at speed.
Thirty-one years after placing 2nd at the Nürburgring, chassis number 003 returned to the track for testing in its newly reconstructed form and was granted an FIA Historical Technical Passport at that time to prepare for use in historic racing. In Brunn's ownership, the car took to the track in 2004 at Spa-Francorchamps for the One Hour historic race in the Classic Endurance Championship.
The car was eventually sold in 2007 from Brunn to Uli Schumacher, who campaigned the car under his ownership. It was raced at the Le Mans Classic in both 2010 and 2012 and at the Oldtimer GP at the Nürburgring in 2010, and was also displayed at the Techno Classica in Essen in 2011. In preparation to run the Le Mans Classic, the car was fitted with a spare nose that included headlights for night driving. This spare nose is included with the car today, as are three sets of wheels and tires, one set of tire warmers, and a spare engine block (FOB).
After coming into the ownership of its current custodian in Austria, it was decided that the car should be returned to its most significant livery; the pale yellow that it wore when it placed 2nd at the Nürburgring 1000 KM in 1970. After being completely and magnificently restored by Rudi Walch (RWS-Motorsport, Anger, Germany – with numerous photos and full invoices on file) completed in 2016, adding a new fuel tank and fire system for safety, the car was shown in July 2017 at the Masterpieces Concours d'Elegance at Schloss Dyck. Presented by Jürgen Barth, the car proved to resonate well with both the judges and the public, and it was awarded First in Class honors.
Having proven its worth at historic racing events and more recently at concours events, the impressively documented chassis number 003 played a significant part in both of the 908/03's most important finishes in the 1970 season. Of the three cars campaigned by Porsche Salzburg and used by Porsche for development purposes, one remains with Porsche in the factory museum; one has remained in long-term ownership by a former Porsche team driver in Germany for decades, unlikely to be separated from his collection; and the third is, of course, the car offered here. As such, it is a significant track weapon that would surely be competitive in both historic racing as well as international concours, and one that would provide entry to some of the most exclusive and exciting classic car events on the planet.
ADDENDUM
Please note that an import duty of 2.5% of the purchase price is payable on this lot if the buyer is a resident of the United States.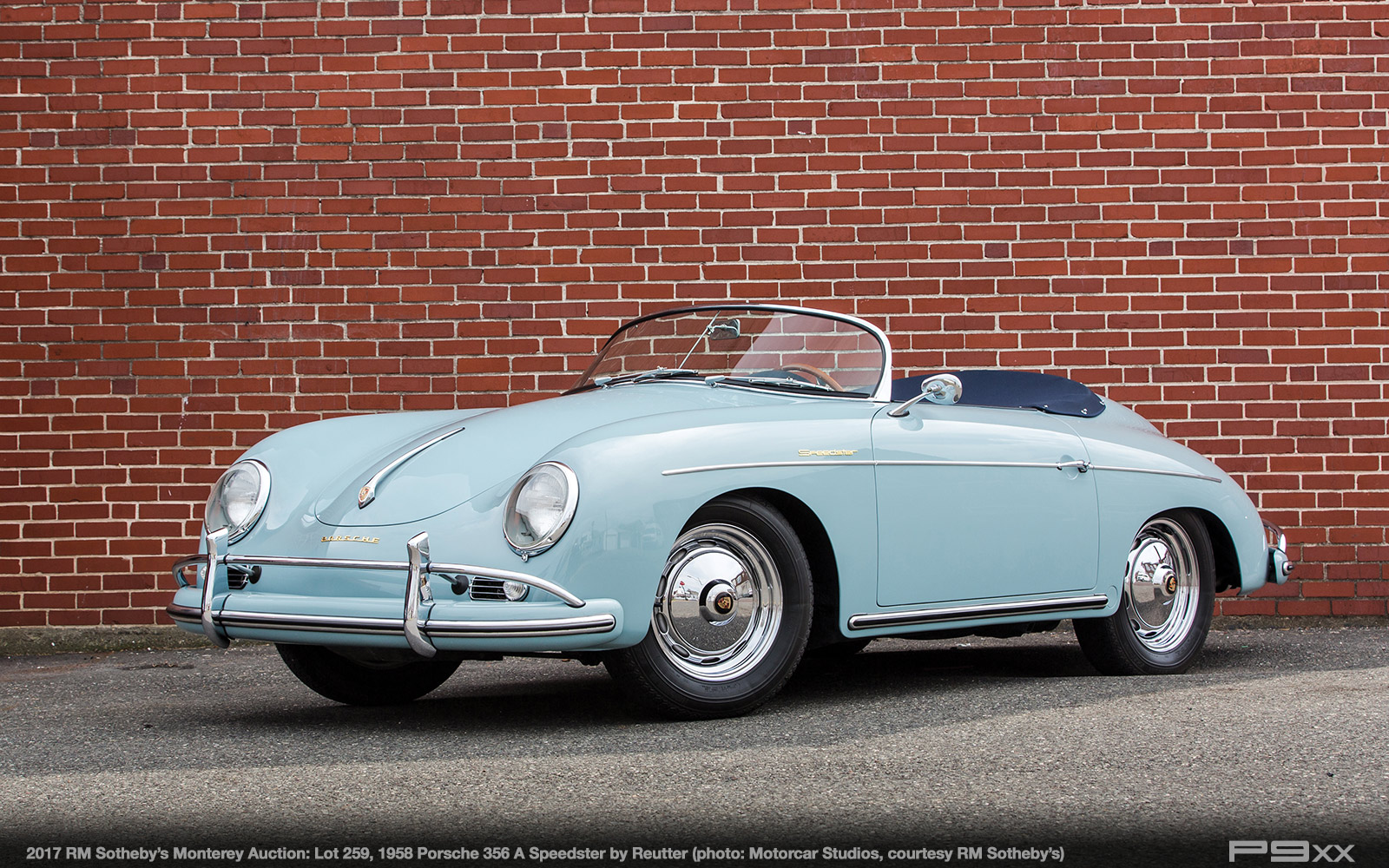 Lot 259 – 1958 Porsche 356 A Speedster by Reutter
According to its previous owner, a knowledgeable marque specialist, this late-production 1958 Speedster was originally owned by a Volkswagen dealer in Natchez, Mississippi. In late 1988, it was acquired by a very persistent admirer, after 15 years of pursuit, and was then painstakingly restored to its original condition over a five-year period.
In its previous ownership, the car's engine was upgraded to one from a later Porsche 912, using a counterweighted crankshaft and correct Super 90/SC 912 Solex carburetors with correct factory air cleaners. The surrounding sheet metal, starter, generator fan shroud, oil filler and filter, etc., are all original 356. The result is a wonderfully "stock" appearance, but with a 25 percent increase in power over the original!
More recently, the car has been beautifully refinished in Meisen Blue with a Navy top and interior and OEM tan square-weave carpeting. It is enhanced by a pair of correct OEM USA full bumpers, with overriders in both front and rear and a set of chrome wheels with matching year-correct hubcaps. In addition, the Speedster features a chrome driver's side-view mirror, U.S.-specification body-colored bumpers, and a correct factory-specification muffler with through-the-bumper exhaust elbows. Inside the Spartan cockpit is a beautifully refinished Meisen Blue dashboard with correct VDO gauges, including a date-coded 1958 tachometer converted to electric operation and a properly restored Nardi wooden steering wheel with correct horn button. The car is accompanied by not only an original jack, but also an original factory OEM tool roll with tools, Certificate of Authenticity, and Kardex. The current owner had the engine and transmission both rebuilt and their seals replaced by a marque specialist in 2016.
A rocket offered in excellent running condition, this car is certainly one of the most complete, correct, and entertaining 356 Speedsters available today, and it promises to offer limitless entertainment to its lucky new driver.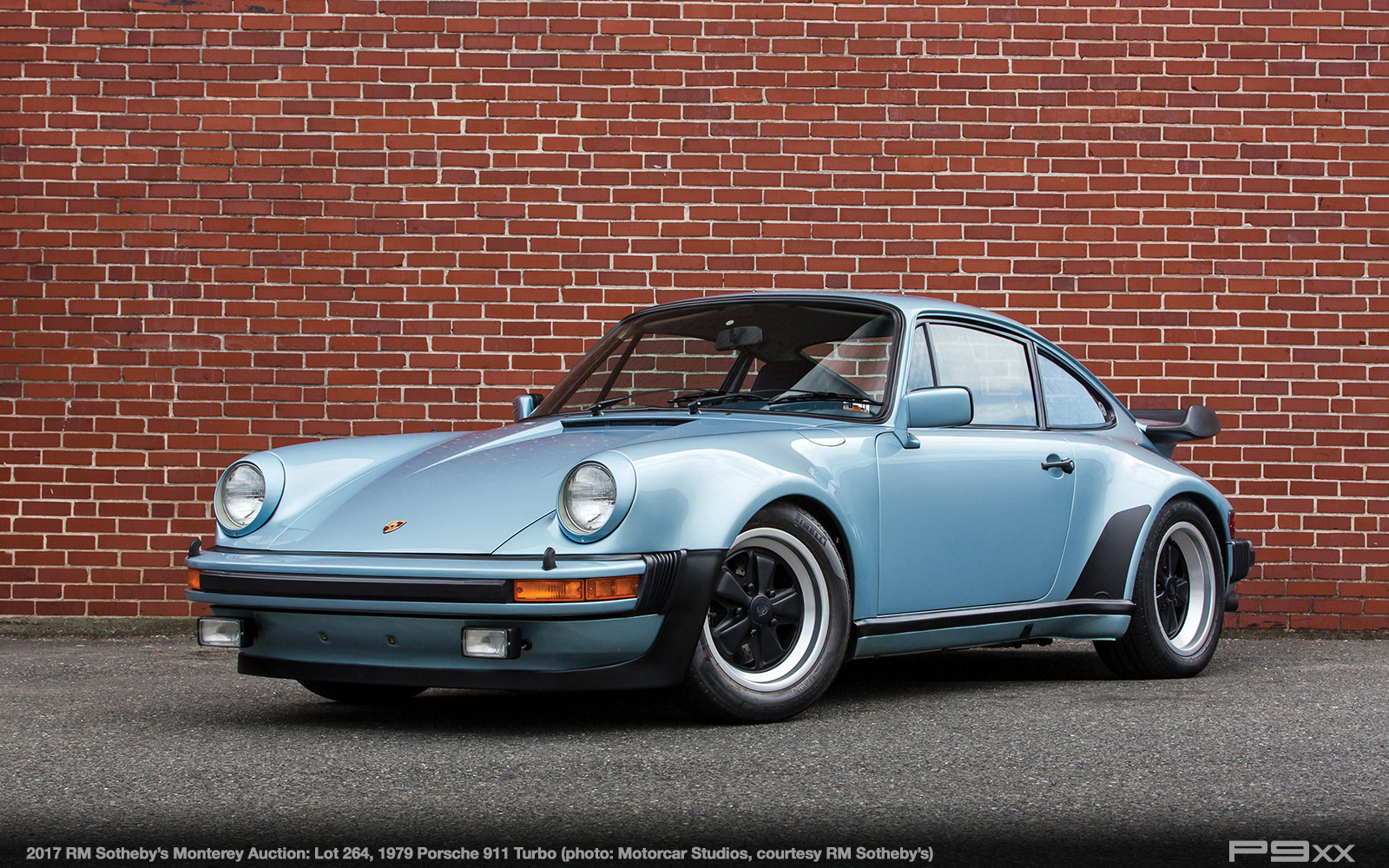 Lot 264 – 1979 Porsche 911 Turbo
The example offered here is one of just 806 examples exported to the United States in 1979. It was delivered in Light Blue Metallic, with a California-specification type 930/63 engine, a limited-slip differential, sports seats, and a sliding sunroof, to Dr. Douglas Cardoza of Santa Rosa, California, who would maintain the 911 Turbo for 24 years. The car has had only four further equally conscientious owners, and in 2014 scored 243 out of 250 points in the Preservation class at the Porsche Club of America concours at Monterey Bay and took 2nd in Class at the Carmel-by-the-Sea Concours on the Avenue. More recently, its current owner had the engine and transmission rebuilt and their seals replaced by a marque specialist in 2016, as noted in receipts on file, and the interior's color was changed.
The nearly entirely original blue paint continues to shine beautifully; the 11,000 miles are strongly believed to be original, as is documented by notations in the accompanying service documents from the car's entire lifetime. Also accompanying the car are original tools and air compressor, as well as owner's manuals, the original window sticker, and the Porsche Certificate of Authenticity.
Few examples of the 930 Turbo have survived in such exceptional original, unrestored condition as this car, which is a certain standout at future concours events with its new owner.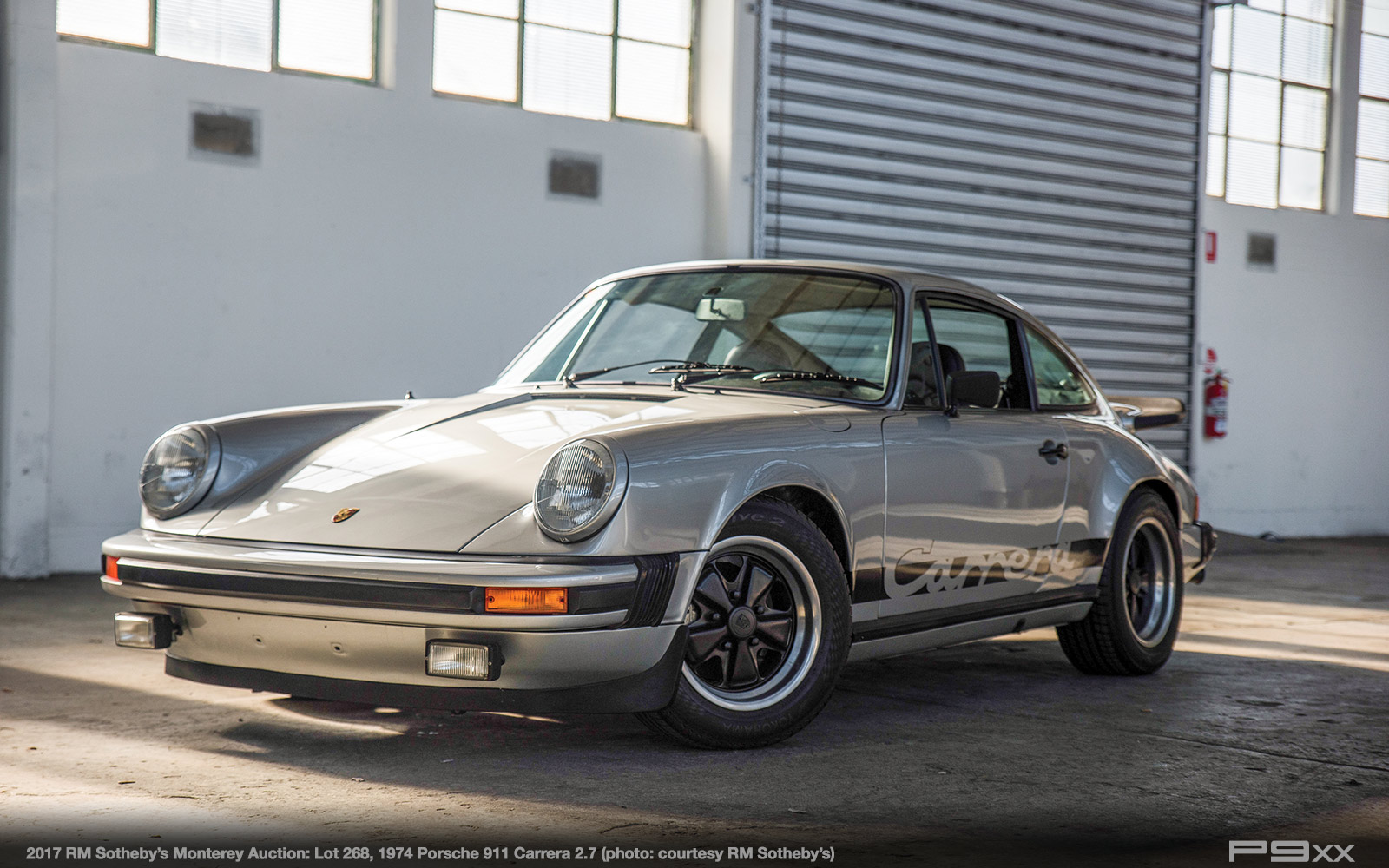 Lot 268 – 1974 Porsche 911 Carrera 2.7 MFI
In 1974, Porsche followed up its legendary Carrera RS with the new range-topping Carrera, with the same impressive 210-hp engine, allowing 60 mph to be achieved in a brisk 6.1 seconds and taking the car all of the way to 140 mph. Most notably, the '74 Carrera retained the wonderful Bosch mechanical fuel injection system (MFI) of the RS model. Based on the new G-body, integrated five mph bumpers, and a short hood were the new standard. However, the Carrera model gained an aggressive stance, thanks to wider rear haunches and front fenders, allowing larger seven- and eight-inch-wide forged Fuchs wheels to tuck nicely into the additional space. Even with all of the updates, weight figures still managed to match the RS Touring models.
These 2.7 MFI Carreras were never imported into the United States due to newly introduced smog and fuel efficiency regulations. Production of the rest-of-the-world market cars was extremely limited, with only 1,633 total units, making this not only forbidden fruit in North America, but also a rarity in the rest of the world.
Available is an impeccable matching-numbers car, originally delivered to Mitsuwa Porsche Japan. Owned and stored in a museum for an extended period of time, this example retained its original factory color options, and has turned over 119,080 kilometers (73,992 miles) at the time of cataloguing, though has been impeccably maintained.
Regarded as one of the finest iterations of the 911 family, the Carrera 2.7 MFI marks the end of old-school high-performance engineering from Porsche, while offering exhilarating performance that remains true to its heritage.