Always one to have their finger on the pulse of the automotive hobby, Petersen Automotive Museum pulled the wraps off of a 50-car strong display centered on the brand from Stuttgart. Dubbed "The Porsche Effect", this collection of historic road and race cars is sure to be a highlight for any Porsche enthusiast who happens to stop in. Even better, Petersen held an opening night celebration that invited guests into the display in their Mullin Grand Salon as well as a tour of their vault.
Photographer Denis Podmarkov attended the February 1st grand-opening event for P9xx. The evening included other guests such as Hurley Haywood, Patrick Dempsey, Spike Feresten, Jeff Zwart and Chad McQueen, not to mention representatives from Porsche Cars North America including President and CEO Klaus Zellmer.
Podmarkov was able to take the evening in, all through his very talented eye. Images Denis shares here beautifully depict what museum organizers boast to be the most comprehensive collection of Porsches outside of Stuttgart itself, and one organized in partnership with Porsche Cars North America.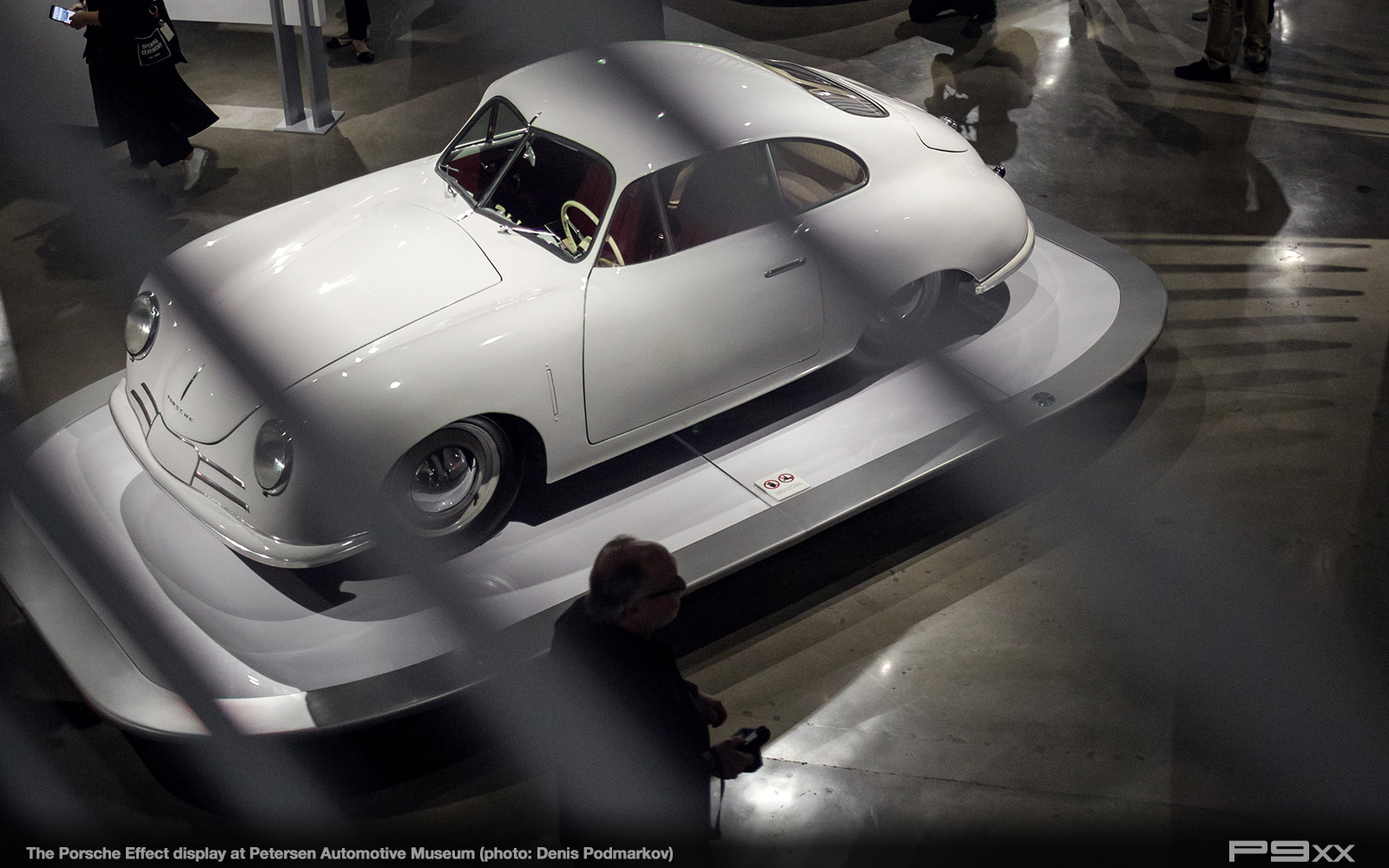 Given the long history and affinity between the Porsche brand and the state of California, the Los Angeles-based Petersen Museum seems a perfect location to house such an assembly. Made up of cars, historical documents, artifacts, models and more, the display illustrates the evolution of the Porsche company from engineering firm to powerhouse automotive marque.
Even if you just focus on the cars themselves, the amassed collection is particularly eclectic. Eldest amongst them is a 1939 Type 64 Berlin-Rome racer that certainly seems to be an inspiration for Porsche as it readied its initial 356 automobiles.
The idea of significant early examples and prototypes doesn't end there. There's a 1964 901 from the earliest days of the 911's long run, the 1987 928 H50 design study that also made a cameo last year at this time in New York.
If exotics of this vaunted breed are your thing, there's also plenty to see in that capacity. A 1955 550 Spyder leads the charge, as does a 1964 904 Carrera GTS, 1966 Carrera 6, 1981 924 Carrera GTS Club Sport, a 2015 918 Spyder and more.
Motorsport has always been one of the most important pillars on which the Porsche brand is based, and here too the collection does not disappoint. Highlights include a 993 type 911 GT1, 914-6 GT, 1976 934 Turbo RSR, 1979 935 K3, 1985 959 Paris to Dakar rally car, a 1992 968 Turbo RS and the red 2015 919 Hybrid favored by Marc Webber, Timo Bernhard and Brendon Hartley at Le Mans.
Where Petersen really sets their collection apart wasn't just sourcing many of these from American collections, but also focusing on cars that could only be from America or Southern California. A 2016 911 Carrera GTS Club Coupé pays homage to the Porsche Club of America and their close association with the brand, while Rob Dickinson's personal 911 build that inspired the creation of Singer Automobiles is a uniquely Los Angeles element to be sure. Also uniquely Californian is the ex Steve McQueen Porsche 356 Speedster that the late actor passed down to his son Chad, which the younger McQueen still owns to this day.
"At the Petersen, we always seek out compelling new ways to engage our guests and pique their interests," said Executive Director Terry L. Karges. "Because Porsche is so embedded in the Southern California landscape, we were thrilled to partner with the legendary automaker to create an experience that is truly remarkable and dedicated to the many Porsche lovers in the Southland."
"Within my responsibility I have at Porsche, none is greater than the commitment of looking after our great brand," said Klaus Zellmer, President and CEO of Porsche Cars North America. "With that, of course, comes the compulsion to support and honor our rich heritage. When the Petersen Museum first suggested we work together on what has become "The Porsche Effect," I immediately saw the mutual benefits to both. We are looking forward to sharing the story of Porsche through rare and seldom seen artifacts and display elements, in addition to some of the most iconic cars or all time."
Luftgekült X Petersen
HEREThis is about the time we'd make the gratuitous suggestion that should you be visiting Los Angeles, then you should probably make sure a stop at the Petersen Automotive Museum is on your short list of must-see locations. All the better if your reason for traveling to L.A. is the upcoming Luftgekühlt event. Patrick Long and the gang behind one of the hottest Porsche-only gatherings running aim to make it even more momentous by hosting a VIP event the evening prior to the show amidst the Petersen Automotive Museum's "The Porsche Effect" display. More on that .