The race is now on for the Paul Stephens Le Mans Classic Clubsport as the first build slots are allocated for owners to collect their cars on the starting grid of the historic festival in 2020.
Offering a ticket into one of the most exclusive clubs and echoing the famed Le Mans-style start for which the legendary endurance race was renowned, ten lucky owners of the Paul Stephens Le Mans Classic editions can revel in the first car delivery of its kind… in front of the packed grandstands on the start line of the Circuit de la Sarthe.
Following its high profile launch and a special guest appearance at the Goodwood Festival of Speed, production of the Paul Stephens Le Mans Classic Clubsport has now started and build slots are being allocated. With each car taking thousands of man hours to create, the Porsche specialist is urging those who want a place in 2020 on the Le Mans Classic grid in their new car to act fast.
Just ten Le Mans Classic Clubsports will be made – a number set to celebrate ten years of the Le Mans Classic event – with each owner set to take part in the drivers' parade handover at the next celebration in 2020. All ten drivers have the opportunity to take delivery at the next biennial Le Mans Classic, with a classic racing start and drivers' parade of the race weekend in 2020. Officially licensed with event organisers Peter Auto and the ACO, prices start from £250,000 depending on specification.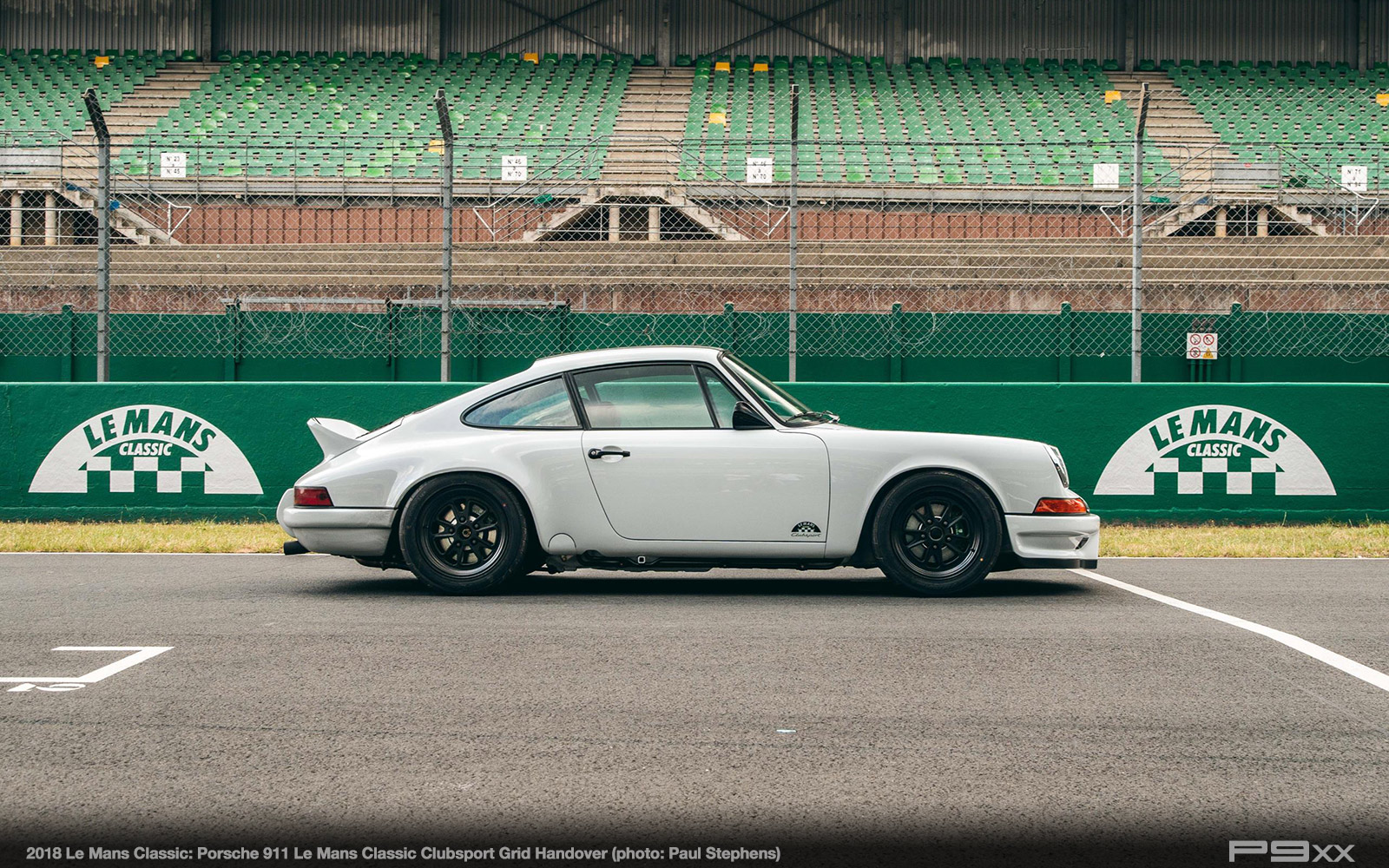 Available in Lightweight or Touring specifications and with a kerb weight as low as 970 kg in Lightweight specification (1,075 kg in Touring guise), Paul Stephens and his team have built something truly special for the drivers, Porsche enthusiasts and Le Mans Classic aficionados.
Pairing what Paul Stephens believes to be the very best parts of air cooled 911s, each Le Mans Classic Clubsport is powered by a 300 bhp, 3.4-litre air-cooled flat six, a new cross shaft-less ITB injection system with GT3 plenum, a programmable ECU mapped in house, RS specification camshafts, a lightened and balanced crankshaft, lightweight conrods and a lightweight flywheel mated with a Getrag G50 gearbox and limited slip differential, all encased in an original 911 shell.
"I've been overwhelmed by the response to our Le Mans Classic Clubsport edition, but now the hard work sets in," said company founder and managing director Paul Stephens. "After touring Europe with the car this month, we've now started production for the first confirmed build slots. With each car taking 3,000 man hours to create, it's going to be an exciting, but busy time in the workshop between now and the 2020 event."
The Le Mans Classic Clubsport was launched in London earlier this month, prior to its public European debut at the Le Mans Classic event. From there, the car was invited by Goodwood Festival of Speed organisers to be displayed at the prestigious Goodwood Road Racing Club (GRRC) Kinrara enclosure and was at the Silverstone Classic race meeting last weekend.
About Paul Stephens.
Renowned for its purity of purpose and attention to the smallest detail, Paul Stephens has more than 25 years' experience in the supply and curation of Porsche 911s to discerning buyers.
In 2007 the Paul Stephens Clubsport was conceived, introducing a lightweight coupé with an ethos that less should be so much more. An agile and formidable car, it was capable of besting far more modern machinery on fast twisty roads or circuits.
Ten years later Paul Stephens introduced the new Clubsport Series 2, which raised the bar. Inspired by the roadgoing high-performance derivatives of the Porsche 911, it takes the best styling and technical elements from all eras to deliver a truly special and bespoke car.
Today, the company is renowned for its honesty, attention to detail and technical know-how. Through continuous enhancement and restoration of these iconic cars, Paul Stephens guarantees to maximise driving pleasure and protect investments.