The official auction of the Amelia Island Concours d'Elegance, RM Sotheby's celebrates its 19th annual sale at the Ritz-Carlton with the largest offering in Amelia Island auction history. Extended to two days in 2017, the sale will feature some 150 of the most sought-after coachbuilt classics, sports and racing cars, and late model collectibles, complemented by a selection of important automobilia. A special highlight of this year's event is an exquisite private collection, to be offered during a standalone sale session on 10 March.
For those unable to attend the Amelia Island sale in person, RM Sotheby's offers a broad range of remote bidding options, including absentee, Internet, and telephone bidding, and the auction will stream live at www.rmsothebys.com providing real-time coverage of the event.
DETAILS
Sale dates:
Friday, 10 March (A Gentleman's Collection)

Saturday, 11 March

Auction begins at 5:00 pm EST (will run approx. 3-4 hours)

Auction begins at 11:00 am EST (will run approx. 4-5 hours)

Preview dates:
Thursday, 9 March

Friday, 10 March

10:00 am – 8:00 pm EST

10:00 am – 4:00 pm EST

Location:
The Ritz-Carlton, 4750 Amelia Island Parkway, Amelia Island, Florida, 32034
Admission:
Auction admission is open to registered bidders, consignors and qualified media only. Bidder registration is $300 and includes an official auction catalogue and admission for one bidder and one guest to the preview and auction. Admission to preview hours is open to the general public free of charge.
PORSCHE HIGHLIGHTS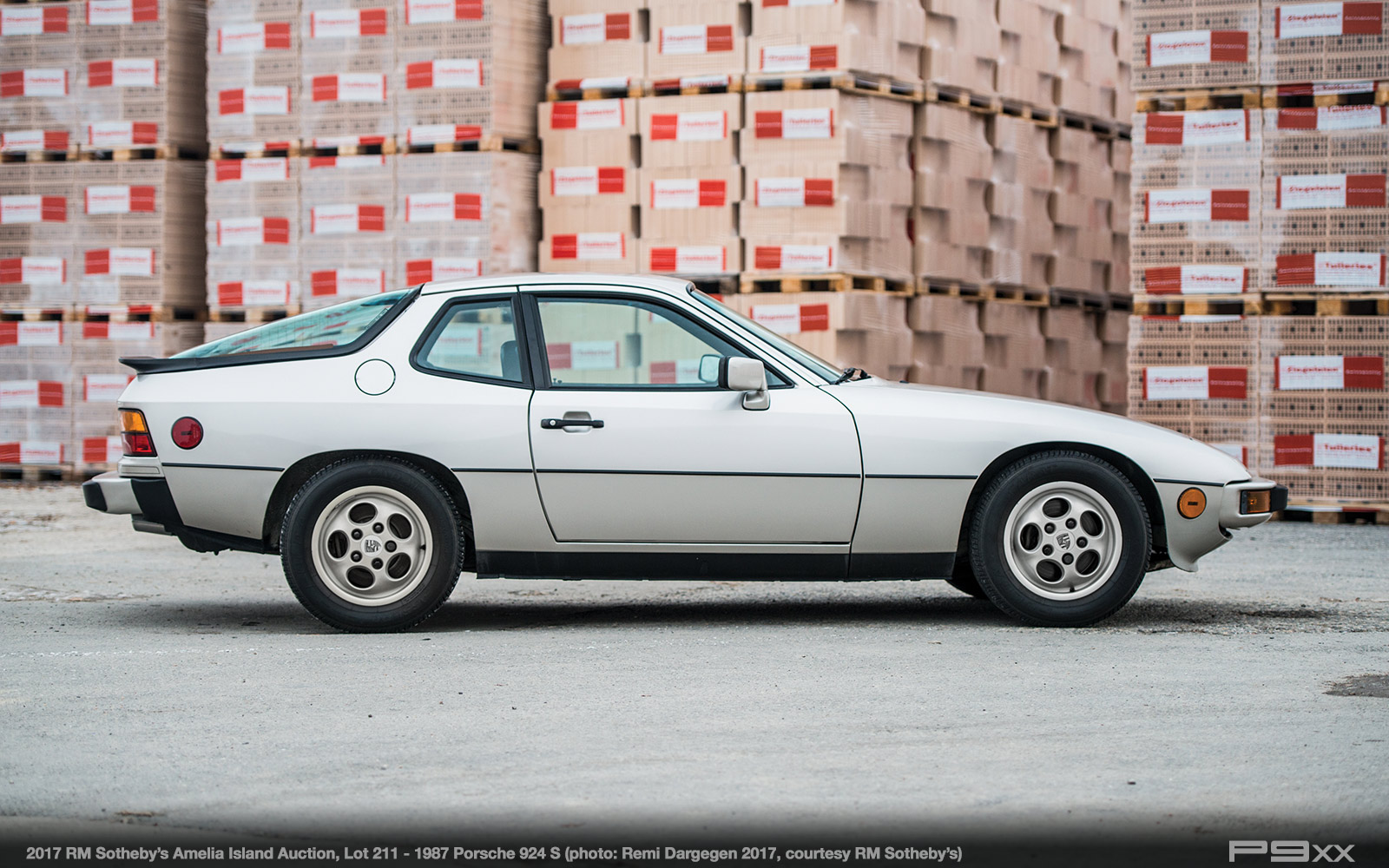 Lot 211 – 1987 Porsche 924 S
This 924 S was finished in July 1986 and has just over 43,500 miles showing on its odometer. Though offered from a Porsche collection based in Switzerland, this is a U.S.-specification 924 S. A period oil change sticker notes that it was in Kansas City, Missouri, in 1996 and had only 29,323 miles at the time. It was purchased by the current owner from an individual in Florida in July of 2014.
Attractively finished in Zermatt Silver Metallic over black interior and optioned with air conditioning, electric windows, and a Blaupunkt radio, this is a great example of a 924 S that is ready for many more years of enjoyment.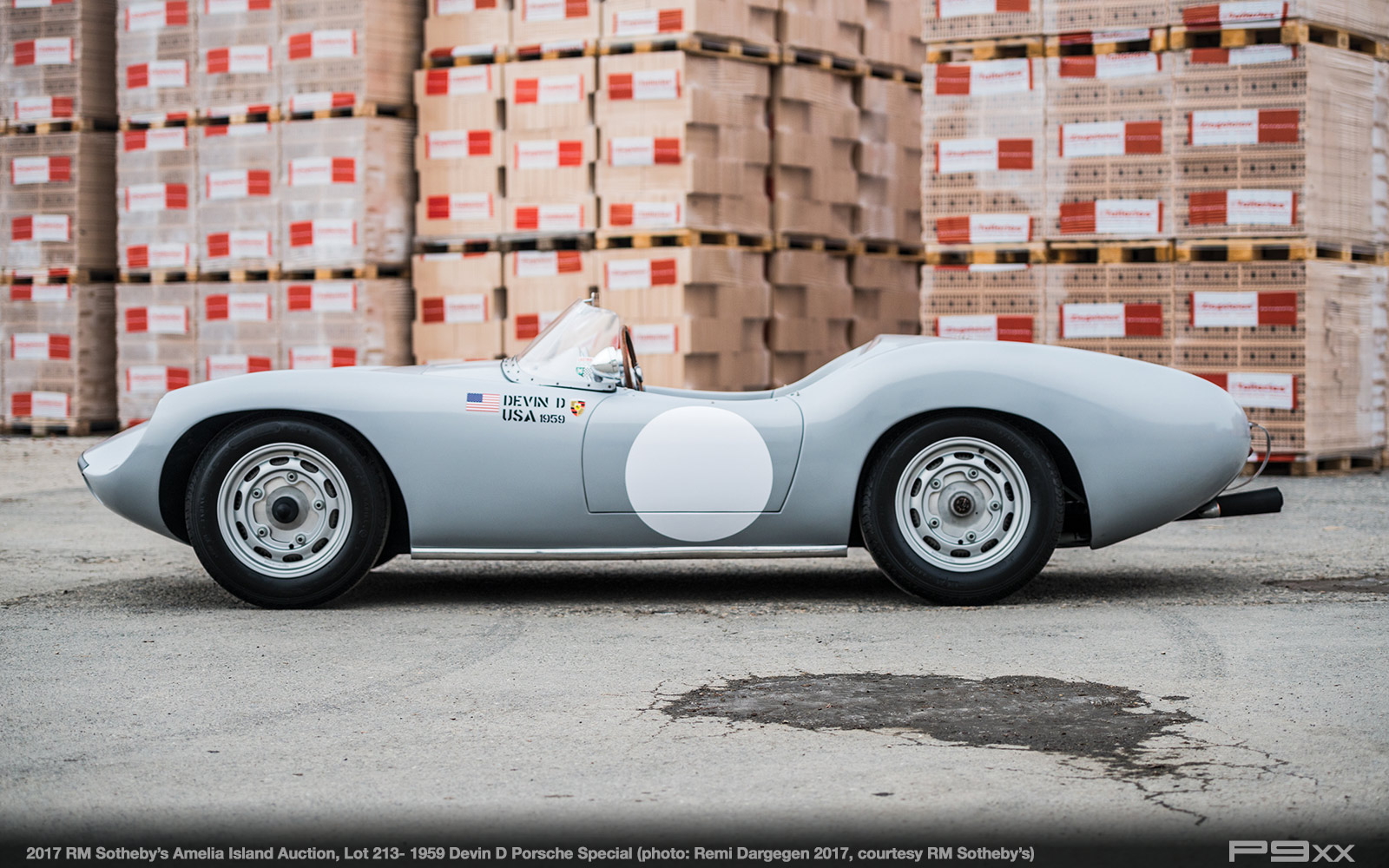 Lot 213 – 1959 Devin D Porsche Special
While this particular Devin D's history remains largely unknown, documentation on file notes that this particular car was once part of the estate of Bill Devin. The Devin was allegedly in the process of restoration by him and was never finished. When Mr. Devin acquired the car, the bodywork was found to be in poor condition, and a new body was built utilizing the original body molds and fitted to the car. It was sold from the Devin Estate to an individual in Italy in 2003, before it was acquired by its current owner in 2014.
Fitted with a Type 616/7, 1,600-cubic centimeter four-cylinder engine from a Porsche 356 B, the car presents quite well throughout. Still popular today in vintage racing, there is no doubt that this Devin D would be an absolute thrill to drive.
Lot 215 – 1988 Porsche 944 Anniversary Edition
For the 1988 model year, Porsche decided to build three limited-edition models, one of them being the 944 Anniversary model. Featuring black leatherette, with either grey or maroon "Studio" cloth and silver carpeting, these models were each presented with a plaque denoting their commemorative status.
Offered here is one such model, presented in Zermatt Silver with a grey interior. The accompanying warranty book notes that it was first delivered to Quebec, marking it as one of just 157 silver "Rest of World" specifications made that year. Documentation on file notes that this 944 Anniversary passed to owners in Florida before being purchased by the current owner and exported to Switzerland in 2014. It has been serviced as of January this year by Garage Rossier, with the odometer showing 58,207 miles.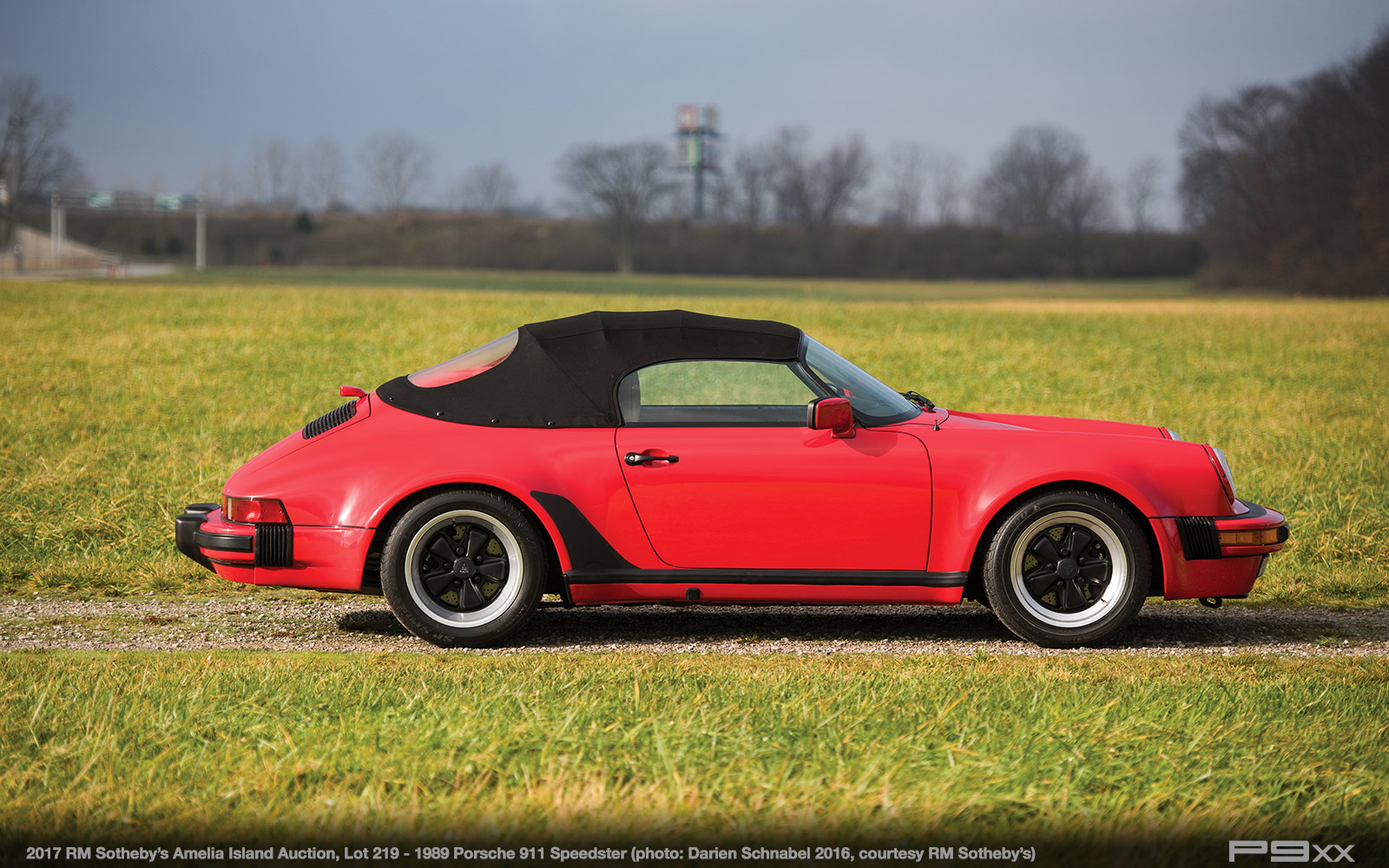 Lot 219 – 1989 Porsche 911 Speedster
This lovely 1989 Speedster, with barely 8,000 miles on its odometer, has been part of one such collection for several years. Finished in always-popular Guards Red with a cashmere interior in "Ruffled" leather, it is fitted with a Blaupunkt Reno stereo entertainment system, air- conditioning, electrically adjustable driver and passenger seats, a shortened shift lever, an alarm system, and cruise control. The well-cared-for Speedster retains its original tool kit and collapsible spare tire and wheel.
Speedsters always turn heads when they appear in public; this excellent example would be a very attractive addition to any Porsche collection.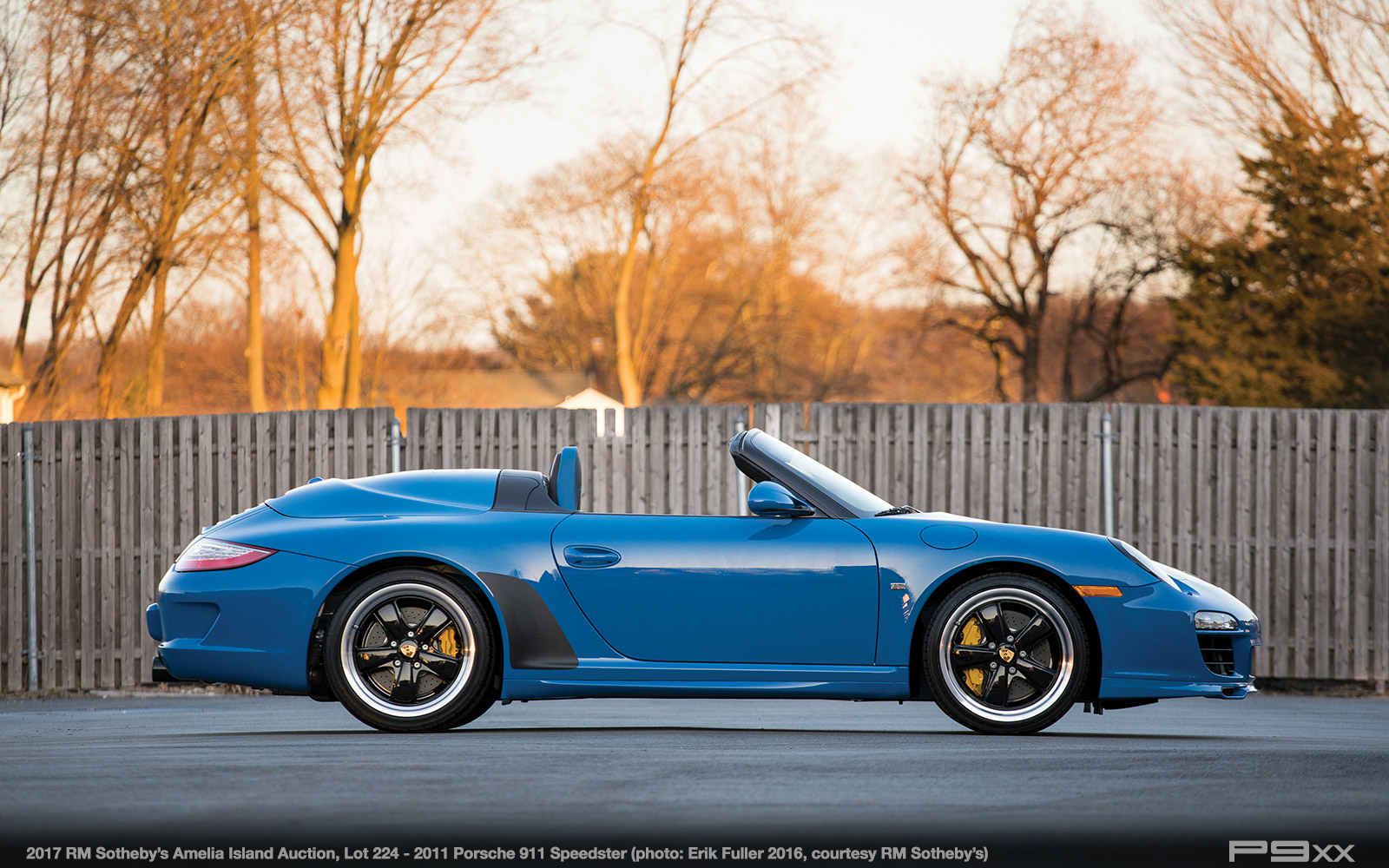 Lot 224 – 2011 Porsche 911 Speedster
Only 356 numbered examples were built by Porsche Exclusive, 100 of them reserved for American customers. Many were snapped up by owners of earlier-generation Speedsters and vanished into private collections. The car offered here is even more desirable than all but one other of its brethren; it carries the last number in the series: 356.
Porsche enthusiasts know that it is nigh onto impossible for a private buyer to acquire the first – or last – of any Porsche model from the factory, making this visually stunning automobile unique from a collector's perspective. Before it left the factory on 3 April 2011, this very automobile was pressed into service by the factory for promotional activities, appearing in various books and marketing brochures.
Speedster number 356, finished in True Blue, its upholstery in black with those checkered flag accents, was specifically ordered through Rusnak Porsche in Pasadena, California, by an executive at the Dreamworks film studios in Los Angeles. It was equipped with Bridgestone tires and an XM radio option. Its Certificate of Authenticity states that it carried a retail price of more than $204,000. After about two years the car was sold back to Rusnak, who quickly re-sold it to a customer in the mid-West. It was then acquired by the current owner.
Still in new condition, this head-turning car is supplied with a re-issued window sticker, a special folio containing the owner's manual and other documents, a tool kit, factory car cover, and a Porsche Certificate of Authenticity.
For the serious collector of Porsche Speedsters, this is an incredibly rare opportunity to acquire a uniquely numbered example.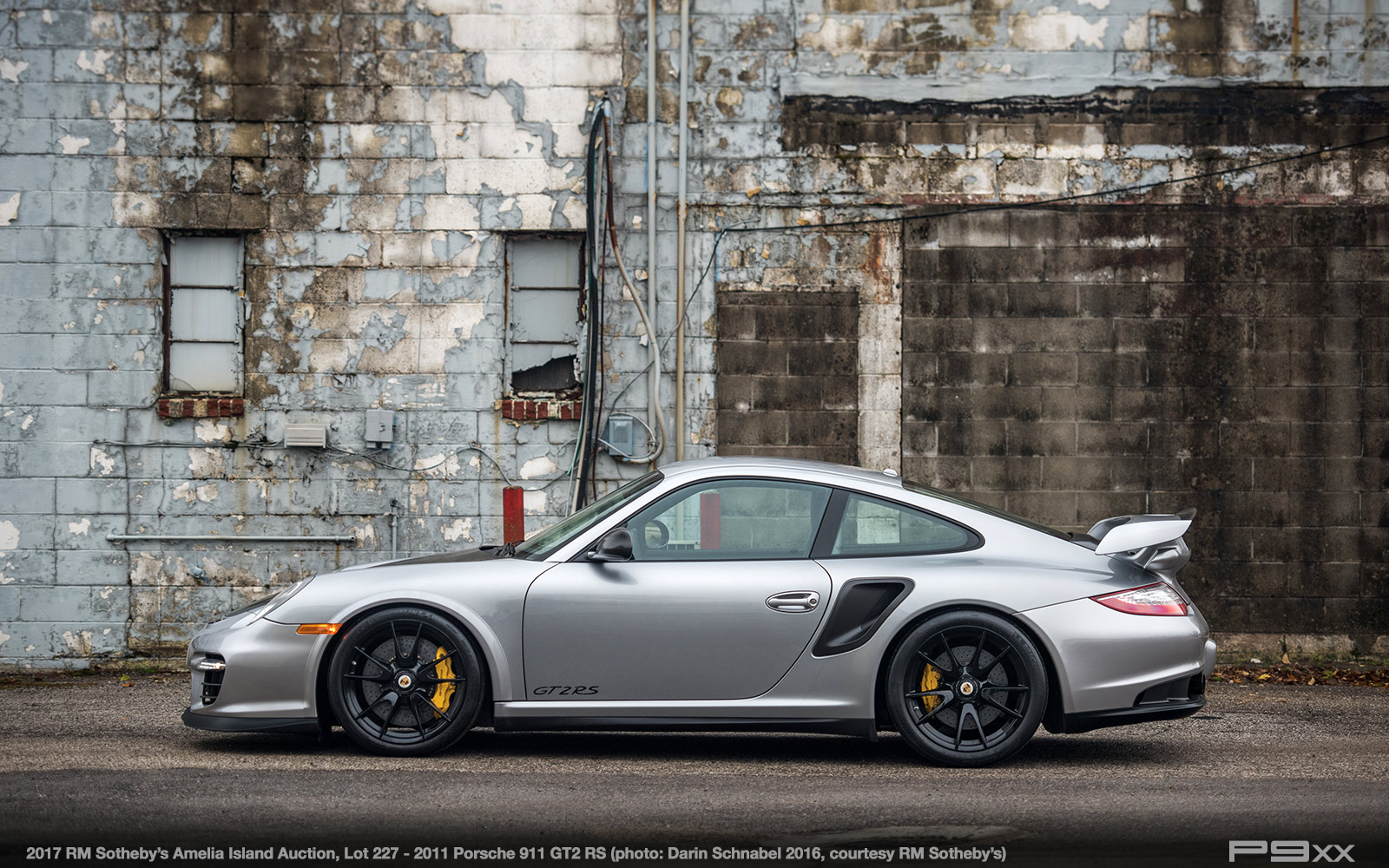 Lot 227 – 2011 Porsche 911 GT2 RS
This 2011 GT2 RS comes from a private collection and has been driven only 3,232 miles from new. It is number 472 of the 500 cars built, and it is tastefully appointed with silver paint offset by a natural-look carbon fiber front hood, mirror housings, and side intakes. The interior is trimmed with leather, and the rear compartment is fully carpeted. Rather than the standard fixed racing seats, this car has the optional and more practical, electrically adjustable sport seats.
Supplied with its original documentation, option list (totaling $16,350), and other as-delivered items, here is a rare opportunity to acquire a mint-condition GT2 RS, one of the rarest and certainly one of the quickest and fastest street-legal automobiles to ever emerge from Zuffenhausen.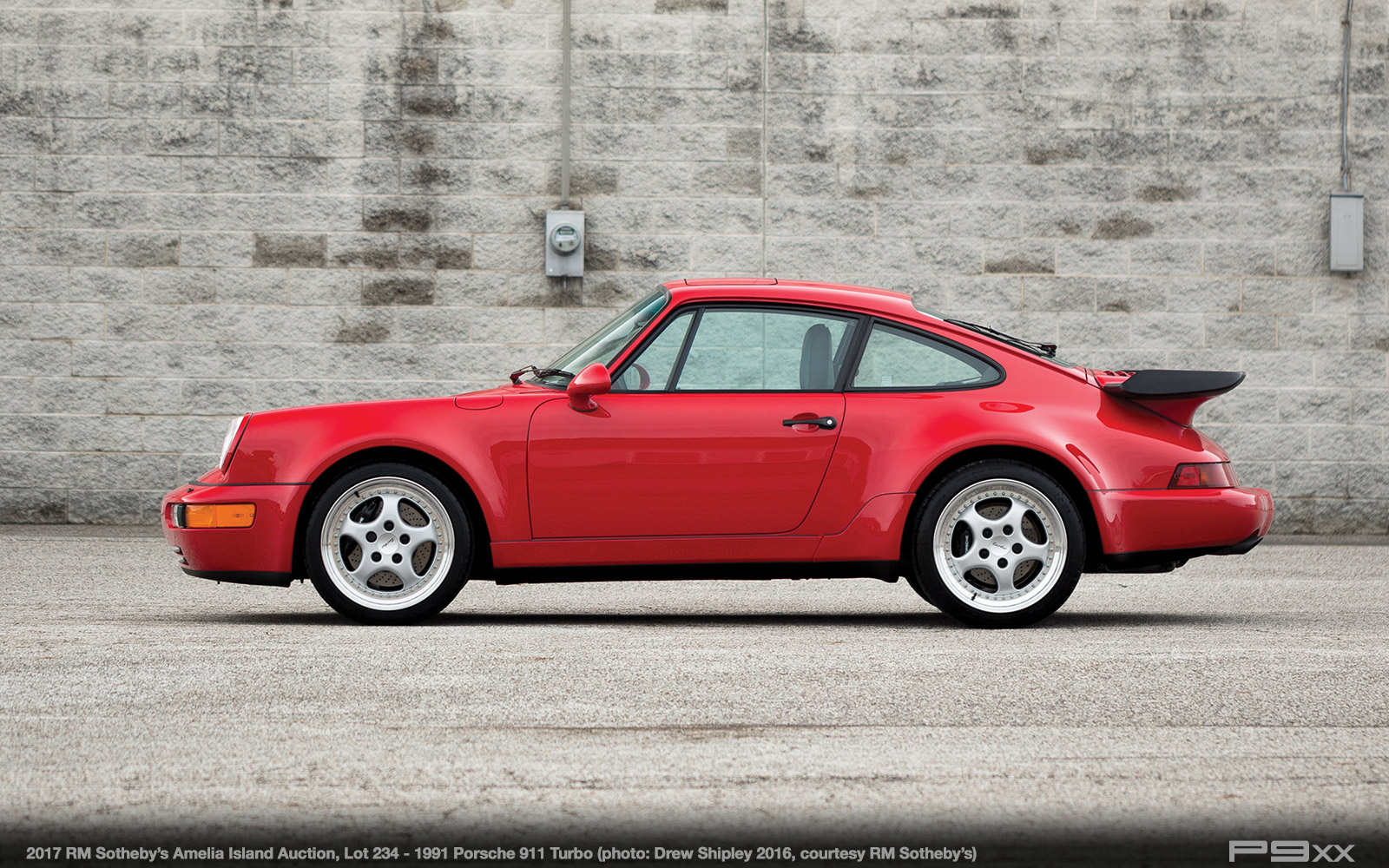 Lot 234 – 1991 Porsche 911 Turbo
Finished in Guards Red over black leather and outfitted with electric sport seats, an electric sunroof, and radio with CD player, this 3.3-liter 964 Turbo was delivered new to its first owner through Reeves Import Motor Cars in Tampa, Florida. That first owner kept the car for 23 years, selling it to the second owner in 2014. With less than 8,950 miles on its odometer, the car is presented in exceptional condition throughout, as one would expect for such a low-mileage example.
Serviced regularly throughout its life as evidenced by numerous invoices on file, the car's last service was in October of 2016 by Rick Hill Imports of Kingsport, Tennessee, and it has travelled less than 100 miles since. Furthermore, it is important to note that the car is fitted with a proper set of later Speedline wheels. The car is also offered with a Certificate of Authenticity, its original window sticker, full set of keys, and books, including the original warranty manual, as well as a tool kit and air compressor.
Often forgotten in the overall hierarchy of 911 Turbo models, the 964 Turbo will still easily keep up with many performance cars produced today, coupled with the usability, performance, and reliability one has come to expect from Porsche. Considering this particular example's stunning condition, low mileage, and iconic color scheme, it would be an astute acquisition for any Porschephile.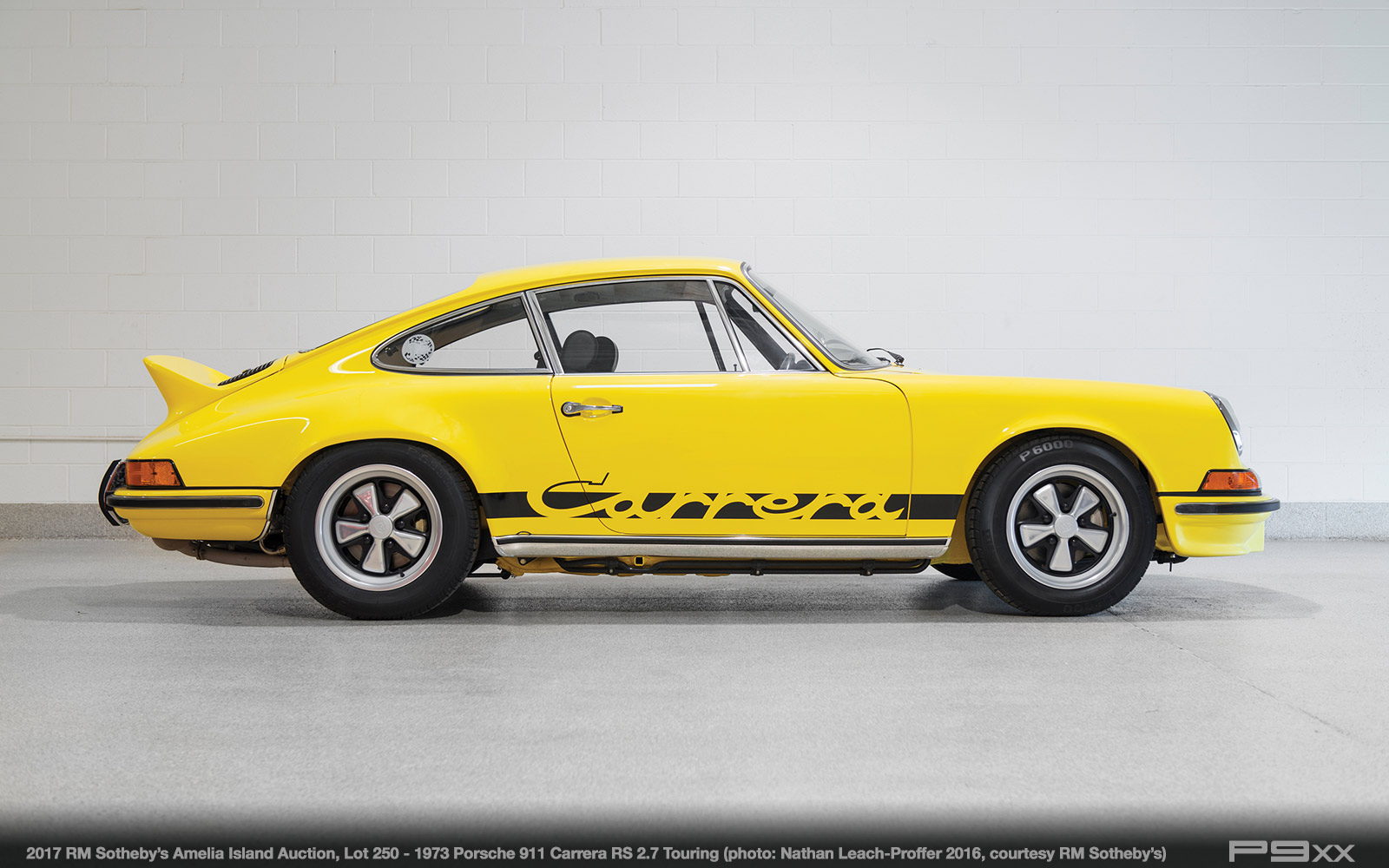 Lot 250 – 1973 Porsche 911 Carrera RS 2.7 Touring
This beautiful late-series German-specification RS Touring was completed in May of 1973 and delivered to its first owner the following month. According to Gruber/Konradsheim's comprehensive history of the RS, the car carried a shipping code of "5," meaning it was collected by the dealer or customer at the Works and was not waxed prior to delivery. This car was fitted with just two options: the M472 "Touring" package, and M440, which specified a radio speaker and antenna.
Details of its early ownership history are scant, but it is thought to have been rallied in the Netherlands early in its life. The car eventually made its way to the United States and passed through the hands of several prominent collectors. In January 1991, it was purchased from an enthusiast in the Southwest by Jerry and Arnette Schouten, a Colorado couple deeply involved in Porsche Club of America activities. Not long afterward, its original engine developed problems relating to the crankcase, and a new un-numbered replacement was sourced from Stoddard. The original case number was stamped on the fresh casting. Jerry, as well as Arnette, drove this RS in the first PCA Club race, and it was driven regularly in other PCA and Vintage Car Club track events.
The Schoutens embarked on a comprehensive restoration of this car in 2008, planning to complete and then sell the car to help finance their retirement. Jerry and his friend and noted Porsche specialist Steve Rowe of Rowe Performance in Englewood, Colorado, carefully disassembled the car in Jerry's heated garage. The stripped shell was then taken to Bob Raub at 3R Automotive/3R Racing in Englewood, where the body was placed into a rotisserie and stripped to bare metal for body prep and paint. It was found to be in very good condition and largely rust-free. Rowe recalls that Jerry methodically acquired many OEM pieces from Porsche specific to the RS that are no longer available today.
A new interior was crafted and installed by Auto Weave Upholstery in Denver. In 2013, while the mechanical work was underway, Jerry passed away after a club racing accident. His wife decided to have the restoration finished as her late husband had desired. Rowe found that the original magnesium transaxle case had been "bottomed" over its life to the point that the original type and number stampings were no longer visible. It also showed signs of corrosion from contact with steel fasteners. He secured another 1973 case in excellent cosmetic condition, rebuilt it, and installed it with the rebuilt engine, for which he obtained correct OEM Mahle pistons and cylinders. The project, which generated receipts totaling about $200,000, was completed in the summer of 2015.
Today, this beautiful RS 2.7 Touring is offered in its original color scheme of Light Yellow (6262), with a black leatherette and corduroy (12) interior. The factory seats were replaced with deeper and more supportive sport seats, which were reupholstered in black leatherette with matching corduroy center panels. The car has been driven fewer than 50 miles since the restoration was completed.
While nice examples of the RS Touring come to market on occasion, few are as well turned out and attractive as this one. Here is a great opportunity to acquire a very collectable high-performance Porsche that has been fully restored to a high standard by a marque expert and offered from long-term loving ownership.
Lot 256 – 2005 Porsche Carrera GT
This stunning Carrera GT was originally delivered to Hoehn Motors in Carlsbad, California. Finished in Black over a beautiful Ascot Brown leather interior, the GT was originally acquired by news reporter Connie Chung for her husband and television presenter, Maury Povich. After several intervening owners, it was then purchased by the current consignor in April 2015. At the time, the Porsche was showing just 3,608 miles. Service records on file note that prior to his ownership, a major service was performed at Porsche of Fairfield, Connecticut, in August 2014, at which point the GT had been driven 3,460 miles. Work included valve adjustment and replacement of the spark plugs, engine and cabin air filters, as well as the drive belts. At the same time, the new tires were fitted and balanced and all four wheels were aligned, including camber adjustment. Finally, the clutch was measured at 30 millimeters and found to be in good condition. Since acquiring the Carrera GT, the consignor has driven the Porsche less than 50 miles. It currently shows just 3,665 original miles and has been maintained in his private collection.
The Carrera GT remains one of the greatest modern Porsches, and it is arguably the finest road-going Porsche most true to the company's performance heritage. Finished in rare black over brown, it is supplied with its original tools, including the center-lock tool, owner's manuals, and its original optional dark grey luggage set. This exceptional Porsche supercar is described by the consignor as being in fantastic overall condition and would be an enviable addition to any gathering of the world's best sports cars.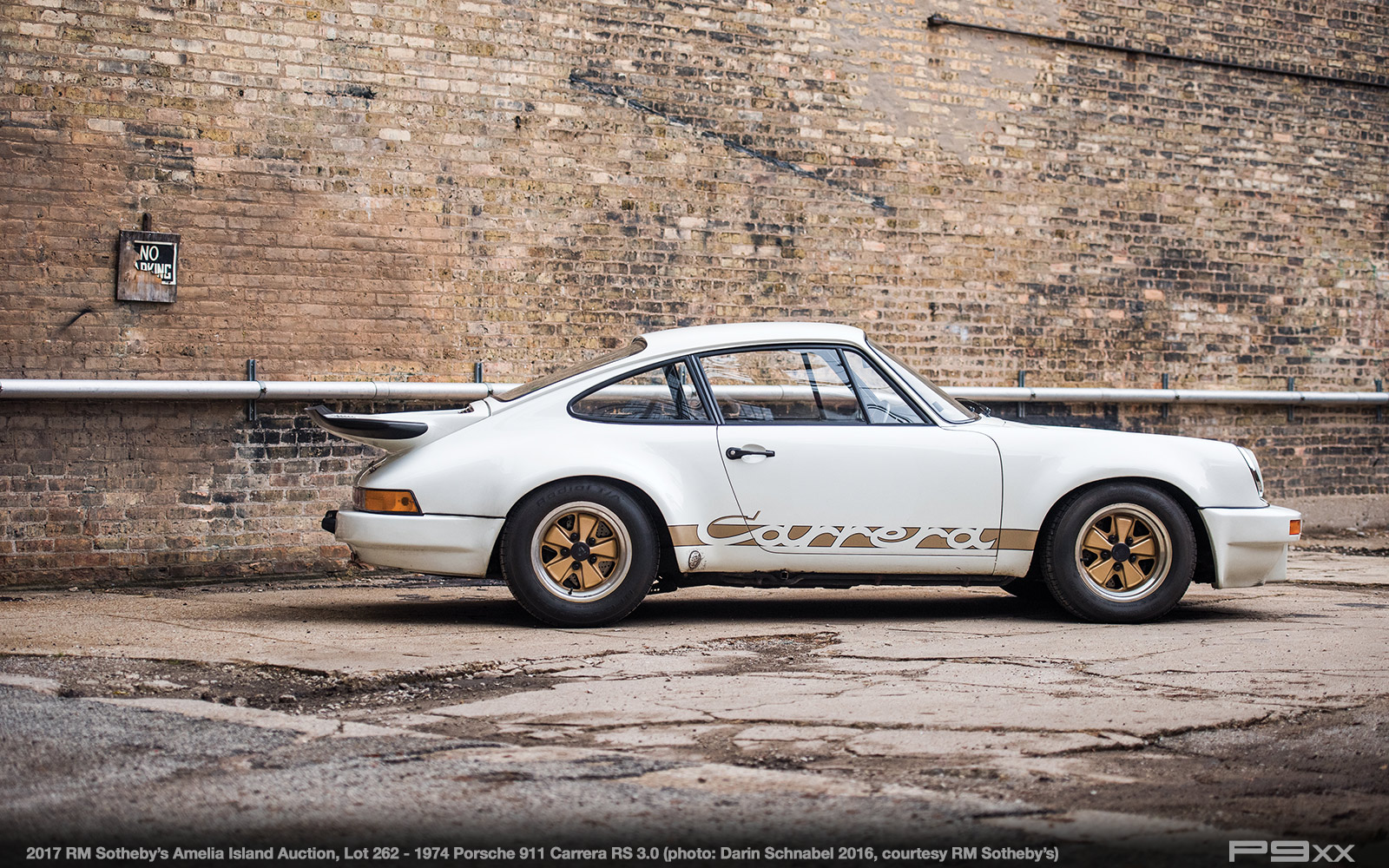 Lot 262 – 1974 Porsche 911 Carrera RS 3.0
This rare Carrera RS 3.0 claims the unusual distinction of being a former factory demonstration car that was used to sell the model to potential customers. One of those same customers went on to own the car later in its life, helping to document a fascinating back-story. Chassis 4609106 is one of 55 examples built. John Starkey's book on the subject, The Racing Porsche: R to RSR, states that this 911 was officially listed as Vorführwagen (demonstration car), which is confirmed by then Porsche test driver, Jürgen Barth.
When the Carrera RS 3.0 model was announced to the press in early 1974, a Porsche dealer from Ohio named Charles Stoddard was in attendance at the world-introduction held at the Porsche factory in Germany. Given his interest in the model, Mr. Stoddard was granted a test run on the Hockenheimring with Jürgen Barth at the wheel, and the car used was 4609106, the example offered here. Stoddard had no inkling at the time that in a matter of years he would own the very same car.
Following its press release duties, the Carrera RS was distributed to Sonauto, the Porsche-owned importer for France. On 14 July 1974 the car was exported to the United States by its first owner Sydney Butler. He had the car flown to JFK International Airport (in the cargo hold of a 747) and then transported to his home in Memphis, Tennessee. After three years of enjoying the RS, Sydney offered the car in December 1977. Chuck Stoddard, who knew Sydney at the time, became aware of the RS's availability and traded a new 1976 930 Turbo in exchange for the rare homologation special. On 19 December, the dealer officially purchased the car for himself from his own dealership, Stoddard Imported Cars, as reflected by an original Ohio title. At the time, the odometer displayed just 16,423 kilometers.
Mr. Stoddard pampered the rare Carrera RS, never exposing it to inclement weather, and fastidiously garaging and maintaining it as needed. After retaining possession for nearly 20 years, he sold the Porsche in November 1996 to Japanese collector Motoi Akaishi, and the car remained in Japan until January 2004, when it was purchased from Akaishi by the consignor, a respected collector based in Chicago. When re-imported to the United States in March 2004, the 911 still exhibited extreme originality, with the original factory-appointed white paint and gold-highlighted Carrera RS script showing beautifully, while the original 3.0-liter engine and transmission remained intact.
The consignor undertook a few measures to make the car more enjoyable in driving events, including replacing the clutch and rear shock absorbers, sound proofing the engine bay, lowering all four corners for a lower center of gravity, and mounting new Michelin XGT tires. In the interest of shoring up the car's documentation, he contacted Mr. Stoddard and discovered the interesting factory demo history and established chain of ownership. In January 2012, the consignor applied for a FIVA passport, and the powerful RS 3.0 was subsequently driven on the famed Tour Auto Rally, a 2,500 kilometer journey through France. After completing the workout, the 911 was delivered to the Porsche specialists at the Autofarm in England for some of the aforementioned sympathetic mechanical freshening.
Currently displaying 29,279 kilometers, and poised for further driving use or exhibition at premium concours and PCA events, this rare and highly original Carrera RS 3.0 is a preeminent example. The car's fascinating factory history and strong documentation of provenance make it a particularly desirable example of the rare 1974 homologation special, affording a unique opportunity for Stuttgart enthusiasts and 911 connoisseurs worldwide.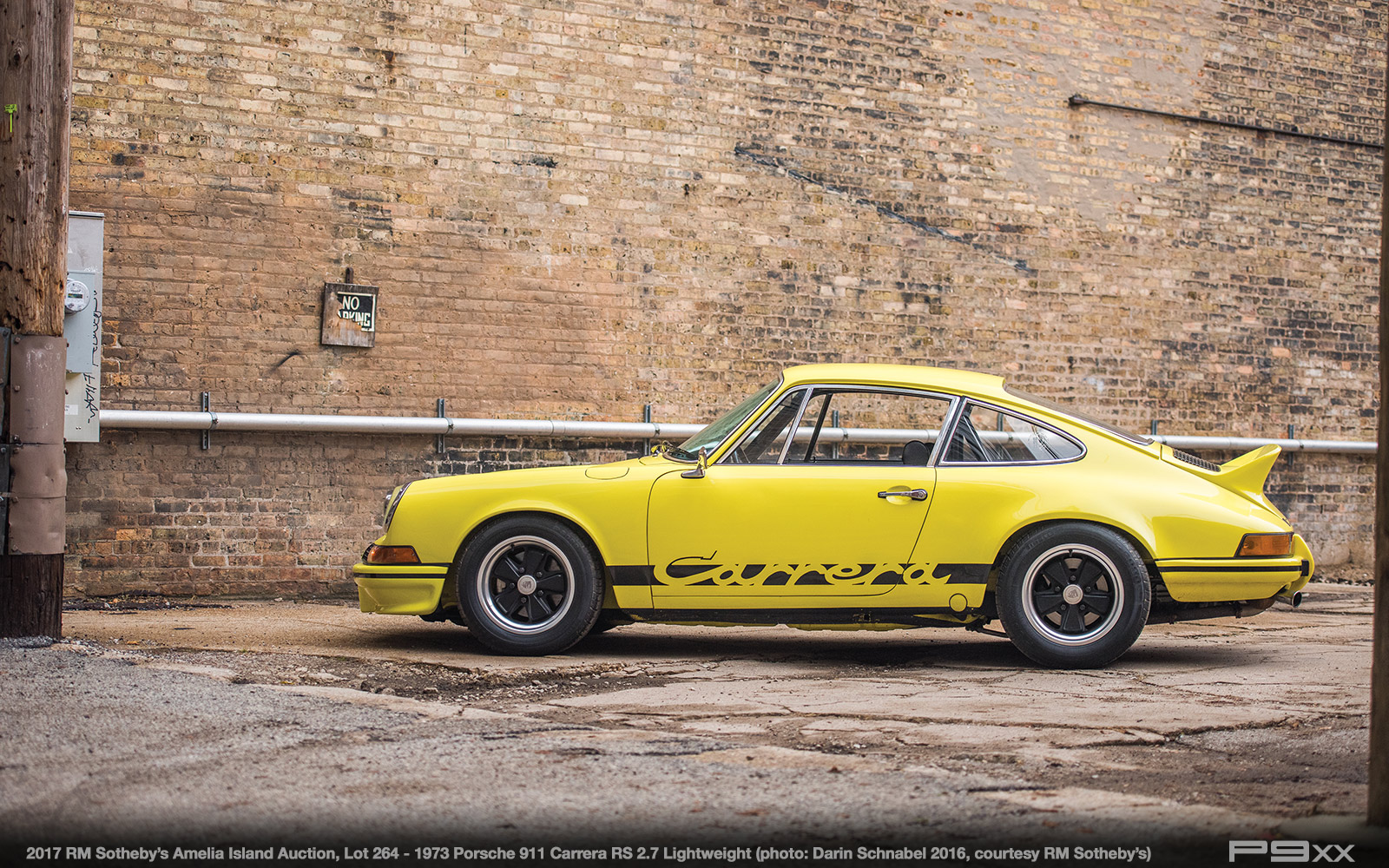 Lot 264 – 1973 Porsche 911 Carrera RS 2.7 Lightweight
This extremely original Carrera RS is a lightweight example, and one of the first 500 cars to roll off the assembly line. Properly finished in its original factory color livery, and retaining its original matching-numbers 2.7-liter engine and factory-issued gearbox, this 911 is a faithful and well-documented example.
According to a Porsche Certificate of Authenticity, chassis number 9113600336 completed assembly on 23 December 1972, finished in Light Yellow and upholstered with a black leatherette interior. As a lightweight example, this Carrera RS was equipped with no major options, with the exception of Dunlop performance tires.
The original Fahrzeugbrief documents the early ownership of this Porsche, indicating that the first owner, Michael Wagner of Friedburg, Germany, took possession on 22 January 1973. In 1978, he sold the 911 to Joachim Erhardt of Stuttgart, who sold it two years later to Richard Alexander, an American working for IBM in Germany. Mr. Alexander imported the European-specified car to the United States upon his return, and the 911 was domiciled for roughly three years on his farm in Watsonville, California.
In 1987, the Carrera RS was purchased from Alexander by Phillip Bagley of Anniston, Alabama, known for his involvement with Klub Sport Racing, a vintage Porsche brokerage and restoration house in Riviera Beach, Florida. Bagley repainted the exterior in the correct original shade of yellow, installed a factory-style rollbar, and freshened the engine for a return to driving use.
In 1995, the RS 2.7 was acquired by Porsche collector David Geremia of Waterbury, Connecticut, and he retained possession for seven years before offering the car for sale in 2002. The consignor, a respected collector based in Chicago, retained well-known Porsche specialist John Starkey to inspect the 911, and his written report reflects that it remained in very original condition, including the original engine and gearbox. All the original thin-gauge glass and body panels remained in place, and the exterior remained properly painted in correct Porsche light yellow, with the proper black Carrera script along the sills.
After purchasing the Porsche in May 2002, the consignor mechanically freshened the car, including the installation of a new fuel pump, plugs and points, hoses, and other various gaskets and soft parts. To bolster the 911's authenticity, he sourced a correct Carrera RS steering wheel from Germany, as well as the aforementioned Certificate of Authenticity from Porsche.
One of just 200 Lightweight examples built for 1973, chassis 913600336 is a highly authentic and mechanically original example of Stuttgart's great Carrera RS. It would make a fantastic complement for any Porsche and sports car aficionado and promises to receive a warm welcome at PCA events and regional concours d'elegance.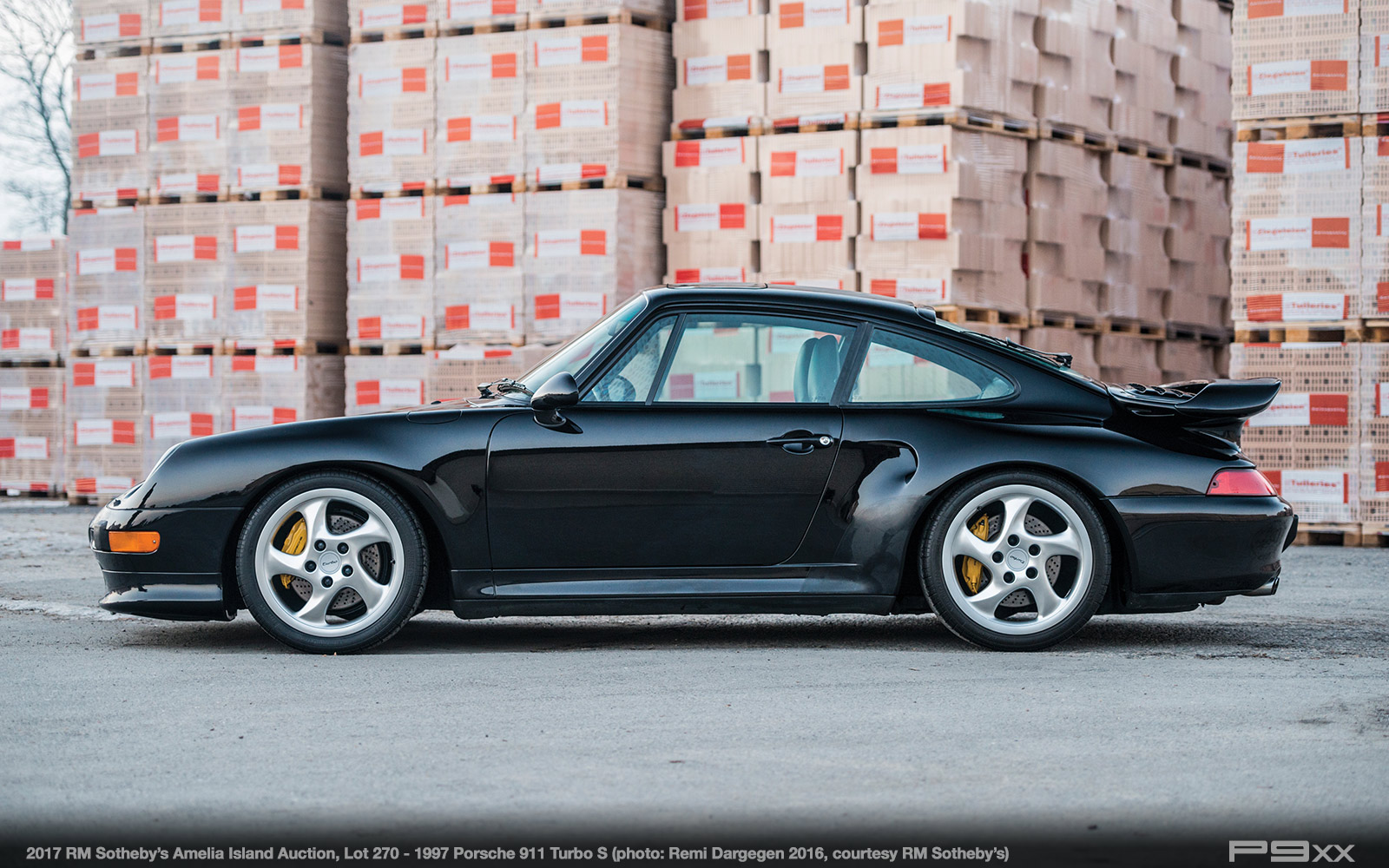 Lot 270 – 1997 Porsche 911 Turbo S
This black-on-black Turbo S was purchased new by its first owner in North Carolina and had its delivery inspection on 21 April 1997 at Porsche Greensboro. In 2004, it had its 15,000-mile service completed at Beechmont Porsche in Cincinnati, Ohio. As of July 2007, the car was residing in Massachussets and was recorded as having 16,610 miles on its odometer.
The current owner purchased the car in December of 2008 and imported it to his home in Switzerland. Today, it has just over 18,000 miles. Although highly equipped as standard, this example was further optioned with a sunroof, lumbar support on the left seat, pleated leather seats front and back, and the Nokia digital audio system. Furthermore, the car also boasts a handful of carbon fiber options, including trim on the steering wheel and dashboard. Included in the sale are the owner's manuals, maintenance manual, and the warranty and customer info booklet in their black Porsche pouch.
The perfect combination of creature comforts and exciting performance, the 993 Turbo S is one of the most desirable cars of its era and therefore, one of the most thrilling air-cooled Porsches to drive and enjoy.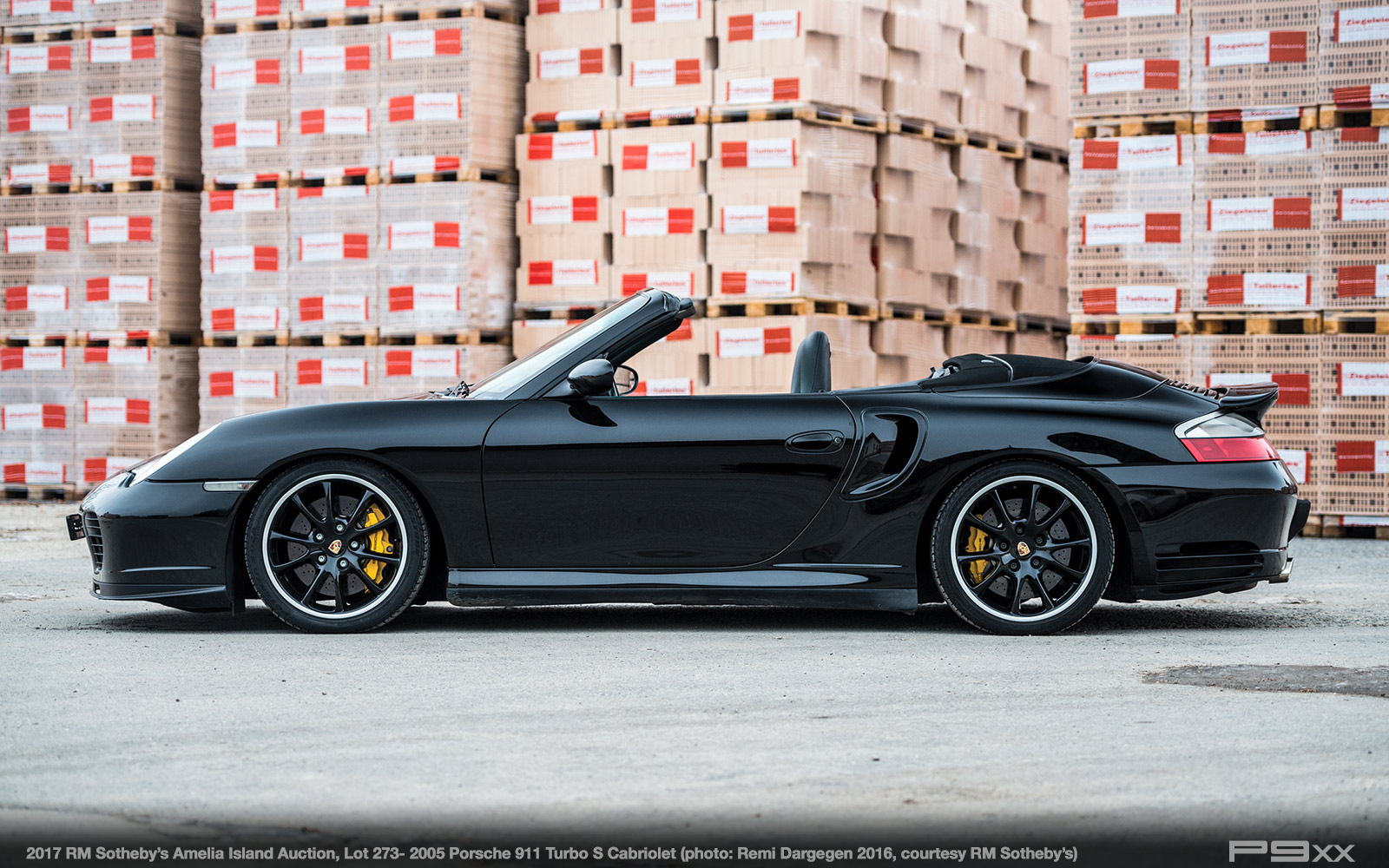 Lot 273 – 2005 Porsche 911 Turbo S Cabriolet
Offered here is one such rare example, finished in the classic color combination of black exterior on black leather. Provided with the car are all of the original manuals, along with a CARFAX dated 2008 recording it as a one-owner vehicle with no accidents.
Originally delivered new to Hohen Porsche of Carlsbad, California, this Turbo S Cabriolet was exported to Switzerland in 2008, where it has been with its current owner for nearly a decade. More recently, it has been serviced by Porsche Centre Lausanne in Switzerland, and it is now ready to be driven and enjoyed.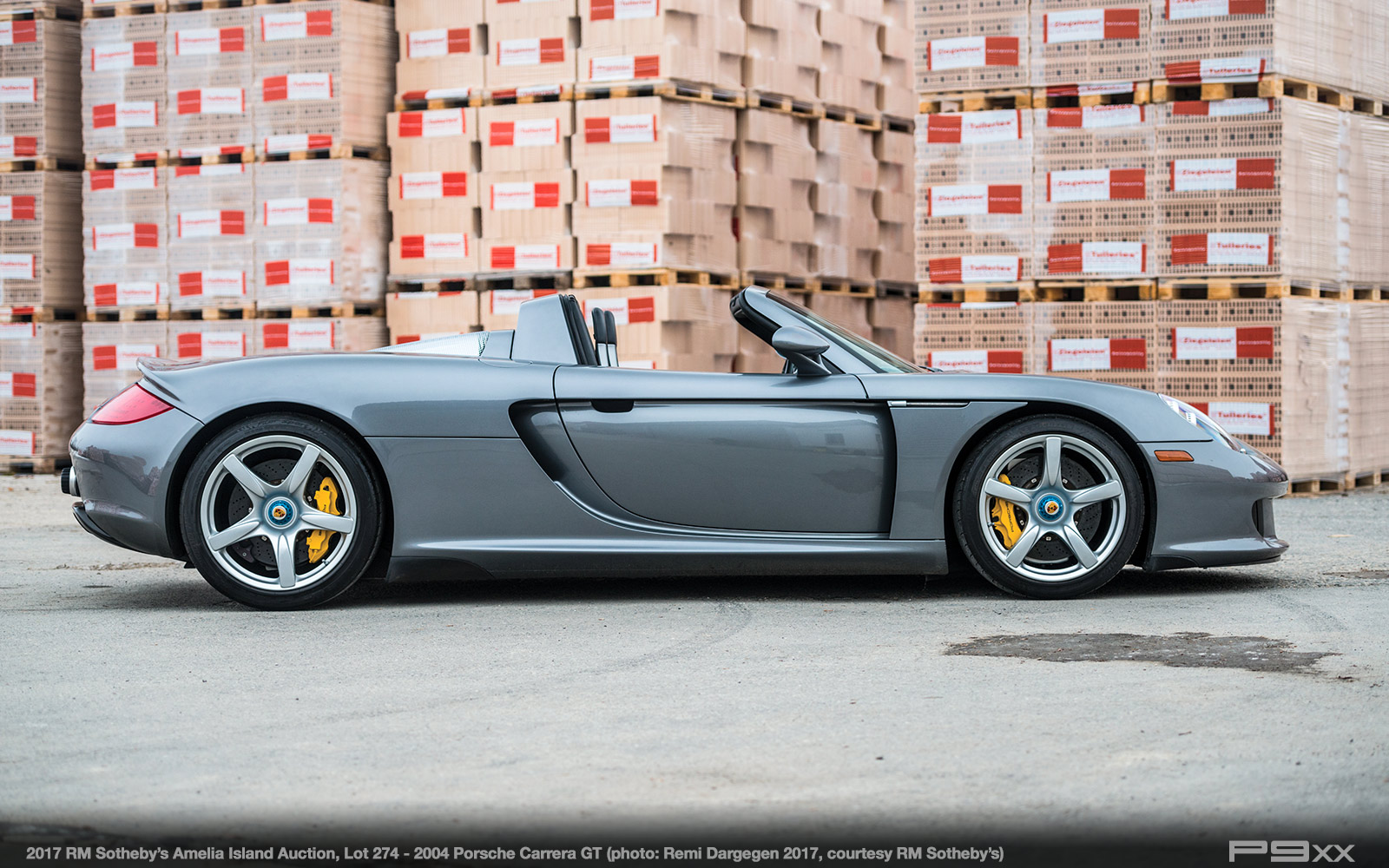 Lot 275 – 2004 Porsche Carrera GT
Finished in the highly attractive and seldom-seen color combination of Seal Grey over black, it is clear that this Carrera GT has always been cherished and well maintained every day of its life. Originally delivered new to the United States, the car first resided in New Mexico, where it passed through two owners before being purchased by an owner in Arizona and later being sold to an individual in Florida.
Purchased by the current custodian for inclusion in his collection of Porsches in 2009, the car was imported to Switzerland and immediately shipped to Porsche Zentrum Stuttgart, where it was fully serviced. More recently, the car has received a service by Porsche Centre Lausanne and is ready to be driven and enjoyed and remains in exceptional condition inside and out. Furthermore, it is offered with a full set of luggage and its original set of manuals.
Even after more than a decade from when the last example rolled off the line, the Carrera GT can still keep up with today's current crop of supercars, and its looks have not aged a day. A staple of any Porsche collection, the Carrera GT demands constant respect and attention from its driver, but it rewards the skilled pilot with mind-bending performance and a drive that shall never be forgotten. This Seal Grey example is truly an excellent example of the breed. With under 8,500 miles on its odometer and following a recent service, it would be the perfect acquisition for the Porsche enthusiast looking to sample what is arguably Stuttgart's most compelling car of the 21st century.
Lot 277 – 2011 Porsche 911 GT3 RS 4.0
This final example of the 997 generation is a truly special car and is a must-have for any serious Porsche collector. Famed motoring journalist and RS 4.0 owner Chris Harris once proclaimed that this vehicle housed the finest production engine in the world. Even more exclusive on this continent, only 126 of the total production run ever made it to the United States, making this one of the most exclusive modern Porsches ever. Options were limited from the factory; only two official colors were available, black and white, with this model being the latter.
An impeccable example, this 2011 GT3 RS 4.0 has clocked only 690 miles since leaving the factory doors. This vehicle is destined to be a classic and is a worthy investment for anyone looking for one of the most driver-focused vehicles ever put into production.
Lot 279 – 1965 Porsche 911
This 911 was completed on 9 December 1965 in Irish Green with Beige Leatherette interior with an optional Webasto heater. It was originally sold to Joseph Thomas of New York and remained on the East Coast until it was sold to a long-term California owner in the 1980s. When its California owner decided to sell the car in 2013, it was in solid running and driving condition, though had been painted copper and fitted with a black interior.
The current owner decided to return the car to its original specifications and commenced a comprehensive nut-and-bolt restoration. The body was stripped down to bare metal and properly finished and then repainted back to its original color of Irish Green. The original date-coded engine was completely rebuilt, including the original Solex carburetors, and was fitted with new pistons. Even the original Webasto heater was rebuilt and is fully functional. New old-stock parts were used when possible and every aspect of the car has been gone through, with a significant sum itself having been spent on the interior alone. Notable, the interior was also returned to its attractive original color. The only significant change made was redoing the interior in leather rather than vinyl leatherette. Included in the sale is a Certificate of Authenticity that confirms its original color combination and that it retains its original drivetrain.
Since completion, this superb 911 has only been driven test miles and is now ready for its next owner to use and enjoy.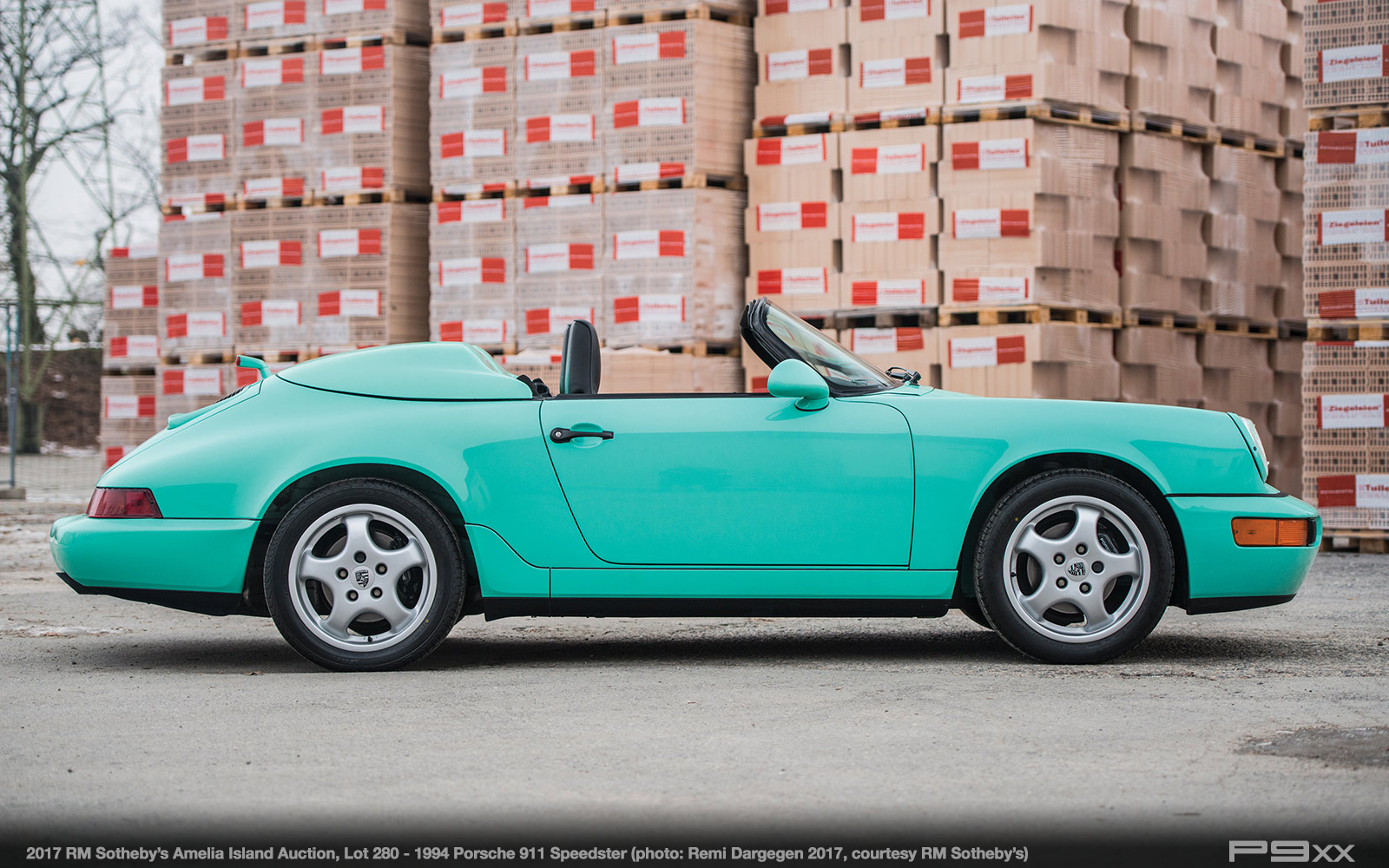 Lot 280 – 1994 Porsche 911 Speedster
This is believed to be one of only a few Mint Green Speedsters produced and is one of 175 cars built with the Tiptronic automatic transmission, of which only 65 were destined for the US. It was first sold to an owner in Florida through Champion Motors in Pompano Beach, one of the largest and most well-known Porsche dealerships in the world, renowned for its success in motorsport. For a more comfortable driving experience, it was ordered with standard 911 seats instead of the typical racing bucket seats found in most Speedsters. Optional air conditioning with full climate control and a stereo make this Speedster a much more usable and easier car to live with than most other Speedsters. Furthermore, the car's original stereo has been upgraded with a more modern Alpine unit.
The car remained in Florida through the early 2000s until being sold to an owner in California, and then to Illinois. Acquired by its current owner and imported to Switzerland in 2009, it has just 20,800 miles from new. Included in the sale are the owner's manuals, dealer directory, warranty booklet, tool roll, and window sticker.
The combination of the Tiptronic transmission, comfortable seats, air conditioning, and a stereo make this possibly the most luxurious 964 Speedster available.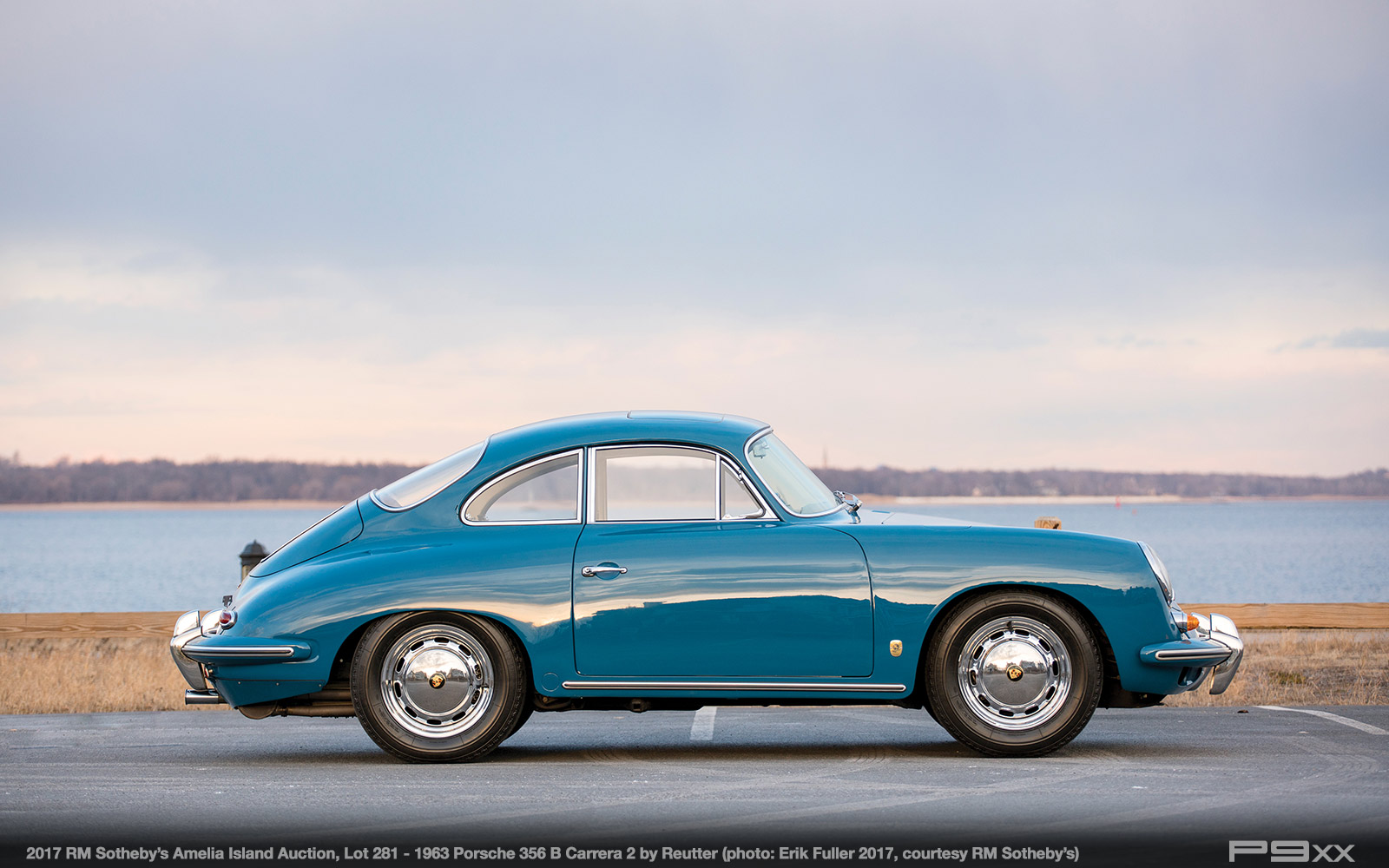 1963 Porsche 356 B Carrera 2 'Sunroof ' Coupe by Reutter
Complete with both its Kardex and Porsche Certificate of Authenticity, this Carrera 2 is correctly finished in its original color of Oslo Blue over light brown leatherette with matching cloth inserts. In addition, it was originally optioned with the rare factory electric sunroof, electric antenna, dual speakers, chrome wheels, wood steering wheel, and a lowered driver's seat for additional comfort for taller drivers. It was initially delivered new in Hanover, Germany, but came to the United States in 1966 when it was sold by a Volkswagen dealer to its second owner, Arthur Foyt, an active Porsche Club member. In 1971 it became the property of Eugene Deutsch, who brought the car to Boston in 1995.
The car was restored over a seven-year period between May 1998 and July 2005. It was stripped to bare metal and repainted, and the interior redone by noted authority Paterek Brothers in New Jersey. While not fitted with its original motor, it is fitted with a correct 587/1 engine, which was recently rebuilt by four-cam expert Bill Doyle of Rennwagen Motor Company in Costa Mesa, California. Original-style oil lines and connectors, as well as original ignition coil clamps with resistors boxes, were used. In addition, the car has been fitted with 356 C-style four-wheel disc brakes for enhanced performance. Documentation, including repair receipts dating to 1966, is included along with the owner's manual, Carrera supplement, radio instruction book, and the original battery warranty.
Though restored over 10 years ago, the body, paint, and interior are described as "in excellent condition." The car runs and drives well, and the consignor has used the car regularly during his ownership, which has helped to keep it in good running order. It was most recently inspected by Jeff Adams of SST Auto of Danbury, Connecticut, in January 2017, and everything is found to be in order. The consignor notes that the car still presents nicely and describes it as an exceptional driving car.
After all, this Porsche, was meant to be driven . . . fast. It will certainly provide its new owner with a thrilling experience like no other in this, the most powerful of the 356s.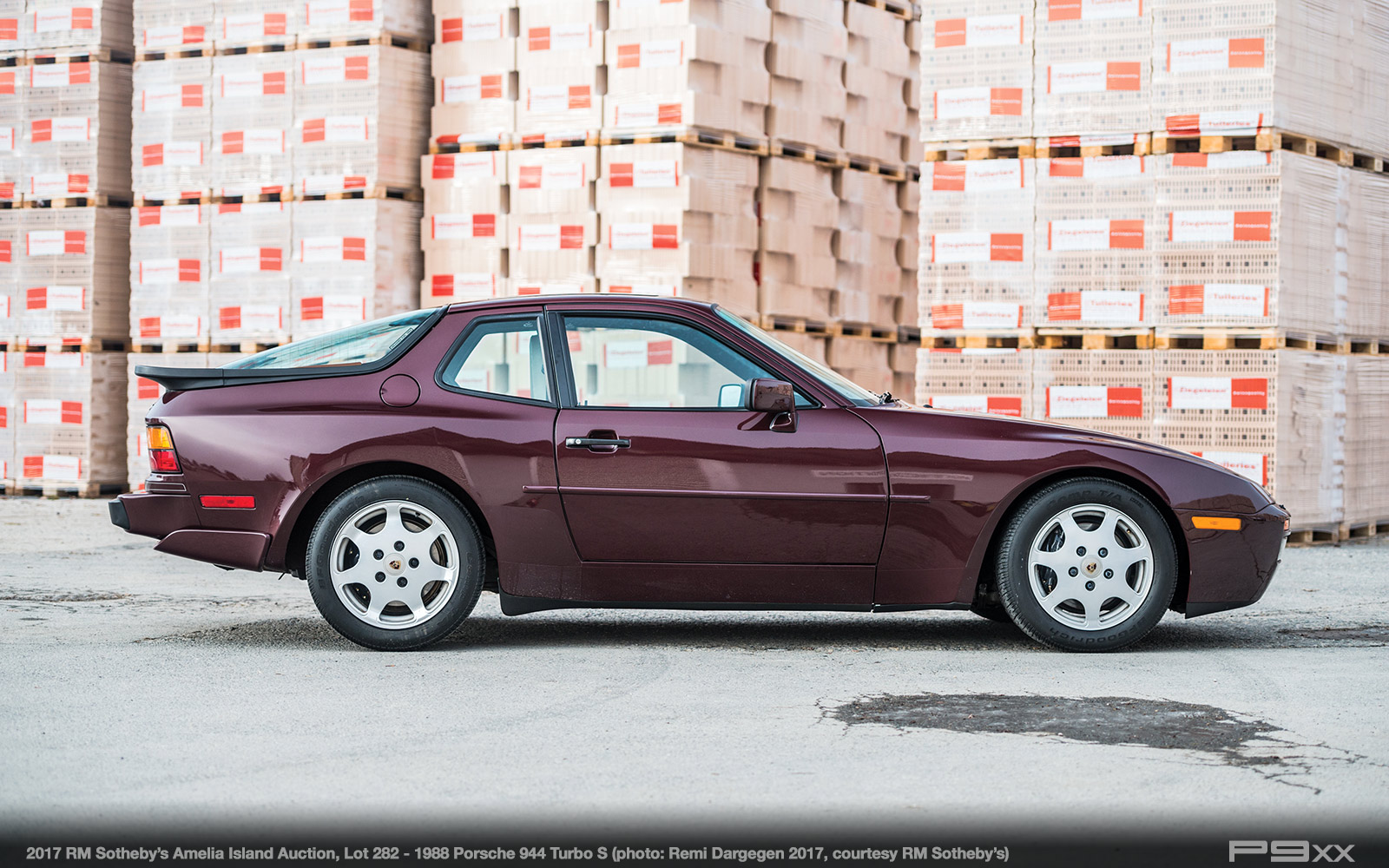 Lot 282 – 1988 Porsche 944 Turbo S
This 944 Turbo S has only 39,000 miles and was completed at the factory on 4 May 1988. It was delivered to its first owner in Utah on 9 August 1988 with 104 delivery miles. The Certificate of Authenticity shows that it is a highly equipped example optioned with the sport suspension package, headlight washers, protective side moldings, a rear window wiper, cruise control, California emissions, and an electric sunroof. Still wearing its original Maraschino Red Metallic paint and light grey leatherette interior, this Turbo S is in impeccable condition throughout.
Included with the sale is the stamped Warranty & Maintenance book, owner's manuals, and dealer directory in their vinyl pouch. Service receipts are also included, the most recent being from January 2017, when Porsche specialist Garage Rossier serviced the car.
This is a very clean and well-preserved example of the ultimate iteration of the 944 and undoubtedly one of the finest examples available.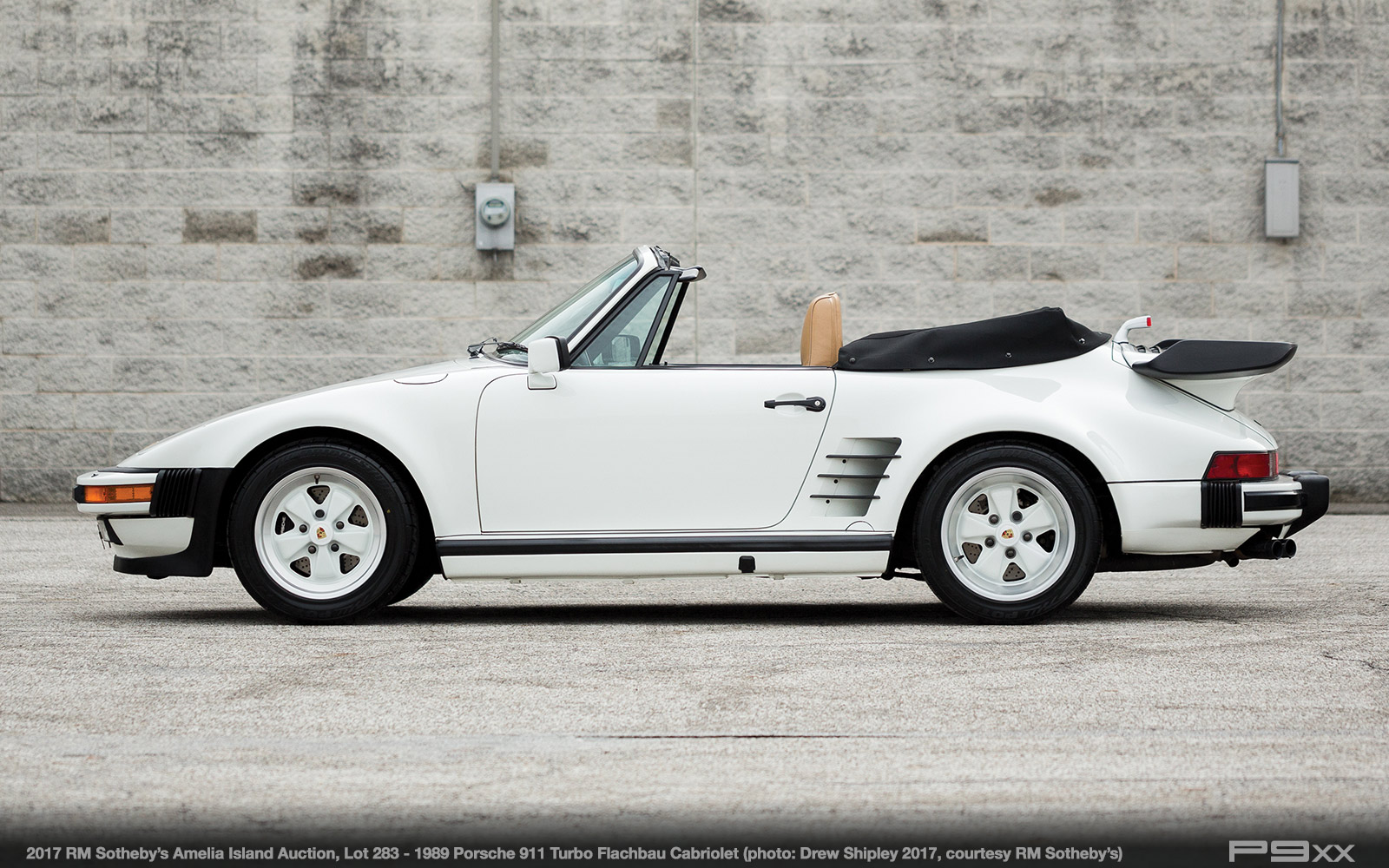 Lot 283 – 1989 Porsche 911 Turbo 'Flat Nose' Cabriolet
Rather than just pick his new 911 Turbo 'Flat Nose' Cabriolet up at the dealership, the first owner of this particular car opted to take delivery through Porsche's Tourist Shipping Program. The equivalent of today's European Delivery Program, this allowed customers to pick up their new Porsche directly from the factory in Stuttgart and enjoy it in Europe before shipping it home to America. Completed by the factory in May of 1989, the car was finished in Grand Prix White over Cashmere and in addition to the M505 package (confirmed as factory authentic according to its Certificate of Authenticity), it was outfitted with a shorter gear stick lever, as well as velour carpet and luggage compartments. Rather than ship the car home after taking delivery in Stuttgart, it is believed that the first owner kept the car at his home in Frankfurt instead.
The car remained in its native Germany until 1994, when it was sold to its second owner in California and finally imported to the United States. The Flat Nose remained with that individual in California until late last year, when it was purchased by its third and current owners. Just prior to their purchase, the car had received a full service and remains ready to return to the road. The car has travelled just under 10,500 miles from new and remains in wonderful condition throughout. Furthermore, it is important to note that the car is quite well documented and in addition to a number of service records from throughout its life, also includes its original window sticker, manuals, and warranty book, along with a tool kit, the original spare tire, and a tire compressor.
For those that consider the normal 911 Turbo a little too pedestrian, the 'Flat Nose' cabriolet offers all the performance one would expect from one of Porsche's most radical cars with a whole new look. This 911 Turbo checks all the right boxes; a desirable 1989 model year example equipped with the G50 transmission, considerably low mileage, known ownership, numerous service records, and interesting ownership history to its name, it will not disappoint.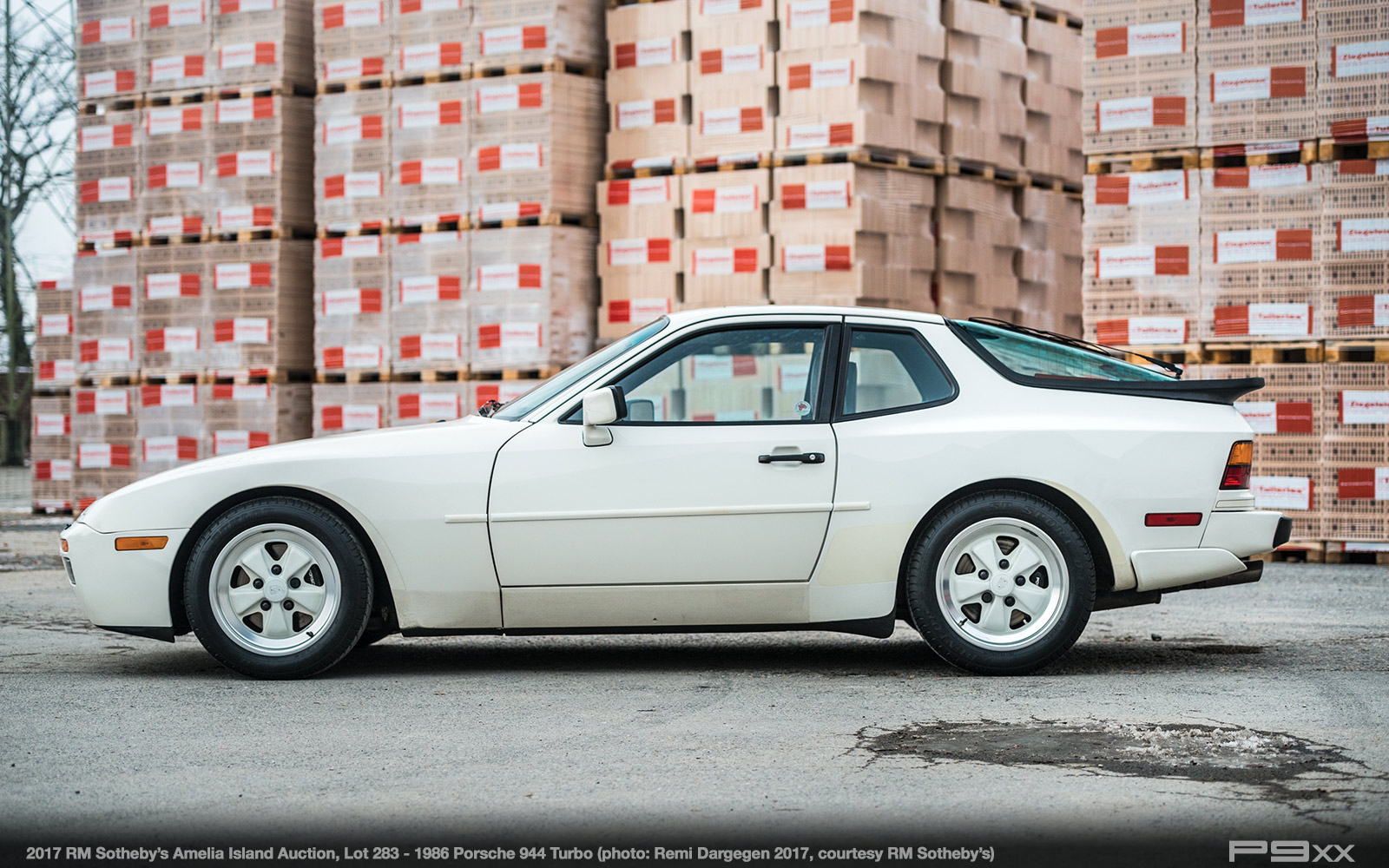 Lot 286 – 1986 Porsche 944 Turbo
Originally delivered to its first owner through Porsche of Evansville, Indiana, in March of 1986, this 944 Turbo was originally finished in Alpinweiss (Alpine White), the same color it still sports today. According to accompanying documentation on file, the car remained in Evansville until at least 2002, before being sold to an owner in Ohio.
Purchased by its current owner in December of 2008, the car was immediately shipped to Switzerland, where it has remained ever since. With only 21,549 miles showing on its odometer at the time of cataloguing, the car remains highly original throughout and presents quite well in its original white over dark red color combination, including matching white wheels to complete the look. Furthermore, it is important to note that the car has been upgraded with a modern stereo.
One of the most exciting front-engined Porsches to drive and enjoy, the 944 Turbo is often overlooked by enthusiasts when compared to other similar models. Nevertheless, it remains a fun and very dependable car to drive, and makes for a compelling alternative to a BMW, Mercedes-Benz, or Corvette of the same era. This example, with under 22,000 miles on its odometer, certainly will not disappoint.
Lot 287 – 1968 Porsche 911 Sportomatic
Offered is what may be the most original 1968 Porsche 911 coupe in the world, let alone the finest equipped with the intriguing Sportomatic semi-auto transmission.
According to its factory Kardex, chassis number 835019 was completed on 9 January 1968 and shipped 20 days later to VW Pacific in Culver City, California. The first registered owner is listed as a T.G. Tupman of Balboa Island, a coastal suburb of Los Angeles. Along with the Sportomatic transmission – an expensive option at $2,380 – Mr. Tupman selected 911 S instrumentation and oil tank, full tinted glass (Catacolor), bumper horns, and a radio installation package. The car was painted Silver Metallic (96024B), a single-stage paint without clearcoat. The interior was black leatherette. The original tires were Pirelli 165/15 radials on ventilated chromed steel wheels. Upon delivery, an air conditioning system was installed; a former owner believes that work was carried out at Chick Iverson Porsche in nearby Newport Beach. Eventually, a Blaupunkt AM-FM radio was added as well.
The 911 coupe has led a much pampered life, accruing fewer than 23,000 original miles from new, and passing through the hands of some well-known and devoted Porsche enthusiasts. These included Bob Hartwell, owner of Hartwell Vineyards in Napa, California. Mr. Hartwell kept the car until 2000 before selling it to renowned Porsche historian and collector Prescott Kelly of Weston, Connecticut; it later joined the Bob Ingram collection in North Carolina, and was again acquired by Mr. Kelly. In 2015 it was sold to its current owner.
There can be no question that this silver 911 is as perfect inside and out, topside and underbody, as only an un-restored, low-mileage car can be. It boasts excellent fit and finish, and all the interior and trim is original. The paint is original with the exception of the front bumper, which was repainted in 1987. This 911 retains its original date-stamped chrome-plated steel wheels with vintage Semperit tires for show, including painted crests on the hubcaps and wire valve stem supports. It is also supplied with newer Porsche 6-inch steel chrome wheels with new Vredesteins for street use.
This wonderful A-series 911 is supplied with a factory-original tool roll, including a tire gauge and fuses, a correct and perfect Bilstein blue-tipped jack, owner's manual with special Sportomatic supplement, radio and battery warranty booklets, a set of floor mats, Kardex, and Certificate of Authenticity. It still wears its original California "black plates." Further, it is in mint, show condition, and regularly out-scores restored cars when it is shown competitively. It won the 911 Division at the 1988 Pikes Peak Porsche Club Parade National Concours against restored cars, was declared the "Most Outstanding Porsche" at the 2001 Greenwich Concours, and won "Best German Sports Car 1967–1983" at the 2012 Greenwich Concours.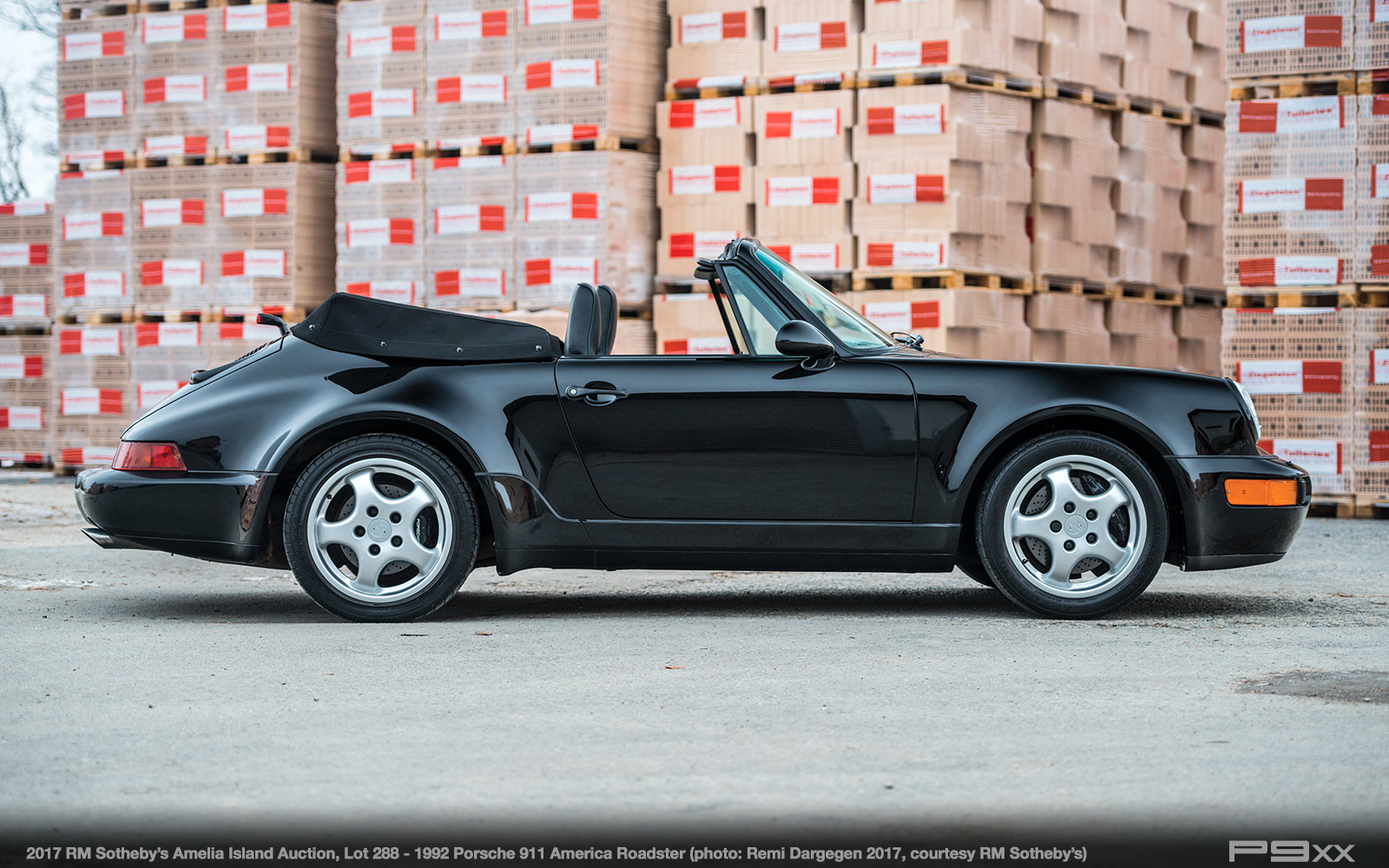 Lot 288 – 1992 Porsche 911 America Roadster
This black America Roadster was delivered to its first owner, Robert Brook of Minnesota. Rather than pick his new car up in Minnesota, Mr. Brook opted to take delivery of his car at the factory in Stuttgart through the Tourist Delivery Program, before shipping the car home. By the late 1990s, the car was in San Diego, California, and after that, it went to its next owner in Maui, Hawaii. It was purchased by its current Swiss Porsche collector from Hawaii and subsequently imported to Switzerland.
This America Roadster is finished in the timeless color combination of black over black and has wear consistent for its 22,800 original miles. The black soft top and plastic rear window are both in great condition, and the leather interior has only minor creases from use. It is fitted with the desirable heavily bolstered sport seats and has a five-speed manual transmission. Included in the sale are the tool kit, spare tire, convertible boot cover, the owner's manual, maintenance and service booklet (with stamps), and the warranty booklet all in their Porsche pouch.
Back in America, this roadster surely will not disappoint.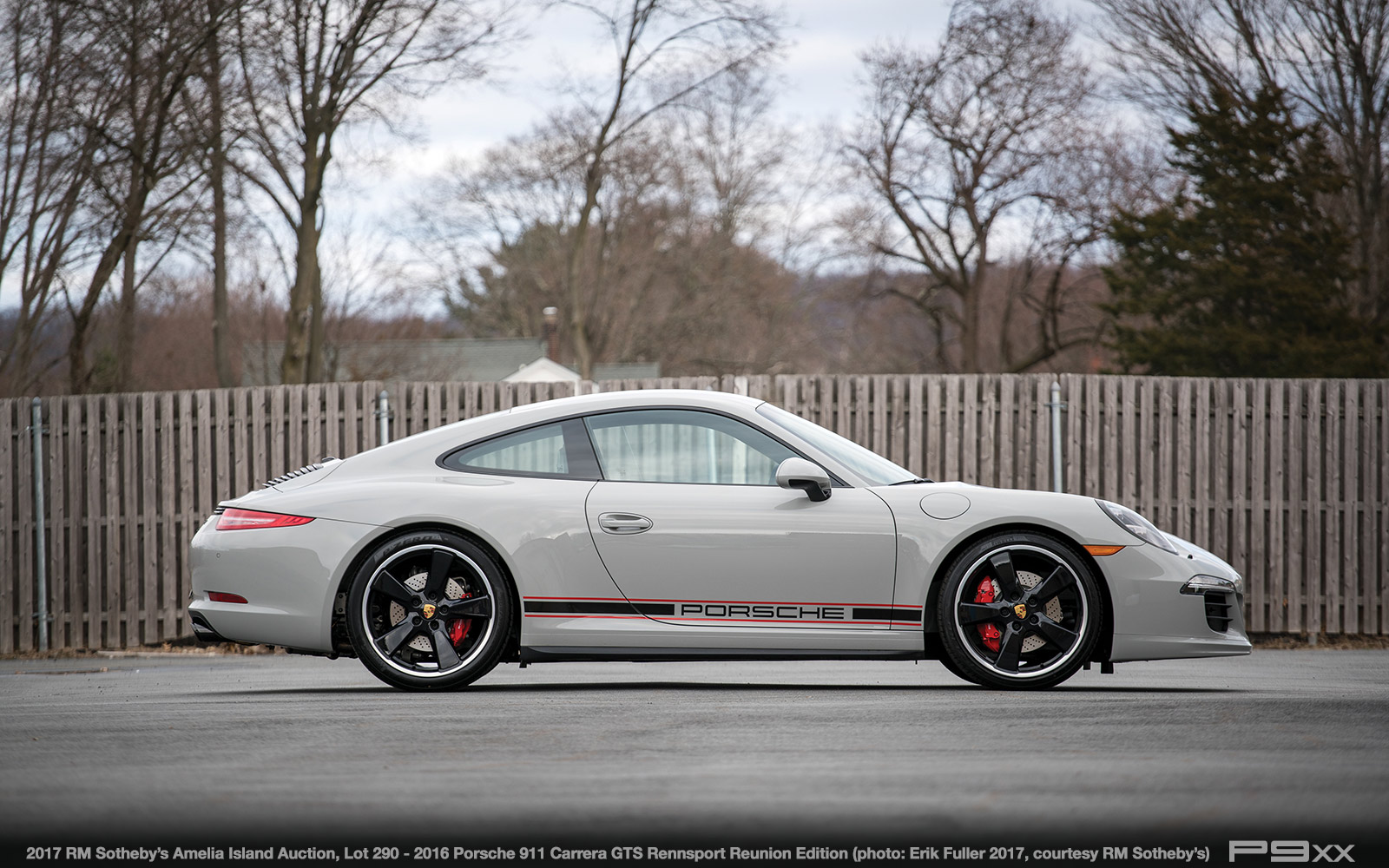 Lot 290 – 2016 Porsche 911 Carrera GTS Rennsport Reunion Edition
To help celebrate the most recent Reunion, Porsche created this special edition for the United States market. The rear-wheel-drive 991 GTS, which many enthusiasts saw as the last of Porsche's normally aspirated sports cars, filled the gap between the standard Carrera S and the more aggressive GT3, and this commemorative variation is even more unique. Powered by a 430-horsepower version of Porsche's race-derived 3.8-liter four-cam flat-six, the Rennsport Reunion GTS is capable of a near-200 mph top speed. A seven-speed manual transaxle is part of the package, along with the Sport Chrono Plus package with sports exhaust and dynamic engine mounts, torque vectoring with a limited-slip differential, and Porsche's ingenious PASM adaptive suspension system. Also included were Rear-park Assist and black 20-inch diameter Sport Classic alloy wheels, which are otherwise only available through Porsche Tequipment.
The Rennsport Reunion GTS coupes were all painted Fashion Gray – a color that harkens back to the earliest 356s – and trimmed with special black and red appliqués on the doors, hood, roof, and rear decklid. The harmonizing Alcantara and black leather interior includes 18-way adjustable sport seats and a Bose high-end stereo. The dashboard and door-sill covers are trimmed in carbon-fiber and carry Rennsport Reunion Edition identification. The Rennsport Reunion logo appears on the center console. The Sport design steering wheel, door panel trim, floor mats, and both seat headrests are all stitched in contrasting Carmine Red, a color that also appears on the seat belts and tachometer face.
This example was purchased new in January of 2016 and is offered in virtually as-delivered condition, having recorded a mere 1,200 miles. Opportunities to acquire such a rare, limited-production, high-performance Porsche do not come along very often; true enthusiasts of this hallowed marque should not allow this one to pass them by.
See a full photo gallery of each Porsche up for auction by RM Sotheby's at their Amelia Island Auction via our photo gallery HERE.