One of the most fascinating spots on the collector car spectrum is the pre-production prototype. Almost always one-off, these mark some of the earliest cars and ones with configurations likely rarely if ever actually produced. Take for existence this 1964 901 Cabriolet.
Connoisseurs of early 911s know that the name designation originally set for the car was 901. Following a legal battle with Peugot over use of three digit numbers with zero in between, Porsche eventually changed the name to 911. Even still, the earliest of these specimens are still 901, and they don't get much earlier than the second earliest surviving example.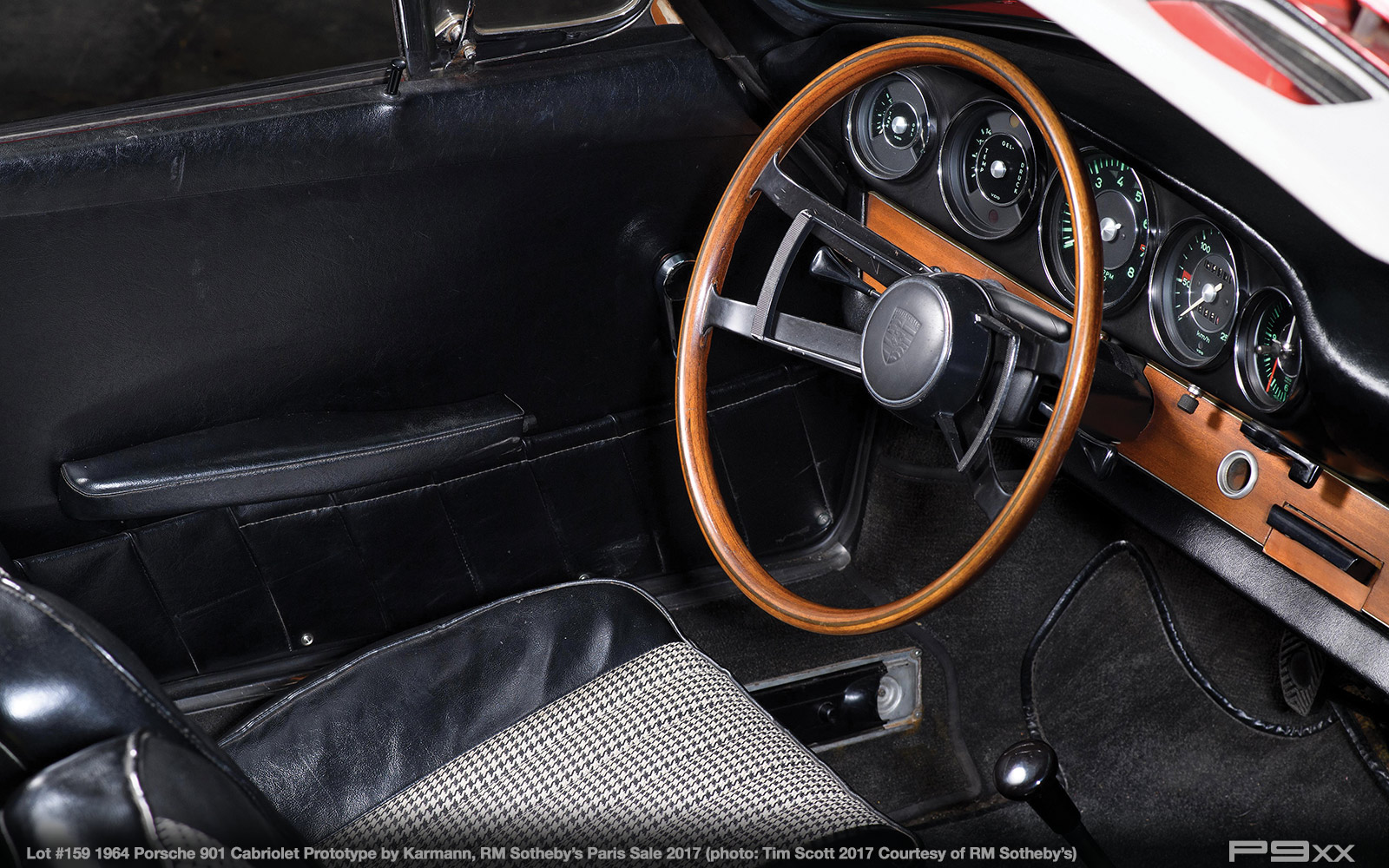 Such age and originality within the 911 lineage should be reason enough to make this car highly prized. Even more interesting though is its convertible configuration. We all know Porsche didn't actually build a 911 Cabriolet until the 1980s. Thanks to stricter convertible structure rules and desired structural rigidity, Porsche limited open-top production of its earliest 911s to the Targa body style. That doesn't mean it didn't explore the idea of building a Cabriolet though.
Chassis #13360 is the only open-top 901 Cabriolet prototype ever built, and one of very few 901 prototypes not to be destroyed or parted out. That this car had been shipped off to Karmann Coachworks to be converted to a cabriolet likely helped in its survival. Convincingly manufactured, the 901 Cabriolet still didn't pass muster with the Porsche board during its evaluation.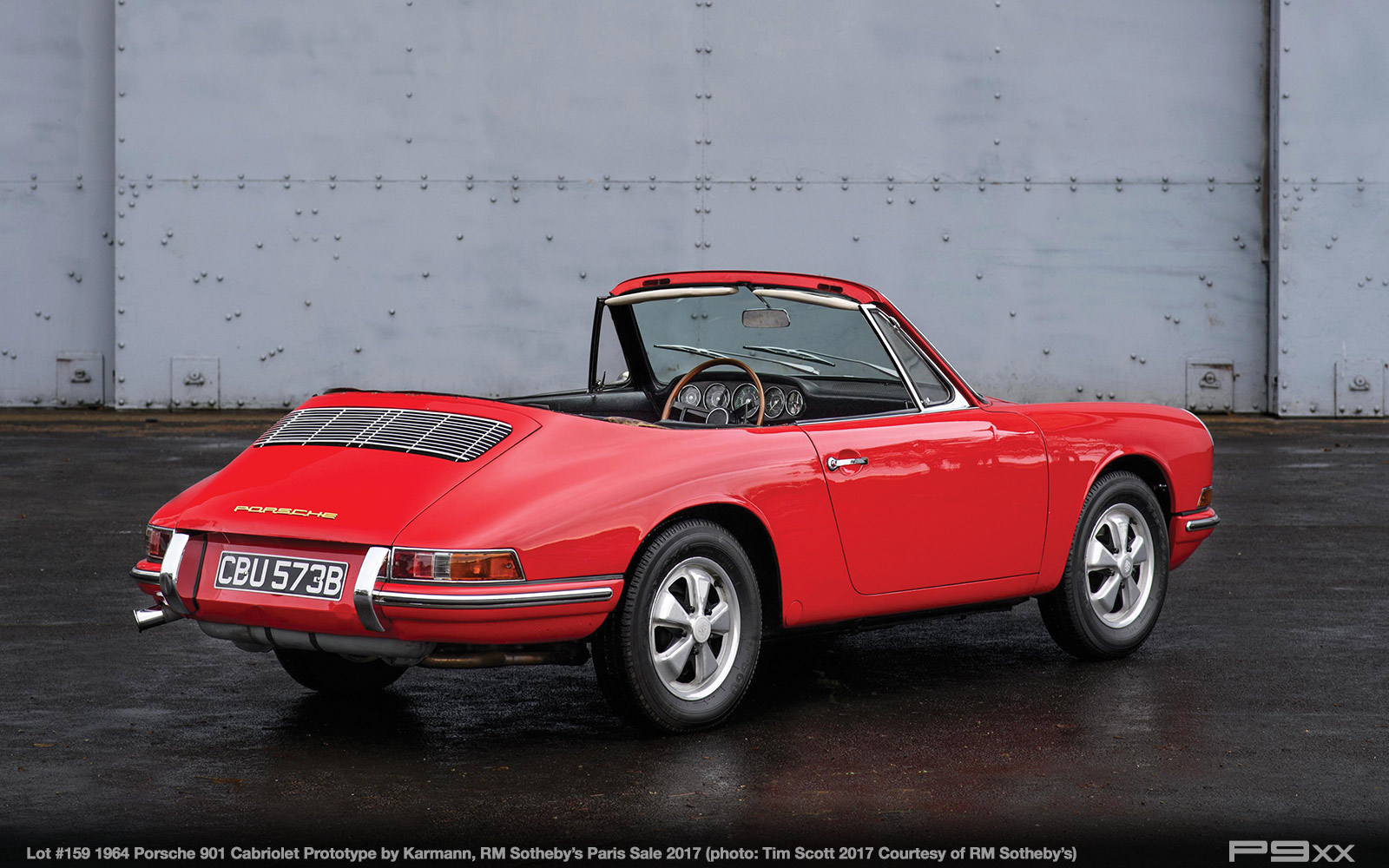 The prototype was put into storage, then sold to a collector in 1967. It later found its way to Myron Vernis, another collector known for his affinity for production prototypes. Vernis put the car back in working order during his tenure, and it's been largely unchanged ever since, even though it changed hands one more time before coming up for sale this year.
This car goes on sale February 8 in Paris at the RM Sotheby's sale that's part of the Retromobile vintage car week. More information on the RM Sotheby's 2017 Paris Sale can be found HERE. More photos plus a full description of the car provided by the auction house can be found below.
130 bhp, 1,991 cc SOHC air-cooled, horizontally opposed six-cylinder engine with Solex carburettors, five-speed manual transmission, independent front suspension with torsion bars and McPherson struts, independent rear suspension with torsion bars, trailing arms, and tubular shock absorbers; and four-wheel disc brakes. Wheelbase: 2,200 mm
The only known 901 cabriolet prototype
The oldest, unrestored Porsche 901
Largely original condition; documented history
Shown at the Pebble Beach Concours d'Elegance
Never before offered for public sale
FIRST, LAST, ONLY, AND ORIGINAL
In the world of landmark collector automobiles, the four most important words are first, last, only, and original. Offered here is one of the most significant examples in the long and brilliant history of Porsche's fabled 911 series, and one that meets all four of those criteria. Chassis number 13360 is the only open-top 901 cabriolet prototype ever built and the second-earliest surviving 901 (the car that would become the 911). That it exists at all today is largely due to good fortune, as almost all of the 13 factory 901 prototype coupes built in 1963 and 1964 were either destroyed or parted out as their usefulness passed.
A CABRIOLET AHEAD OF ITS TIME
This unique automobile opens a window into the minds of mid-1960s Porsche management, which desired to offer a successor to the well-appointed but expensive 356 C/SC cabriolet. Sales of the 356 cabriolet had fallen to just 16 percent of total production in 1964; by 1965, the final year of the 356, the ratio had fallen to just 1 in 20. Financially pressed, Porsche could not risk building a body style of the upcoming 901 that might not sell well.
By mid-1964, however, Porsche's sales team had already discerned rising demand for a new convertible from one very important market: the United States. The design team, once prepared to not build a convertible of the new model, now hurried back to the drawing board. Within a few short months, chassis number 13360, one of the 901 prototypes, had been shipped to Karosserie Karmann, which sliced away its roof and strengthened and reinforced the chassis. By early September, the 901 cabriolet prototype had returned to Porsche, where it underwent extensive factory testing.
With the 901 having been designed and engineered solely as a closed car, many problems soon became apparent, especially in regard to a properly functioning and weather-tight folding top. Faced with not enough time to make the 901 cabriolet workable for production, Porsche engineers instead turned to modifying a coupe with a strong roll-over hoop and removable roof and rear window panels—thus creating the Targa, launched in 1967 and soon one of Porsche's most popular offerings.
The prototype 901 cabriolet was covered up and put into storage. It would be another two decades before Porsche once again turned its mind to open skies and finally offered a true, completely open 911 cabriolet to buyers worldwide.
FROM STORAGE TO PEBBLE BEACH
In 1967, the prototype cabriolet was sold by Porsche to German collector and racing driver Manfred Freisinger, of Karlsruhe, after he worked out a deal with Porsche to save the unique prototype from being destroyed. The car then remained in Freisinger's shops for decades before coming to the attention of American enthusiast Myron Vernis. Mr Vernis is well known in the collector car community worldwide for his appreciation of 'orphan' and one-off automobiles, and the 901 cabriolet certainly met his criteria. In 2001, he succeeded in acquiring the unique Porsche from Mr Freisinger, in trade for a 356 B Carrera GS.
The cabriolet was fitted with a 2-litre flat-six, of the correct type with an early case number. Mr Vernis had this engine rebuilt and put the rest of the car's running gear into good operating order, but wisely elected to leave the body and interior as he found it, in the 'untouched' condition from the time at which Porsche abandoned the project. He drove the car periodically with his family and was invited to show it at the Pebble Beach Concours d'Elegance in 2013, as part of the celebration of the 911's 50th anniversary.
The following year, the prototype was sold to a British sports car enthusiast, who has similarly maintained this historically important Porsche as he purchased it, recognizing its unique character and place in the factory's history.
The car is offered in its original Signal Red paint, with a black leatherette interior, both of which show the wear of more than half a century. The seats, which may not be original, have inserts of houndstooth checked fabric. A wood veneer dashboard insert and a wood-rimmed steering wheel offer a warm touch to the otherwise Spartan and business-like interior. There are obvious clues that this was an experimental car, as the interior structure and windscreen header display a number of unused slots and holes, bare patches, and other items that were clearly part of the process of creating the folding top assembly. The early, narrow Fuchs alloy wheels are correct for the period, and the tail lamp assemblies are obviously fabricated pieces. The 901 is said to be an enjoyable driver, however, its 130-horsepower engine and four-wheel disc brakes being perfectly adequate to the task at hand.
Here is an opportunity to acquire a most unique and desirable early six-cylinder Porsche, the first, last, and only one of its kind in the world—and never before offered for public sale. It would be the crowning jewel for any serious Porsche collection.