Collectors take note, because it's not everyday that cars of this caliber come up for sale… even at a prestigious auction. Set to hit the block of RM Sotheby's Paris Sale during Retromobile week, the 917/10 marks a rare if expensive opportunity to net a serious piece of Porsche racing history.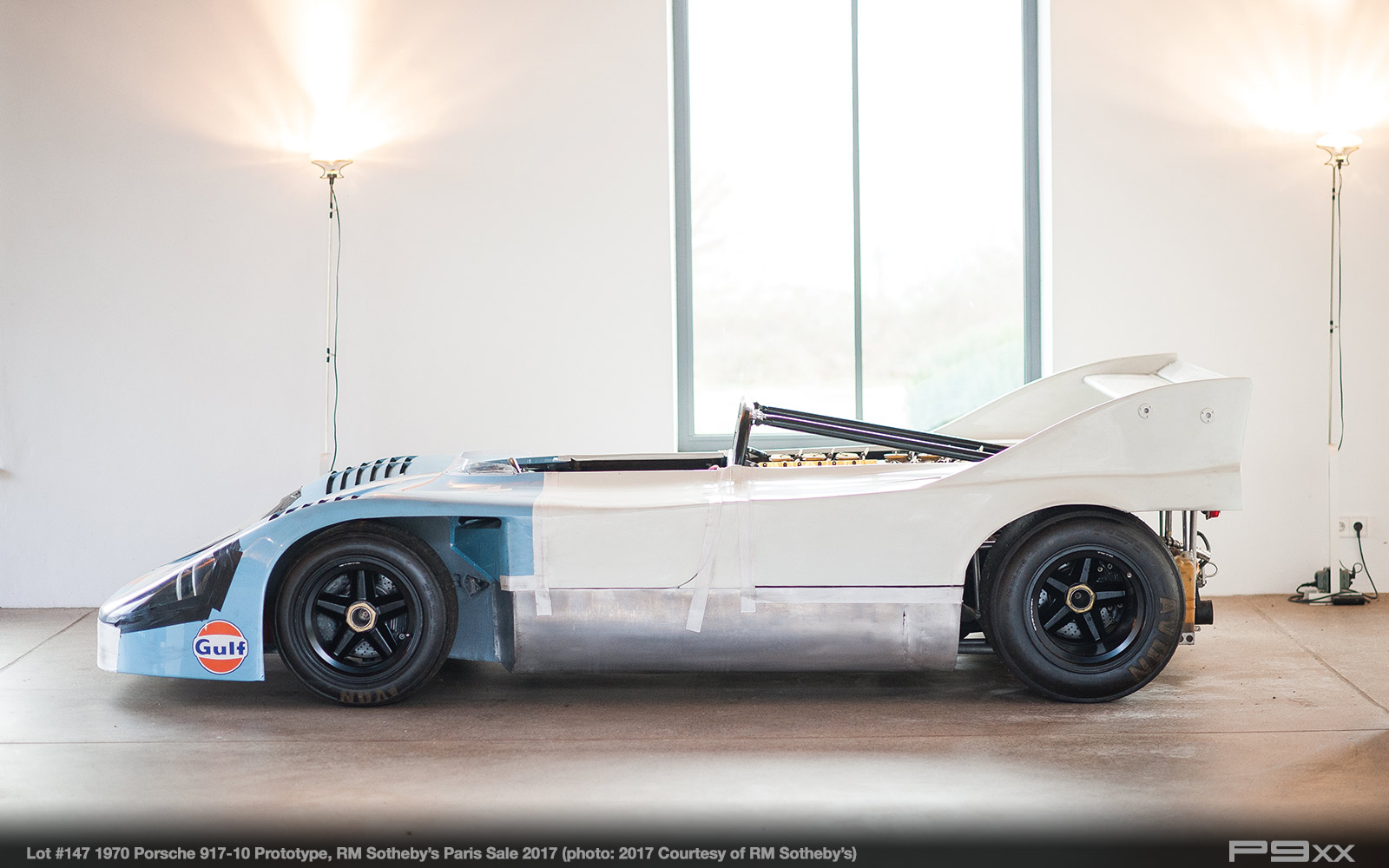 With regulations restricting the all-dominant 917 endurance cars on sports car tracks in Europe, Porsche turned their sites to American and the fast-paced Can Am series where engine regulations suited Porsche's horizontally opposed 12-cylinder engine.
The transition was far from easy mind you. For starters, the closed canopy 917 would have to change, with an open top design the most radical visual change. This car, chassis number 917/10-001 shows the earliest transition. Assembled in December of 1970, this prototype began wind tunnel testing in preparation for all-out assault on Can-Am and then-dominant McLaren.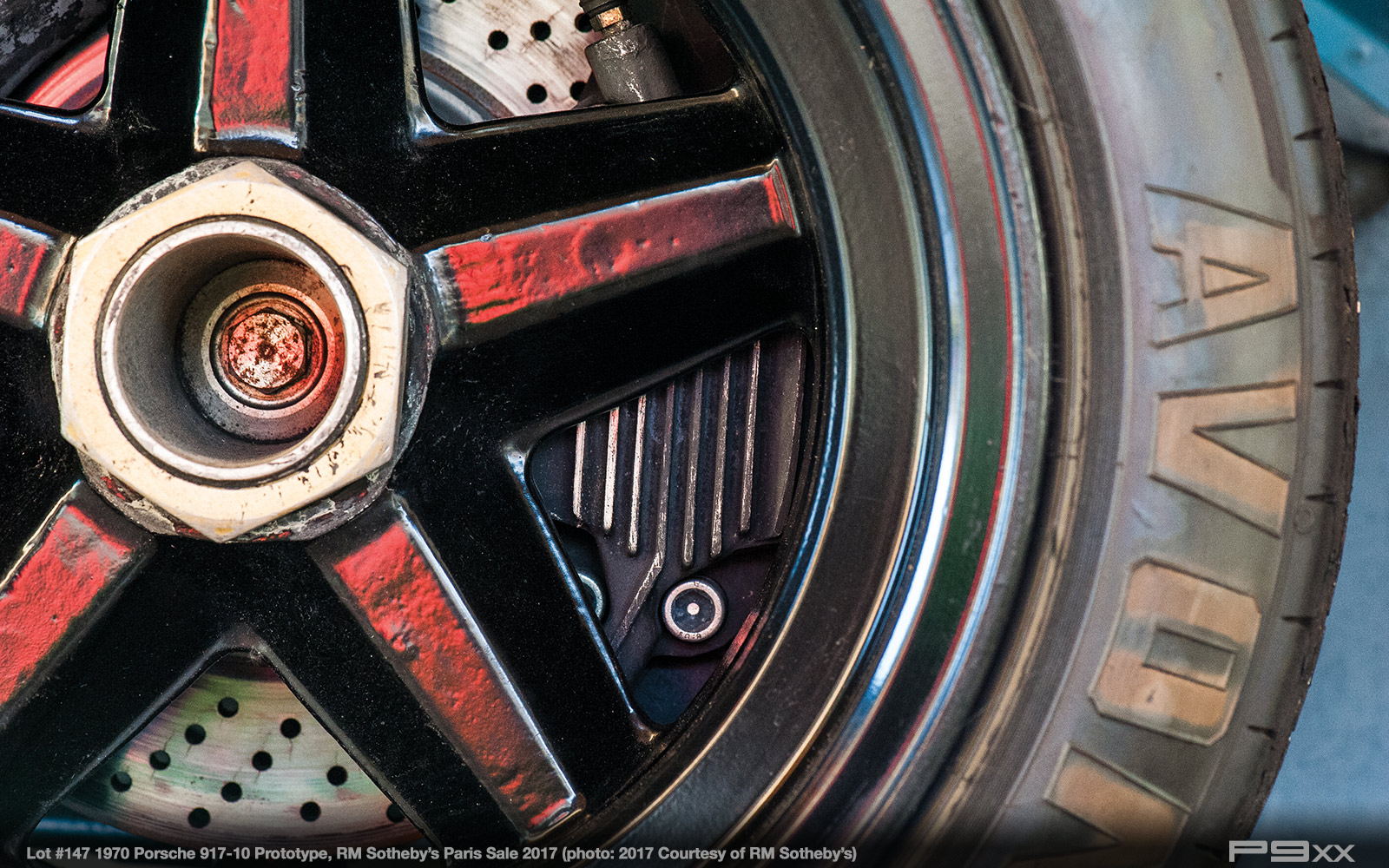 As you can see, the car's early prototype bodywork hardly matches and shows the patina of the countless R&D miles it was subjected to. It's a more conservative look as compared to the conception 917/10 models, much less the large wedge-winged 917/30s that would see production towards the end of the Can-Am run.
While visually nearly as subtle and practically as wingless as the early 917K, changing the 917 to Can-Am was mechanically anything but tame. Unlike Le Mans where displacement was being reigned back, Can-Am had few if any power restrictions. Pairing the flat-12 with turbos was called for, and over the next few years the Can-Am spec cars became the stuff of legends… and also incredibly hard to drive.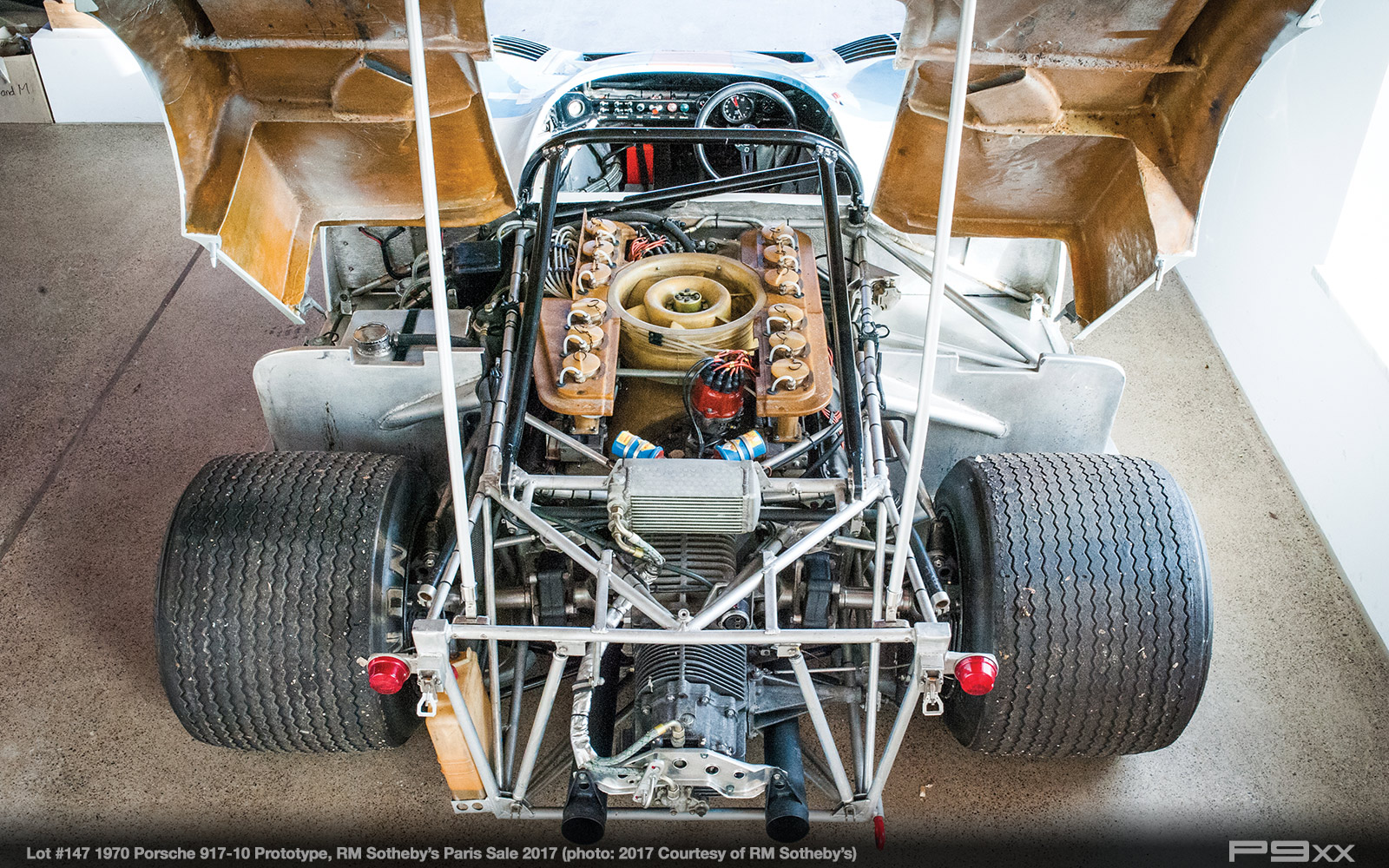 It's worth noting, this was well before factories held on to such historic cars for their own internal collections. Yes, that happened, but it's hard to imagine Porsche putting a 919 development mule out to a 'customer' much as they would a 991 GT3 RSR. This is now, and that was the 197o's though. Thusly, With chassis #917/10-001 was totally overhauled, rebuilt and sold to Willi Kauhsen ahead of the 1972 season.
In private hands during a much more pragmatic era in regards to use of such hardware, the car saw heavy use – first in Europe at Hockenheim, then on to Can-Am in America. It later ran in South America.
By 1973, Kauhsen had purchased a second new 917/10 (917/10-15) and was renting out 001 to other drivers for races in both Europe and America. By the end of the 1974 season, the car was retired and mothballed until 1997.
Resurfacing nearly ten years ago, the car underwent a full restoration and was used in exhibition running in racing trim and Bosch livery. As cars of this nature are want to do, it got a second restoration and put to Gulf livery in 2014. Even more recently, the car underwent yet another transition, changing it to its current 'period in time' look, representing how the car appeared when it saw wind tunnel testing in Weissach shortly after it was originally assembled.
More information on the RM Sotheby's 2017 Paris Sale can be found HERE. More photos plus a full description of the car provided by the auction house can be found below.
600+ bhp, 4,998 cc DOHC air-cooled horizontally opposed 12-cylinder engine with Bosch mechanical fuel injection, five-speed manual transaxle with limited-slip, front and rear independent suspension, and front and rear ventilated disc brakes. Wheelbase: 2,300 mm
The first 917 Can Am Spyder
First of only thirteen 917/10 chassis constructed
The only 917 of all variants with chassis number '001' in private ownership
Factory test and development chassis
Notable competition history
Only four private owners from new with single ownership between 1972 and 2008
Comprehensively documented with period Wagen Pass and current FIA HTP
The Porsche 917 has been called the 'greatest racing car of the 20th century', and small wonder: its various iterations proved successful in the World Manufacturers' Championship—giving Porsche its first overall victory at Le Mans—and led to eventual domination of the Canadian-American Challenge series.
Offered here is the prototype 917/10 Spyder. It is impossible to overstate the role this chassis played in helping Porsche capture the 1972 Can Am Driver's Championship.
Chassis number 917/10-001 was completed on 3 December 1970 and, like the 917 PA, closely resembled the 908/3. In early 1971, this prototype began wind-tunnel development at Porsche's Weissach R&D facility and ran up countless test miles—including 23 consecutive days on the Weissach skidpad. A 16-month on-track testing program saw such top-level drivers as Willi Kauhsen, Jo Siffert, Mark Donohue, and the factory's chief test pilot, Herrman Mimler, recording laps at Weissach, Hockenheim, and the Nürburgring. This chassis also served as the test-bed for the turbocharged flat-12s that would come to dominate Group 7 Prototype racing. During that period, the car was fitted with many different engine configurations, including a 4.5-litre Turbo, a 5-litre naturally aspirated to a 5-litre Turbo.
In the course of its wind-tunnel testing, 917/10-001 was fitted with five different body designs. The first was eventually installed on Jo Siffert's 917/10-002, the STP-backed Spyder that he drove in the 1971 Can Am series. The second configuration was with louvers over the front wheels, very angular design, the third one became the 'customer-spec' body with a rounded nose and short rear wing overhang, and the fourth was the very effective 'shovel-nose' with an extended rear wing. After the 1971 Le Mans race, another configuration was with the nose of the #18 Gulf-sponsored Rodriguez/Oliver 917 langheck coupé that was fitted to this chassis for additional wind-tunnel experiments.
In October of 1972, this chassis was completely rebuilt and sold to Willi Kauhsen. Kauhsen fitted 917/10-001 with a 'customer-spec' nose section and entered it in the Hockenheim Interserie, where he finished 2nd. Then, after installing a new 'shovel' nose, Kauhsen brought 917/10-001 to America for the Laguna Seca Can Am race but retired with a blown turbo. At Riverside, Kauhsen finished 8th after running out of fuel late in the race. The Fittipaldi brothers then invited Kauhsen to bring the car to South America that December to run the first two rounds of the Coppa Brazil, a four-race series organized by Antonio Carlos Avallone at the Interlagos circuit. Kauhsen won the first race but retired from the second a week later.
For the 1973 season, Kauhsen bought a brand-new car, 917/10-015, and put both cars to use. When racing 015, he would rent out 917/10-001 to other drivers. In May 1973, the car appeared at Imola, where it was entered by Bobby Rinzler, who put Charlie Kemp behind the wheel. After a strong start, the car did not finish. Next came Silverstone, where Gunther Stekkonig scored a good 6th-place result. In June, Kauhsen finished 4th at the Norisring. Another trip to the United States saw Kauhsen enter the Mid-Ohio round of the Can Am Championship (retired) and then bring 917/10-001 back to Europe for Hockenheim's Interserie races, where Wilson Fittipaldi practiced in 917/10-001 but raced chassis 015. Driving 917/10-001, Kauhsen finished 6th in the first contest and won the second, earning a combined 4th overall.
Kauhsen then parked 917/10-001 until the following June, when it was entered in the Nürburgring 300 KM for Emerson Fittipaldi, who wanted to gain more track experience at the 'Ring' prior to the German Grand Prix. Although Fittipaldi qualified on pole, he fell back to 6th by the end of the race, which ran in poor weather conditions. At season's end, Kauhsen retired 917/10-001 and put it into storage, where it remained until 1997. A two-year restoration subsequently brought the car back to its yellow and red Bosch livery.
Beginning in 2000, Kauhsen demonstrated this iconic machine at numerous historic racing events, including Goodwood, the Nürburgring, Daytona, and Brands Hatch. It was also displayed at the Stavelot Museum at Spa. Although it was offered for sale in 2006, it did not change hands until 2008, when Dr Ulrich Schumacher acquired it. Schumacher demonstrated 917/10-001 frequently at Hockenheim, Goodwood, and at Austria's Ennstal Classic, where former Ferrari Grand Prix driver Gerhard Berger took the wheel. It was sold again in 2012, and its new owner displayed the car at the St. Raphael Concours d'Elegance, where it was selected 'Best Race Car'. Chassis 917/10-001 then underwent another full restoration, completed in late 2014. It was then refinished in Gulf Oil livery and with the guidance of former factory racing driver Jürgen Barth, fitted with a normally aspirated, 5-litre, 12-cylinder boxer racing engine number 917-089, good for an estimated 630 brake horsepower at 8,300 rpm.
Today, this unique and wonderful Spyder is presented as a 'point-in-time' restoration, replicating 917/10-001's return to the Weissach wind tunnel in 1971. It retains its original tube frame and is fitted with the #18 Gulf-liveried Le Mans nose. The yellow Bosch livery Shovel-nose and matching rear bonnet are coming with the car. Further, it is supplied with two larger folios containing historical photographs and copies of magazine articles and other material from the Kauhsen archive, its ONS Wagenpass, a comprehensive report by Jürgen Barth, and a current FIA Historic Technical Passport.
With a known history from new, this important Porsche 917/10 prototype would be an ideal weapon with which to contest prestigious vintage endurance racing events.