Just when you thought you'd seen or heard it all in regards to Porsche's 70th birthday celebration, Stuttgart pulls the wraps off another gift. Yes, we've already had the 919 Evo breaking lap records, the 911 Speedster, the presence at Amelia Island, the Goodwood Festival of Speed, the plans for Monterey and of course Rennsport Reunion… and the list goes on. Add one more very unique project to the year's festivities, and it's dubbed Project Gold.
Whether or not Porsche was inspired by the likes of the recently launched Singer DLS or the modern reinterpretation of the Ruf Yellowbird may be debated, but there's no debate that Porsche today teased its own reimagined air-cooled 911 with this latest venture.
Thus far, what we know comes from a 40-some second long video teaser dubbed "The Vision". From there we can tell that Porsche is building this car from what appears to be the body of a type 993 911 Turbo S surmised in part due to the sloped-back headlights and the smoothed air intakes on the wide rear haunches of the car seen in the video.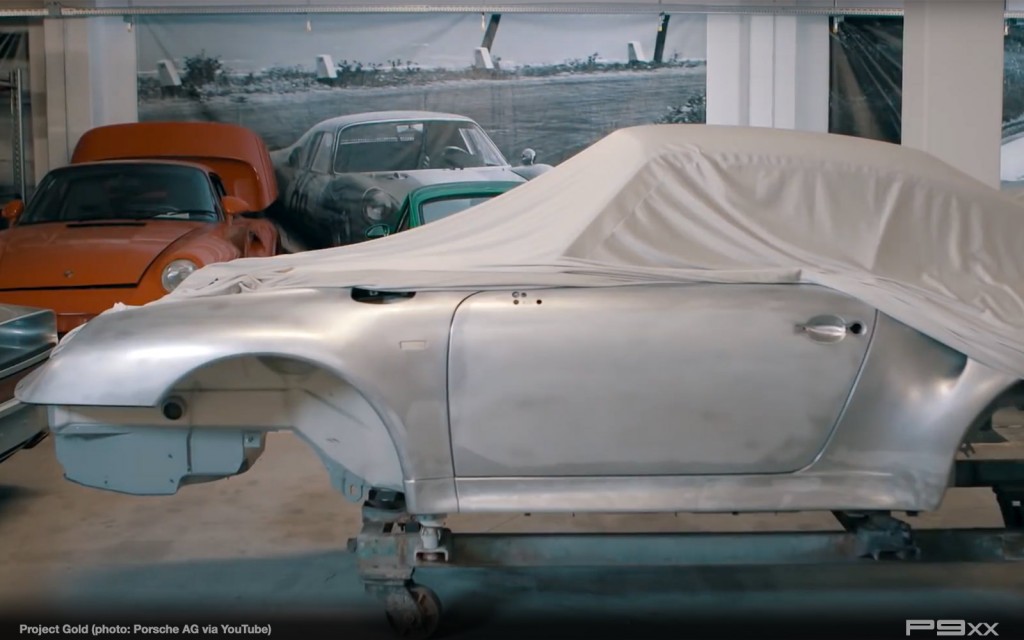 Narration in the video short reveals that the body is just the starting point for a project that will ultimately become a "truly unique piece, assembled in the Porsche Classic workshop and individualized by the sports car manufacturer's designers".
There are plenty of details that could be easter eggs or hints in this very short video. For instance, there's no shortage of 959s in the background of the bit that was most likely shot in the Porsche Classic storage warehouse. In a sketch of the car, we can see a blatant 993 shape with front corner brake vents seen on early 993 cars. Less familiar are details such as what appear to be an all-new and much more flush and simply designed door handle that we can see being test-fit into place.
Porsche plans to reveal more on a weekly basis, promising more episodes such as "Laquer and laser," "Seam and stitch," "Protect and preserve," "Engine and electrics," followed with an online reveal August 24 (the same day as The Quail during Monterey Car Week). We hear Porsche will show the car for the first time to the public on September 27 at Rennsport Reunion VI, and then auction it off as one of 70 lots to be sold at the RM Sotheby's Porsche 70th Anniversary Sale that will take place at the Porsche Experience Center in Atlanta.
Hat tip to AutoBlog for breaking the story.