LONDON (12 April, 2017) – RM Sotheby's, the official auction house of the esteemed Concorso d'Eleganza Villa d'Este, is thrilled to announce that it will auction what many consider the so-called 'holy trinity' of modern hypercars at its upcoming Villa Erba sale, 27 May, on the shores of Lake Como, Italy. Revving up to go under the hammer at next month's sale is a 'Paint to Sample' Porsche 918 Spyder featuring the highly desirable Weissach package, a very rare road-going McLaren P1 GTR, and an 'as new' Ferrari LaFerrari, sporting just 180 kilometres. RM Sotheby's is delighted to become the very first auction house to present this trio of ultimate hypercars in a single sale.
Peter Wallman, Managing Director of RM Sotheby's Europe, says: "When these three cars broke onto the scene they completely changed the way we viewed modern hypercars and indeed hybrid technology. From the P1 GTR, the ultimate P1 in road-specification, to the Porsche's tremendous all-wheel-drive traction, and the LaFerrari's incredible styling and outright speed, each is special in its own way. I'm delighted that RM Sotheby's is the first auction house to assemble all three in a single sale, and can't wait to see them take centre stage at Villa Erba next month."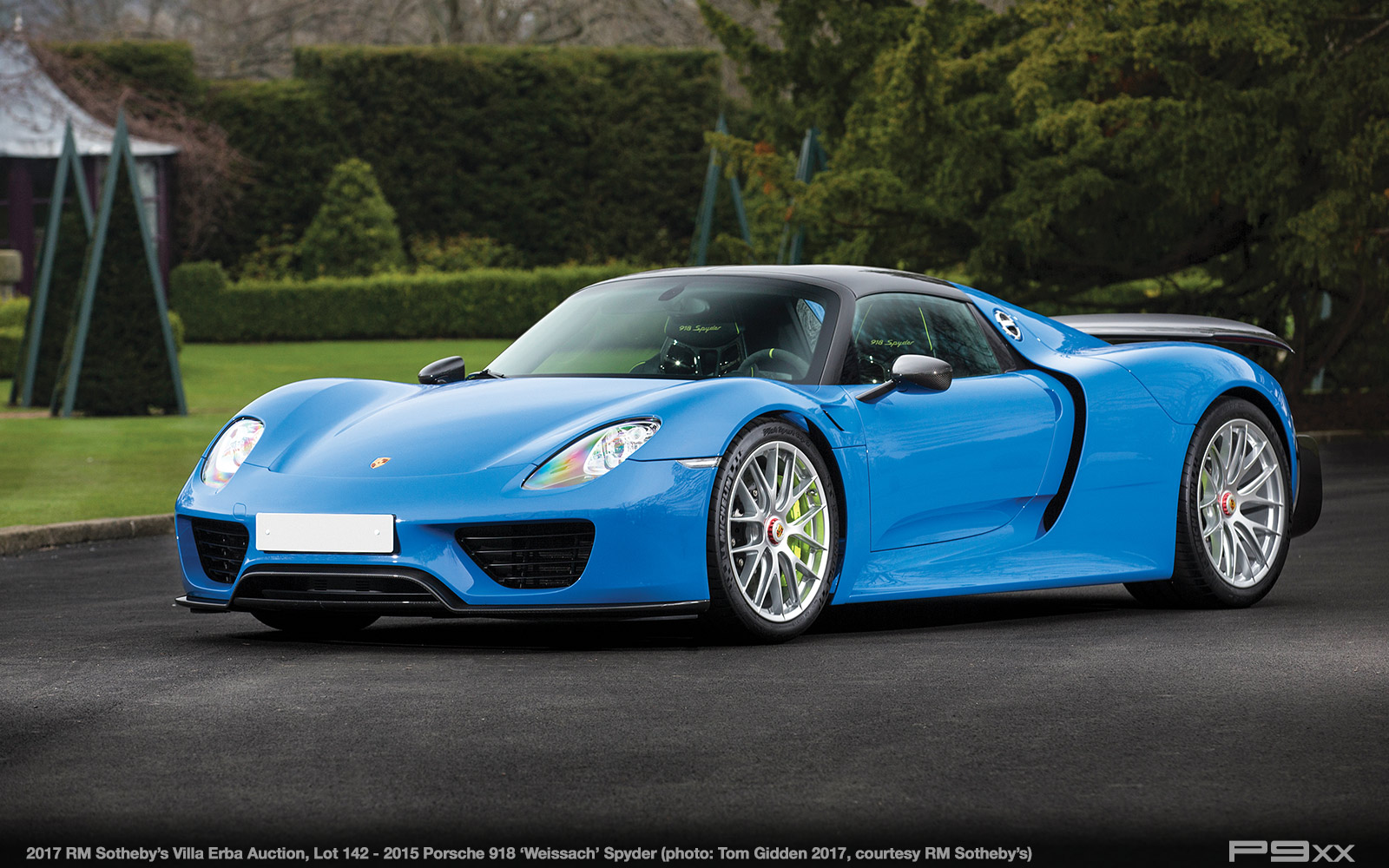 Unveiled at the 2013 Paris Motor Show, the McLaren P1 was the first hypercar of its time to be showcased with a twin-turbo engine with an electric motor bolted on for an extra 177bhp, not that it needed it—the standard 3.8-litre engine produced 727bhp on its own. The P1 GTR—a stripped out, track-only version of the P1 introduced to celebrate the 20th anniversary of the company's ground-breaking victory at Le Mans—took it one step further, offering an incredible 986bhp on tap. This exclusive model was only made available to existing P1 owners, with just 58 units of the coveted GTR version produced in total. Rare to start with, the example secured for RM's Villa Erba sale—a 2015 McLaren P1 GTR—is further set apart as one of very few converted to road legal specification by McLaren specialists, Lanzante Motorsport. Finished in metallic black with black wheels, it is offered out of single-ownership and comes to auction presented in 'as new' condition, having covered just 360 kilometres (Est. €3.200.000 -€3.600.000).
Wallman adds, "It's very rare that such a low-mileage and rare iteration of one of the most exciting modern-day hypercars is offered for public sale, and we anticipate strong interest in its offering."
The hypercar line-up also includes a 2015 Porsche 918 'Weissach' Spyder, the only example produced in Porsche's historic 'Paint to Sample' Arrow Blue. As its name suggests, this car is fitted with the desirable Weissach package, a €72.000 cost option, which reduced the weight of the standard car by 45 kg to further its ludicrous performance of 0-100 km/h in just 2.6 seconds onwards to a top speed of 345 km/h. As part of this package, many leather interior parts were swapped for lightweight Alcantara, super lightweight magnesium wheels were fitted, and carbon fibre replaced many aluminum components as well as the windscreen frame, roof, rear wings and rear-view mirror. This example also benefits from a Front Axle Lift System, painted key and 918 photobook, and comes to market following a recent service that saw new front tyres and Weissach-specific brake pads fitted. Also offered from single-ownership, it has been well-maintained and shows just 11,000 kilometres on the clock (Est. €1.200.000 – €1.400.000).
The trio of hypercars set for Villa Erba is rounded out by the previously announced 2014 Ferrari LaFerrari. Having covered a mere 180 kilometres since new, it joins the sale with the highly desirable, factory-fitted nose lift kit, brake calipers and benefits from being covered with anti-stone chipping film to keep it in pristine condition (Est. €2.650.00 – €3.200.000).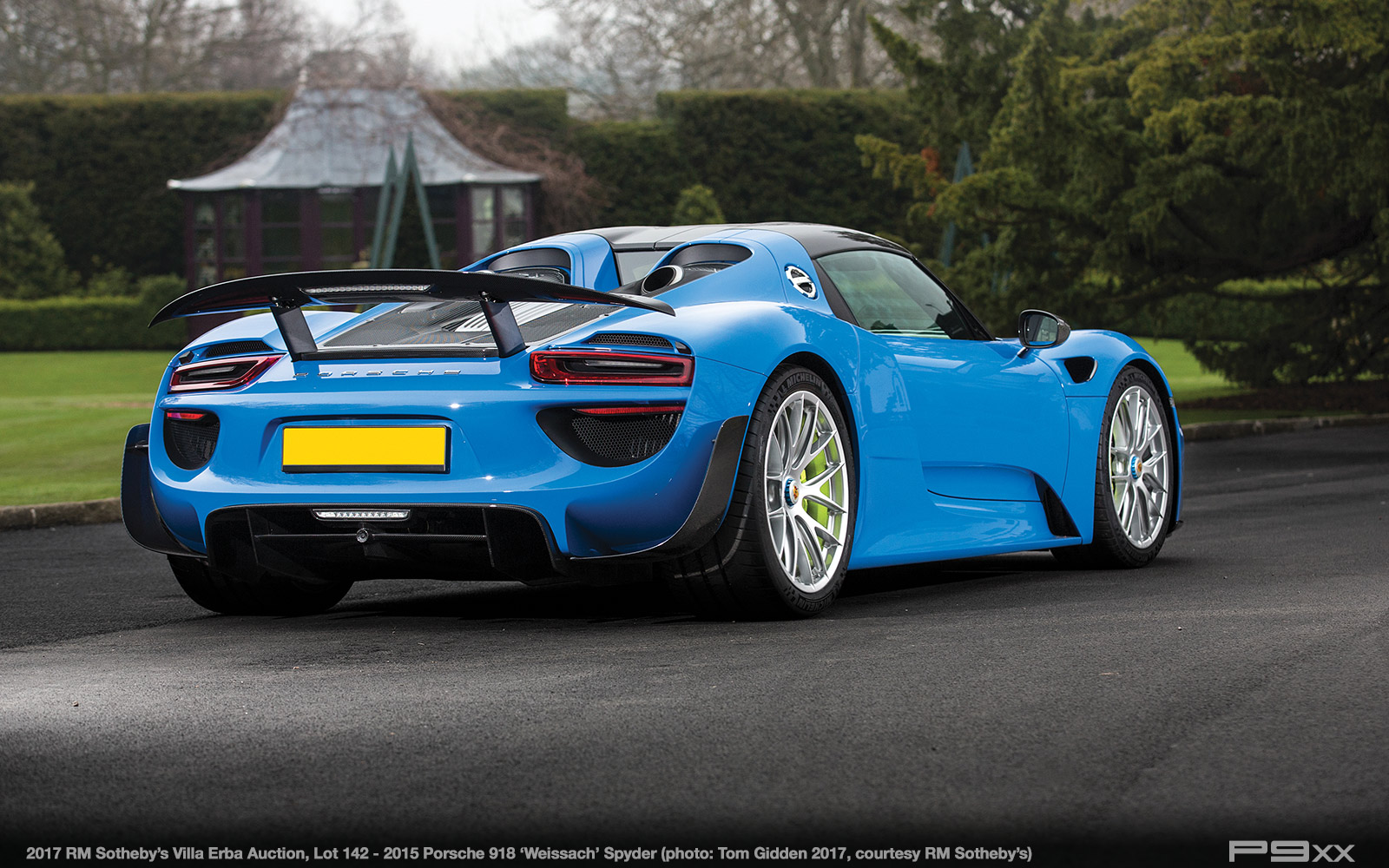 The official auction house of the Concorso d'Eleganza Villa d'Este, RM Sotheby's Villa Erba sale will present a carefully curated roster of just 50 of the world's finest automobiles, along with a superb selection of motorcycles. A public preview of all auction lots will be held on the grounds of Villa Erba in Cernobbio (Lake Como), Italy, on 26 May, ahead of the auction on 27 May.
For further information, or to view a frequently updated list of entries, please visit www.rmsothebys.com or call RM Sotheby's London office at +44 (0) 20 7851 7070.
More photos of Porsches available at the RM Sotheby's Villa Erba Auction HERE.