Romain Dumas brought the curtain down on the 2018 Goodwood Festival of Speed presented by Mastercard. The Frenchman emerged victorious following a thrilling Top Ten Shootout, and mustered the third fastest ascent of the Hill in the Festival's 25-year history. The former Le Mans winner managed a scarcely-believable time of 43.86sec aboard the four-wheel drive Volkswagen I.D R Pikes Peak hillclimber, marking the first time an electric car has claimed the prize.
However, his wasn't the only car without an internal combustion engine to star. Veteran GT driver Peter Dumbreck guided the electric, all-wheel drive NIO EP9 hypercar to a time of 44.32sec, despite putting two wheels on the grass. The Scot was travelling at 118mph before he arrived at Molecomb Corner!
Third place in the final tally, and first driver home using a car home using piston power, was Jorg Weidinger aboard Klaus Wohlfarth's Judd V8-engined BMW E36. The screaming coupé crossed the timing beam after just 46.43sec. Not as fast, but impressing greatly, was Mike Skinner in his V8 Toyota NASCAR pick-up. The American blasted across the line in 48.25sec, his speed at the finish being a belief-beggaring 140.3mph.
British teenage sensation, Billy Monger, defied his disabilities to record a time of 48.31 in his two-litre Carlin F3 car. It was a remarkable showing for the Festival debutante, just a year on from suffering horrific injuries in a racing accident which resulted in him losing his legs.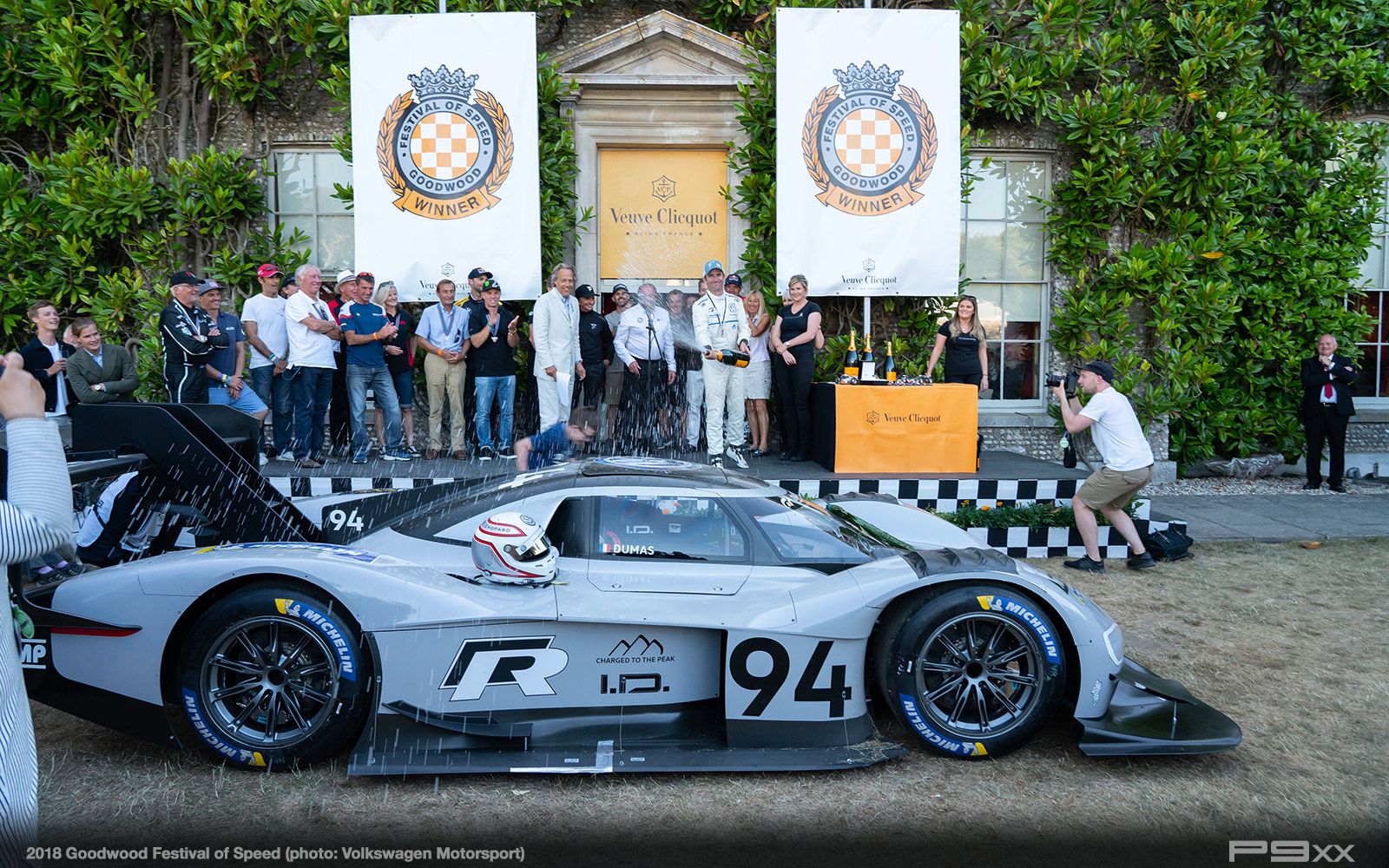 In the concurrent Shoot Out for current British Touring Car Competitors, 2013 Champion and Goodwood regular Andrew Jordan was fastest in his BMW 125i M Sport. The former rallycross driver was comfortably the quickest among his contemporaries and set a time of 52.58sec.
A delighted Jordan said later: "I said to the team that 52.5 was possible. We all make out that it's just a bit of fun but, of course, we all take it seriously."
After another hugely successful Festival of Speed, Goodwood now looks forward to the Revival Meeting on 7-9 September.
About Goodwood Festival of Speed
Staged every summer since 1993, the Goodwood Festival of Speed presented by MasterCard is the world's largest automotive garden party; set against the spectacular backdrop of Goodwood House in West Sussex, UK. Over 600 cars and motorcycles spanning the phenomenal history of motoring and motor sport take part with some of the most legendary figures from the sport as well as international celebrities regularly attending. Highlights will include the FoS Future Lab, Forest Rally Stage, Michelin Supercar Paddock, Michelin Supercar Run, F1 paddock, Drivers' Club, GAS Arena, Cartier Style et Luxe Concours d'Elegance, Aviation Exhibition and Bonhams Auction.
For all Media enquiries, please contact Laura Gilbert-Burke, Tom Lynch or Abbie Hansford at the Goodwood Motor Sport Press Office:
About Mastercard
Mastercard (NYSE: MA), www.mastercard.com,is a technology company in the global payments industry. We operate the world's fastest payments processing network, connecting consumers, financial institutions, merchants, governments and businesses in more than 210 countries and territories. Mastercard's products and solutions make everyday commerce activities – such as shopping, traveling, running a business and managing finances – easier, more secure and more efficient for everyone. Follow us on Twitter @MastercardUKBiz, join the discussion on the Cashless Pioneers Blog and subscribe for the latest news on the Engagement Bureau.
Goodwood Motor Sport on social media:
YouTube: http://youtube.com/goodwoodtv
Facebook: http://www.facebook.com/goodwoodrrc
Twitter: http://twitter.com/goodwoodrrc