Patrick Long and the crew at Luftgekühlt have finally announced their 2018 event's location. As power Lufters will tell you, this prestigious Porsche gathering tends to move around. For this year, the gathering will take place at Ganahl Lumber Company in Torrance, CA.
New for 2018 will be integration of Luftgekühlt with the Petersen Automotive Museum's The Porsche Effect display. A special V.I.P. event is planned at Petersen as part of the overall Luft week.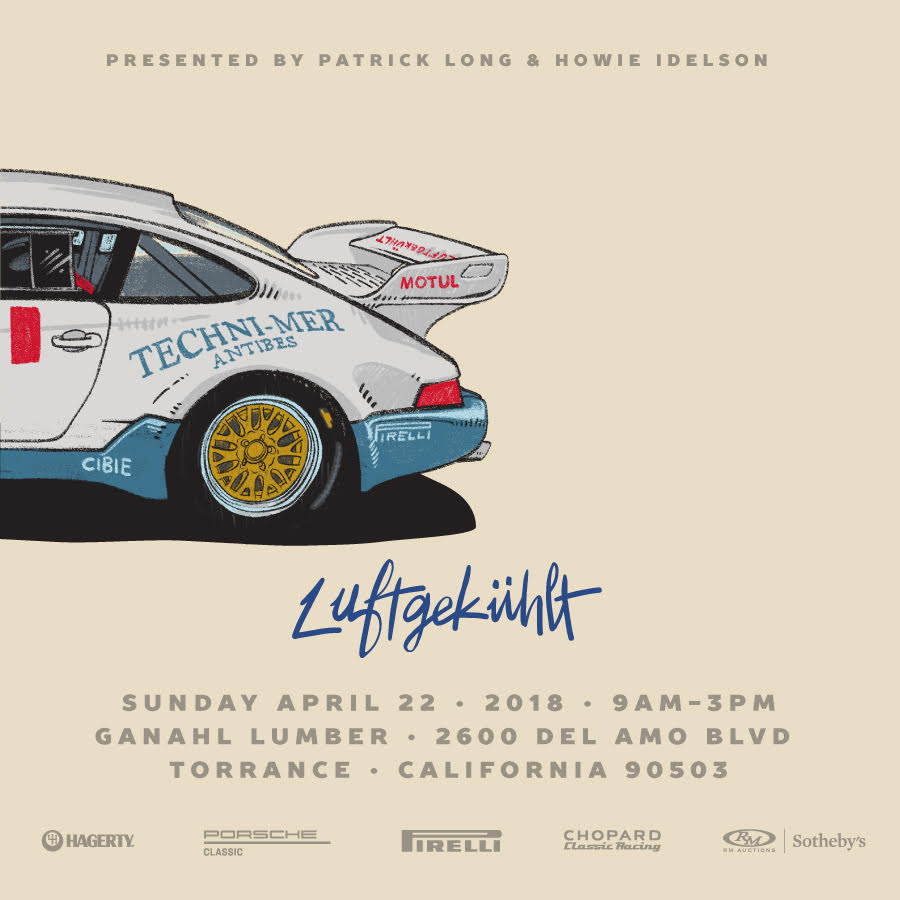 Check out more information in the official event press release below.
PRESS RELEASE: LUFT 5 VENUE ANNOUNCED
[source: Luftgekühlt]
This year's venue will be the recently opened Ganahl Lumber Company South Bay at 2600 Del Amo Blvd in Torrance, CA. This 16+ acre facility will perfectly frame the hundreds of air-cooled Porsches our attendees will drive through the gleaming gates.
Porsche history buffs will appreciate the relevance of the venue, which is owned by California's oldest lumber company, dating back to 1884 when Austrian immigrants Christian and Frank Ganahl moved to Los Angeles.
Air-cooled parking is sold out for Luft 5, but General Admission tickets are still available, at http://luft5.eventbrite.com
Luft x Petersen
To celebrate Luft 5 and the 30th anniversary of the 964, the Petersen Automotive Museum will host a ticketed event on the evening of Friday, April 20. This indoor/outdoor event will feature a focused group of air-cooled Porsches, a panel discussion and food and beverages.
Tickets are very limited. Purchase tickets here.
Luft x Malle London
In collaboration with Malle London, we developed a selection of travel gear, designed for everything vintage Porsches and modern airports can throw at a person, including a travel blanket, driver's pouch, tool roll and a weekender bag.
The perfect "getaway bag" is based on Malle's best-selling Expedition Bruno Weekender and features a roll-top opening that enables it to expand and contract in size and maintain absolute protection from the elements. This lightweight shoulder bag is designed to carry daily/travel essentials within 5 interior pockets, with interior felt padding on both sides and a padded laptop pocket.