While Monterey may be gargantuan when it comes to the Porsche or greater automotive hobby, Amelia Island is quickly becoming a can't miss for Porsche enthusiasts world round. Festivals of Speed, a local series of Florida-based events catering to the luxury car lifestyle, has added Porsche as a focus for all its events this season. That includes their Amelia Island Concours weekend mainstay.
The Festivals of Speed event during Amelia Island Concours week will be held at the Omni Amelia Island Plantation Resort. In addition to the main event held Saturday March 9th from 8-10 AM, several other Festivals of Speed support activities are also planned. Further, the event has established a block of rooms at the Omni Amelia Island for its guests. Information on all of the events and the room block can be found via their website FestivalsOfSpeed.com.
It is Porsche's 70th Anniversary this year, and Festivals of Speed has announced they'll be celebrating the milestone at all their events in 2018. This will include special perks provided to those who display their Porsche cars at the event. This includes a free Porsche hardcover book, amongst other things, for Porsche owners displaying their cars.
A call to Porsche owners isn't the only focus. Festivals of Speed has also confirmed several exceptional Porsche highlights that will be making the rounds at all their events. These include a former Derek Bell Miller High Life 962 and a 993 GT2 Evo, one of only eleven built by the factory.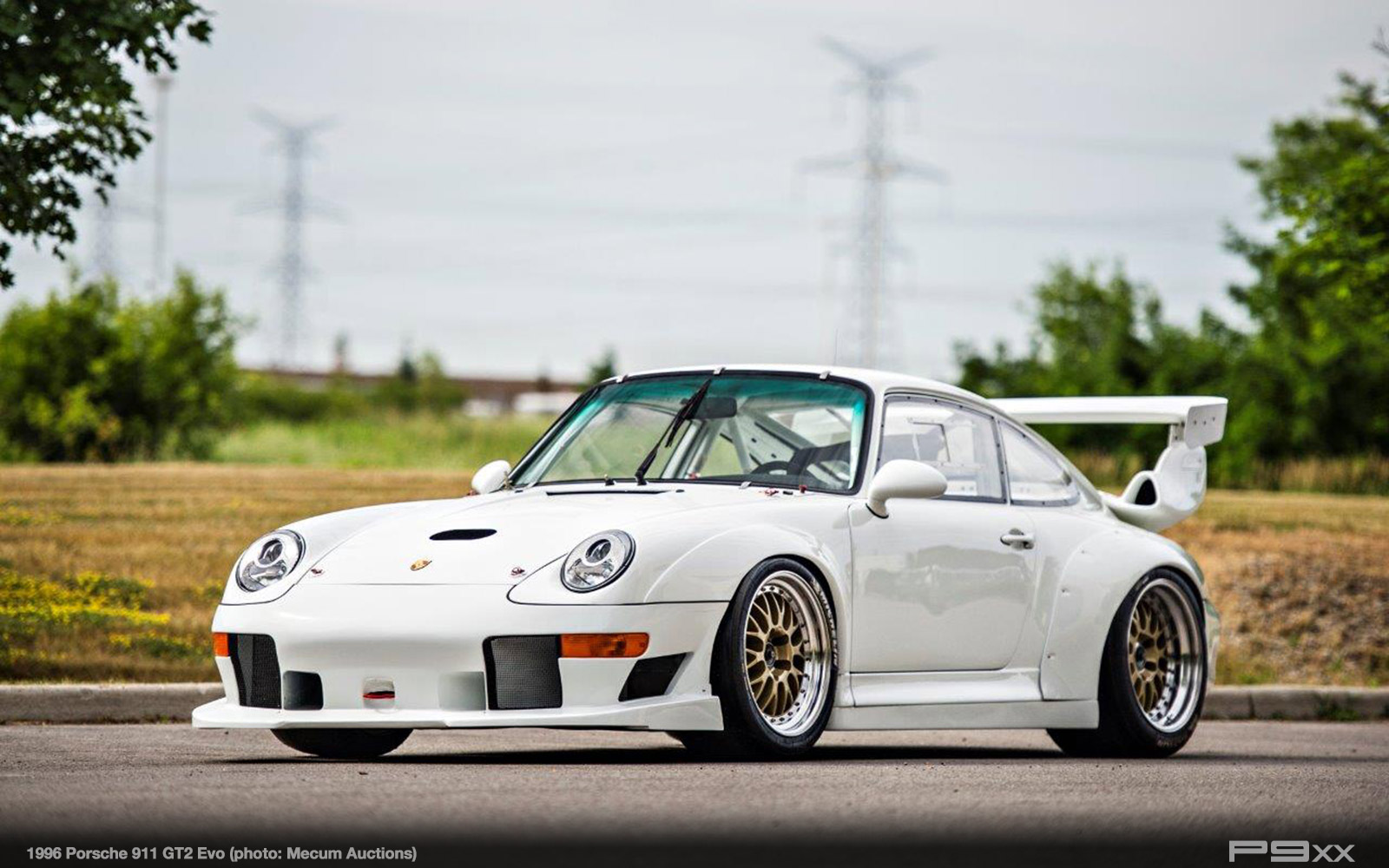 1996 Porsche 911 GT2 EVO
Porsche responded to the reorganization of international GT racing with a series of homologation specials beginning with the naturally aspirated 911 RS and culminating in the GT2 Evo. The lightweight RS set the basic template, using a non-turbo air-cooled flat-6 punched out to 3.8L and rated at 300 HP, bolt-on Turbo-style wheel-arch flares, larger brake discs clamped by 4-piston calipers and adjustable front and rear anti-roll bars. More obviously equipped for the track, the RSR incorporated a full roll cage, a front strut brace, an adjustable tail spoiler, 6-point harnesses and a fire extinguisher. The subsequent GT2 combined the RS/RSR's purity of purpose with a tuned version of the 993 Turbo's twin-turbocharged engine rated at 444 HP. Essentially a street legal race car, the GT2 sported an aggressive-looking front spoiler with upturned side winglets, wider bolt-on wheel flares and a huge rear spoiler with integrated air scoops. Using 2-wheel drive instead of the production Turbo's all-wheel system shaved even more weight, resulting in a top speed of almost 190 MPH and road-holding that bordered on the supernatural. This exceptionally rare one-owner 1996 Porsche 911 GT2 Evo represented the top specification ever produced for any air-cooled Porsche.
Designed to compete in FIA GT1, it incorporated a twin turbocharged 3.6L flat-6 engine rated at a full 600 HP and 490 lb-ft of torque. Porsche widened the rear fender extensions to cover wider modular wheels and added a new front spoiler with inlets for oil and brake cooling. A second deck appeared on the already outlandish rear spoiler, which could be mounted higher in the air stream for added downforce. Alas, by then the competition in GT1 had already left the Evo behind. Only 11 were ever built before Porsche moved onto the 996, making these cars among the rarest in the 911 racing lineage. With approximately 7,000 kilometers on the odometer, this GT2 Evo is exactly as it left the factory, an artifact from one of the most exciting periods in Porsche's racing history.
In the early '90s, Porsche was racing in various GT2 competitions using its 993-series 911 GT2 race car. However, the automaker was in need of something more extreme to race in GT1 events. Thus, the 911 GT2 Evo was born, and for homologation purposes some road-going examples were required. But only 11 of these homologation specials were built in 1996 as Porsche that year unveiled the new 996-series 911 GT1.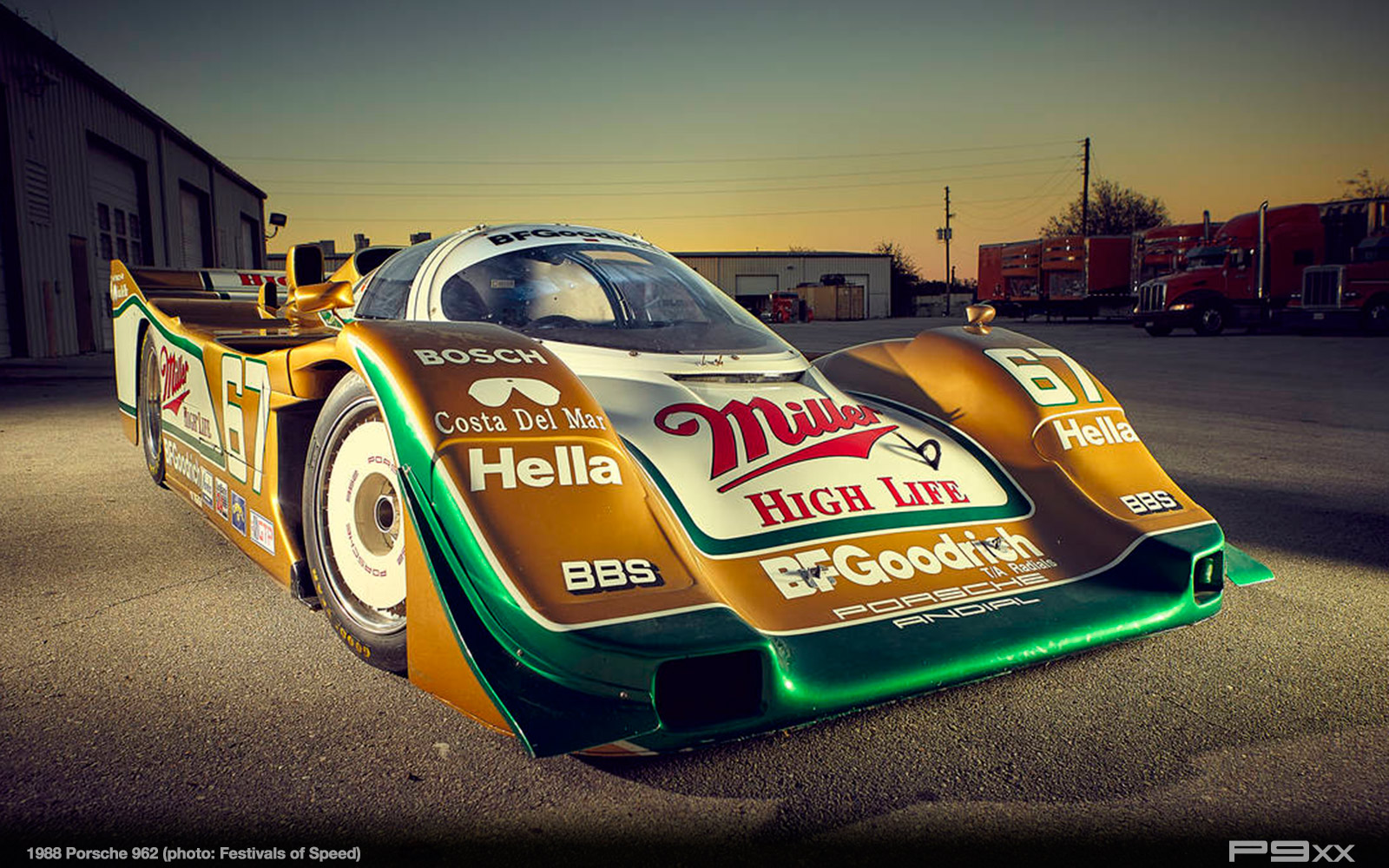 1988 Porsche 962
Universally acknowledged as the world's fastest Porsche 962 in the era, 1988/89 PORSCHE 962 Chassis number: 962-108 CO2 Miller High Life & B.F Goodrich car is a car of iconic status. This Porsche 962 is without a doubt one of the most iconic of the era with a livery that is instantly recognizable. Driver Derek Bell has said it is his favorite Group C Porsche and it was this exact car that took him to his final 24-hour international race win and it marked the 50th win for the 962 series of cars. The car was the overall winner of the 1989 Daytona 24 hours and was second in the 1988 Daytona race. It also won the 1989 Palm Beach Grand Prix and the 1989 Porsche Cup USA. Festivals of Speed partner and car owner Mike Flynn had this to say…" This 962 represents the pinnacle of success in an era that produced some of the finest cars and drivers the world has ever seen. We are honored to create a special display for it within these prestigious events…" The car was sponsored by Miller and BF Goodrich and campaigned by Jim Busby Racing. It had 11 top-five qualifying runs and 5 podium finishes during the 1988-89 seasons. It was driven by Derek Bell, Bob Wolleck, John Andretti, Jim Busby, Mauro Baldi, Jochen Mass, Brian Redman and Daron Brassfield and it was retired in 1989.
When asked about the special display for this 962 Joe Sabatini of Festivals of Speed had this to say…" Our events have hosted magnificent cars of all makes and models showcasing both vintage and contemporary examples. This very special Porsche 962 brings with it a history of passion and perseverance and we could not be more pleased to share it with enthusiasts…"
Festivals of Speed Amelia Island
GENERAL ADMISSION TICKET:
FESTIVALS OF SPEED AT OMNI AMELIA ISLAND PLANTATION RESORT.
Date: Saturday, March 10th, 2018
Time: 10:00am-4:00pm
Admission: $20.00 per person.
CHILDREN 12 & UNDER ARE FREE!
OMNI AMELIA ISLAND PLANTATION RESORT
39 Beach Lagoon Rd
Fernandina Beach, FL 32034
The 6th Annual Festivals of Speed is located at the OMNI AMELIA ISLAND PLANTATION RESORT. The luxury lifestyle Motorsports display will showcase over 300 exotic cars, motorcycles, watercraft and luxury brands. The Festivals of Speed show field has become known for its unique diversity, showcasing both vintage and contemporary vehicles of all makes and models placed for display on the pristine fairways of the golf course. The fairways offer magnificent views of water and resort. Guests will experience automotive designs by Porsche, Ferrari, Rolls-Royce, Lamborghini, Aston-Martin, BMW, Mercedes, McLaren, and more and while enjoying fine wines, exciting culinary offerings, cigar lounge, on-site cafes, smooth jazz in the gardens, and luxury brands.
About Festivals of Speed
FESTIVALS OF SPEED with headquarters in Eustis, Florida has operated for the last 14 years as the ultimate luxury showcase for discerning enthusiasts with a passion for all forms of transportation and luxury brands. The events display the world's most exotic automobiles, motorcycles, watercraft, motorcycles & luxury brands throughout Florida. Plans to operate in Georgia are underway for Fall 2017.