We're going to go out on a limb and take a wild guess that literally every purist around… at least those not speculating on 911 R ownership… is literally salivating at the idea of the so-called X90 Package rumored to be planned for the new 991.2 GT3.
If true, X90 points toward a spoiler-less street oriented of the vaunted latest generation 911 GT3. In particular, it does this while pairing the new car's 500 bhp 4.0-liter flat six with the purist beloved 6-speed manual transmission. Critically, the rumor suggests this'll be done sans the high price and super low volumes of the 911 R… and yes dash strokers, also sans the houndstooth fabric.
The X90 rumor stems from a June 2017 issue of AutoCar Magazine, where the car is described as utilizing the same body kit as the 911 R, the drivetrain of the new GT3 (manual only according to the source), and for the dash-strokers… corduroy trim just to change it up.
In an effort to better visualize just what such a car might look like, we put some images of the latest GT3 R under the photoshop knife. In this case, we kept it simple. Given the subtle styling differences between 991 and 991.2 generations and notably the tail light shaping (not to mention our hope that the 911 R isn't quite so blatantly reborn for X90), we instead retained the new GT3 bumpers directly.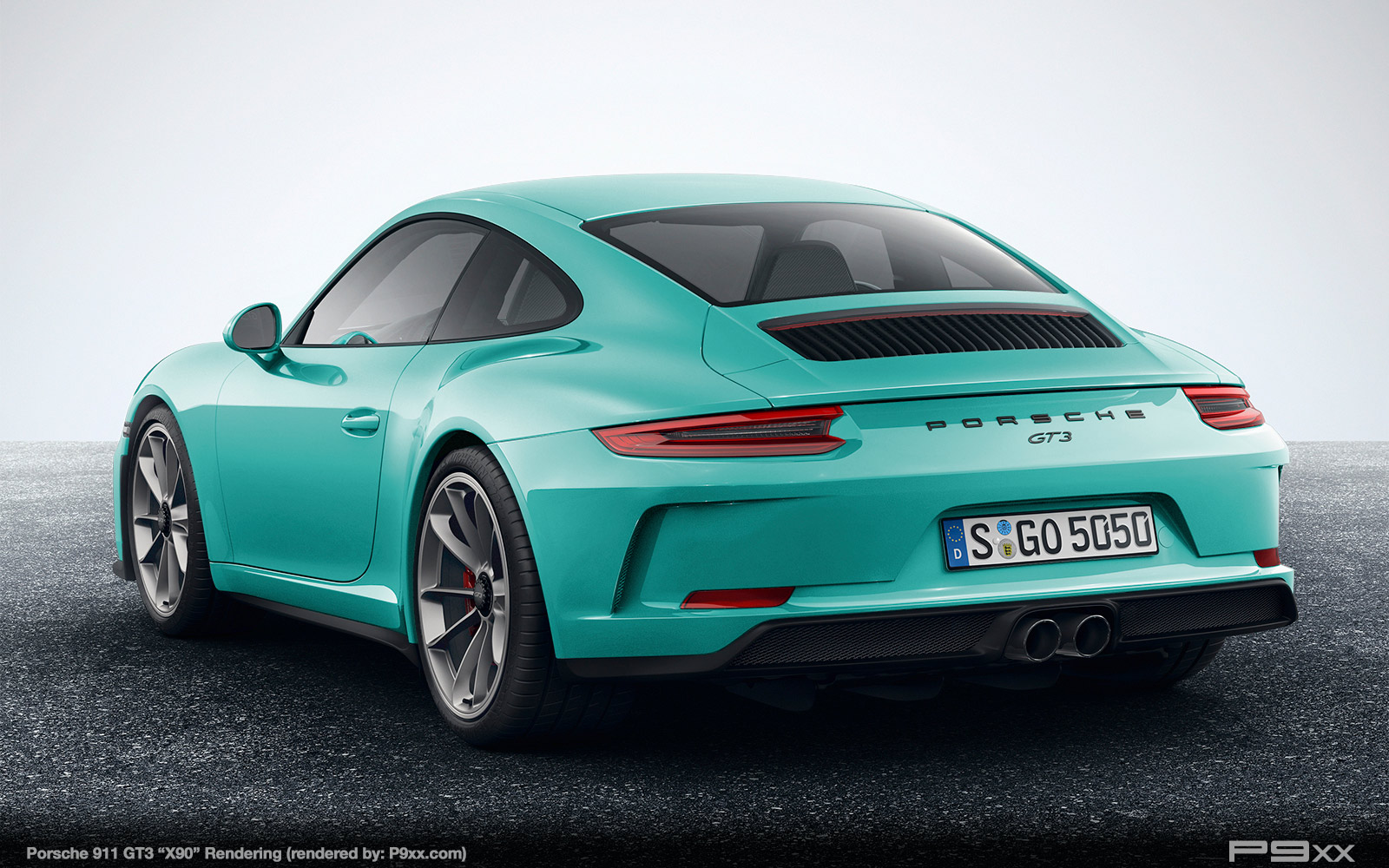 For our X90 rendering, we replaced the larger GT3 "whale tail" deck lid spoiler for the more subtle pop-up variant from the 911 Carrera GTS. While it's possible Porsche could go further bespoke with X90, we find keeping it simple is usually a safe assumption in creating such renderings.
Other touches turned to bright silver versions of the split 5-spoke center lock wheels as inspired by the 911 R fitment. Finally, we focused on a range of colors from 70s era Gulf Blue, to 90s 964 era Mint Green and Rubystone Red.
So what do you think? Are we close, or did we miss the mark? Let us know in the comments below.