With the GEMBALLA AVALANCHE, based on the Porsche 991 Turbo, the Leonberg finishing manufactory is presenting its unrivalled performance in the individualisation of supercars again at the Geneva Motor Show. Completely in line with the tradition of the first AVALANCHE from 1985, GEMBALLA is once again setting standards with its uncompromising design, its interior opulence and its vehicle dynamic properties.
Deep, wide and wicked, the AVALANCHE already dominates its environment at the stand and with its spectacular design it makes an unforgettable statement: "where I am is at the front!" This is made clear by every fibre of the ultra-light autoclave carbon bodywork. The wider fenders of the vehicular muscleman in particular ensure this. With a total of 62 mm on the front axle and a full 100 mm at the rear, they make room for wide tyres and an increased track width.
Further new bodywork components such as the front skirt with carbon hood adorn the high-powered car and at the same time optimise active and passive safety; increased air inflows ensure a ventilation system for better brake ventilation, and LED daytime running lights embedded in the front also increase its presence in daylight. Furthermore, the newly designed side skirts quieten the air flow between the axles and thus ensure better driving stability. At the rear, the powerful rear spoiler with the adjustable wing profile reduces dynamic wear and thus extends adhesion during fast turning manoeuvres. The newly designed rear apron also plays its part with its additional rear spoiler profile and integrated diffuser in keeping the AVALANCHE on course at high speeds. The rear air duct for engine ventilation forms the striking, eye-catching silhouette. This is necessary to keep both exhaust turbochargers supplied with additional cooled air.
As the AVALANCHE not only looks martial, but it also oozes engine power thanks to its extensive mechanical and electrical precision machining. From the 3.8 litre unit of the Porsche 991 Turbo, the GEMBALLA engine technicians have achieved an elemental 820 hp/603 kW and a maximum torque of 950 Nm at 3.100-5.000 crankshaft rotations. The modifications necessary for this include a newly programmed engine and gearbox electrical system, a performance turbocharger system, intake manifolds and air suction housing made of carbon, new throttle valve bodies, a high-performance air filter and reworked cylinder heads and valves. Thus strengthened and with the right sound from the four end pipes of the valve and sport exhaust system, the AVALANCHE is armed for the planned attack on existing performance records.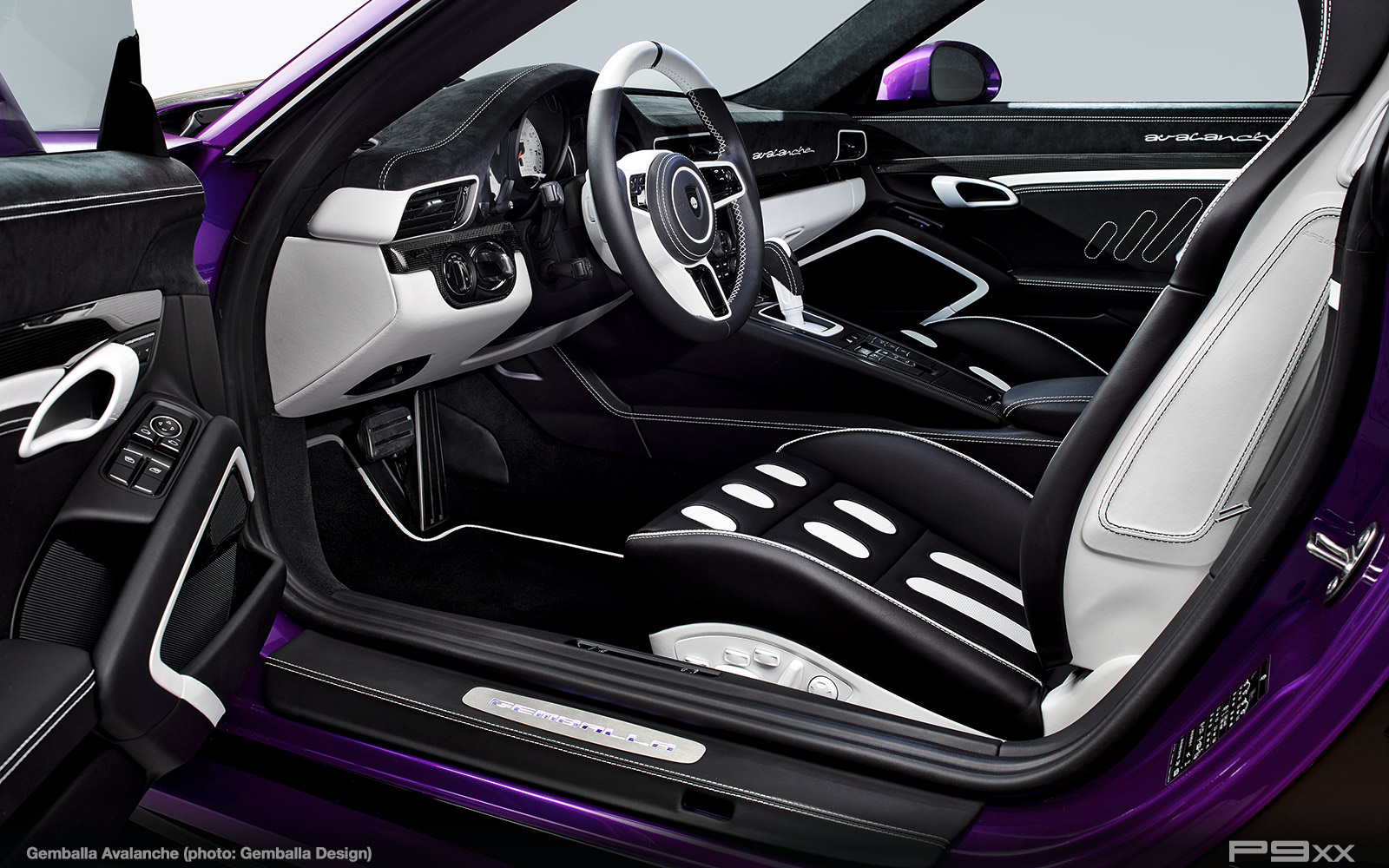 An adjustable sport chassis and ultra-light 21-inch forged wheels with extraordinarily adhesive wide tyres support the project: The wheel-tyre combination measures 9 x 21 inches with high-performance 255/30 ZR21 tyres. At the rear, 11 x 21-inch rims are used with 325/25 ZR21 tyres.
An AVALANCHE would not be an AVALANCHE without an opulently refined interior. For this purpose, the GEMBALLA upholsterers have transformed the interior of the series cockpit with luxuriant black and white leather, Alcantara and visible carbon fibre into an individualised nerve centre – created with the best manufacturing quality. Right down to the smallest detail, GEMBALLA performs refinement, painting control knobs, placing contrasting decorative stitching and self-assuredly illuminating the GEMBALLA logo and the AVALANCHE writing on the dashboard and headrests.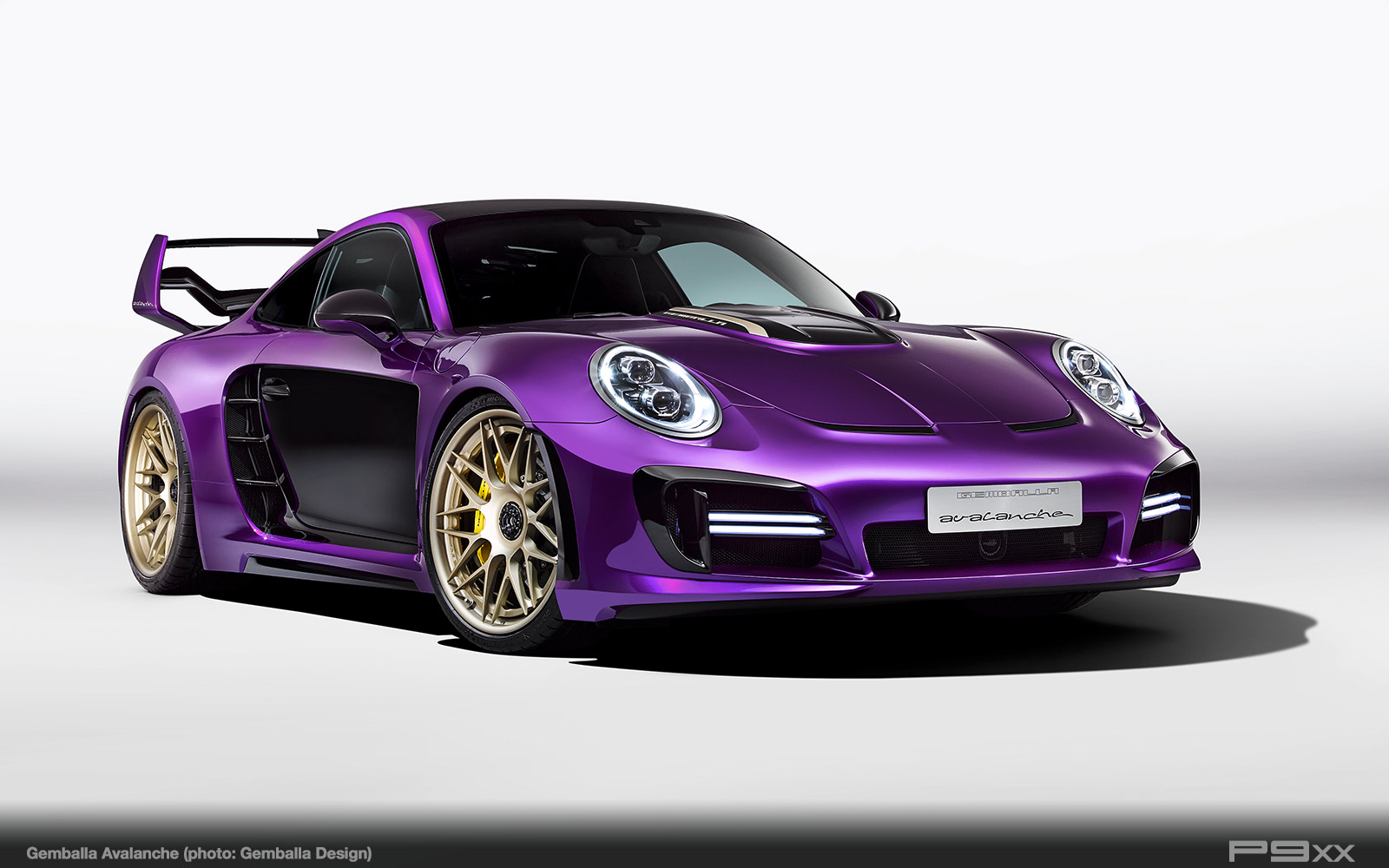 No matter whether it is because of its opulent interior, extroverted design or its engine power, the AVALANCHE also succeeds in continuing the myth in its third generation and is taking the company into a successful future – as proven by the torrent of requests from interested customers from all over the world.
Further information about the extensive GEMBALLA refinement programme and the GEMBALLA production cars is available on the website at www.gemballa.com.
Key facts:

Vehicle: GEMBALLA AVALANCHE based on the Porsche 991 Turbo
Aerodynamics: All carbon components "made in Germany", with partial visible carbon-fibre finish. Front apron with integrated LED daytime running light, front hood with visible carbon-fibre duct and illuminated GEMBALLA logo, fenders at the front, 31 mm each side/rear fenders at 50 mm each side, side skirts, carbon doors, rear apron with diffuser, trunk lid with rear fender and illuminated GEMBALLA logo, rear spoiler with adjustable wing profile, rear air intake duct made of visible carbon fibre
Paintwork: deep purple metallic
Dimensions: 1,982 cm wide, 4,510 cm long
Wheels: 21″ forged wheels
Front axle: 9.0 x 21 with 255/30ZR21
Rear axle: 11.0 x 21 with 325/25ZR21
Performance Upgrades
Turbo system: 820 hp/603 kW at 6.990 rpm, 950 Nm at 3.100-5.000 rpm
Includes: carbon intake manifolds, carbon air suction housing, reworked cylinder heads and valves, throttle valve bodies, high-performance air filters, folding-controlled sports exhaust system, metal catalytic converters, new engine/gearbox, management system
Showcar price: € 389,600 net, plus VAT*
* Price may vary significantly depending on exhibition.
About GEMBALLA:
GEMBALLA was founded in 1981 by Uwe Gemballa. The company was acquired by Steffen Korbach in 2010 and has been under his leadership as CEO since 2016. GEMBALLA has been registered as a manufacturer by the German Federal Motor Transport Authority since 1985. GEMBALLA exclusively manufactures top-quality, personalised vehicles and strives toward extreme increases in performance through high-quality tuning, luxury interior design, and a unique exterior style.