SANTA MONICA, CA – Gooding & Company, the auction house acclaimed for selling the world's most significant and valuable collector cars, is proud to announce that four outstanding Porsches from a private collection will be offered at the company's Amelia Island Auction on March 10. There will be a special preview of this collection during the auction viewing at Gooding & Company's Scottsdale Auctions beginning January 18.
"We are honored to present these four exciting Porsche supercars from a private collection at our Amelia Island Auction. These cars represent a brilliant collaboration between Porsche's Exclusive and Motorsport departments, combining state-of-the-art performance technology with bespoke features," notes David Brynan, Senior Specialist at Gooding & Company. "All of these Porsches are historically important, limited-production models and each example is truly the best of the best. These offerings are exceptionally high quality, with special features, the most desirable options, and are impeccably presented."
1998 Porsche 911 GT1 Strassenversion
(Estimate Available Upon Request)
The Porsche 911 GT1 Strassenversion is the only model ever offered from the factory as a race car first and then homologated for road use. The 911 GT1 race cars delivered remarkable results in motorsport, including a class and overall win at the 1998 24 Hours of Le Mans. Only 20 911 GT1 Strassenversions (street versions) were built for road use, and all were pre-sold to Porsche's top VIP clients, making them virtually unattainable. With over 530 hp, the GT1 Strassenversion offered world-class performance and featured spectacular aerodynamic bodywork built from exotic composite materials. Delivered new in Germany, this 911 GT1 is finished in its original Artic Silver Metallic livery and has less than 5,000 miles from new. Porsche GT1s seldom come up for public auction, and service records, books, original tools, and a Porsche Certificate of Authenticity accompany the sale. This is a rare opportunity for collectors to own the ultimate road-going Porsche supercar.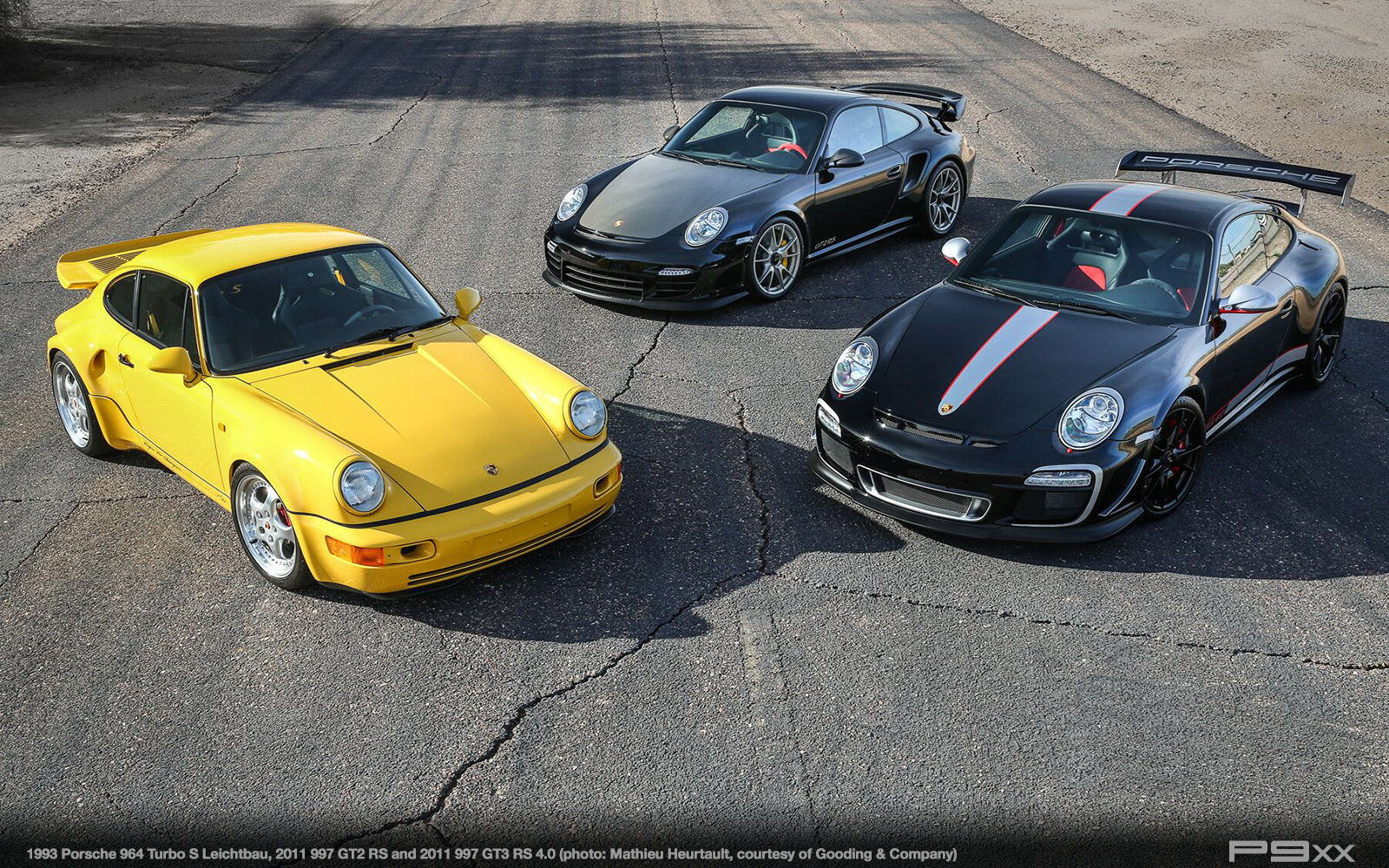 1993 Porsche 964 Turbo S Leichtbau
(Estimate: $1,300,000–$1,600,000)
The Porsche 964 Turbo S Leichtbau was the first lightweight, turbocharged production model built by Porsche. This model was also the first entirely built by the Sonderwunsch (special wishes) and Motorsport divisions, and the first to carry the "S" designation. The 964 Turbo S Leichtbau is essentially a road-going model of the 1992 IMSA SuperCar Champion. Only 86 examples were built, of which only 67 are left-hand-drive, such as the car presented here. An exclusive and track-ready version of the 964 Turbo, every effort was made to reduce weight, including the removal of air-conditioning and radio. With long term, single family ownership, this car is unmodified and has less than 1,400 miles on the odometer. This 964 Turbo S Leichtbau is finished in a striking Speed Yellow exterior and is identical to the car displayed at the Porsche Factory Collection museum in Zuffenhausen, Germany. It is accompanied by the factory build sheet, service records, and a Porsche Certificate of Authenticity.
2011 Porsche 997 GT2 RS
(Estimate: $550,000­–$650,000)
The 997 GT2 RS is a true "Skunkworks" effort between Motorsport and Exclusive divisions. At the time of its introduction, it was the most powerful road vehicle ever built by Porsche, boasting over 620 hp, and was the first and only turbocharged model to ever carry the famous RS name. The example presented here is one of only 142 built for the North American market and one of only 33 that have the most desirable combination of carbon fiber sport bucket seats and carbon fiber fenders. This GT2 was additionally optioned with a lightweight battery, lightweight headlights and desirable sport steering wheel. Completely original, this striking black GT2 RS has been cared for by two owners from new, has traveled less than 3,000 miles and comes complete with service records, original window sticker and a Porsche Certificate of Authenticity.
2011 Porsche 997 GT3 RS 4.0
(Estimate: $650,000­–$750,000)
Porsche built just 600 examples worldwide of the track-ready 997 GT3 RS 4.0, of which only 158 were delivered to the North American market. These cars have direct lineage to the famed 911 SC/RS and 964 RS 3.8 Porsches and were the ultimate track weapon that could also be driven legally on American roads. This car is one of only 12 ordered as a radio-delete model to further reduce weight, and one of only two ordered in black. This GT3 RS 4.0 also has many unique and desirable special-order options and has traveled less than 130 miles since new. It comes with the original window sticker, all original books, manuals, service records and a Porsche Certificate of Authenticity. Those seeking a like-new example of the famed 997 GT3 RS 4.0 should seriously consider this exceptional example.
The Amelia Island Auction
Date: Friday, March 10, 11:00am
Location: Racquet Park, Omni Amelia Island Plantation, 6800 First Coast Hwy, Amelia Island, FL 32034 (1 mile south of Amelia Island Parkway)
Public preview: March 9-10
Auctions catalogues: $75, includes admission for two to the viewing and the auctions
General admission: $30, includes admission for one to the viewing and the auctions
Live auction broadcast: www.goodingco.com
Facebook: www.facebook.com/GoodingandCompany
Twitter: @goodingandco
Instagram: @goodingandcompany
Snapchat: @goodingandco
YouTube: www.youtube.com/user/GoodingandCompany
RSS: www.goodingco.com/feed/?post_type=press
Phone: 310.899.1960
Bidder Registration:
$200 includes a catalogue, admission for two to the viewing and auction with two reserved seats, subject to availability.
About Gooding & Company
Gooding & Company's auctions, now in their second decade, produce market-leading prices and deliver to a worldwide reach of clients and enthusiasts. Throughout 2016, spectators and patrons from over 50 nations witnessed last year's auctions live in high-definition video broadcast via our webcast. Gooding & Company will be conducting its annual Amelia Island Auction on March 10, 2017 in Amelia Island, Florida. The annual Pebble Beach Auctions will be held August 19 and 20, 2017 in Pebble Beach, California, where Gooding & Company is the official auction house of the Pebble Beach Concours d'Elegance®. Bidder registration forms, press credentials and additional auction information are available at www.goodingco.com or by calling (310) 899-1960.