When it comes to Monterey Car Week, there's a little something for every car enthusiast. Yes, most of the week focuses on the vintage side of the car world, but events such as Exotics on Cannery Row have come to counter balance that. In this case, the focus is on supercars and hyper cars, and the venue is they historic Cannery Row section of downtown.
SEE OUR FULL P9xx MONTEREY CAR WEEK 2017 PHOTO ARCHIVE HERE.
To really get Exotics on Cannery Row, you first really need to understand the world of car spotting. The phenomena is a bit like the world of celebrity culture in Hollywood, with paparazzi around every corner. Hang about at any pit stop of Gumball Rally and the likes, and you'll find young camera-toting car enthusiasts who travel in from far flung locations in order to ogle a car and get some shots.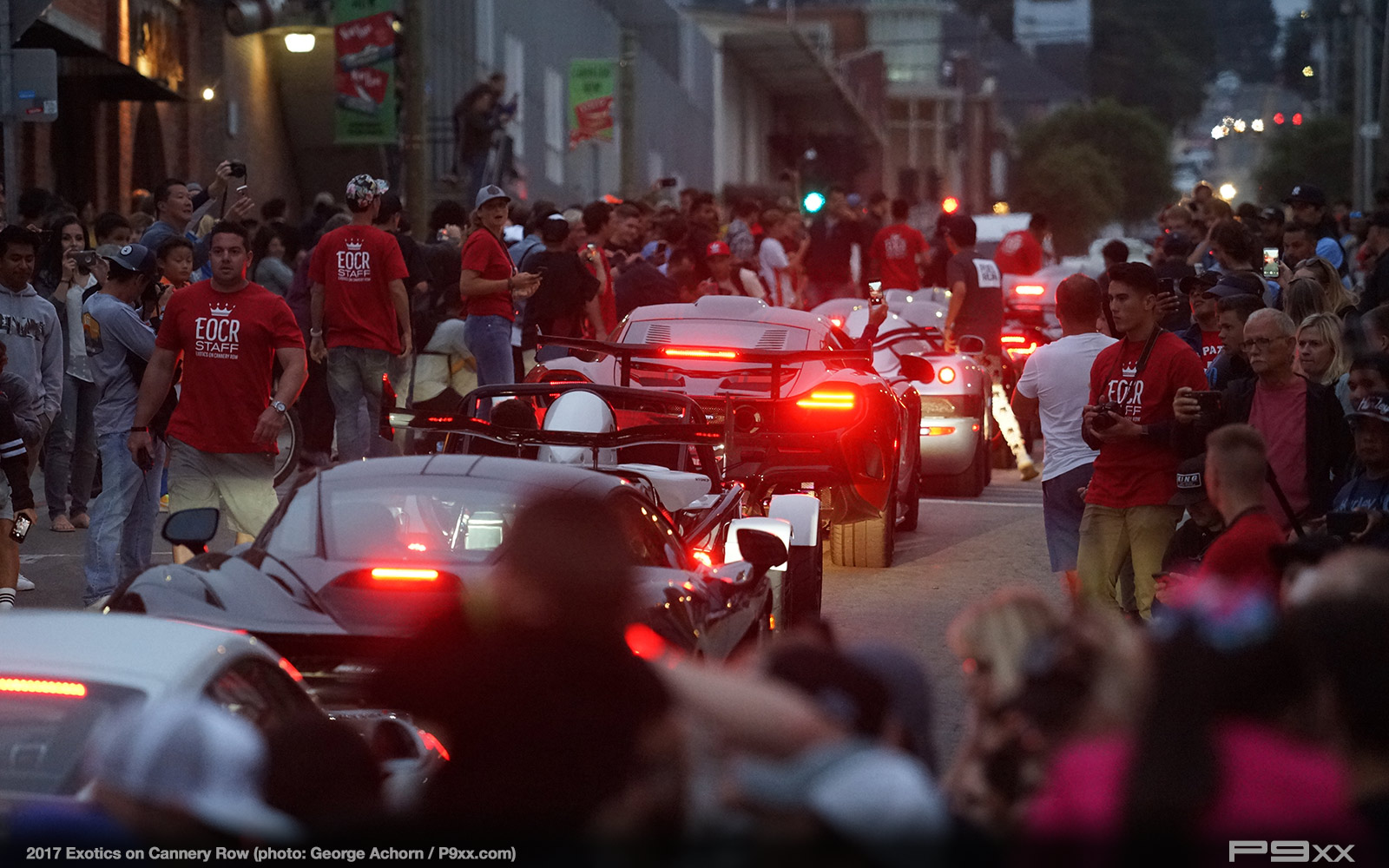 Now throw in crowds to rival the legendary driver parade at the 24 Hours of Le Mans. Like Le Mans, this is as much of a party atmosphere as it is seeking a view of any particular person or, more likely, car. Even still, the crowds are thick and invigorated. Lucky the rush of the day is over, meaning shifting gears in your mindset, slowing down in order to take it all in and admire the details.
The normally district around Cannery Row becomes a cruising mecca during Monterey Car Week already. This means any night during the week is likely to be thick with some incredibly cool machinery and people trying to shoot photos.
Hang out in front of a liquor store and you'll stumble over a Ford GT40. Stop to get a pizza at a food truck and you can chomp on your favorite pie while watching literally all sorts of exotica cruising by. On the night of the exotics though, it all hits a certain crescendo and packed densely into the restaurant lined street by the cannery.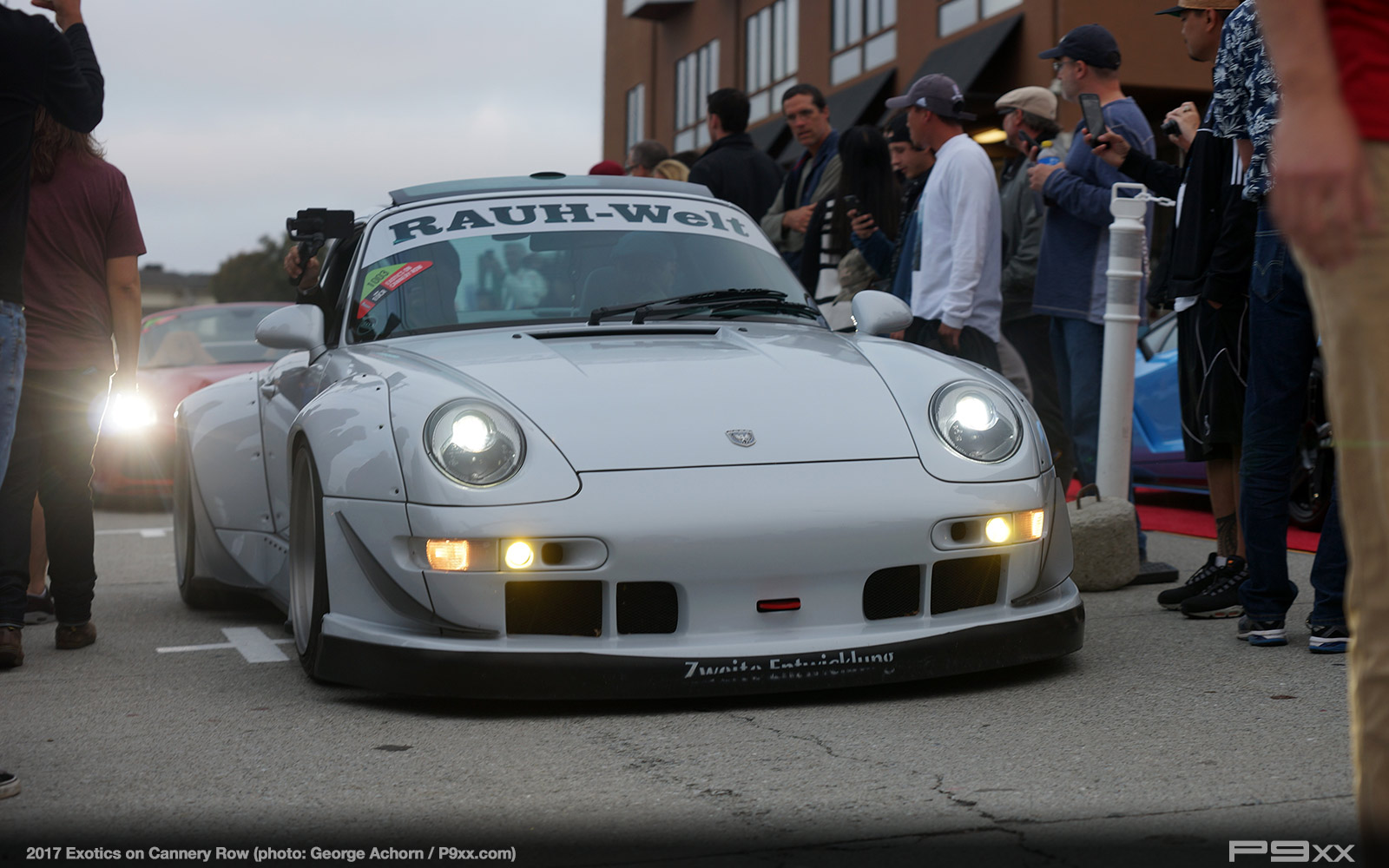 That this particular event is Friday night may be the last part of that perfect storm. From our perspective, Friday is the most jammed day to visit. Porsche Werks Reunion, The Quail, Legends of the Autobahn all happen on Friday. The Rolex Monterey Motorsports Reunion spreads over Friday as well, and Pebble Beach is open and teaming with enthusiasts even if it's not Concours day.
Come evening, all of these people are in the neighborhood, driving incredibly cool cars and looking for something to do. Heading to Cannery Row is a natural choice so long as you're not averse to crowds.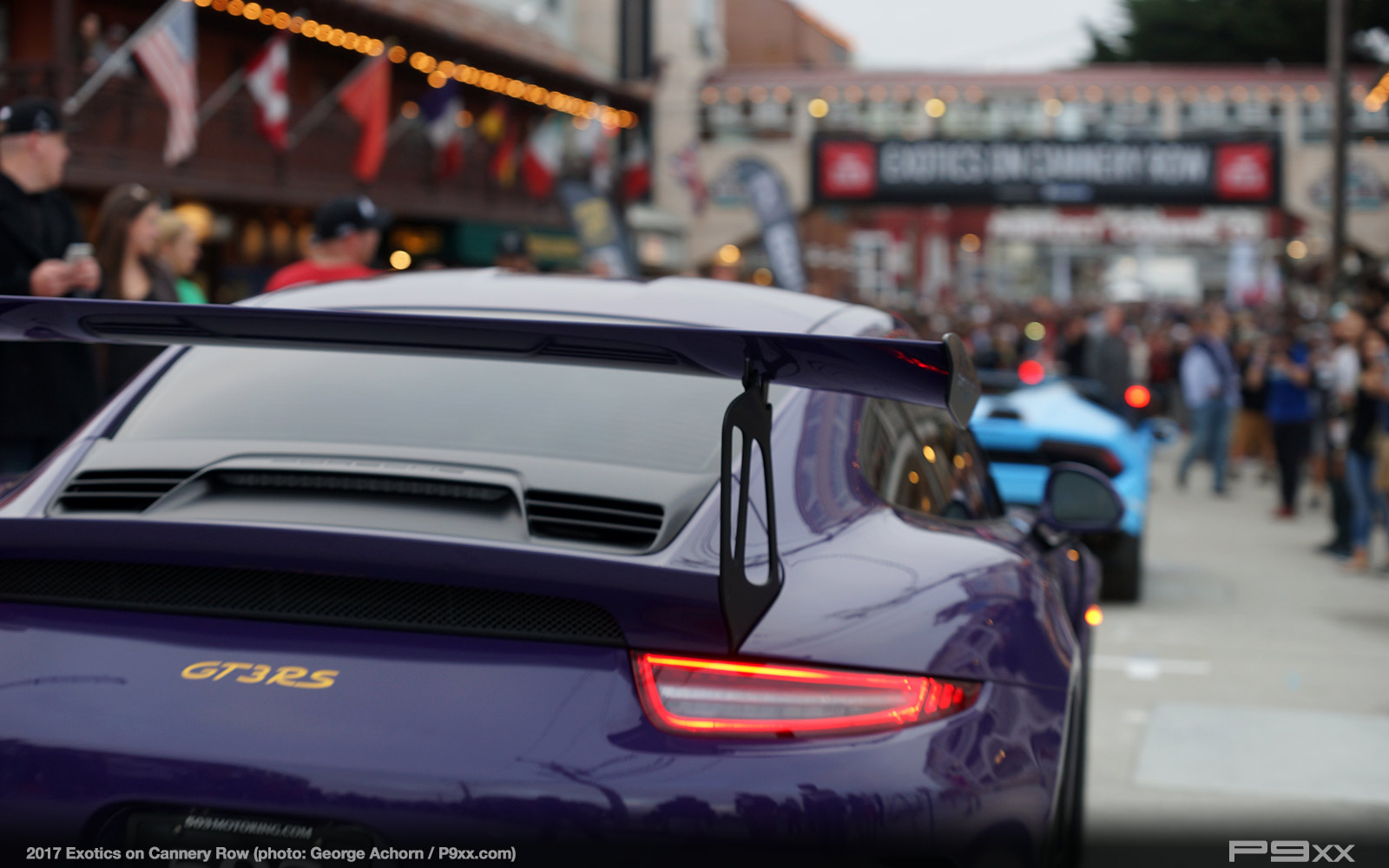 Fuel Run is another road rally similar to the aforementioned Gumball Rally. It would seem most of the cars taking part in Fuel Run are those that make their way to Cannery Row and are ushered through the crowds by event staff… to what end, we're not certain… other than simply showing off. Most of the drivers or passengers are holding a GoPro or mobile camera of some kind.
Here again, it reminds us of Le Mans where those supercar owners must feel like the drivers when they go to France, with so much more attention and mobs of people jockeying for a vantage point in order to ogle.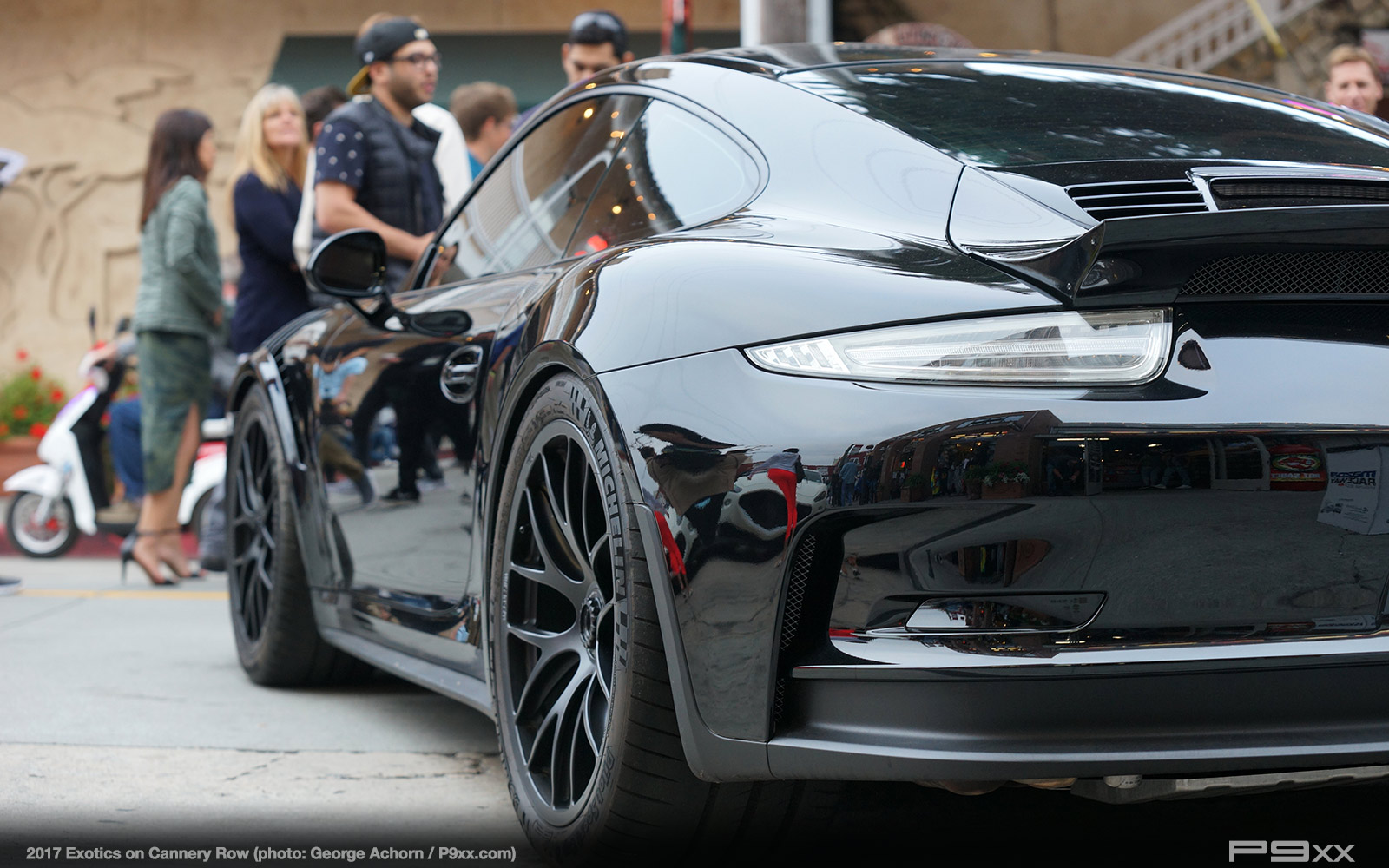 Cars in the mix are as you might expect given the hyper car and super car criteria. 918 Spyders and 911 GT3 RS were the most commonly seen P-cars in the mix. One of our favorites amongst these was the mean-looking wingless GT3 RS we'd spotted earlier at Werks Reunion. Complete with pepita (houndstooth) seat centers like a 911R, the car was on display for Exclusive Option at the Porsche-only event earlier in the day.
Older cars are less expected here. That's not to say they don't take part. We spotted an RWB 993 cruising through the crowds behind an event staffer, then later a 997 and a G-body 911 Speedster parked amongst the rally competitors. Even still, most of the attention tends to be of the "latest / greatest" variety.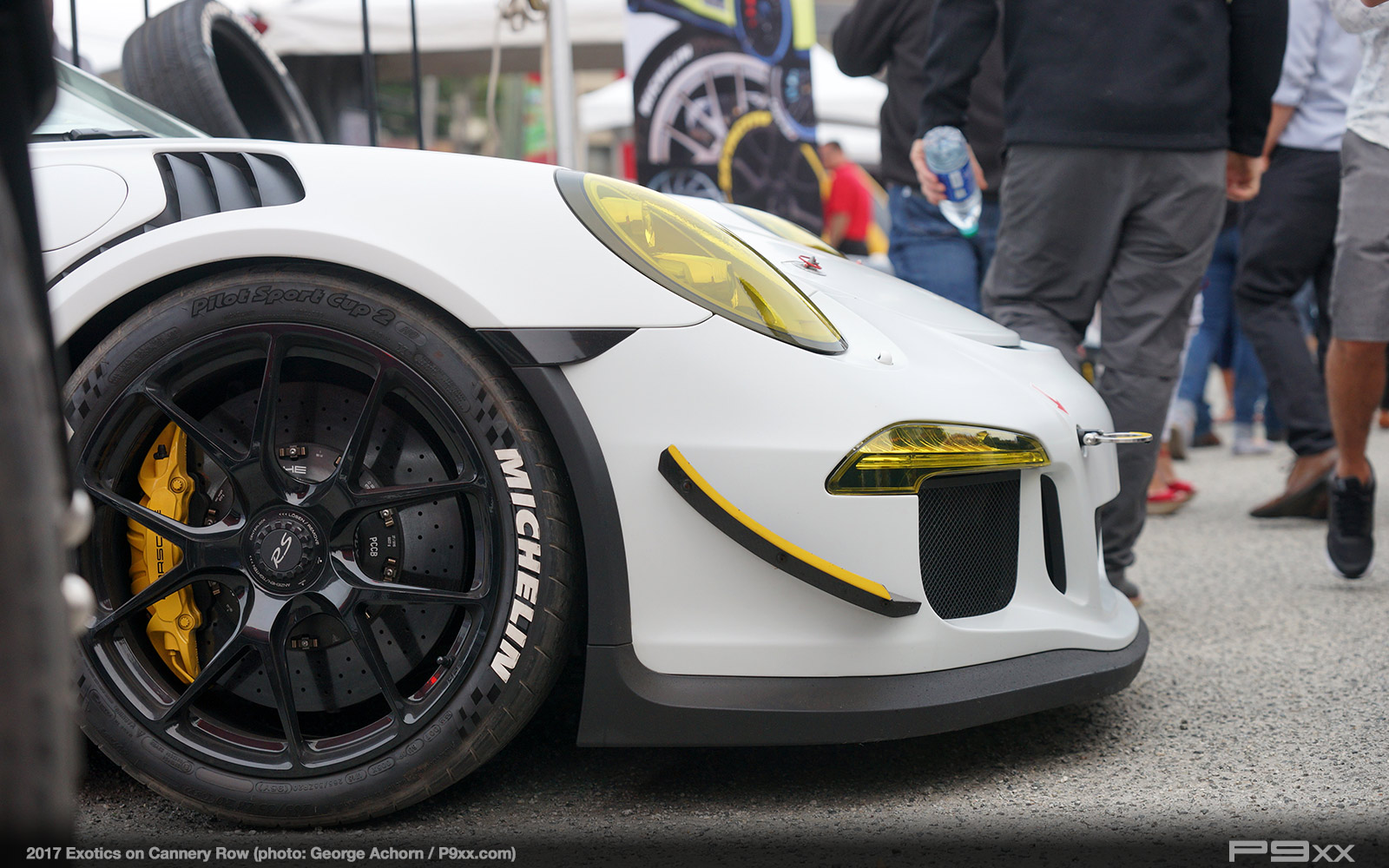 The aftermarket has always been an important part of this lifestyle road rally world. Not surprisingly, it's also an important part of Exotics on Cannery Row. Michelin appeared to be the main sponsor of the event's vendor area, located at the one end of the main section that's taken over for this event.
Here, in addition to a massive Michelin presence, you'll find everything from wheel manufacturers to a local Porsche dealership showing off the new Panamera and a white 918 Spyder. At this event, the event vendors may not be entirely appropriate, because it seems the main point in being here is brand exposure, seeing and being seen.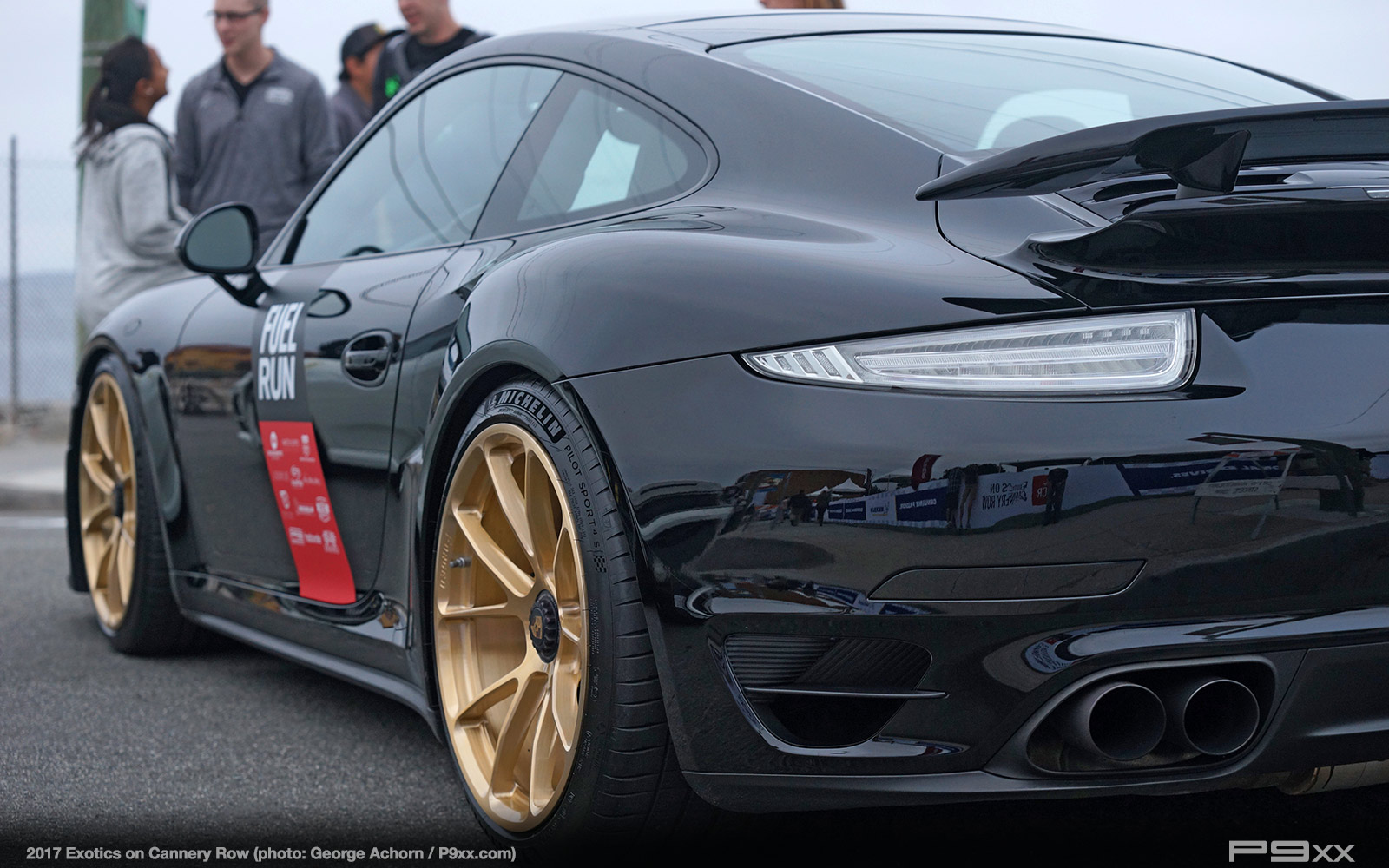 Another favorite in this area was a very clean 991 Turbo S. In simple black, the car sported what looked like HRE wheels in that firm's handsome brushed platinum gold finish. When considering a black and gold Turbo S, it would likely be pretty easy to go overboard from incredible to incredibly cheesy, and this car definitely stuck to the incredible side of that spectrum.
To see more from Monterey, check out our full 2017 Monterey Car Week photo gallery HERE. Also check out our ongoing 2017 Monterey Car Week coverage HERE.
More Information: ExoticsOnCanneryRow.com