There's no doubt that the GT3 RS is already one of the most exclusive Porsches sold by Stuttgart, 911 or otherwise. It's knife-edged racing DNA seems as if a foremost geneticist took all of the performance and racing qualities of the breed and created one nearly perfect strand or specimen. Is there room then for improvement? We suspect geneticists will say there's always room for improvement, and the fine folks at Neidfaktor no doubt agree… at least in the case of the 911 GT3 RS.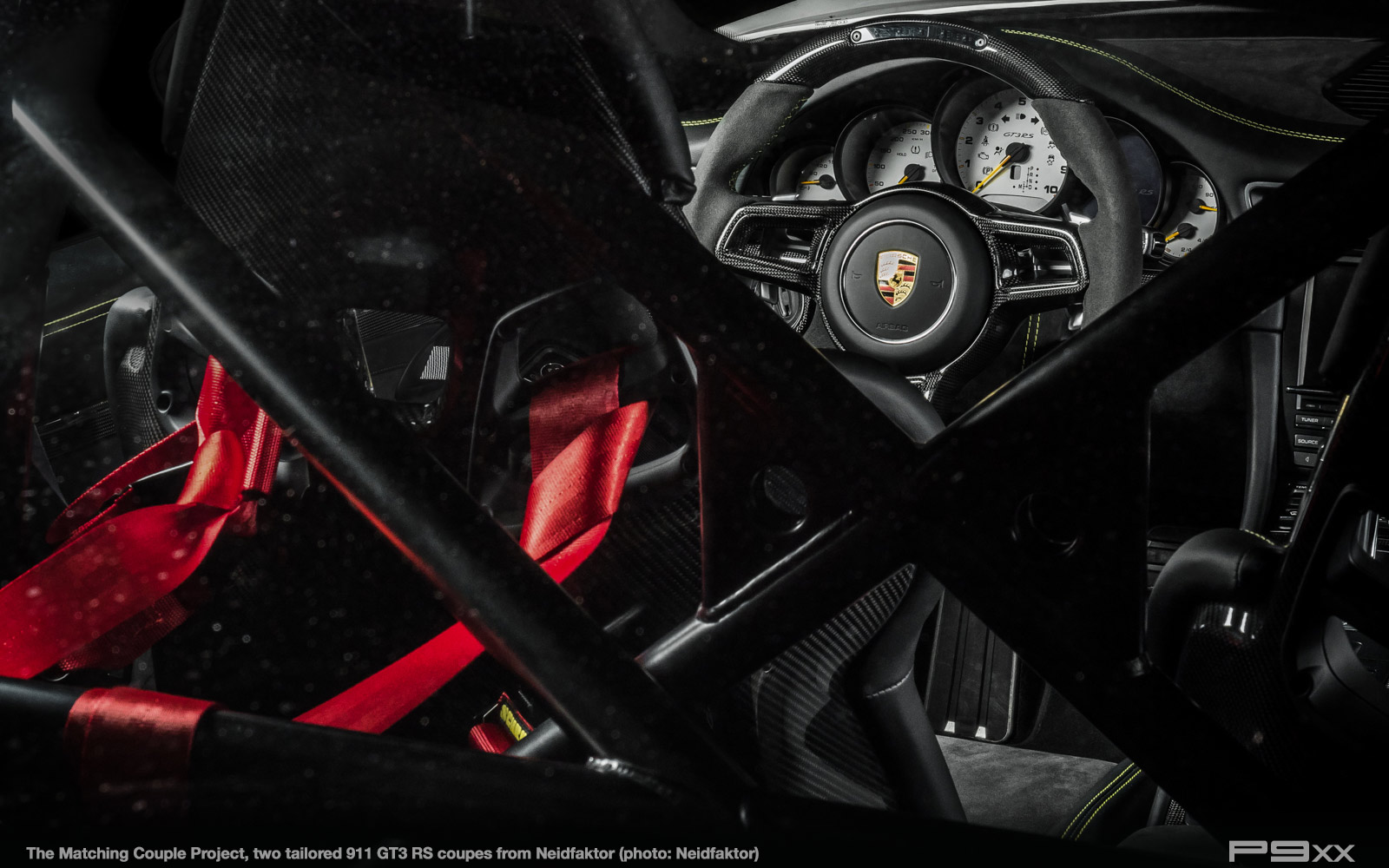 This firm from Hamburg Germany has been making a name for itself by finely honing performance and luxury cars for discerning customers seeking more. Consider them the automotive equivalent then of a fine Milanese tailor, or perhaps the equivalent of Porsche Exclusive for those who already have the car in their posession.
Case in point is this pair of type 991 GT3 RS coupes. Specced similarly but not identically, this so-called matching couple project set about making to very impressive and very similar road and track weapons without making them outright twins.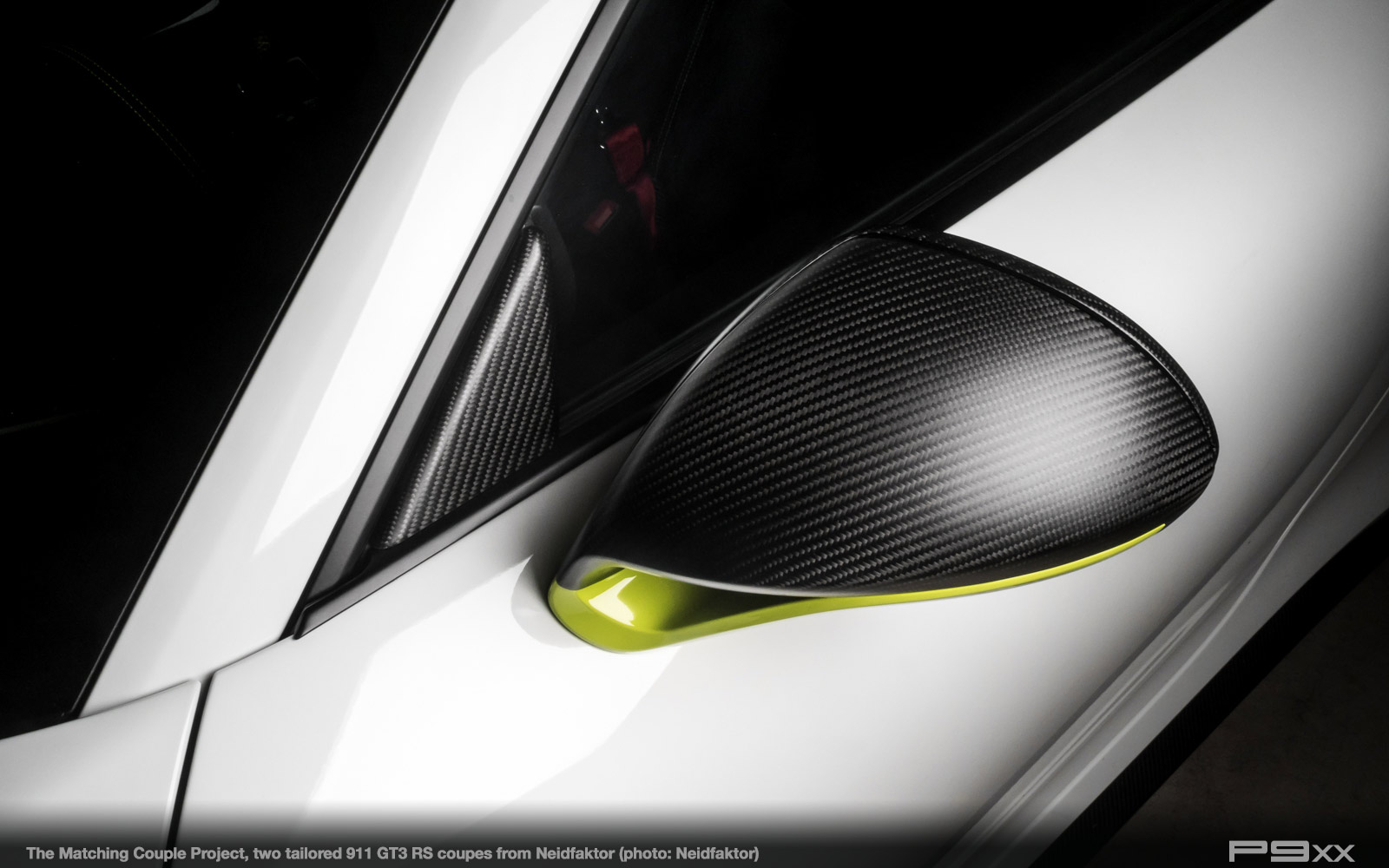 On the outside, the two main upgrades were carbon fiber elements and accenting paint work. Where one car wears Lava Orange accents on the splitters, mirror feet and brake calipers, the other wears Acid Green.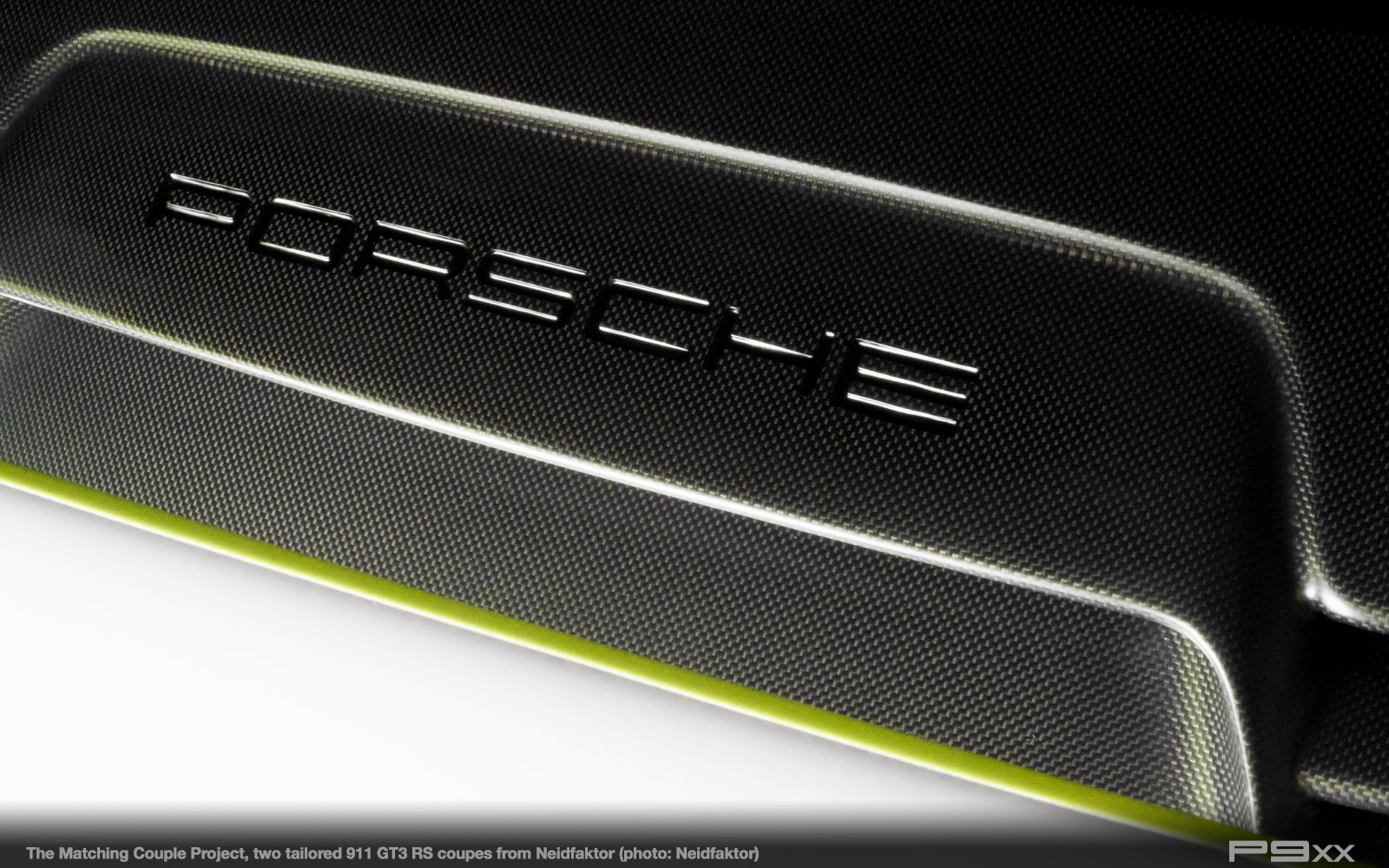 Carbon fiber is another key theme on the outside. Other components such as the louvered brake ventilation gills of the front quarter panels, side skirts, diffusor, engine cover and rearview mirrors are finished in carbon fiber equivalents that appear as if they'd come from the factory.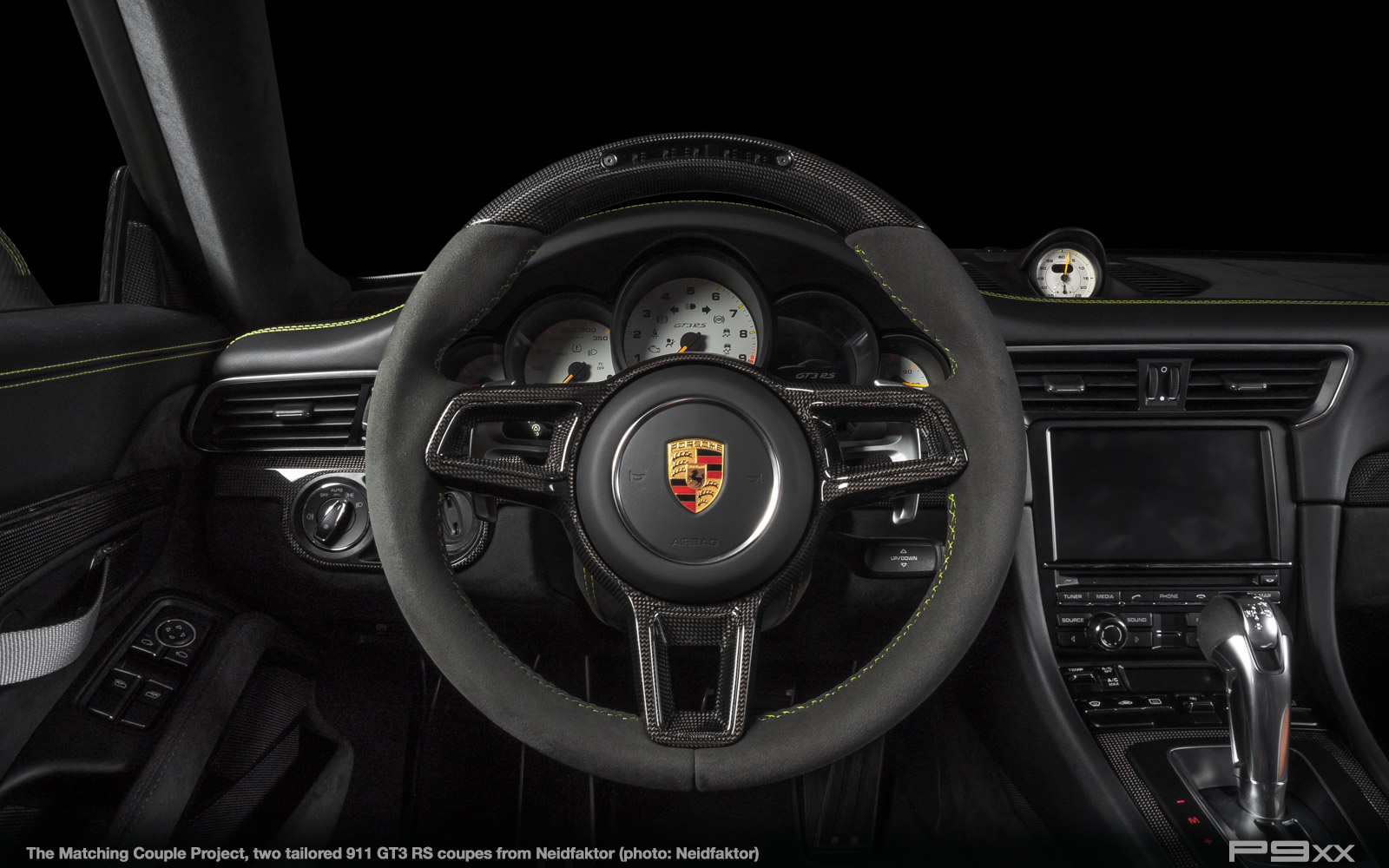 Inside the cockpit of The Matching Couple Project is where Neidfaktor can really show their skills, radically so in all but appearance. While the transformation is downright stunning, it appears as if Stuttgart themselves may have built these cars just this way for a buyer willing to spend countless time and money making it so.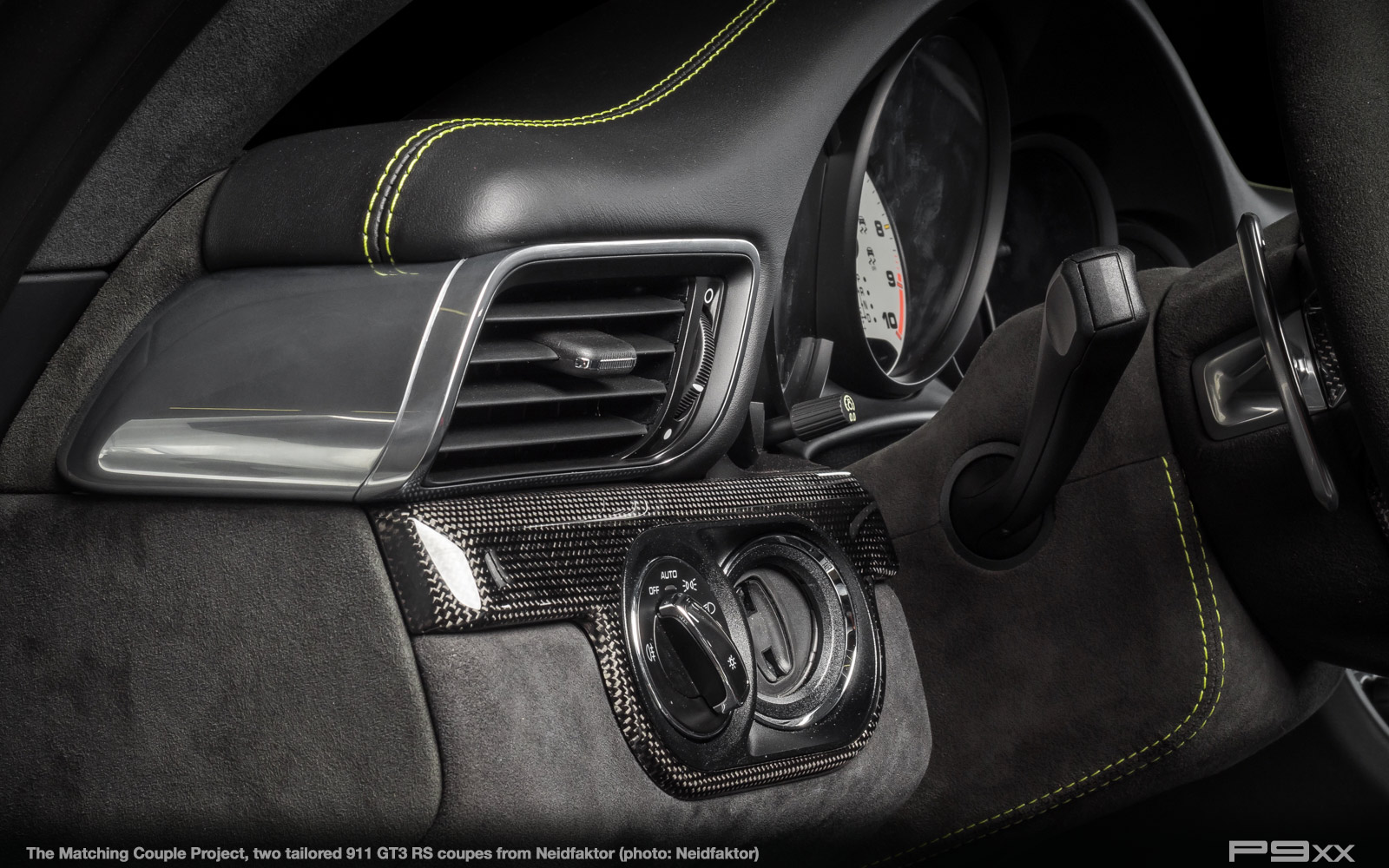 Alcantara, leather, carbon fiber and color-matched accenting trim are the name of the game in this highly tailored cabin. No less than the dashboard, door panels, seats, steering wheel, center console and more were recovered and perfected… all at an OEM level of production detail.
The final product of Neidfaktor's considerable work on this matching couple of Porsche 911 GT3 RS coupes are two highly individualized automobiles. Even better, at least to our measure, the modifications are so in keeping with the factory's intent that only the sharpest eyed Porschephiles will recognize the differences and note just how truly special they are.
More Information: Neidfaktor.com
Photo Gallery