When you think of Danny Kubasik's mcchip-dkr firm, you're likely to think of ECU tuning. It's in their name, and also their pedigree, but one of their latest builds goes way beyond that. It is perhaps the ultimate in OEM plus style 991.2 builds, adding in equipment and styling from so many other models to create a Targa 4 GTS with a little bit of everything. Ultimately, that also makes for a much more comprehensive build and will likely grab the attention of Porschephiles of most ilks.
The car began life as a current-generation 991.2 Targa 4 GTS. That platform already has a lot to offer, from the unique Targa body style and Carrera 4's all-wheel drive to upgraded components that come standard on a GTS. Straight out of the factory, this car already sported extras like center lock wheels, uprated power and improved appearance. Of course, that was just the beginning.
As of yet there is no 991.2 GT3 RS, but that didn't stop the team at mcchip-dkr who certainly appreciated what the theme begun by the earlier 991 GT3 RS. To that end, the Targa 4 GTS' own bodywork was swapped for front and rear fascias and quarter panels using original Porsche parts.
The car was dropped with height adjustable KW coilovers, and brakes were improved to OEM Porsche Ceramic Composite Brakes (PCCB) for improved performance. The GT3 RS continued with wheels, fitting 20×9″ front wheels on 265 35 20 tires at the front and 21×12″ with 325 30 21 tires at the rear. Rubber is Michelin Pilot Sport Cup 2s all around. And, since spacers can't be fitted on center locks, the front axle was also modified in order to push the front wheels fit flush with the GT3 RS vented front fenders.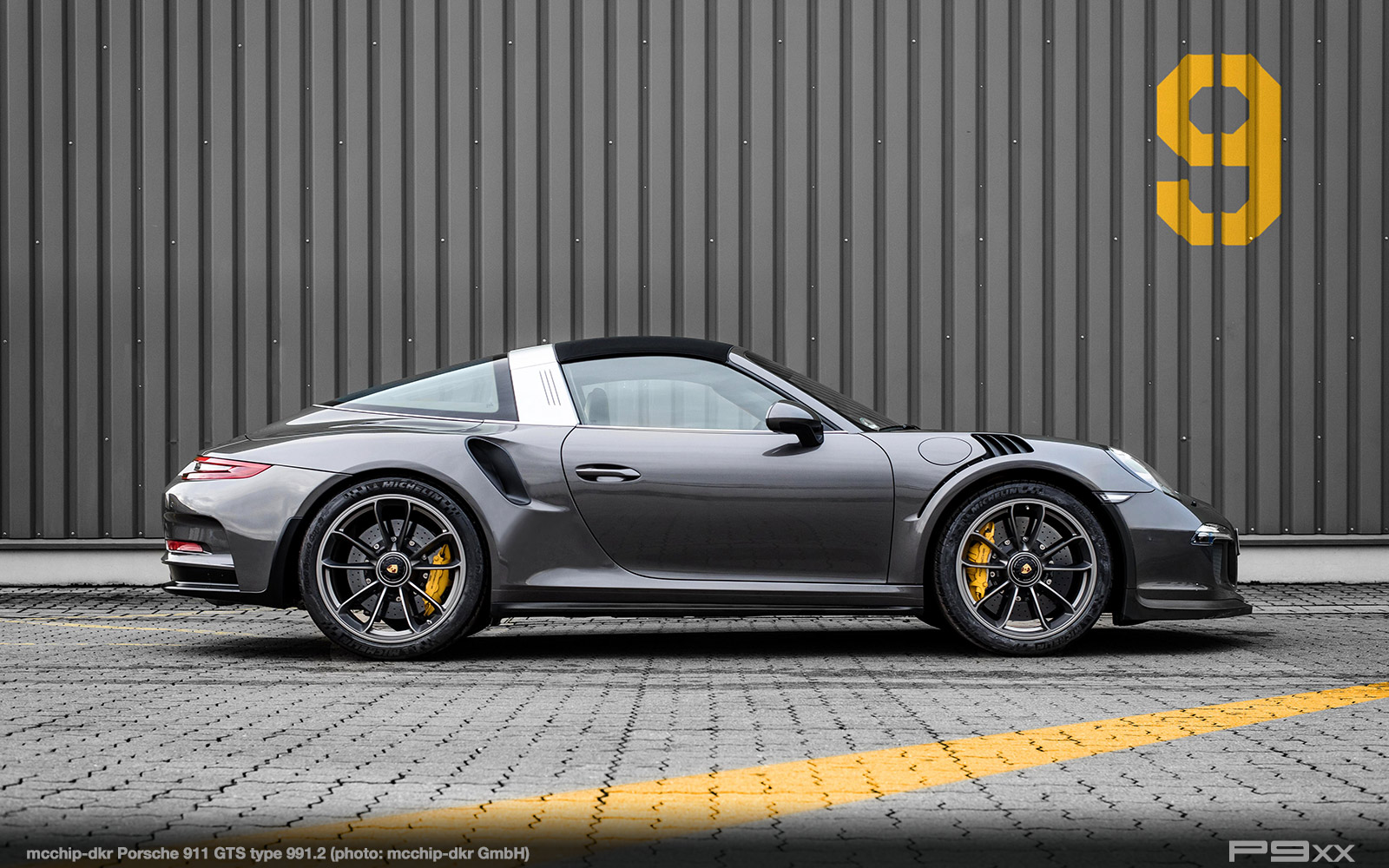 Given the 991.2 Targa 4 GTS has Porsche's turbocharged flat-six, it's probably not hard to guess just where an ECU tuning company like mcchip-dkr began in their effort to improve power output. To that end, the Targa got the firm's Stage 3 upgrade to 575 PS (422kW) and 675 lb-ft of torque. This package includes upgraded turbochargers, a Capristo valved exhaust system with free-flow catalytic converter and GT3 RS style tailpipes in order to match the RS look.
In the cockpit, here again mcchip-dkr stuck with Porsche canon when it came to augmenting the car. The classic "Pepita" houndstooth fabric is always a favorite and shares a lengthy heritage with Porsche. Its houndstooth design is quite similar to fabrics used in cars like the 911R and 911-50th anniversary edition. For the Targa 4 GTS, it now covers the seat centers as it does in those special edition 991s, and also on teh door panel. Pairing it with the GTS spec light color accent stitching and carbon fiber trim makes for an interesting and factory-like look.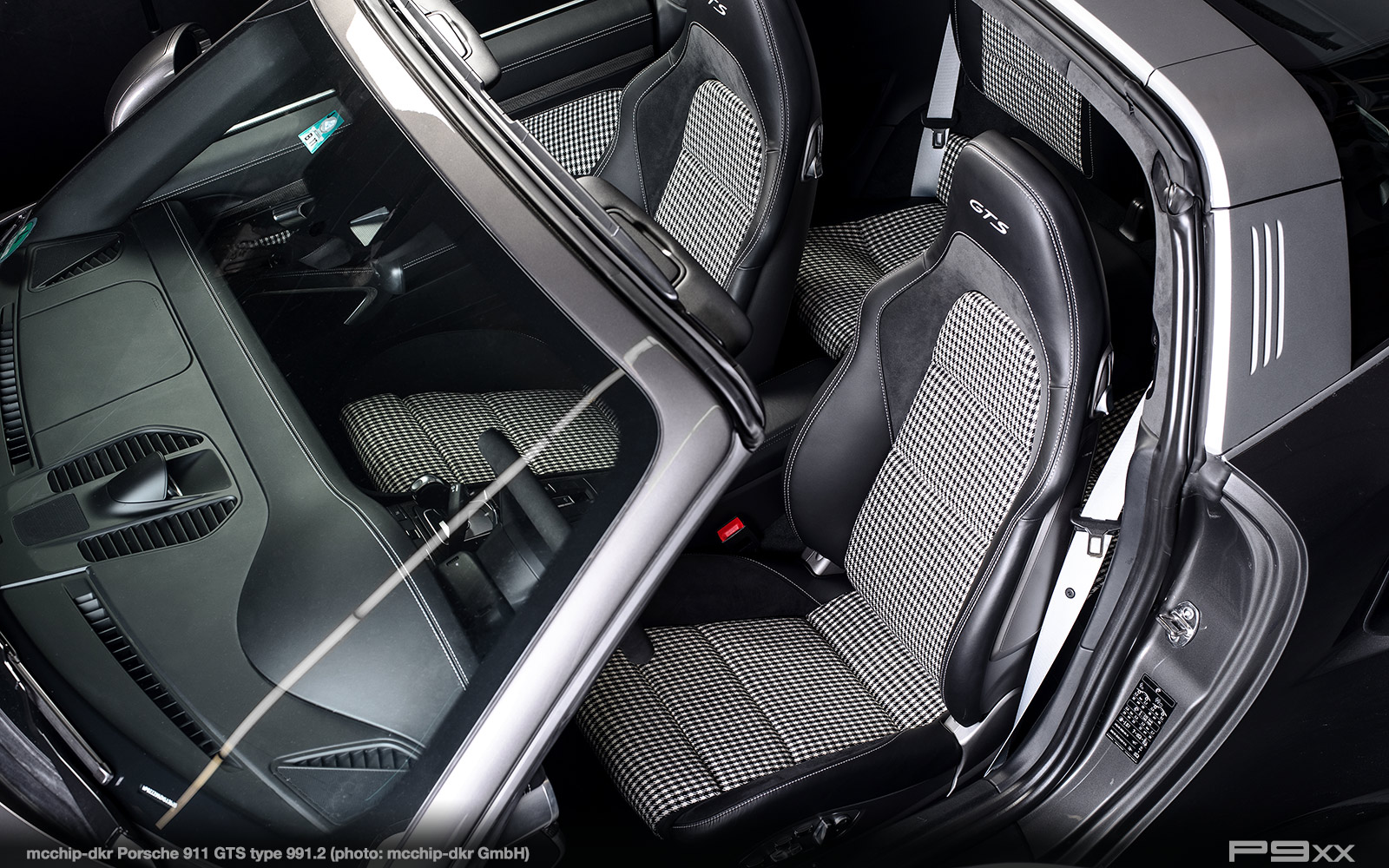 As one of the most recent example's of mcchip-dkr's work, it's hard not to be impressed with this ultimate 991.2 Targa 4 GTS. Certainly no expense was spared in creating a Targa of fantasy that appears as if it very well could have been dreamed up in the halls of Stuttgart.
More Information: mcchip-dkr.com