We're still more than a week away until RM Sotheby's intensely 964-stacked Amelia Island Auction, but that's not stopping the fine folks at RM from teasing another big Porsche-built spectacle for their Monterey sale next August.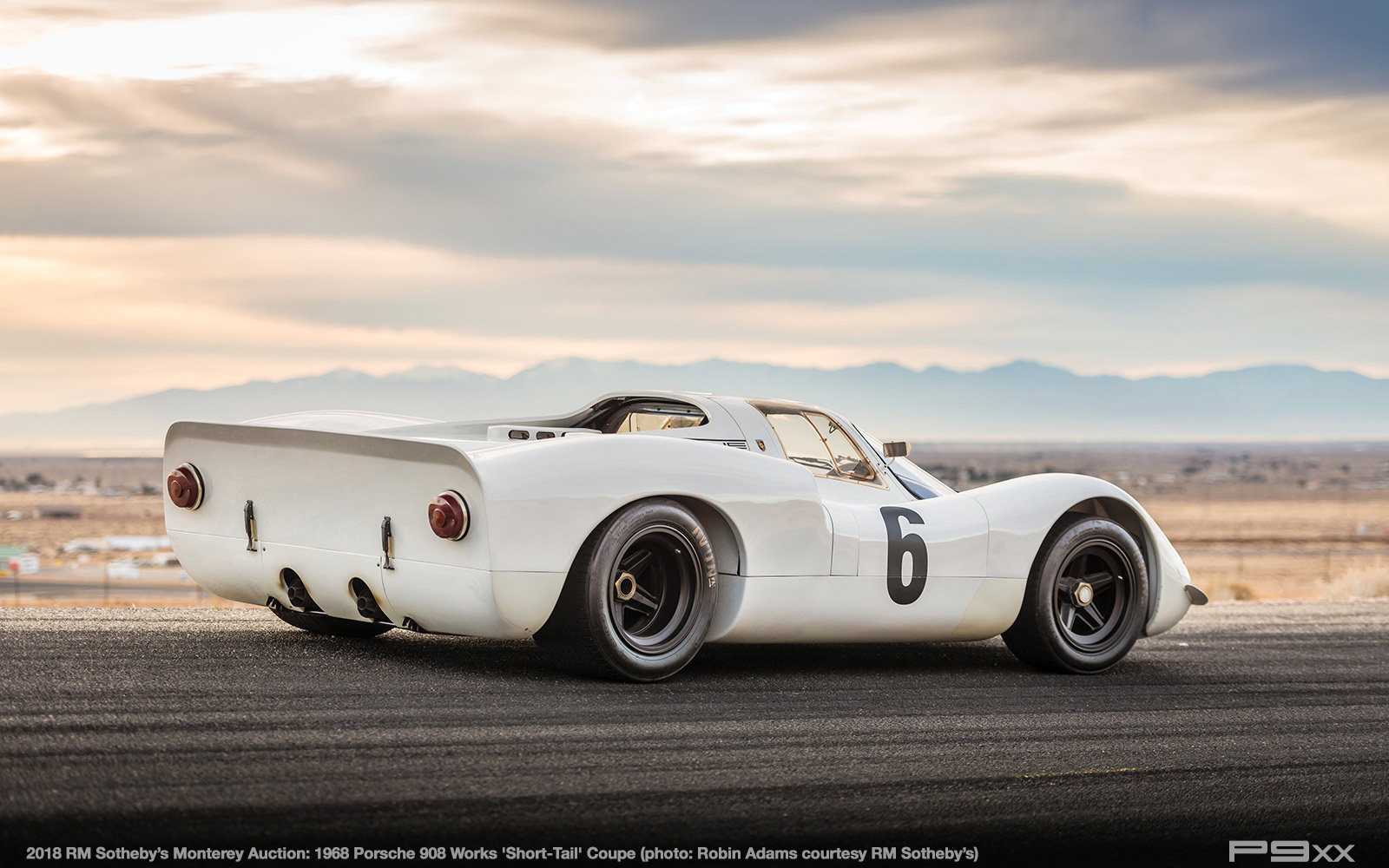 Specifically, the car is 1968 908 'Short Tail' Coupe. Chassis #908-10, this was a works 908 campaigned by the factory team at the 1968 1000 Km of Spa. Impeccably kept, this hyper rare and Porsche racecar is no doubt just the tip of the planned iceberg for what is sure to be one of Monterey's most exciting auctions.
Read the full press release from RM Sotheby's below.
PRESS RELEASE: FAST-TRACK TO MONTEREY: RM SOTHEBY'S ANNOUNCES PORSCHE 908 WORKS 'SHORT-TAIL' AS EARLY STAR ENTRANT FOR FLAGSHIP SALE
[source: RM Sotheby's]
BLENHEIM, Ontario (27 February 2018) – Following the company's record-setting 2017 event, RM Sotheby's is delighted to announce a 1968 Porsche 908 Works 'Short-Tail' Coupe as an exciting early entry for its 2018 flagship Monterey sale, set for 24-25 August at the newly renovated Monterey Conference Center in Monterey, California.
The Porsche 908 Works 'Short-Tail' Coupe set for Monterey, chassis no. 908-010, was one of the first iterations of the legendary 908 and one of a mere handful of ex-Works short-tail prototypes surviving today. Often referred to as a 908 K or "Kurzheck" (German term for "short-tail"), the Porsche is powered by a 3-liter, flat 8-cylinder 908 engine producing 350 hp, and is one of two 'sister' cars (908-010 and 908-011) introduced by Porsche System Engineering as a Works entry at the 1968 Spa 1000 KM race.
Chassis 908-010 was entered at Spa as number six and piloted by Vic Elford and Jochen Neerpasch. As was often the case at this particular race, the drivers battled with the elements. Elford drove the first 32 laps, leading on multiple occasions, before Neerpasch took the wheel. Unfortunately, the wet track led Neerpasch to slide off the track just two laps in, causing an accident and forcing the car to be retired from the race. 908-010 would not race again for the factory team and was sold to private hands in Switzerland where it sat in storage for more than two decades.
In the late 1990s, Dale Miller, a Porsche race car expert and former PCA historian, discovered the car in Switzerland and brought it to the United States, where it was sold to Bill Ferren. Ferren oversaw a complete restoration by noted prototype expert John Corsen, who prepared the car in time for the 2004 Rennsport Reunion at Daytona. Under current ownership for the last 12 years, the 908 'Short-Tail' Coupe has participated in numerous vintage events on the West Coast (including Rennsport Reunion II, II, IV, and V) and was featured in the Porsche By Design exhibition at the North Carolina Museum of Art in 2013-2014. The car retains its repaired original chassis, as well as a fresh, recently serviced factory 908 engine and is offered at Monterey in beautifully maintained condition, ready for the concours field or its next vintage racing event (Est. $2,300,000 – $2,800,000). Watch the powerful 908 on the track above.
"The 908 is unquestionably one of the most successful endurance racing platforms that Porsche ever produced," says David Swig, Car Specialist, RM Sotheby's. "Built to maximize the new 3-liter displacement limits put forth by the FIA at the time, the 908 took a big evolutionary step from the 904, 906, and 907 that came before it. Introduced in 1968 and raced up until the early 1980s, the model had a useful competition life of almost 15 years – an incredibly long time in endurance racing. Chassis 908-010 is one of very few of the first-series 908s, which pioneered development of the 908/02 and 908/03; these models went on to become some of Porsche's most celebrated and successful race cars of all time. Driven by two of the great Porsche team drivers of the 1960s in one of the marque's final years in official Works competition, 908-010 is an important piece of motorsport history. For Porsche collectors, this is an actively campaigned, fully prepared, turn-key vintage racer that they could get into today and take to the track."
"The 908 prototype is a fantastic early highlight for our Monterey sale, made even more exciting by its offering during Porsche's 70th anniversary year," adds Gord Duff, Global Head of Auctions, RM Sotheby's. "The RM Sotheby's team led Monterey week in 2017 with $133 million in total sales, an 89 percent sell-through rate, and 32 individual million-dollar-plus results. We plan to build on this success for 2018 and are thrilled to return to the reopened Monterey Conference Center following its $60 million-dollar renovation, offering our clients a stunning new experience and a beautiful space for the display of some of the world's most important motor cars."
Held during the world-famous Pebble Beach Concours d'Elegance motoring week, RM Sotheby's Monterey sale has been the pinnacle of collector car auctions for more than 30 years, leading the field and raising the bar with its consistent, record-setting results. The 2018 sale will once again present more than 100 of the world's most sought-after blue-chip motor cars in the ultimate collector car destination.
For further information on Monterey and all of the RM Sotheby's Group's upcoming auctions, please visit www.rmsothebys.com or call +1 519 352 4575 to discuss consignment opportunities.
FOR MORE NEWS FROM RM SOTHEBY'S: #RMMONTEREY
Visit: www.rmsothebys.com
Follow: www.twitter.com/rmsothebys
Join: www.facebook.com/rmsothebys
Watch: www.youtube.com/rmauctionsinc
About RM Sotheby's
RM Sotheby's is the world's largest auction house for investment-quality automobiles. With more than 35 years' experience in the collector car industry, RM's vertically integrated range of services, from private treaty sales and auctions (including both RM Sotheby's and RM Auctions events) to estate planning and financial services, coupled with an expert team of car specialists and an international footprint, provide an unsurpassed level of service to the global collector car market. In February 2015, RM formed a strategic partnership with Sotheby's, uniting the two companies for the full calendar of future automobile auctions. For further information, visit www.rmsothebys.com.