Every now and then you are forced to rethink your trusted system of values and question the incontestable standards and sizes up to now in order to create space to broaden your own horizons. This, for example, becomes necessary when new achievements exceed your imagination. This is generally the case for GEMBALLA, the refining company based in Leonberg, when it presents its customized super sports cars.
The latest consciousness-expanding creation of the renowned Porsche specialists is a power upgrade for the Porsche 991 Turbo / Turbo S. The finely tuned six-cylinder boxer engine has an even better pick-up, is more agile and even faster and due to its elemental 828 HP (609kW) and a torque of 952 Nm, it enforces a complete reset of the accustomed sensory perception.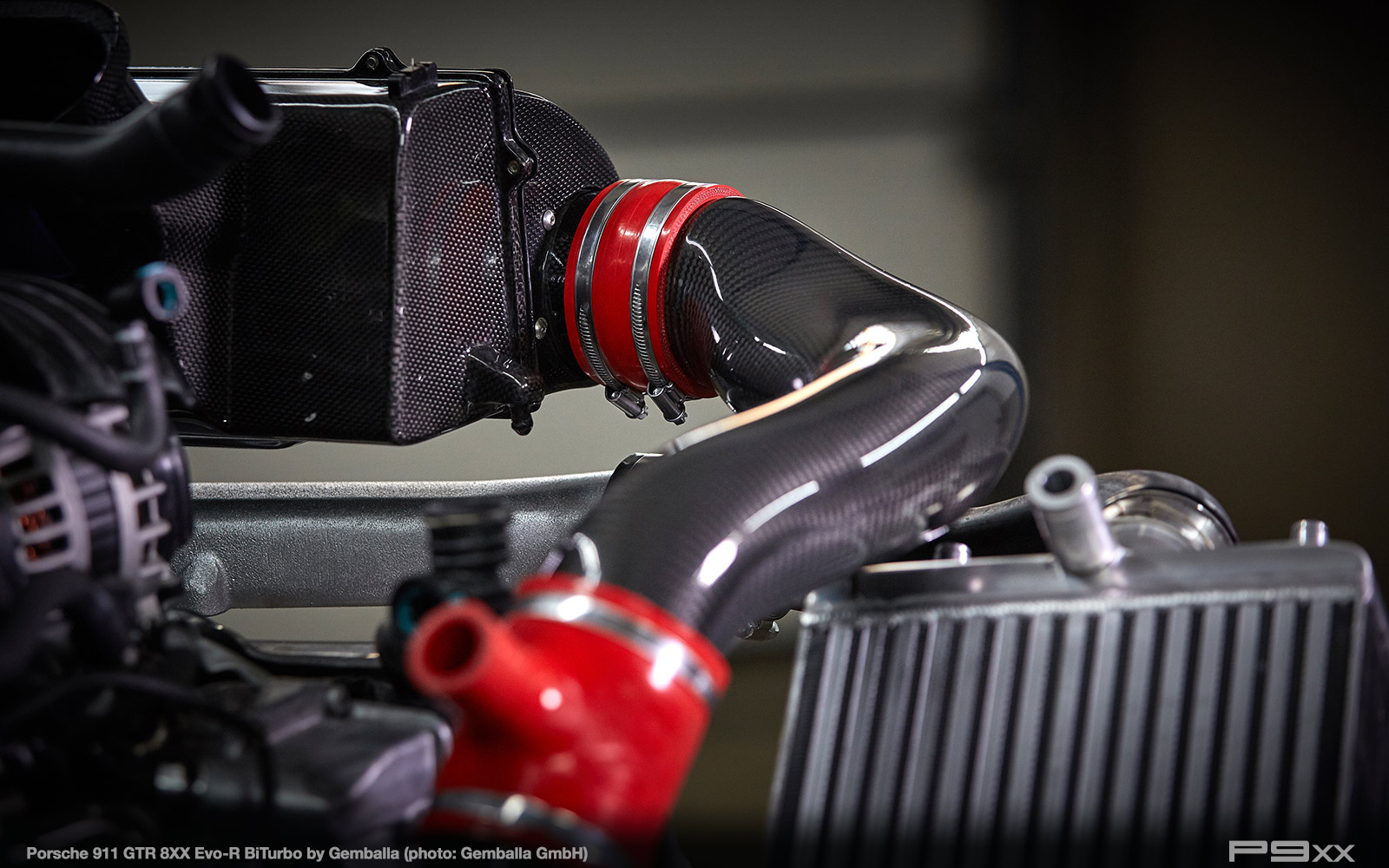 The core of the GEMBALLA power upgrade comprise of the comprehensive components of the modified turbocharging: this also includes an completely redesigned sports exhaust system including metal catalysts that reduce dynamic pressure and high-performance headers. New special turbochargers with optimised air supply, larger valves and reinforced connecting rods complete the hardware and its elemental potential develops thanks to a new gearbox and engine electronics. Here the GEMBALLA engine specialists dispense with add-on ECU´s and attach the greatest possible importance to durability and resilience of the enhanced performance engine.
The measured values are impressive: the GEMBALLA fuelled Porsche Turbo accelerates from zero to 100km/h in just 2.38 seconds. After 7.5 seconds the speed is already at 200, after 18.8 seconds it reaches 300 km/h. The propulsion of the catapult launch first ends after the 360 km/h mark and thus, outclasses even absolute super sports cars.
GEMBALLA offers customers that want to visually upgrade their Porsche a comprehensive range of vehicle body modifications, light alloy wheels and individualisation possibilities of the interior space.
Key facts GEMBALLA GTR 8XX Evo-R BiTurbo:
Main components:
Compression reduced
Inlet/outlet ports enlarged
Larger valves
Reinforced connecting rods
Turbocharger
Manifolds
Intake to the loader
Pressure pipe
Throttle body tube pipe to the Spinne
Sportkat
Sport ESD
Electronic remapping gearbox and engine control unit
Price: € 49,800.00
OPTION Carbon airbox € 3,880.00
Performance at speed: 828 PS / 609kW at 7.000 Rpm
Max. torque at speed: 952 Nm at 5.200 Rpm
Performance:
0 : 100 2.38 sec.
0 : 200 7.5 sec
0 : 300 18.8 sec
100 : 200 4.7 sec
200 : 300 11.9 sec
Maximum speed over 360 km/h
Address:
GEMBALLA GmbH
Hertichstr. 59
71229 Leonberg / Germany
Telephone +49 (0)7152 / 97 990-0
Fax +49 (0)7152 / 97 990-99
Email: info@gemballa com
Web: www.gemballa.com