Stuttgart. At legendary Road Atlanta, the maiden race season for the Porsche 911 RSR in the USA and Canada drew to a close with a significant success: Patrick Pilet (France) and Dirk Werner (Germany) secured the GTLM-class title in the prestigious North American Endurance Cup with the 510 hp race car. The long-distance classics of Daytona, Sebring and Watkins Glen as well as Saturday's Petit Le Mans in the US state of Georgia count towards the world's toughest performance and reliability competition in GT racing. With the 911 RSR, developed from scratch by Porsche Motorsport in Weissach for the 2017 season, the Porsche GT Team also won the team classification. Finishing second in the manufacturers' classification, just one point off taking home the title, Porsche beat strong competition from Chevrolet, BMW and Ferrari. At the four long-distance races of the North American Endurance Cup, teams and drivers had to underline their consistency and reliability over a total of 52 hours.
Petit Le Mans on the 4.087-kilometer Road Atlanta circuit also marked the last round of the IMSA SportsCar Championship, North America's premier sports car race series. In the hotly contested ten-hour race, Patrick Pilet and Dirk Werner joined forces with a third driver, overall Le Mans winner Nick Tandy (Great Britain), to bring home sixth place in the GTLM class after 392 laps. This result was enough for the drivers and the Porsche GT Team, who travelled to the race leading the points table, to win the North American Endurance Cup. After spending long stretches on course for a podium spot, their teammates Laurens Vanthoor (Belgium) and Gianmaria Bruni (Italy) were ultimately flagged off as fifth in the sister 911 RSR. The third driver in this car was Earl Bamber (New Zealand), another outright Le Mans winner from Porsche's factory squad.
During its maiden race season in the USA and Canada, the new Porsche 911 RSR had already notched up numerous successes. Its first victory came on 22 July at Lime Rock, with four podium placings at Daytona, Long Beach, Elkhart Lake and Laguna Seca as well as pole position at Bowmanville.
At Petit Le Mans, Porsche customer teams contesting the GTD class with support from works drivers, concluded the season with a strong performance before heading into the winter break. Michael Christensen (Denmark) and his American teammates Daniel Morad and Michael de Quesada scored second place with the 911 GT3 R campaigned by Alegra Motorsports. Jörg Bergmeister (Germany) finished on third with the Americans Patrick Lindsey and Matthew McMurry. This season, both squads netted a victory each with the 500+hp customer sport racer, which Porsche Motorsport had developed for GT3 series worldwide: Alegra Motorsports won the 24-hour classic at Daytona, with Park Place Motorsports winning Lime Rock.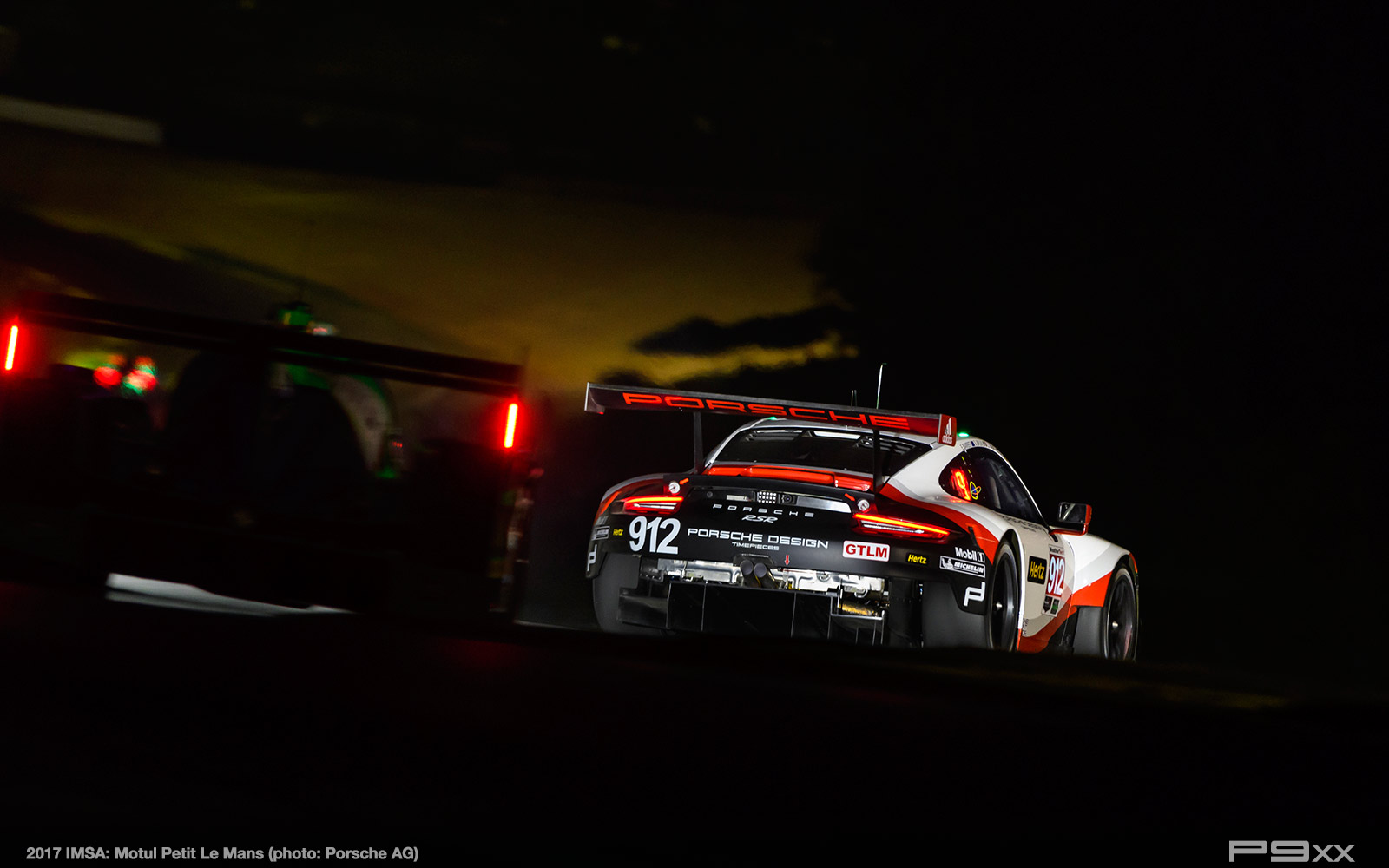 Comments on the race
Dr Frank-Steffen Walliser, Vice President Motorsport and GT Cars: "We've clinched the first title for the new 911 RSR at this race. By winning the North American Endurance Cup for drivers and teams, we've shown that we were always at the front at the right time for the major endurance races and, hence, have underlined the reliability of our car over the season. For a maiden season with a completely new car, this was a good performance. Congratulations to our customer teams for their podium results in the GTD class. With outstanding performances from drivers and teams, they've once again shown what our 911 GT3 R can do. I hope that they can repeat these successes next year."
Patrick Pilet (911 RSR #911): "Winning the North American Endurance Cup is a great team effort. I'm thrilled to take this trophy home to Weissach as a thank you to everyone who has worked on the new 911 RSR and has supported us this season so brilliantly. This race was very tough for us. We had to fight hard to defend ourselves against the strong opposition. I'm pleased we managed it."
Dirk Werner (911 RSR #911): "Our main goal at this race was to win the North American Endurance Cup. We did that and I'm delighted for everyone in our team. It was a difficult season, and this final race, with its many incidents and safety car phases, was anything but easy. That makes this success all the more thrilling."
Nick Tandy (911 RSR #911): "It was wonderful for me to be a part of this team again on this legendary circuit and to support Patrick and Dirk in their bid to win the North American Endurance Cup. The fact that it's also the first title for the new 911 RSR makes it even more valuable."
Laurens Vanthoor (911 RSR #912): "We didn't have the pace today to seriously fight for victory. We tried everything, we had a great strategy, but it wasn't enough. I'm pleased that our teammates have won the North American Endurance Cup. That's a terrific achievement. Now we're looking ahead to 2018 and we're all determined to come back even stronger."
Gianmaria Bruni (911 RSR #912): "What a tough fight. We lost time with the pit stop incident, when our 911 RSR caught fire briefly. However, thanks to a perfect pit stop strategy, we were able to make up those lost laps. The many spirited duels were huge fun."
Earl Bamber (911 RSR #912): "It was great to drive the new 911 RSR at Road Atlanta. Our long runs were good, we only had problems at the restarts. Still, we fought to the flag. It's a shame that we weren't able to reward ourselves with a podium result."
Michael Christensen (911 GT3 R #28): "Victory at the season opener in Daytona, and now second place at Petit Le Mans – it seems the classic races suit us. I'm thrilled about this hard-won success. This race pushes you to the limit. But when you're rewarded with a podium result, then all that hard work has paid off."
Jörg Bergmeister (911 GT3 R #73): "To conclude such a tough season with a podium always feels great – especially after starting from twelfth on the grid. It was a gruelling race, particularly because we didn't have a cooling vest or drink bottle. But I enjoy such challenges."
Race result
GTLM class
1. Auberlen/Sims/Wittmer (USA/GB/CAN), BMW M6, 392 laps
2. Garcia/Magnussen/Rockenfeller (E/DK/D), Corvette, 392
3. Fisichella/Vilander/Pier Guidi (I/SF/I)), Ferrari 488 GTE, 392
4. Gavin/Milner/Fässler (GB/USA/CH), Corvette, 392
5. Vanthoor/Bruni/Bamber (B/I/NZ), Porsche 911 RSR, + 392
6. Pilet/Werner/Tandy (F/D/GB), Porsche 911 RSR, 392
7. Hand/Müller/Bourdais (USA/D/F), Ford GT, 392
8. Westbrook/Briscoe/Dixon (GB/USA/NZ), Ford GT, 390
9. Edwards/Tomczyk/Catsburg (USA/D/NL), BMW M6, 338
GTD class
1. De Phillippi/Mies/van der Linde (USA/D/RSA), Audi R8, 382 laps
2. Morad/Christensen/de Quesada (USA/DK/USA), Porsche 911 GT3 R, 382
3. Bergmeister/Lindsey/McMurry (D/USA/USA), Porsche 911 GT3 R, 382
5. Braun/Bennett/Jonsson (USA/USA/S), Porsche 911 GT3 R, 380
All results and points' standings of the IMSA WeatherTech SportsCar Championship can be found on the Internet: results.imsa.com.
The new 911 RSR
The new Porsche 911 RSR, which was designed and built by Porsche Motorsport in Weissach, is based on the seventh generation of the iconic 911 sports car and is the most spectacular Porsche 911 of all time. It celebrated its race debut in January 2017 at the 24 Hours of Daytona in the USA. The 510 hp race car is a totally new development. With the predecessor model, Porsche won the GT championship titles for manufacturers, drivers and teams in both the Sports Car World Endurance Championship and the IMSA SportsCar Championship in 2015.
In designing the new 911 RSR, the entire concept of the vehicle was revamped from scratch. Moving the engine to sit in front of the rear axle created space for a massive rear diffuser, which generates significantly more downforce. At the same time, weight distribution could be further optimised, which also helps reduce tyre wear. The engineers at Weissach began with the development of the new 911 RSR back in early 2015. The rollout – that's the first time the vehicle goes out on a racetrack – took place in March 2016 on the Porsche test track at the Weissach R&D Centre. On this occasion, the GT works drivers who were involved in the development from an early stage got the chance to drive the first kilometres with the new 911 RSR.
The highlight of the test phase was a 50-hour long-run at Sebring. Even before its first race, the 911 RSR proved to be reliable. The test on the bumpy Florida racetrack, famous for the extreme challenges it throws at man and machine, ran without any major problems. And when the new 911 RSR went racing, it immediately proved competitive. At the long distance classics of Daytona and Sebring, it impressed with strong performances. Until then, Porsche Motorsport had completed over 45,000 test kilometres on various racetracks – more than in the development of any other Porsche GT racer.
This is the North American Endurance Cup
The North American Endurance Cup, which Porsche claimed in 2014, is the toughest and most prestigious classification for performance and reliability in GT racing worldwide. The long-distance classics of the Daytona 24 Hours, the 12 Hours of Sebring, the Watkins Glen 6-hour race, as well as the 10-hour Petit Le Mans race at the legendary Road Atlanta racetrack count towards this competition. Points are not only awarded for the final result, but also at intervals, for instance, after four and eight hours of the Petit Le Mans event. All races as contested as part of the IMSA SportsCar Championship.