Great Britain. Porsche is the most successful marque in the 24 Hours of Le Mans, with an unrivalled 19 wins in the French endurance race. And British drivers have played an important role in delivering these historical achievements. In celebration of this success, and in special honour of three Britons who helped deliver these victories, a special model with limited availability – the 911 Carrera 4 GTS 'British Legends Edition' – is launched today.
Designed by the drivers who each took historic wins in the 24 Hours of Le Mans for the factory Porsche team – Richard Attwood (winner 1970), Derek Bell MBE (winner 1981, 1982, 1986, 1987), and Nick Tandy (winner 2015) – the car has been developed by Porsche Cars GB together with Porsche Exclusive Manufaktur at the company headquarters in Stuttgart, Germany.
Derek Bell is Britain's most successful race driver in the Le Mans 24 Hours, with a total of five wins overall and four triumphs with Porsche. His British Legends Edition celebrates his 1982 victory in the debut season for the iconic 956 racing car.
There is a 911 Carrera 4 GTS British Legends Edition unique to each driver, identified by the number of their winning Porsche racing car and its colour scheme incorporated into the livery.
A Union Jack symbol combined with the driver's signature is a further motorsport-inspired leitmotif, and underlines how authentic each car is.
The drivers played an important role in the design and configuration of 'their' British Legends Edition, incorporating personal preferences and reminiscences of their own experiences racing with Porsche at Le Mans. For instance, Alcantara® interior trim creates a link to the focussed ambience of a racing car cockpit. And to offer a manual gearbox or the Porsche Doppelkupplungsgetriebe (PDK) double-clutch transmission was important, to allow each car to be specified according to driving style.
Using the design of the winning race cars as the starting point of each car, joint workshops between Porsche Cars GB and the drivers ensured their passion was built-in to each 911. The ideas were then taken forwards by the design team at Style Porsche in Weissach and the craftsmen at Porsche Exclusive Manufaktur in Stuttgart.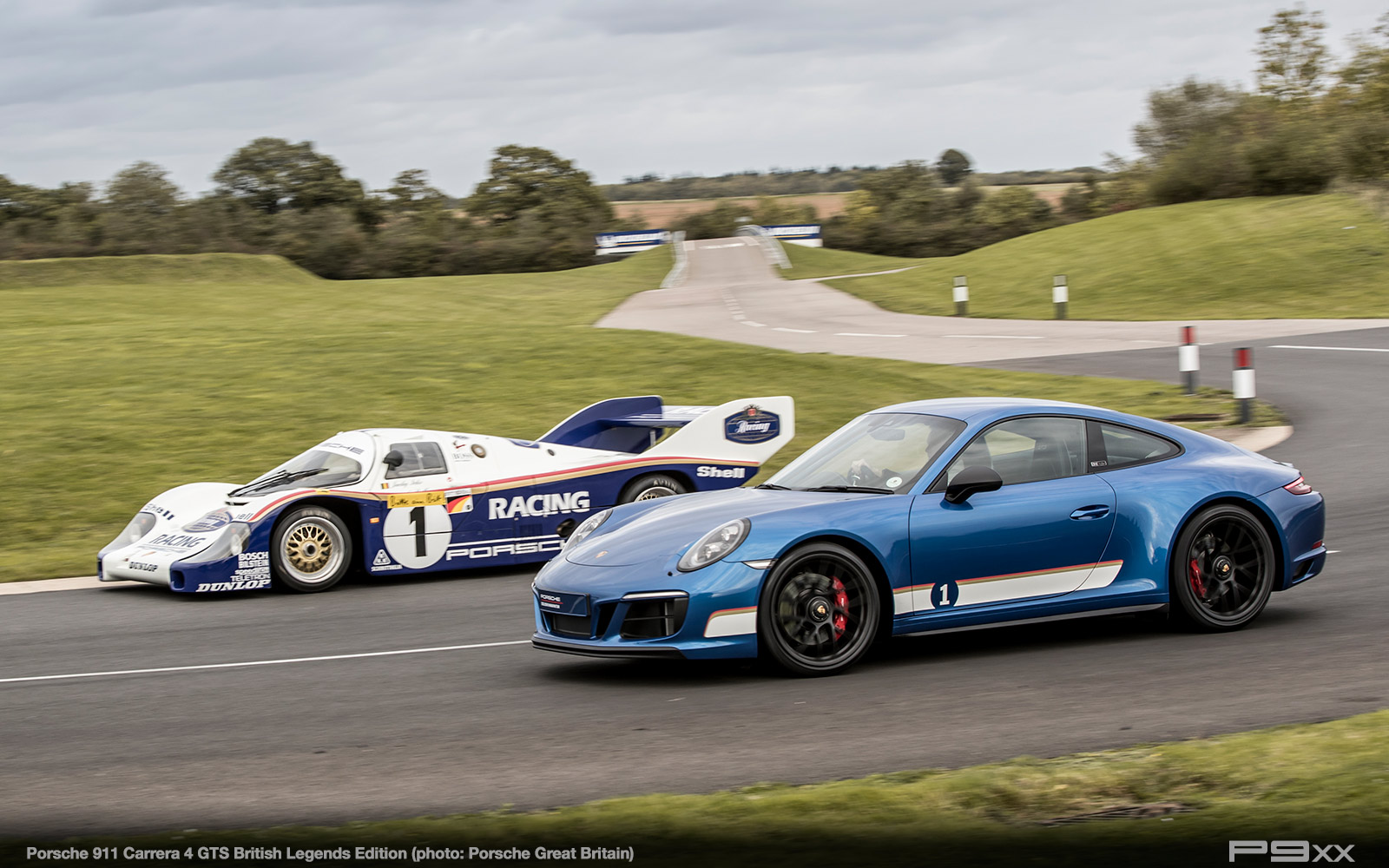 Each British Legends Edition is finished intricately by hand in the new Porsche Exclusive Manufaktur workshop. Special features such as the Satin finish black door mirrors, carbon floor mats with Alcantara® edging and a steering column casing in Alcantara® make their first appearance on this 911.
1970 Le Mans winner, Richard Attwood
Porsche 917 #23 580 hp, flat-12 cylinder, 4.5-litre, 340 km/h top speed
'Porsche Salzburg' red and white livery
British Legends Edition Guards Red
1982 Le Mans winner, Derek Bell
Porsche 956 #1 680 hp, flat-six cylinder, twin-turbo, 2.8-litre, 350 km/h top speed
'Rothmans' blue, white, red and gold livery
British Legends Edition Sapphire Blue Metallic
2015 Le Mans winner, Nick Tandy
Porsche 919 Hybrid LMP1 #19 >900 hp, V4, single turbo, 2.0-litre, 360 km/h top speed
'DMG MORI' white, black, grey livery
British Legends Edition Carrara White Metallic
Learn more about the 911 Carrera 4 GTS British Legends Edition, meet the drivers and share in the spirit of Le Mans via this link: https://youtu.be/98pb2WauU-w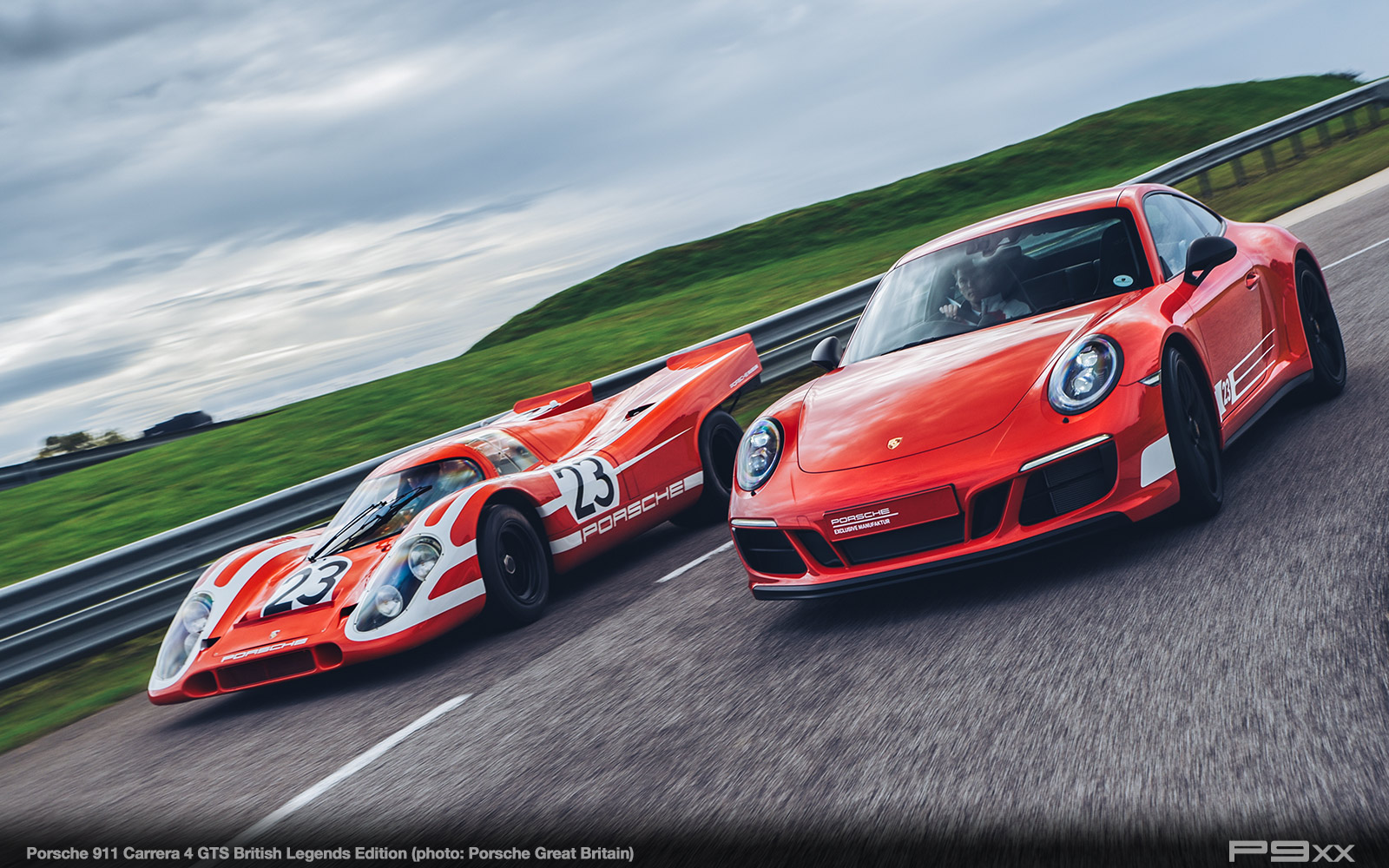 Race to road technology transfer
Porsche 917; Porsche 956; Porsche 919 Hybrid – three icons, each with a common link – victory in the Le Mans 24 Hours. Each of these racing cars has also played a valuable role in helping hone technology on the track that has then translated to Porsche cars for the road.
And not just in their specific era, for this legacy of innovation continues to influence the design and development of Porsche sports cars today.
The British Legends Edition also recognises the British motor sport fans' generous spirit through the years, cheering on Porsche from the trackside. Le Mans in particular sees tens of thousands of enthusiasts travelling from the UK to support the teams and drivers, and this special 911 acknowledges this passion.
During the development of the British Legends Edition, it became clear that, to the racing drivers, it was particularly important that a performance-oriented 911 would result and one that expressed its distinctive motorsport character in sound, appearance and its dynamics, too.
Derek Bell commented; "I expect Porsche to give me the best chassis when I race, and I expect the same from my road car." In support of this, rear axle steering – offering higher cornering agility and lane-change stability – and Porsche Dynamic Chassis Control (PDCC) – to ensure optimum resistance to body roll and increased tyre contact to the road through corners – are both standard.
Bearing in mind the all-weather, day and night rigours that success at Le Mans places on a car and driver, driving safety and comfort features take priority also. Thus, LED headlights (which replicate those fitted to the 919 Hybrid) for seeing long into the night are included, along with 18-way adjustable sports seats and automatic rain-sensing windscreen wipers. A distinct motorsport ambience is a feature of the interior, with the use of Alcantara® and carbon materials an obvious highlight.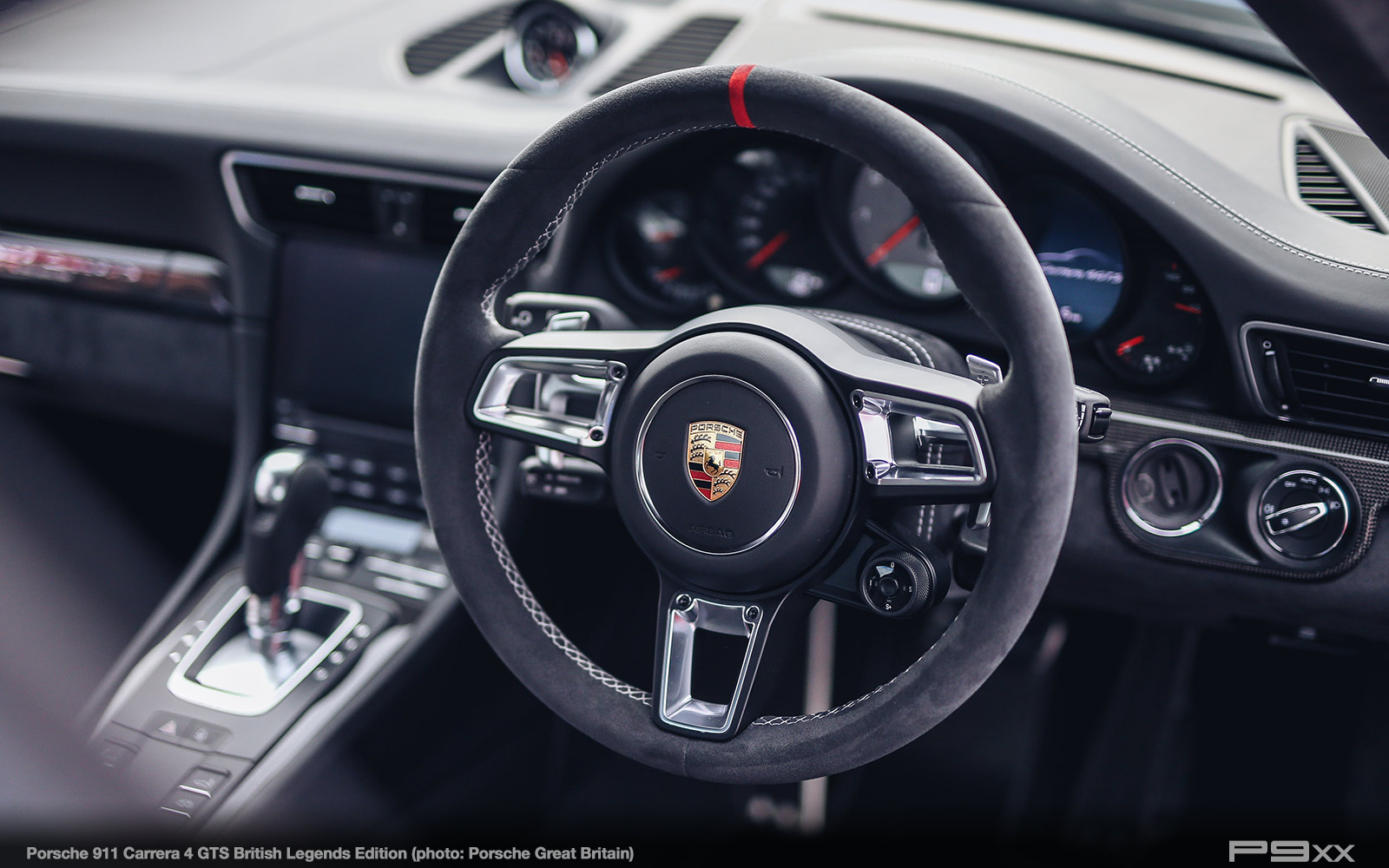 Porsche 911 Carrera 4 GTS British Legends Edition in detail
With this in mind, the 911 Carrera 4 GTS is the ideal starting point for the British Legends Edition. The 3.0-litre flat-six cylinder 'boxer' engine in the 911 GTS offers 450 hp (331 kW). This engine delivers 30 hp (22 kW) more than the 911 Carrera S. Every 911 is renowned for its scintillating power delivery, but with its 10% greater maximum torque the GTS offers even better acceleration and responsiveness. The 550 Nm of pulling power is available between 2,150 and 5,000 rpm. As with the 911 Carrera, Porsche Active Suspension Management (PASM) is standard on GTS models. The British Legends Edition features PASM sports suspension and PDCC, which lowers the body by 10 mm. Each GTS also features the Sport Chrono Package incorporating dynamic engine mounts and steering wheel-mounted mode switch, plus a switchable, modified sports exhaust system.
The Porsche Traction Management (PTM) all-wheel drive delivers assured all-weather traction, and leads to the 911 Carrera 4 GTS being the fastest sprinter in the 911 Carrera family. Fitted with the optional PDK transmission, it can accelerate from zero to 62 mph in 3.6 seconds with Launch Control activated.
To these impressive credentials, the British Legends Edition also adds the following highlights:
Chassis
Rear axle steering
Sport PASM chassis including Porsche Dynamic Chassis Control (PDCC)
Exterior
Decal set in contrasting colour
Badge on B-pillar with Union Jack motif and signature of the driver
LED headlights in black with Porsche Dynamic Light System Plus
SportDesign package featuring extended rear spoiler
SportDesign mirrors painted in Satin black finish
Rear engine lid air intake grilles painted in the exterior colour
Interior
Door sill guards in carbon with a Union Jack motif and '911 Carrera 4 GTS British Legends Edition' lettering (illuminated in corresponding exterior colour)
Door panel trim and centre console finish in carbon
Dashboard trim in carbon with Union Jack motif and '911 Carrera 4 GTS British Legends Edition' lettering
Alcantara® GTS interior package with Rhodium Silver contrasting stitching, GT sports steering wheel in Alcantara® and '12 o'clock marking' in red, steering column cover in Alcantara®
Centre console lid in Alcantara® embossed with name and signature of the driver
Unique floor mats in carbon with Alcantara® edging and decorative stitching in Rhodium Silver
Adaptive Sports seats Plus with 18-way powered adjustment and memory package
Automatically dimming exterior and interior mirrors with integrated rain sensor
Cruise control
The 911 Carrera 4 GTS British Legends Edition is on sale from 9 October priced as follows:
Guards Red £122,376.00 inc VAT RRP
Sapphire Blue £123,210.00 inc VAT RRP
Carrara White £123,210.00 inc VAT RRP
Customers will also be invited to explore the potential of their new car, and further develop their own skills behind the wheel, by participating in a bespoke driving experience around the unique tracks at the Porsche Experience Centre, Silverstone.