Stuttgart. The new Porsche 911 RSR celebrates its race debut at the 24 Hours of Daytona, with the 55th running of the sports car classic in Florida contested on 28/29 January. The Porsche GT Team tackles the first works outing of the year with two 510 hp Porsche 911 RSR racers and will face strong opposition in the GTLM class from BMW, Chevrolet, Ferrari and Ford. In the GTD class, customer squads campaign five Porsche 911 GT3 R. A total of eleven Porsche works drivers and one Porsche "Young Professional" will compete at the season-opening round of the IMSA SportsCar Championship. With 22 overall and 76 class victories, Porsche is the most successful manufacturer in the history of this prestigious race.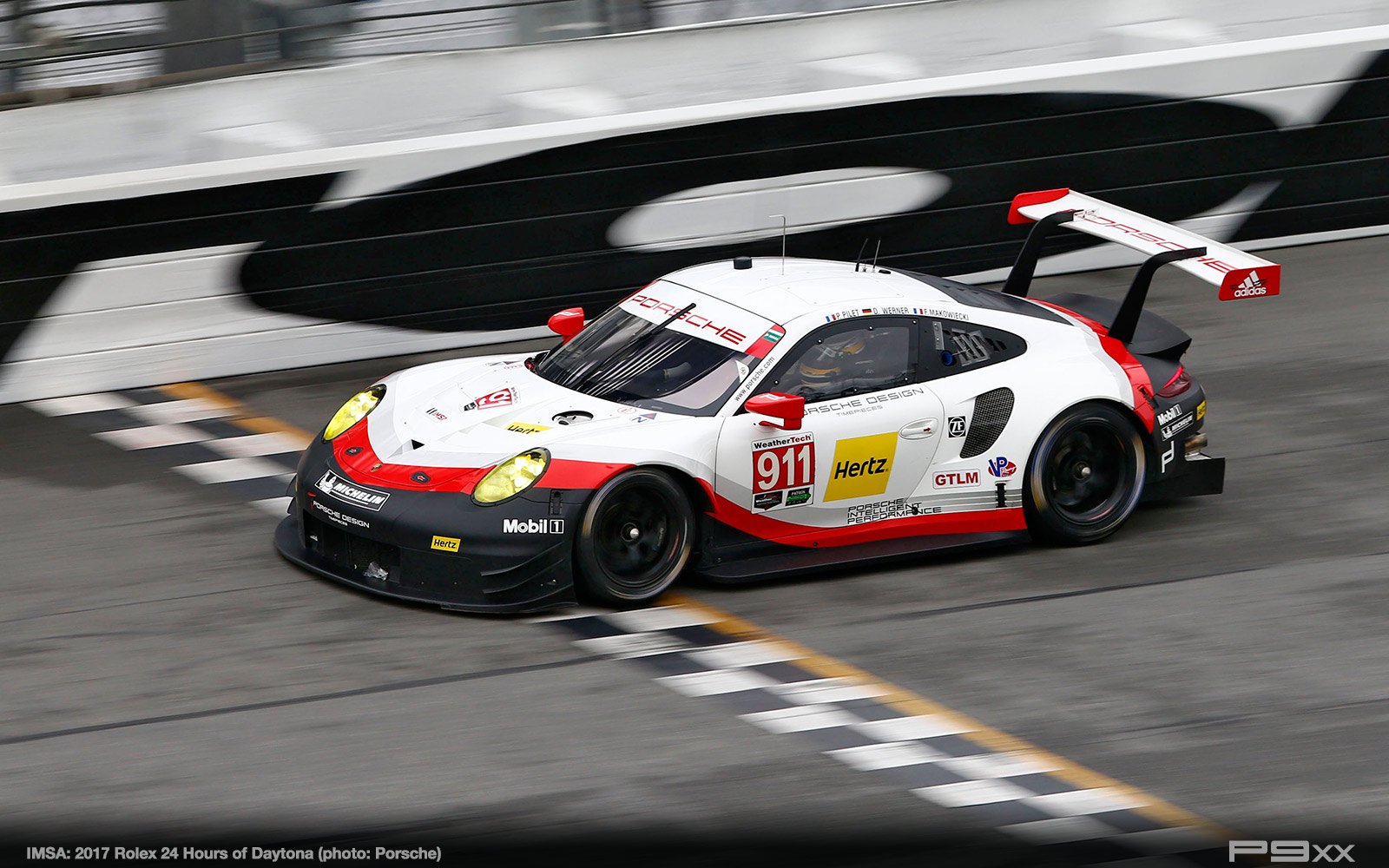 The race
Alongside the Le Mans 24 Hours, Daytona is the second great long distance classic in international motorsport. The race is contested on the 5.729-kilometre Daytona International Speedway, one of the most famous racetracks in the world, which features two steeply banked corners and a tight infield. The great sporting value of the race is also due to the fact that pilots come from many different race series around the world to fight for victory.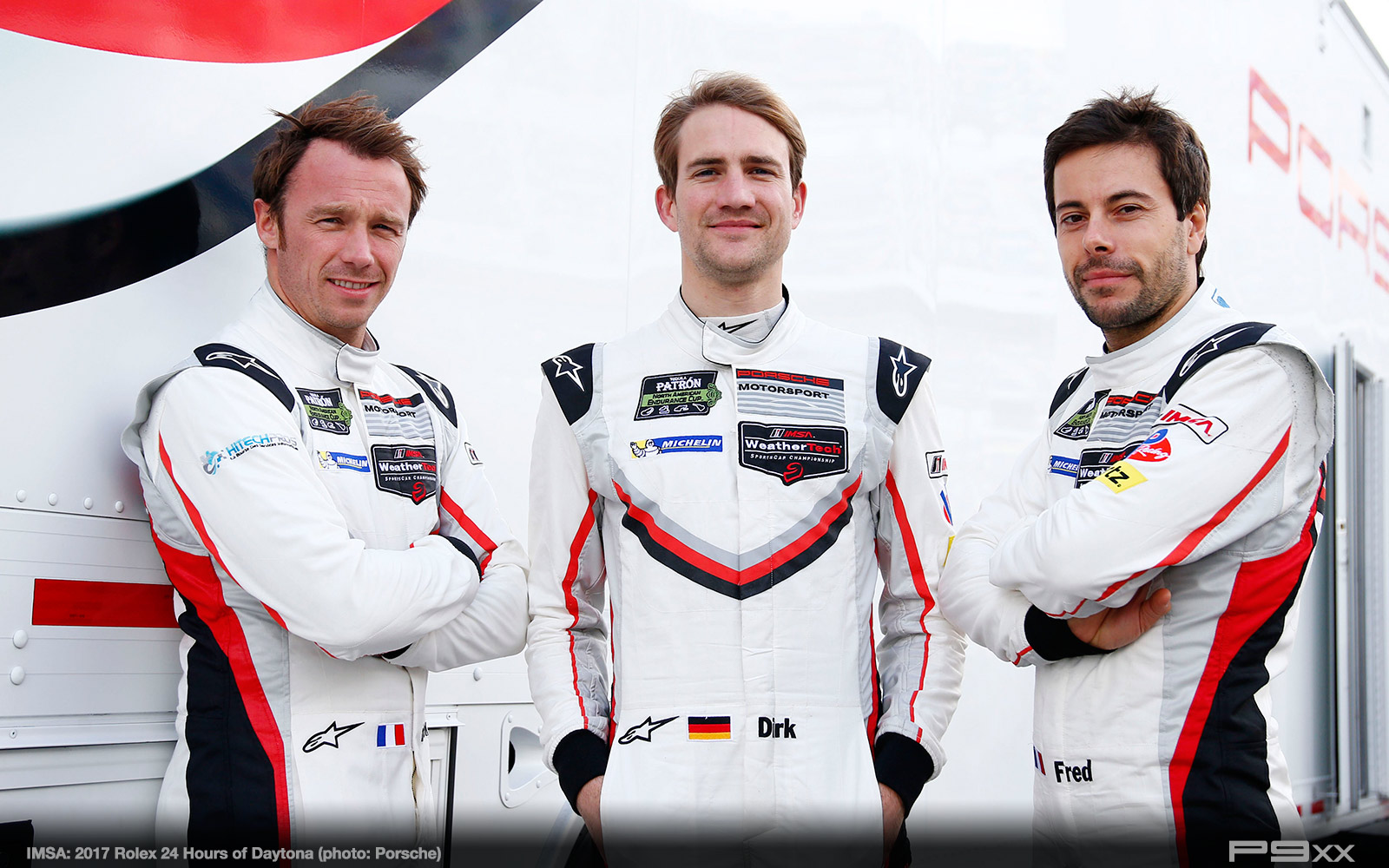 The Porsche drivers
With eleven factory drivers and one Porsche "Young Professional", Porsche has the largest contingent at Daytona. Driving for the Porsche GT Team, Patrick Pilet (France), Dirk Werner (Germany) and Frédéric Makowiecki (France) share the cockpit of the #911 Porsche 911 RSR. Tackling the legendary long distance race at the wheel of the #912 racer are Laurens Vanthoor (Belgium), 2016 winner of the FIA GT World Cup and the Intercontinental GT Challenge, as well as Kévin Estre (France) and Richard Lietz (Austria). In the 911 GT3 R race cars fielded by five customer teams are factory drivers Jörg Bergmeister (Germany/Park Place Motorsports), Michael Christensen (Denmark/Alegra Motorsports), Patrick Long (USA/CORE Autosport), Sven Müller (Germany/Manthey-Racing) and Wolf Henzler (Germany/TRG) as well as Porsche "Young Professional" Matteo Cairoli (Italy/Manthey-Racing). For Dirk Werner, Laurens Vanthoor and Sven Müller, the 24 Hours of Daytona is their first race as Porsche works drivers.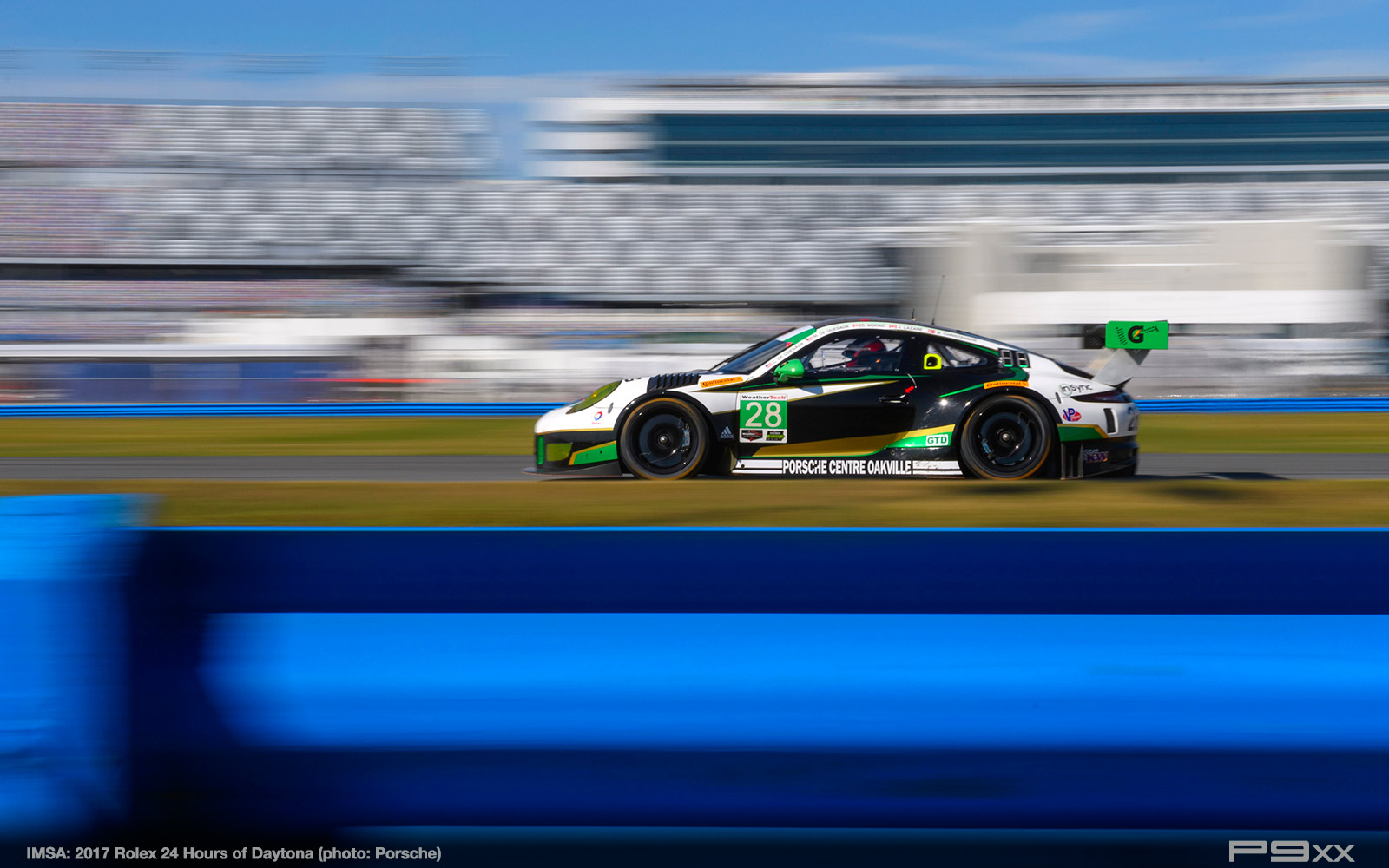 The Porsche vehicles
The 911 RSR is a completely new development: the suspension, body structure, aerodynamic concept, engine and transmission have all been designed in Weissach from scratch. Depending on the size of the restrictor, the motor, which is now positioned in front of the rear axle, puts out around 375 kW (510 hp). Thanks to the particularly large rear diffuser combined with a top-mounted rear wing, the level of downforce and the aerodynamic efficiency were significantly improved. The new factory design of the 911 RSR with the basic colours white, red and black has further developed the clear and dynamic design language of Porsche Motorsport. The 911 GT3 R celebrated its race debut a year ago in Daytona mounted with the new ultra-modern, four-litre, flat-six engine with direct fuel injection. Porsche had designed the more than 368 kW (500 hp) customer sports racer for worldwide GT3 series on the basis of the 911 GT3 RS production sports car.
Porsche successes
The first of 22 outright Porsche victories at Daytona went to Vic Elford, Jochen Neerpasch, Rolf Stommelen, Jo Siffert and Hans Herrmann in 1968 in a Porsche 907LH (longtail). In the traditionally very competitive GT classes, Porsche has notched up a record 76 wins. The most recent win in the GTLM class was in 2014 with Richard Lietz, Nick Tandy and Patrick Pilet at the wheel of a 911 RSR. Five overall victories in the years 1973, 1975, 1977, 1979 and 1991 as well as a class win in 1972 at the race in Florida makes the American Hurley Haywood the most successful Porsche pilot at Daytona.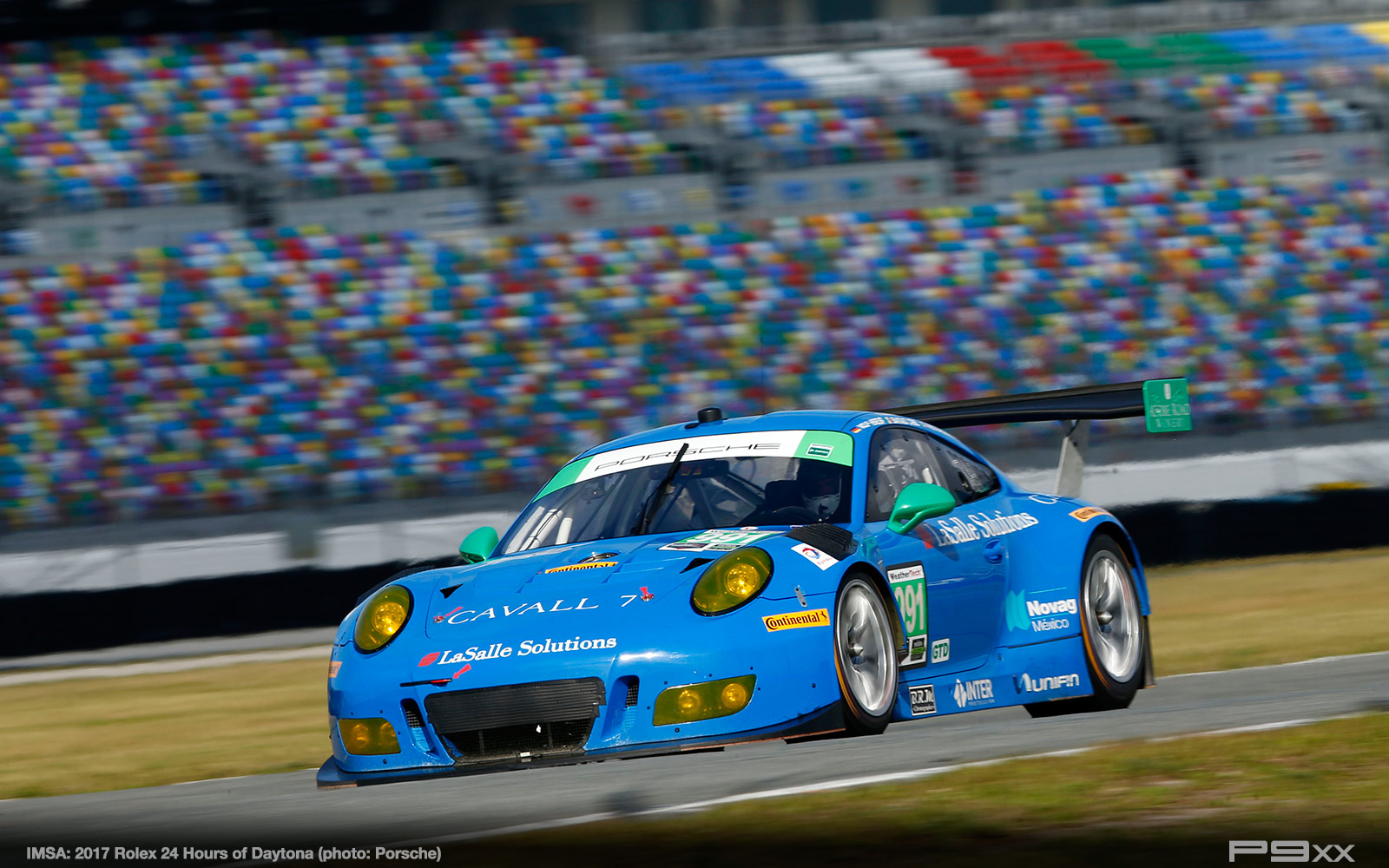 The schedule
The 24-hour race at Daytona starts on Saturday, 28 January, at 14.30 hours local time (20.30 hrs CET). Outside the USA, the race can be seen live on www.imsa.com.
Comments before the race
Dr Frank-Steffen Walliser, Head of Porsche Motorsport: "The 24 Hours of Daytona is the perfect race to debut our new 911 RSR. Porsche celebrated some of its greatest victories at this fascinating long distance classic, and we're looking forward to showcasing our 100% newly developed car to sports car fans in the USA at its maiden outing. Facing the first factory entry of the year against very strong opposition, the Porsche GT Team is hoping that the 911 RSR performs well and has a race without any major problems. We also want our customer teams running our 911 GT3 R to experience a good and successful start into the season."
Marco Ujhasi, Overall Project Leader GT Works Motorsport: "Daytona is the first big race of the year and that alone poses a special challenge. Adding to the suspense this year is that it's the first race outing of our new 911 RSR. We conducted intensive tests over the last few months and gained vital insights. The new driver combinations have already meshed well together. So, in this respect, we're heading to Daytona feeling very confident."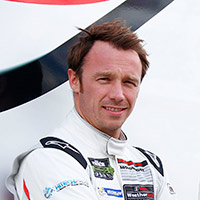 Patrick Pilet (911 RSR #911): "It's always exciting to contest this race, especially now, of course, with our new car which we've worked hard on developing over the last year. The last time we came to Daytona with a new 911 RSR was in 2014, and we won. Hopefully, that's a good omen."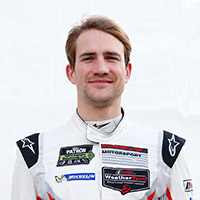 Dirk Werner (911 RSR #911): "I couldn't have wished for a better race for my first outing as a Porsche works driver. I'm very impressed from what I've seen so far of the 911 RSR. I know how much effort goes into the development of the car and I hope that we can turn those huge efforts into a good result on the racetrack."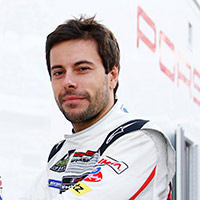 Frédéric Makowiecki (911 RSR #911): "A 24-hour race is something very special for every race driver, but at the same time it's an incredibly exciting task. I'm looking forward to racing in the USA again – and in Daytona, no less, at one of the most important and challenging long distance races in the world."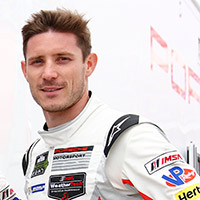 Kévin Estre (911 RSR #912): "It's always thrilling to start a season with a new car. Daytona is an important venue to establish where we stand, but it also has its quirks. You have to attack right from the start, but you can't afford to take too many risks so that you have a healthy car at the end to fight for victory. I hope we find the best compromise and finish amongst the leaders with our new 911 RSR."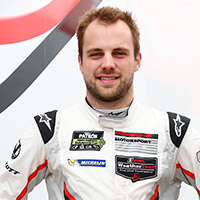 Laurens Vanthoor (911 RSR #912): "To contest my first race as a Porsche factory driver in Daytona is something very special for me. It's a dream come true. I really wanted to compete in the USA and have Kévin alongside me as a teammate – and in fact all my wishes were granted. Now it's up to me to justify that confidence at my first Daytona race by performing well."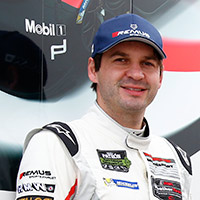 Richard Lietz (911 RSR # 912): "The successes that Porsche has already celebrated in Daytona are a huge motivation for us all. The new 911 RSR proved to be outstanding during the preparation phase, and we drivers know what it takes to finish at the front of this race."
Wolf Henzler (911 GT3 R #991): "The 911 GT3 R is a great racing car for customers. I had a lot of fun driving it at Daytona last year. I'm looking forward to contesting the entire season in the USA for my new TRG team and I hope that we achieve a great start into the new season."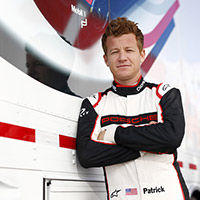 Patrick Long (911 RSR #54): "Daytona is a great start to the season. I've contested this race many times, yet I really look forward to it every time. The 911 GT3 R has great aerodynamics and is the ideal car for Daytona. It's good on the straights and under braking. That's critical on this racetrack."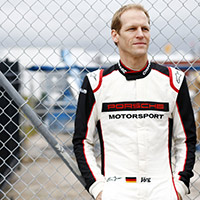 Jörg Bergmeister (911 GT3 R #73): "I've won Daytona three times, yet every year I can't wait to race there again. Heading into the new season with such a classic against strong opposition from many different racing series is simply fun."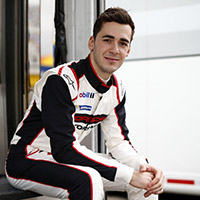 Sven Müller (911 GT3 R #59): "Ever since our tests in early January on this great racetrack, my anticipation has been growing. I can hardly wait for the race to start. I learned a great deal at my first Daytona race last year. I hope I can share these experiences with my teammates and we achieve a good result."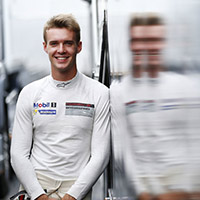 Matteo Cairoli (911 GT3 R #59): "It's fantastic that Porsche gives me the chance to compete at Daytona. This has been a lifelong dream. It will undoubtedly be one of the most interesting and exciting experiences of my career so far."
Michael Christensen (911 GT3 R #28): "Daytona is a great race and a real highlight to kick off the season. You never really have much time to prepare because the previous season usually finishes late in the year. In this respect, Daytona is always a difficult race. It's a real classic that every race driver definitely wants to win."
This is the IMSA SportsCar Championship
The IMSA SportsCar Championship is a sports car race series contested in the USA and Canada, which was run in 2014 for the first time. The series was formed from the merger of the American Le Mans Series and the Grand-Am Series. Sports prototypes and sports cars start in four different classes: GTLM (GT Le Mans), GTD (GT Daytona), P (Prototype) and PC (Prototype Challenge). The Porsche 911 RSR runs in the GTLM class, with the new Porsche 911 GT3 R contesting the GTD class.
The 2017 races of the IMSA WeatherTech SportsCar Championship
28/29.01 Daytona International Speedway, Daytona/Florida *
18.03 Sebring International Raceway, Sebring/Florida *
08.04 Long Beach Street Circuit, Long Beach/California
07.05 Circuit of the Americas, Austin/Texas
03.06 Detroit Belle Isle, Detroit/Michigan (only GTD/P)
02.07 Watkins Glen International, Watkins Glen/New York *
09.07 Canadian Tire Motorsport Park, Bowmanville/Ontario
22.07 Lime Rock Park, Lime Rock/Connecticut
06.08 Road America, Elkhart Lake/Wisconsin
27.08 Virginia International Raceway, Danville/Virginia
24.09 Mazda Raceway Laguna Seca, Monterey/California
07.10 Petit Le Mans, Road Atlanta, Braselton/Georgia *
* These races count towards the North American Endurance Cup.
Photo Gallery